Photos by Linus Lam
---
In the heart of Chiba, Japan lies a shop completely unbeknownst to the untold eye. Operating as the workplace, and often, sleeping quarters of RWB founder, Akira Nakai, its downtrodden exterior blends seamlessly with the environment around it. Hiding the automotive beauty and genius within, from the outside, it is a literal example of its owner's motto, "Rough World."
The list of automotive legends is brief, but it's in this place that Nakai san developed a concept that would put him amongst some of the greatest builders that the world – let alone Japan – will ever see.
The idea? It began more than 20 years ago, with Nakai as a core member and leader of "Rough World," a group of drifters and professional drivers who set out to build the best, most radical Toyota AE86s and Mark IIs that side of the Pacific. The wide wheels, negative camber, low ride heights and propped hoods were unheard of at the time. To outsiders, they appeared to be nothing more than an attention grab, but their cars were all function. They were built rough, and they were driven rough. It wasn't long before Rough World wrote its name into Japanese automotive folklore just three years later with RWB and the Porsche 911.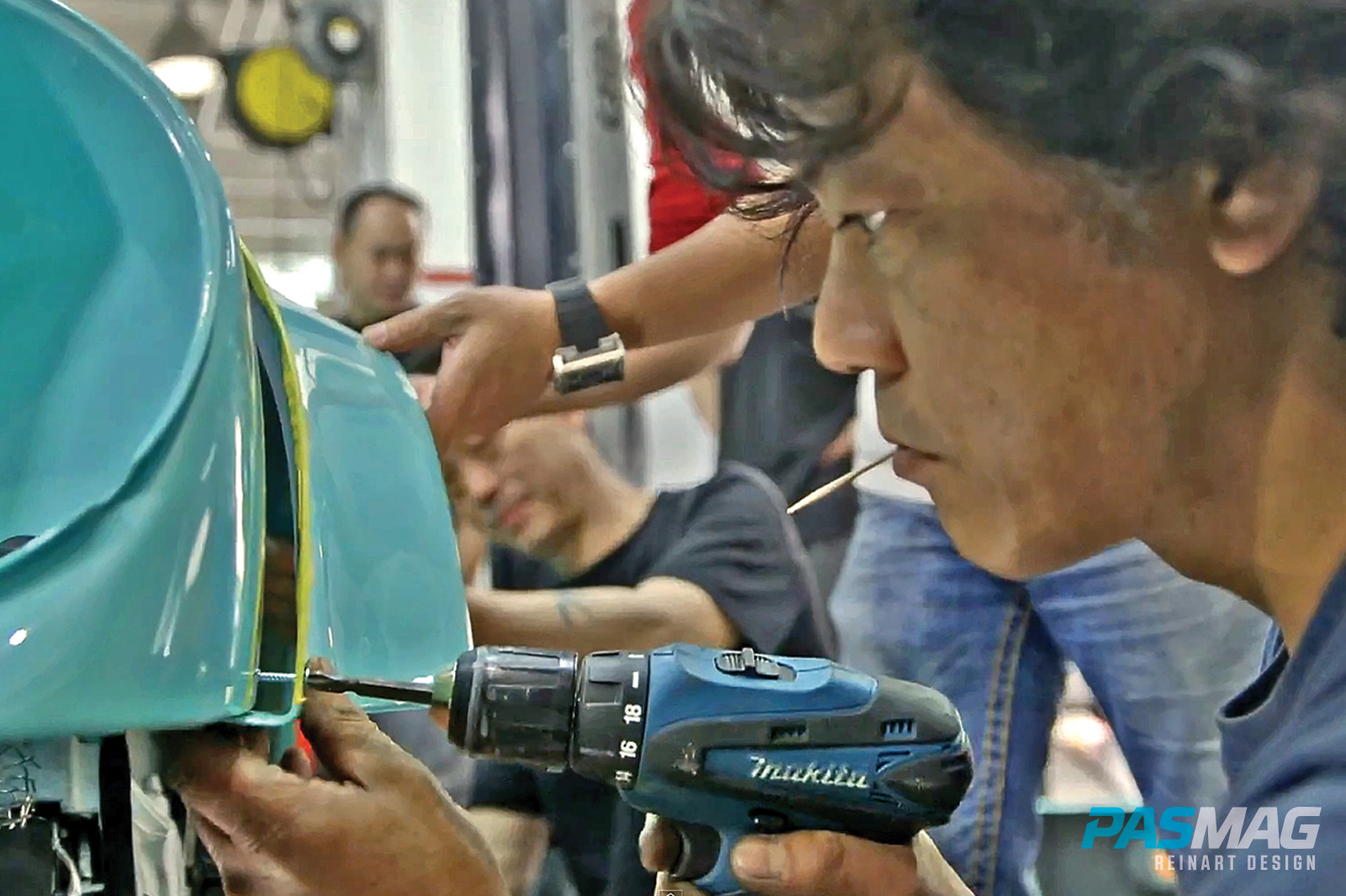 Renamed RAUH-Welt Begriff, or "Rough World Concept," look at the front splitter or rear wing of almost any RWB Porsche and you'll see "Zwiete (or Sekund) Entwicklung," denoting the "second development" of the Rough World. Nakai has taken each of the styles from the original Rough World builds – shakotan (low ride height), onikyan (extreme camber), hippari tire (stretched tires) and tsuraichi (becoming one with the body) – and infused them into the 911 in a way that seems completely natural to the timeless German grand tourer.
"This is a car I've loved since I was a child," Nakai tells PASMAG of his muse. "For me, I believe it is the ultimate – but simple – sports car."
His first RWB and the company's flagship is "Stella Artois", a 1986 930 featuring a fully-built, naturally-aspirated 3.8-liter flat-six pushing 355 honest horsepower. Spec'd with RWB-specific components that include an Aragosta coilover kit, custom roll cage, titanium exhaust, custom SSR wheels, seats and of course, the signature RWB 930 aero kit, its coke-bottle shape – an extreme derivative of Porsche racers like the Group 4 Jägermeister 934, or 1976 Martini 935 – formed the basis for every RWB build to come.
"The Porsche is, in its origin, one of the most compact sports cars," Nakai says. "The widebody style is fitting because aside from the Porsche's size, there are design elements that aren't available from other cars."
Long after its establishment in the Japan underground, RWB made its first appearance stateside at the 2011 SEMA Show in the form of the green (now black) "Pandora One" 964 Carrera 4, white "Hoonigan" 964 Turbo and grey, unmarked "Pandora Two" 993. Nakai's workmanship immediately led to a cult following, headlining social media channels, YouTube, auto shows, and the creation of 12 RWB locations worldwide.
Aside from the authorized dealer locations, the entire RWB operation is run by Nakai, his painter Nojima Yusuke, and his business manager Ichiraku Toshiya.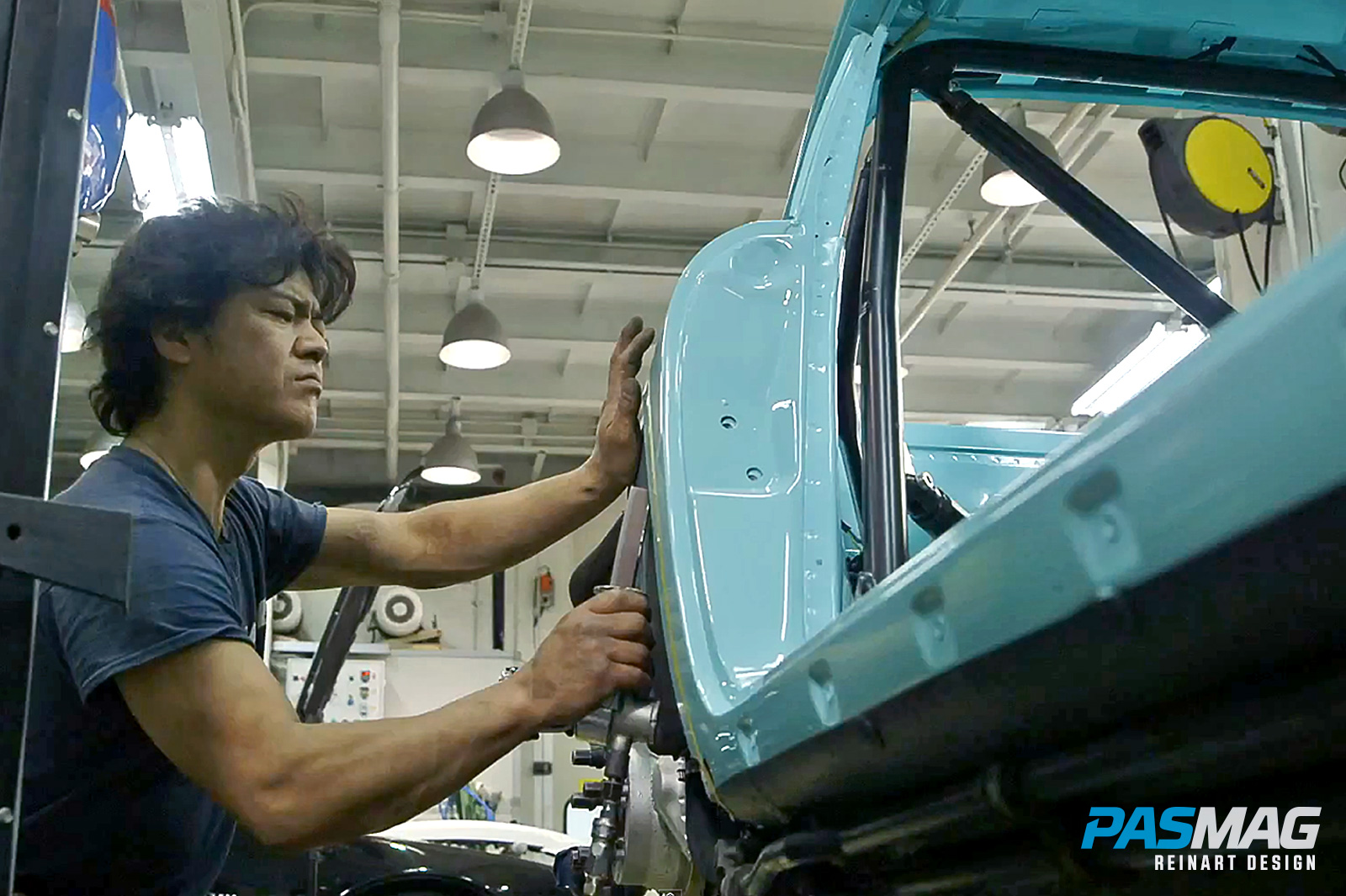 His latest venture is what you see here. Appropriately named after the Tiffany & Co.-inspired mint green paint developed by Fast wheels, this 1990 Carrera 2 964 is RWB Hong Kong's first project, built in collaboration with ReinART.Design; expert vehicle consultants and representing the RWB brand at its 12th and newest outlet.
What differentiates RWB from other wide body manufacturers is that Nakai san doesn't simply distribute prefab parts – he builds each car, conceptualizing and customizing each one entirely on his own. He carefully selects the color, the name, the fitment and the vehicle's driving character based on his customer and their geographic location. Where eager clients were previously required to ship their 911s to his shop in Chiba, the 12 shops now act as a stomping ground for Nakai to execute his craft.
An astute perfectionist, Nakai begins each project with the suspension. His partnership with Aragosta suspension means a tailored, track-worthy Type S coilover setup that meets the requirements of street driving, with the stiffness needed to run such low ride heights, and the tuning ability to perfect the tsuraichi and customer-specific handling character of each car.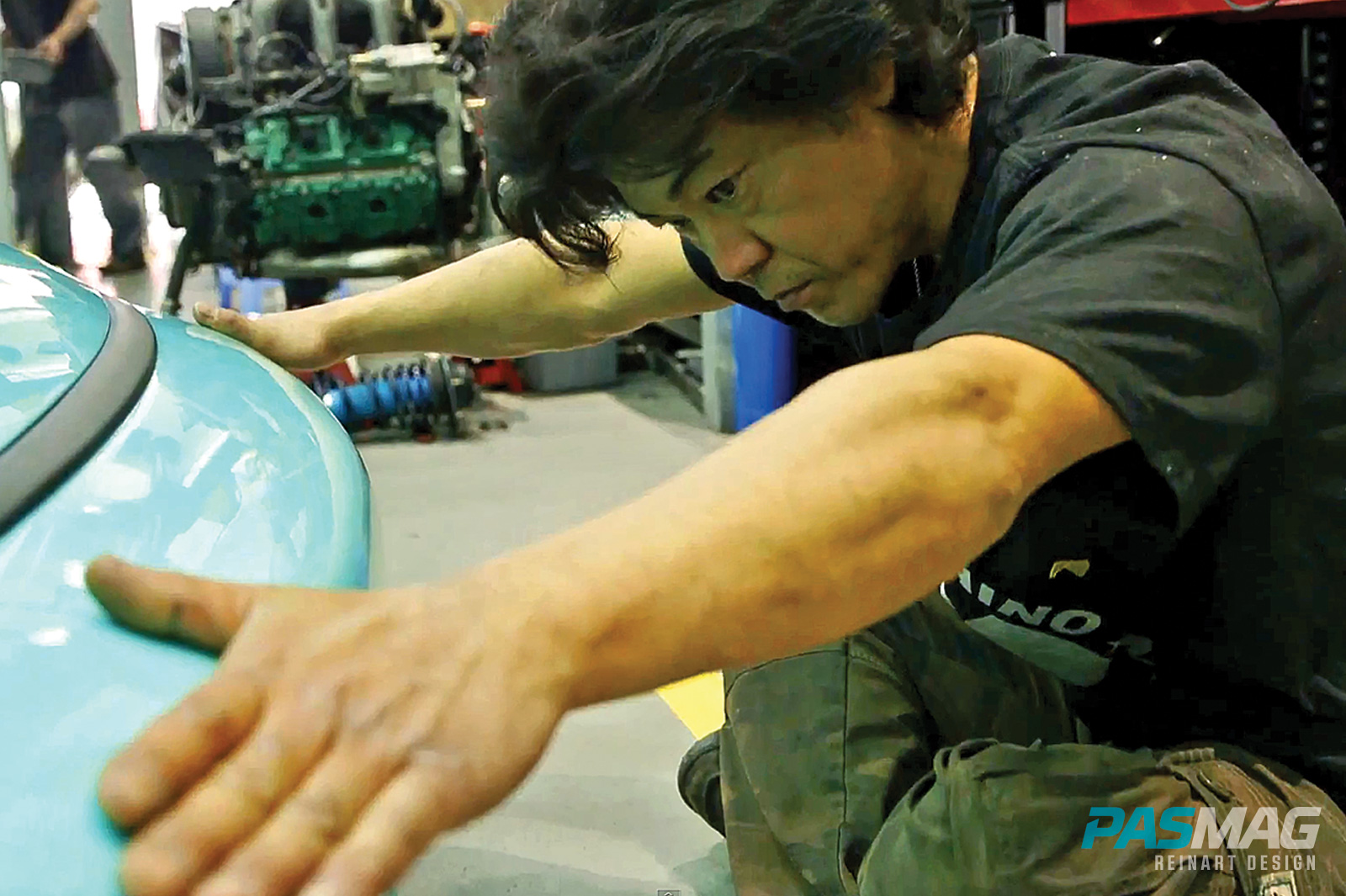 After her suspension is set up, Nakai properly secures Tiffany's 964 kit front bumper, custom grilles and signature black rubber seals. After that is complete, he moves to the piece de resistance: the fenders.
While each vehicle is a labor of love, it's here where Nakai has garnered his reputation, and where each Porsche becomes an RWB. Every cut into the body, every wide body fender, and each instalment is done entirely by feel. Using just his eyes, his hands, and his experience, Nakai has given each of his 300-plus cars – and in this case, "Tiffany" – its unique character.
"Basically, I don't measure," he says simply. "When I cut, I measure with feeling because there are differences in the tools I use, and even the air pressure for each country. There are also differences in climate, in road conditions, so where I fit a fender is also different. It's intuition – a gut feeling."
He doesn't know exactly how wide his fender flares are, or how the wheels will fit immediately. When he's done installing the fenders, Nakai spray paints Tiffany's front lip and rear diffuser, mounts them, and tapes and caulks every exposed body seam. It's a series of massaging his work until it is absolutely perfect.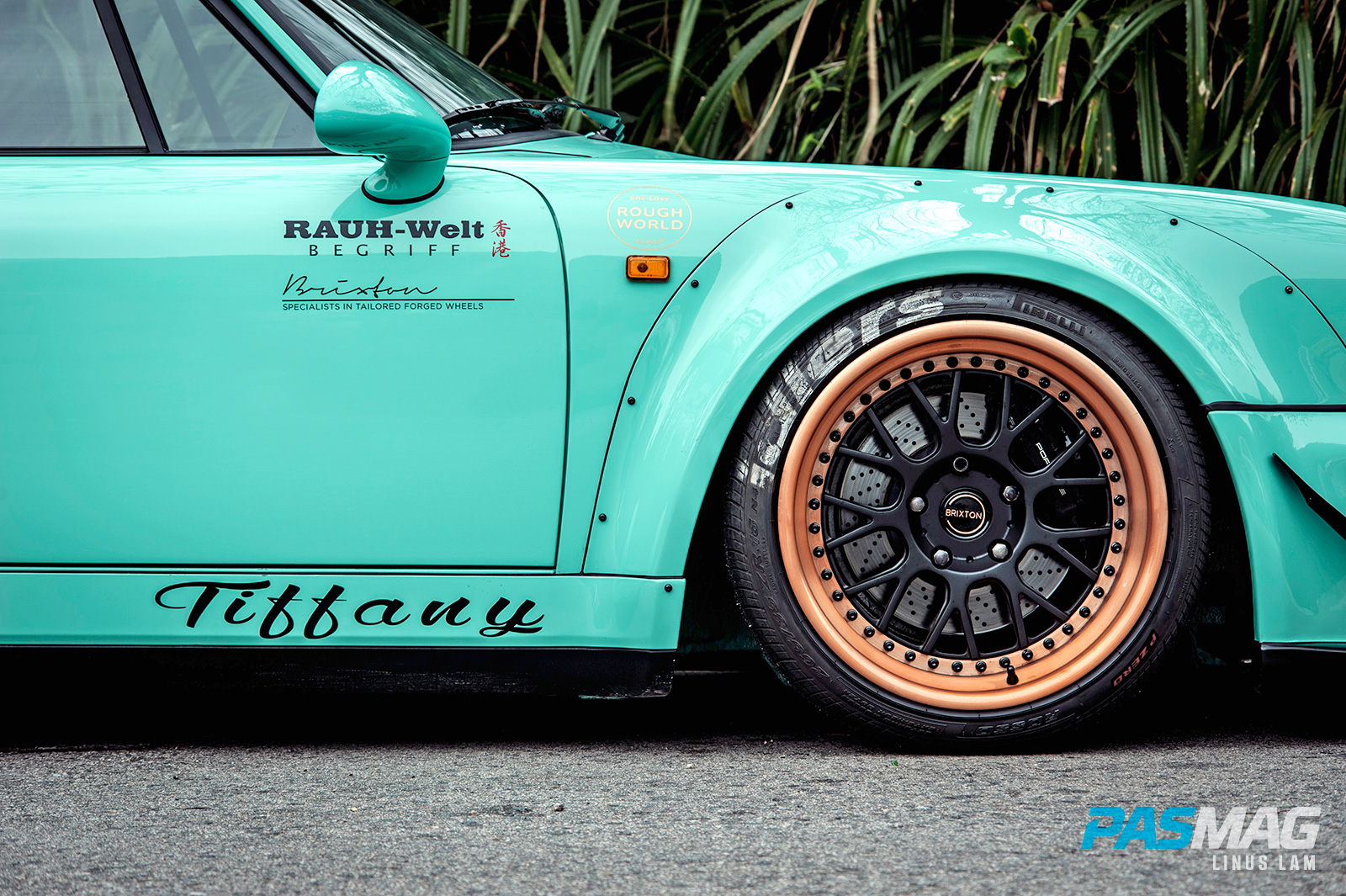 That couldn't be more evident than the wheel installation and alignment. Typically, the wide fenders of an RWB build require wheel spacers for proper fitment. Wanting to match the special nature of Hong Kong's first RWB, ReinART.Design and Nakai contacted Cody and Adam from Brixton Forged to create a one-off set of 18-inch CM16 wheels that require no spacers, finished in Brixton's special colored gloss process, for a rose gold barrel that complements the high-class, Tiffany & Co. theme.
Aligning the wheels, Nakai pulls out two small metal tubes and a small rule, tapes each one to the ground beside the wheels on either side, then starts pulling on the steering wheel. After a few minor adjustments to the tie rods, he goes for a test drive and makes one minor adjustment on the side of the road in Kowloon Bay.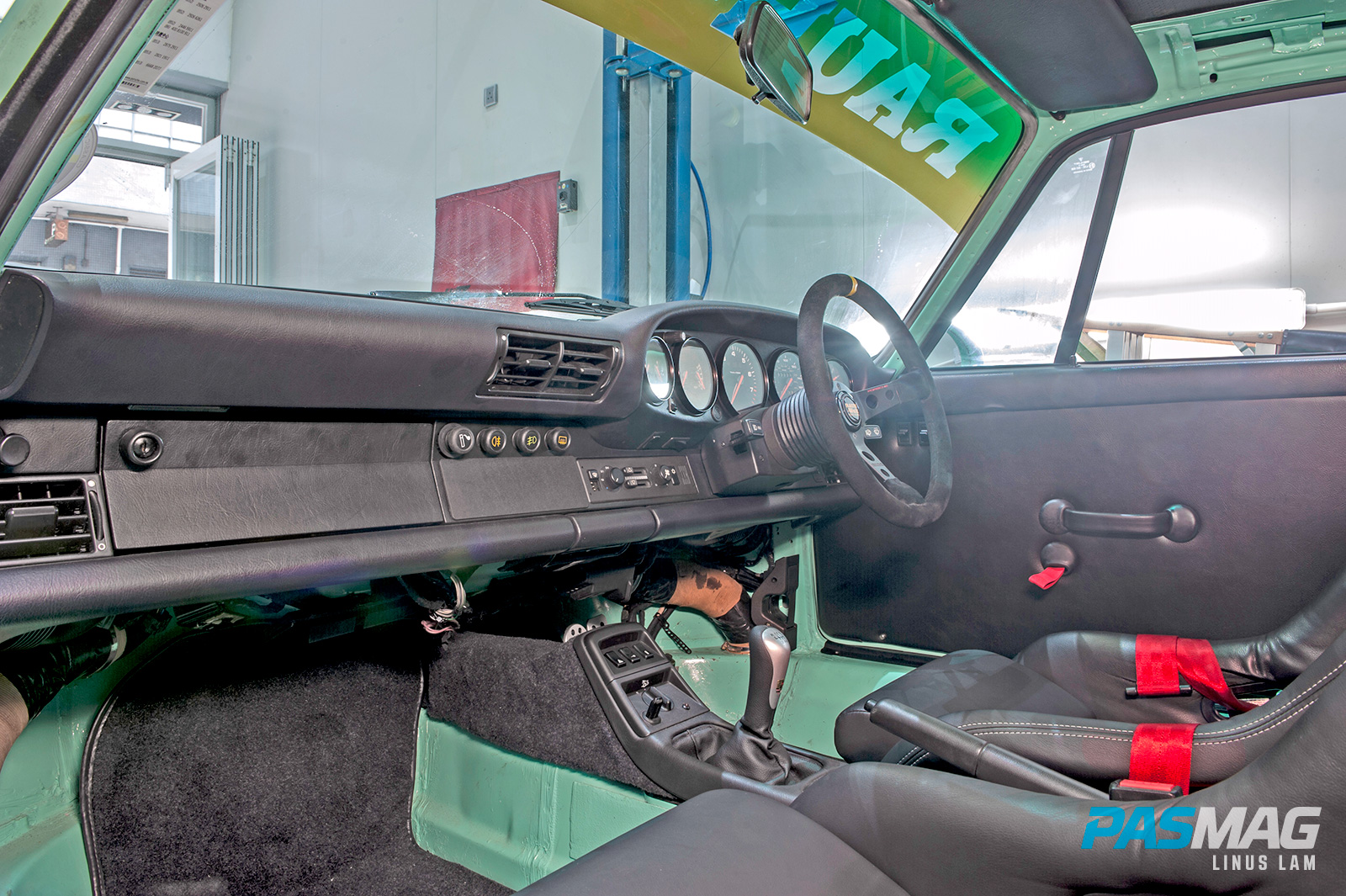 Inside, the car is just as organic. No bells or whistles, it's not far evolved from its stripped form. After all, Nakai's creations are meant to be driven, and driven rough. No distractions here. To that end, a ROTtec carbon SRS bucket seat, Schroth Racing Profi II harnesses, an RWB-badged Momo Porsche GT3 Cup steering wheel and Rennline fully adjustable aluminum pedals sit inside a custom four-point roll cage. Save for the RWB-badged ignition switch, the factory dash and display are all that inform the driver.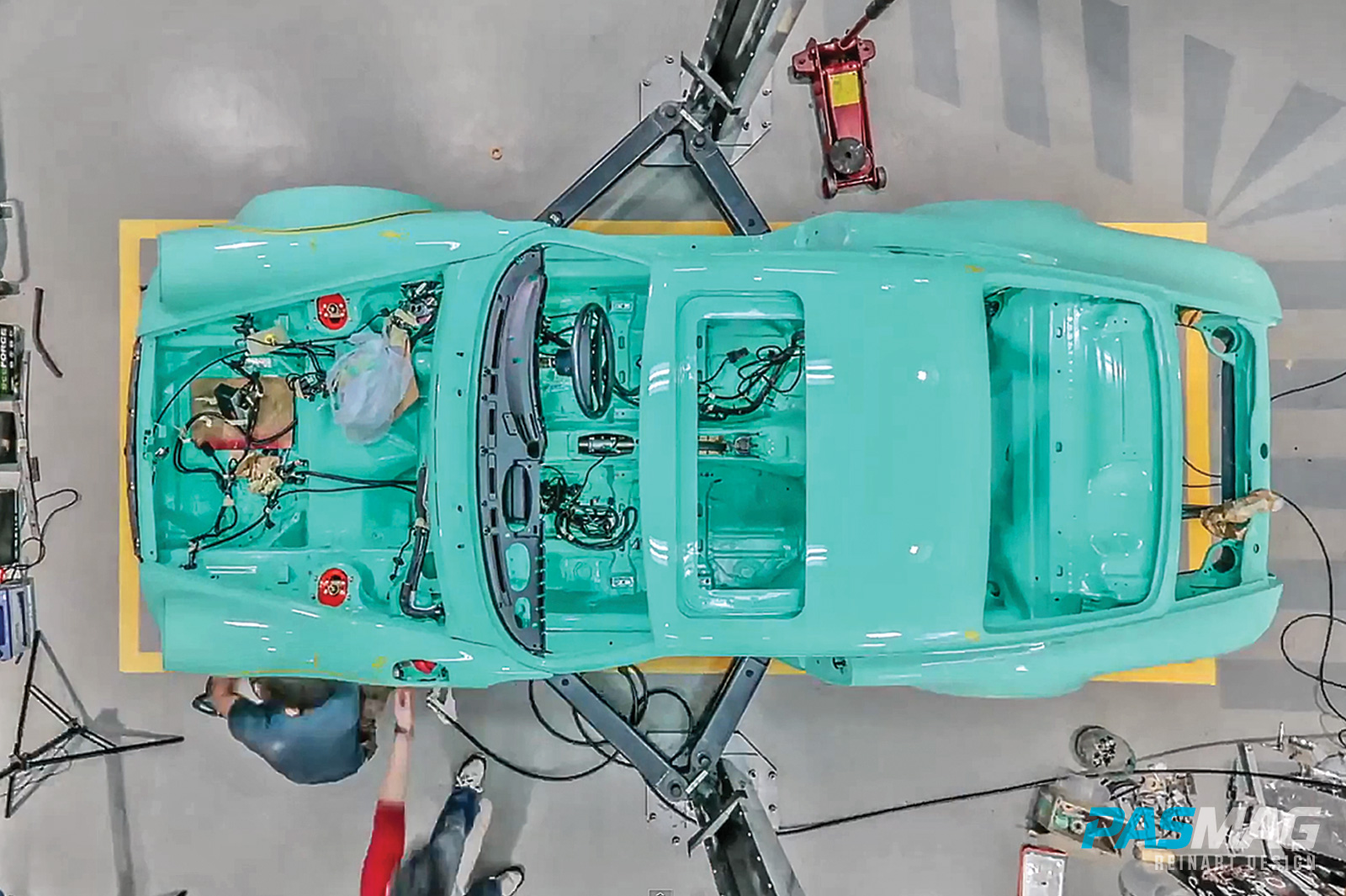 Shifts happen quickly through a completely rebuilt drivetrain that sits on Rennline HD transmission mounts and includes a lightweight RS Cup clutch and single mass flywheel through a Wavetrac LSD. In the rear, the stock 3.6-liter is anxiously awaiting a TPC Racing supercharger, but for the meantime, the completely rebuilt 236-horsepower engine sings the flat-six song beautifully through an FVD set of headers and dual outlet sport exhausts.
Like the AE86s and Mark IIs that came before, Nakai's cars might grab your attention with their radical style, but it's as much about great balance and performance.
"There is no one part about the build that I like the most," he admits. "I'm much more about the balance of the entire thing."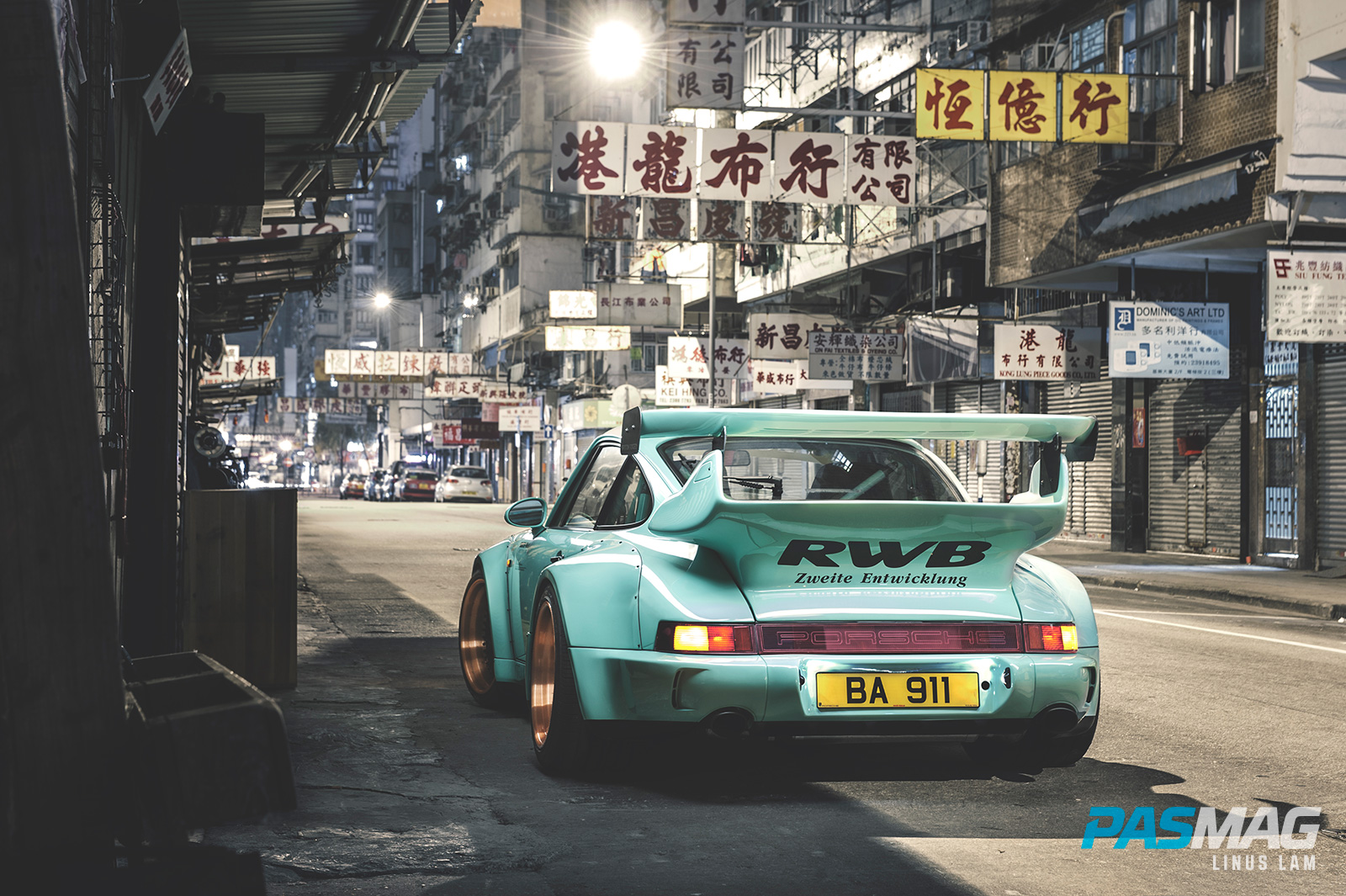 When it's all said and done, Nakai's latest masterpiece takes him just four days from his arrival at Hong Kong International and RWB Hong Kong. Soon after, he's jet-setting to his next canvas.
"Right now, I don't think of myself as living in Japan. I live in the world. I'm not concerned whether it's a far country or a nearby country. I live with my RWB family around the world. I go to the airport every week with that in mind."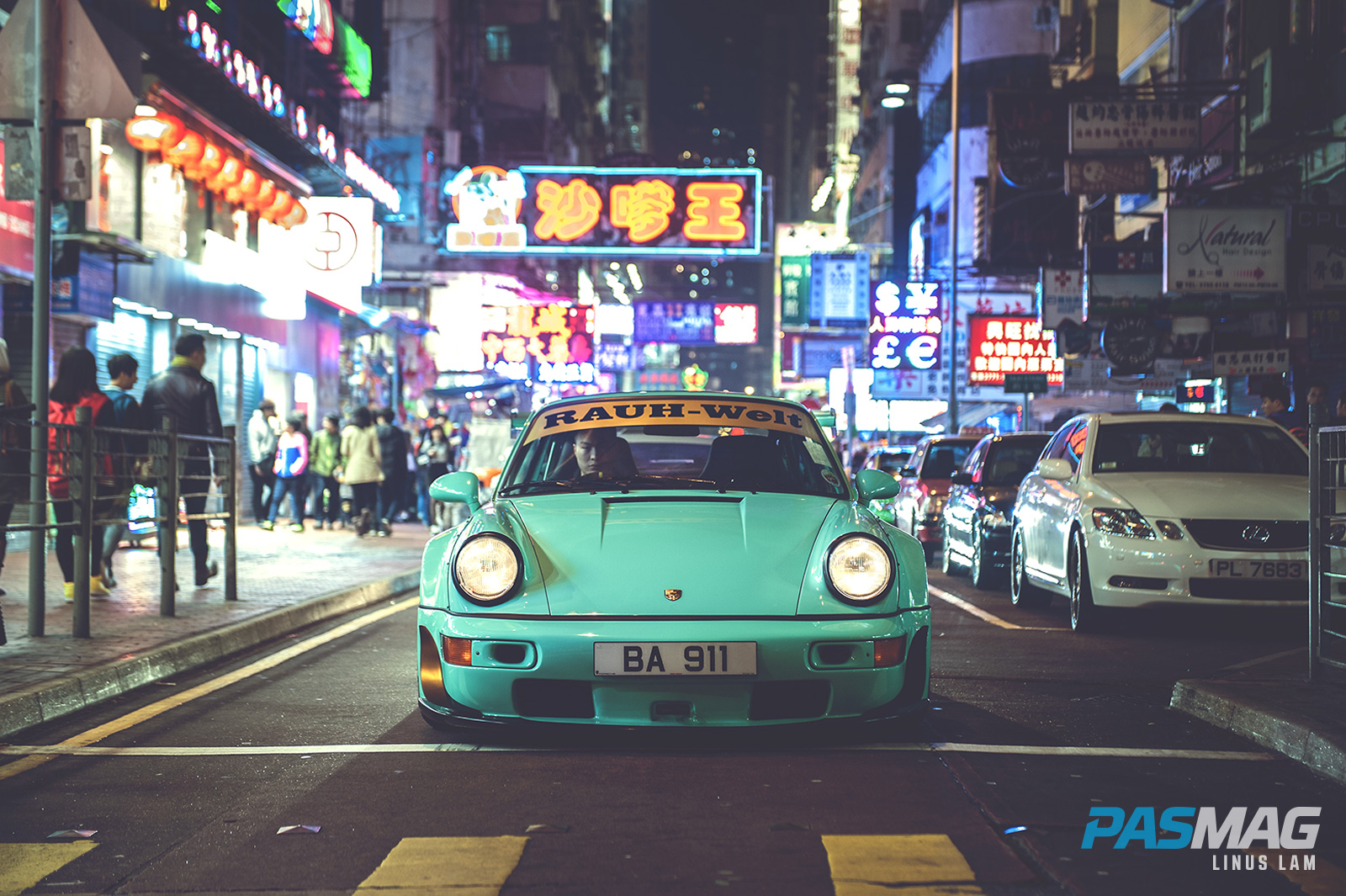 "We only have one life. I believe this is a great experience and I don't want to put it to waste. That is why I will do this to the end."
Like a true artist.
The ReinArt.Design Porsche 911 Carerra 964 in featured in PASMAG Style Book, 2nd Edition. Available on newsstands until the end of June 2015. (Order HERE)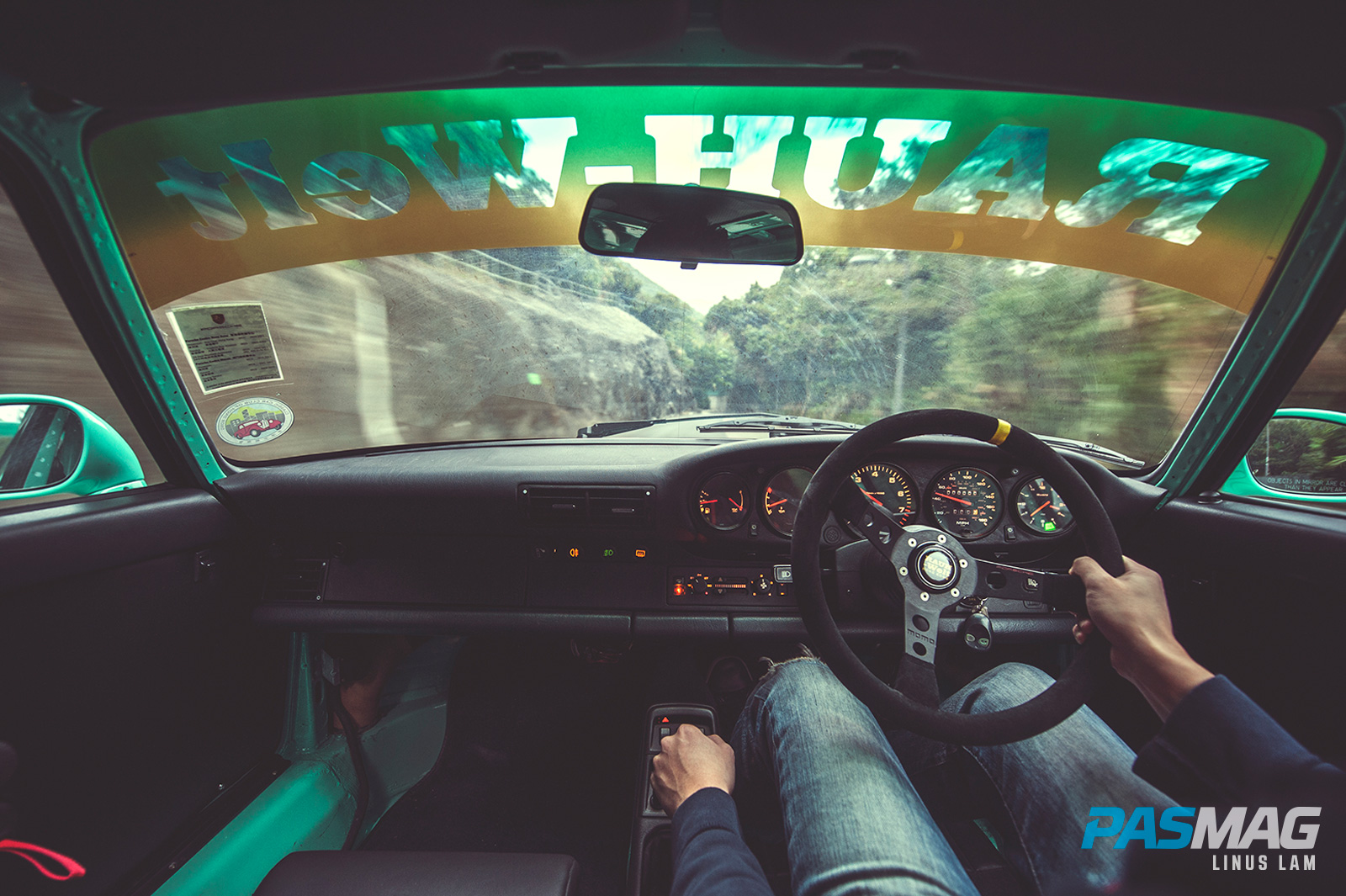 Quick Q&A with Akira Nakai
PASMAG: Do you have a preference to build molded or bolt-on wide body kits?
AN: I like either, I choose either one depending on how they are made.
PASMAG: How many builds are you capable of in a year?
AN: There isn't a perfect ideal, if the customer wants an RWB, I do what I can. And if I had the time I would make my own car.
PASMAG: What is the most difficult aspect of an RWB build?
AN: The hardest part is working on a car from over 20 years ago in a country that I've never been to before.
PASMAG: Do you prefer naturally aspirated or turbocharged engines?
AN: NA has a direct feeling and I love it. My "Rotana" was my first turbo. I'm taking on the challenge of seeing how far I can go with the air-cooled Porsche RWB style, which I love.