Photos by Phillip Awad
---
Knock, Knock. The future is here.
It seems like every year there is a promise of some insane automotive future. Some seemingly well-off and well-adjusted individual promises a flying car, which is pretty much a smart car with some folded wings bolted to it, paired with a good Photoshop job of it flying high in the clouds. They take money from Kickstarters or investors, make up delays, and then fade into the night like a ninja trained in scamjutsu. What most people don't realize is that the future is already here, and it's made by a South African entrepreneur who also builds rockets and has a name that sounds like designer cologne. Elon Musk brought us the Tesla Model S in 2012 and the improvement train (or should I say Hyperloop) hasn't put on the brakes. The Model S, as of 2015, has become a full-fledged performance car with the introduction of its almost 700-horse P85D variant. Dual electric motors, rear-wheel-drive, a transmission that never has to shift and instant throttle response - all without the need for gas - have naysayers blushing. However, as some owners have noted while cruising around in their luxury spaceships, the car often gets confused for other large, four-door, upscale sedans. The Jaguar XF and BMW 5 Series are the usual suspects.
As a neighbor to both the Tesla Design Studio and a Supercharger station in Hawthorne, California, Ben Schaffer of Bulletproof Automotive has been taking notes. Tesla is big, but it's getting bigger, and with all of its energies focused on keeping up with demand, surprisingly, nobody has looked at making aftermarket improvements to the Model S. Mercedes has AMG, so why shouldn't Tesla have something similar? In 2014, the doors to Unplugged Performance were opened right across the business park from Tesla's Design Studio, who actually gave Schaffer and his crew the go-ahead to work over the cars they design. "We're friends with some of the guys there and they gave us a lot of encouragement to start the Unplugged brand," Schaffer says. "In fact, we started it with their blessing. An important part of us deciding it was the right opportunity was having the manufacturer's support."
The reason that no one has really tackled a Tesla project until now is the connotation that the Model S can't be tinkered with. They said the same about the GT-R (R35) back in 2007, but look how that turned out. Schaffer, having much experience in modifying upscale vehicles that "can't be tuned," moved forward with that mindset. And after many concepts and variations, the Unplugged Performance P85+ Model S you see here emerged from the shop.
Now, this isn't just some slap-a-widebody-and-wing-on-it-and-say-"Tada!" venture. Unplugged went above and beyond to match the quality and craftsmanship that goes into cars that share the same price tag. To give you an idea, one of their first hires was an ex-Ferrari F1 composite specialist. Each part they developed needed to have zero negative effects on the efficiency of the Tesla. There had to be no downside.
"There are so many factors that go into play to make a part that makes sense," Schaffer explains. "Most of the parts out there are a tradeoff – you trade one thing for something else. You trade looks for ground clearance, or you trade a wide body for efficiency, or you trade power for a noisy exhaust that pisses off the neighbors. It's very hard to tune a car where it's all upside and no downside."
It's not surprising then that the skirts, diffuser and spoiler on the car all have little to no effect on the OEM aerodynamics of the car. The Model S left the factory with very little drag for increased efficiency, so the last thing Unplugged would want is to strand you in the middle of a road trip because they developed parts that steal power and aren't aero efficient.
While tinkering with the Model S was getting thumbs up from Tesla, Unplugged's work also caught the eye of aftermarket wheel powerhouse BBS. Working in tandem on the design and manufacturing, the 21-inch beauties that take up residence on all corners came to fruition. These BBSs are tailor-made for the Model S. If you tried to put them on something else, it just wouldn't ride right. Schaffer says it was a no-brainer going into business with BBS.
"BBS is excited about what we were doing," he says. "From our side, anything that we don't make with our own hands, we only want to bring in partners that we think fit the long-term image for the brand. BBS is the kind of brand you want for wheels." There is just no compromise when it came to putting together this upscale plug-in. You won't find coilovers or an air system under the wheel arches. Instead, you'll find the factory units paired with a kit that Unplugged offers to dial in the ride height according to the owner's preference. There's already a selectable suspension system onboard the Tesla, Unplugged just toyed with it a bit to produce some tasteful low.
Absolutely everything is designed and manufactured in-house. Aero bits? Check. Interior carbon fiber pieces coated in the same BASF clear coat used on the Tesla? You got it. Upholstery made from Rolls-Royce carpeting, Lamborghini Alcantara and Ferrari leather? All custom-stitched and made to order. Regular aftermarket just isn't good enough for a car of this caliber. Even the headlights received a blackout treatment and were upgraded with improved projectors and lenses, which are etched with the Unplugged logo, but are invisible in the beam.
None of this was easy or plug and play, however. The Model S is an advanced vehicle with complicated systems to match. Schaffer tells us that every part design had at least 20 iterations before a concrete product was good enough to work with the systems and provide the same efficiency - the most difficult being the menacing, revised front fascia. "The front bumper was the most difficult project we've ever done, as far as aftermarket," Schaffer recalls. "All of that new technology comes with some very challenging systems. We actually reused all of the factory components that give the car its function, which is extremely difficult to do."
The fog lights are a shining example of this. Even though they look aftermarket, they're actually the stock units. Being flipped upside down and trading places from left to right, the daytime running lights now have the same curvature as the new bumper, which looks awesome, and the hidden ducts that feed air to the cooling systems at speed retain their function.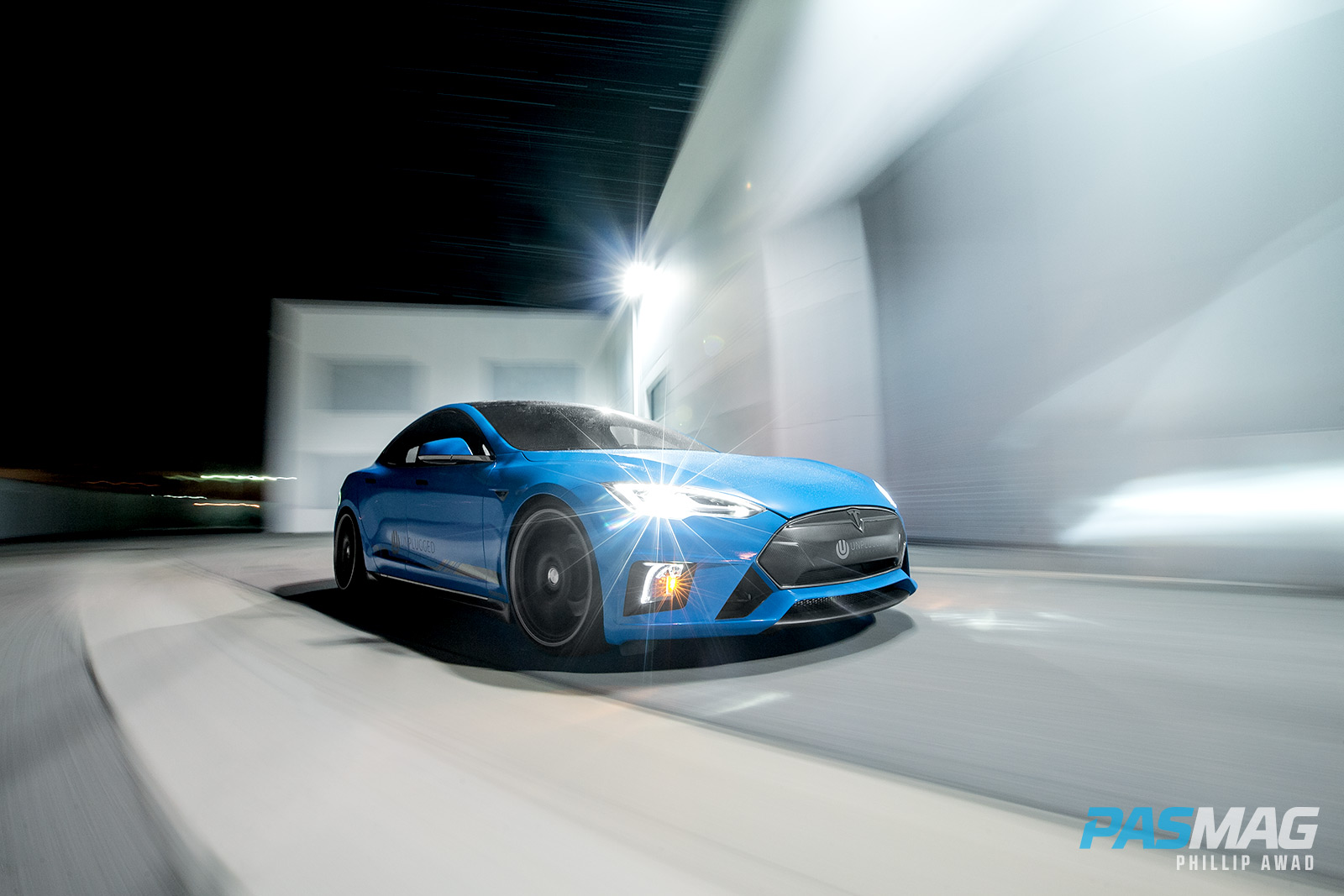 Yes, it would have been easier to go another route, but in the words of Schaffer, "When you buy a $120,000 high-end car, you want it to have the parts that you bought."
As of right now, there are no plans to squeeze a little extra juice out of the batteries that run down the middle of the car. Has Unplugged looked into it? Of course they have, but doing so would void the warranty. Do you really want to lose your warranty when a replacement battery costs as much as a brand-new WRX STI?
"At the end of the day, it's all about passion," says Schaffer.
"We do things that we like and that we believe in, and after driving the Model S for the first time, we just knew that this was something special and needed to be treated as such."
The future isn't a bunch of wishy-washy promises of winged cars. The future is already here. Right now, it's being upgraded in Hawthorne, California at its parents' neighbor's house and it's pretty special.
ESSENTIALS // 2014 Tesla Model S P85+, Built by: Unplugged Performance, Location: Hawthorne, California, USA, Propulsion: All-Wheel Drive Dual Electric Motors, Horsepower: 376 hp
WHEELS / TIRES // Unplugged Performance / BBS UP-01 wheels – 21-in. (f/r), Toyo Proxes T1R tires – 255/30 ZR21 (f/r)
CHASSIS / SUSPENSION // Unplugged Performance height adjustable sport suspension kit
EXTERIOR // Unplugged Performance (front fascia, dry carbon side skirts, dry carbon trunk spoiler, dry carbon rear diffuser, high intensity headlights), Tesla satin clear finish
INTERIOR // Unplugged Performance (bespoke redesigned sport seats, dry carbon seatbacks, bespoke sport steering wheel), Lamborghini Alcantara interior, Rolls Royce (carpeting, floor mats)
MOBILE ELECTRONICS // Unplugged Audio Package (400-watt amplifier upgrade, 10-in. hidden subwoofer system, upper midrange tweeters (2) w/ passive & active crossovers)