Taking the S13.5 Conversion to the Next Level
There was a time not too long ago when the S13.5 was the hottest thing in the rear-wheel drive import tuner scene. Older readers will remember a few years' span in which several S13 240sx features boasted an S15 front end conversion. The front end of the S15 Silvia remains one of the most desirable looks in the JDM sports car catalog today, and remains especially appealing in the United States as enthusiasts patiently wait for the S15 Silvia to achieve import legality under the 25-year rule. Soon, guys. Soon.
For those who don't feel like waiting, the front end conversion to S13s and S14s is a route that requires some finesse to pull off well, but looks incredible when done right. Luckily for us, Tuner Battlegrounds 7 runner-up and founder of DoBoy's Garage, Anthony Do, had always wanted a "Sil-Eighty" after watching Initial D, and since he had a 1993 Nissan 240sx in his possession, it was only a matter of time before his car went under the knife. Not wanting to settle for just the front end conversion, and always looking to push the envelope with his builds, Do hatched a plan for an S-chassis unlike any before it.
His original intentions were to build a SEMA-quality car in his own garage, so the first order of business for Do was to make the Sil-Eighty build idea truly his own. For those who aren't familiar, Sil-Eighty - or Sil80 - was a slang term to describe a Silvia front end on a 180sx chassis. Typically completed with an S13 Silvia front end, Do saw the potential to do something different with the S15 Silvia front end by combining the conversion with Rocket Bunny's S13 and S15 kits. Once the two kits and his S15 OEM fenders showed up from Japan, it was game on.
Body work for this build was not without its challenges. In addition to the complicated task of fabricating hybrid S13/S15 front fenders, Hurricane Harvey landed in Houston during the build, and that set the body shop back at least three months. Finally, after a bit of delay outside of his control, Do had his S13.5 back in his hands, complete with a hybrid Rocket Bunny kit with excellent fit and finish, painted in a sleek Avalanche Gray. This would serve as the foundation for the rest of the build. From there, D2 Racing air suspension paired to a VERA air management system would allow the newly widened fenders to sit perfectly over a constantly changing wheel and tire setup.
With the chassis and suspension now taken care of by way of Energy Suspension bushings, Cusco strut bars, and Offbeat Garage subframe risers, the S13.5 was ready for its next total overhaul - the engine bay. While KA and SR engines are the reigning champions of popularity in the platform, Do was determined to make his build stand out in all aspects. He sourced a 2JZ-GTE so he could bring the power level up substantially. With the help of a Precision 6766 turbocharger, HKS cam gears, NST lightweight pulleys, and a Tial wastegate/BOV combo, Do was able to turn up the boost to produce a respectable 500 whp. Shaving the bay and making everything pretty goes a long way at shows, and definitely put Do's build one step closer to SEMA-caliber.
Assisting the 2JZ's drivetrain, which was now a mix of the R154 transmission and a Nismo 1.5-way differential connected by a custom 1-piece driveshaft, is a Competition Clutch and flywheel setup, as well as a CUBE Speed short shifter. Keeping the power to the ground is a set of Toyo R888R tires measuring 265/35/18 and 315/30/18 in the front and rear respectively. Those Toyo tires have been wrapped around a variety of wheels during Do's ownership. On the SEMA floor for the Tuner Battlegrounds 7 finale, the car featured TE37s, but today it sits on an 18-inch set of SSR SP1 wheels.
Not one to leave an aspect of his builds untouched, Do then turned his attention to the S13 interior. Once he had sorted out some custom suede Braum Racing seats and matching 5-point harnesses, as well as a Cusco roll cage, he wanted to do something of his own creation to spice up the '90s interior. With a careful hand, he turned the OEM dash into a suede custom dashboard that added a touch of class to an otherwise bare-bones Nissan interior.
When Do first started building his S13.5, his intentions were to take the Sil-Eighty conversion into the modern era and land it among prestigious company alongside SEMA-caliber builds. Thanks to that vision, the 1993 240sx he built looked perfectly at home in the PASMAG booth at SEMA 2019. Congratulations for making it to the SEMA floor, Anthony!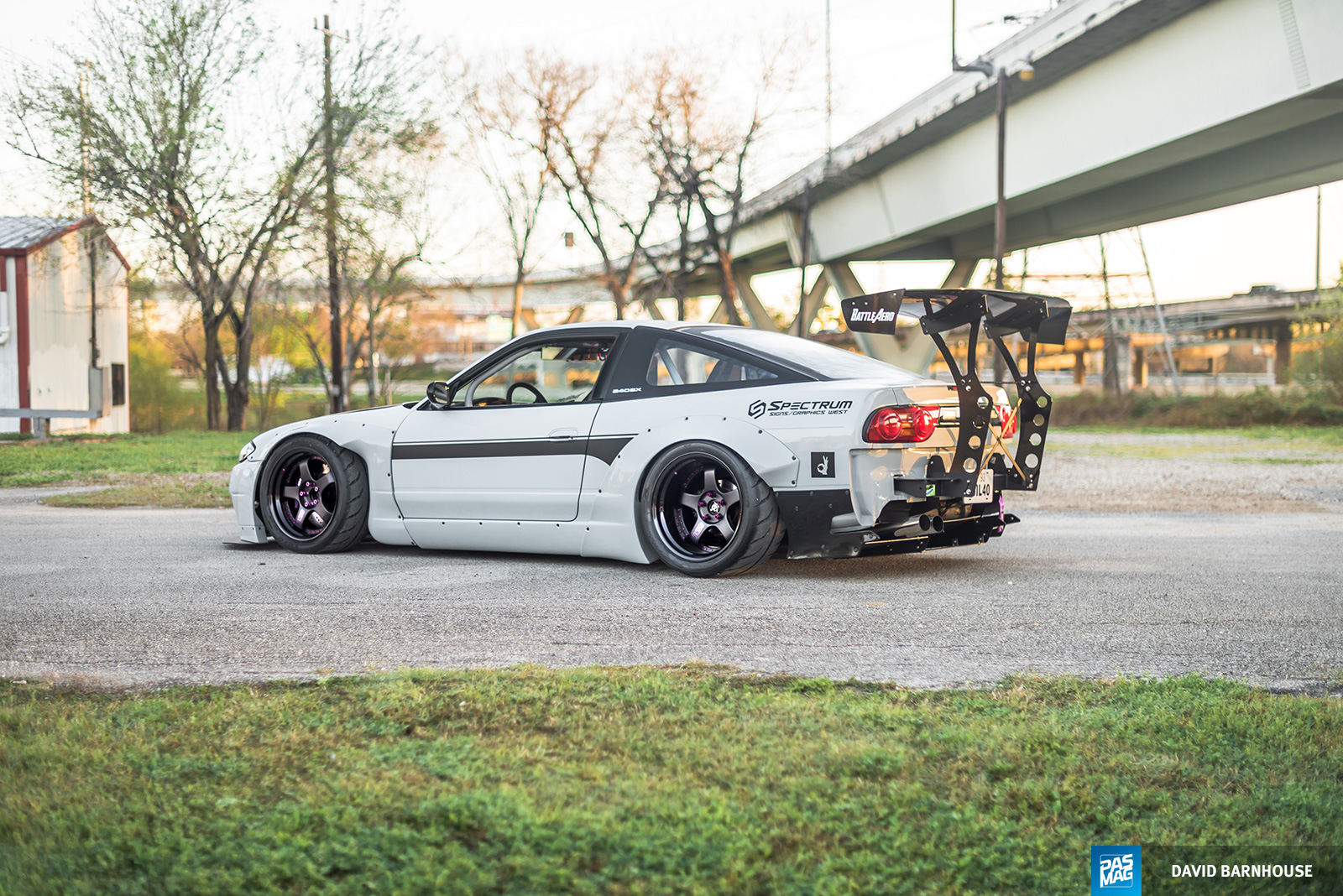 Anthony Do's 1993 Nissan 240SX is featured in PASMAG #161. To order, CLICK HERE.
Photography by David Barnhouse (@shutter.studios.david)
---
ESSENTIALS
Owner: Anthony Do
Vehicle: 1993 Nissan 240SX
Location: Houston, TX
Engine: Toyota 2JZ-GTE
Horsepower: 500 whp
Club: Endless Projects
SOCIAL
Facebook: /DoBoy85
Instagram: @doboysgarage
ENGINE
2JZGTE swap
Precision 6766 turbo
Tial (MVR wastegate, Q 50mm BOV)
Greddy FMIC
HKS cam gears
Fluidampr crank pulley
NST lightweight pulleys
EXHAUST
Custom 3-inch downpipe
ISR Performance 3-inch exhaust
DRIVETRAIN
R154 5 speed transmission
CUBE Speed short shifter
Competition Clutch clutch
Competition Clutch flywheel
1 piece aluminum driveshaft
Nismo 1.5 LSD
WHEELS / TIRES / BRAKES
SSR SP1 wheels - 18x9.75 +5 (f), 18x11 -15 (r)
Toyo R888R tires - 265/35/18 (f), 315/30/18 (r)
Brembo 6-piston brake calipers
StopTech (drilled rotors, stainless steel brake lines)
Hawk HP+ brake pads
CHASSIS / SUSPENSION
D2 Racing air bags
VERA air management
Energy Suspension polyurethane kit
Offbeat Garage subframe riser
Cusco strut bars (f/r)
EXTERIOR
S15 Silvia front-end conversion
Seibon carbon fiber hood
Rocket Bunny S15 (front bumper, front fenders)
Rocket Bunny S13 (rear bumper, rear fenders)
Battle Aero chassis wing
180SX Type X tail lights
Avalanche gray paint job
Auxbeam LED headlights
INTERIOR
Cusco 6-point cage
Braum (5-point harness, custom suede seats)
Custom suede dash
SPONSORS
Discount Auto Supply
Garage Guys Automotive
Toyo Tires
CUBE Speed
BRAUM Racing
JACE Auto
Odyssey Battery
D2 Racing
VERA
Blackvue
Spectrum Signs/Graphics West
---
PHOTO GALLERY