Photography by Chris Manacop
---
Ever since the WRX reached North American shores in late 2001, the turbo-charged AWD rocket has been tinkered and fiddled with by thousands of Subaru fanatics all over Canada and the US. The award-winning platform is almost impossible to resist, as Subaru's full-time all-wheel drive and potent boost-friendly engine combine to create one of the greatest tuner cars the planet has ever seen. The bulky GD-chassis was first met with mixed emotions, as it replaced the outgoing GC body that earned a cult following for the 2002 model year, but that didn't stop guys like Michael Davis from getting their hands on one. His 2003 specimen has been overhauled from head to toe and stands as one of the country's most immaculately built Subarus.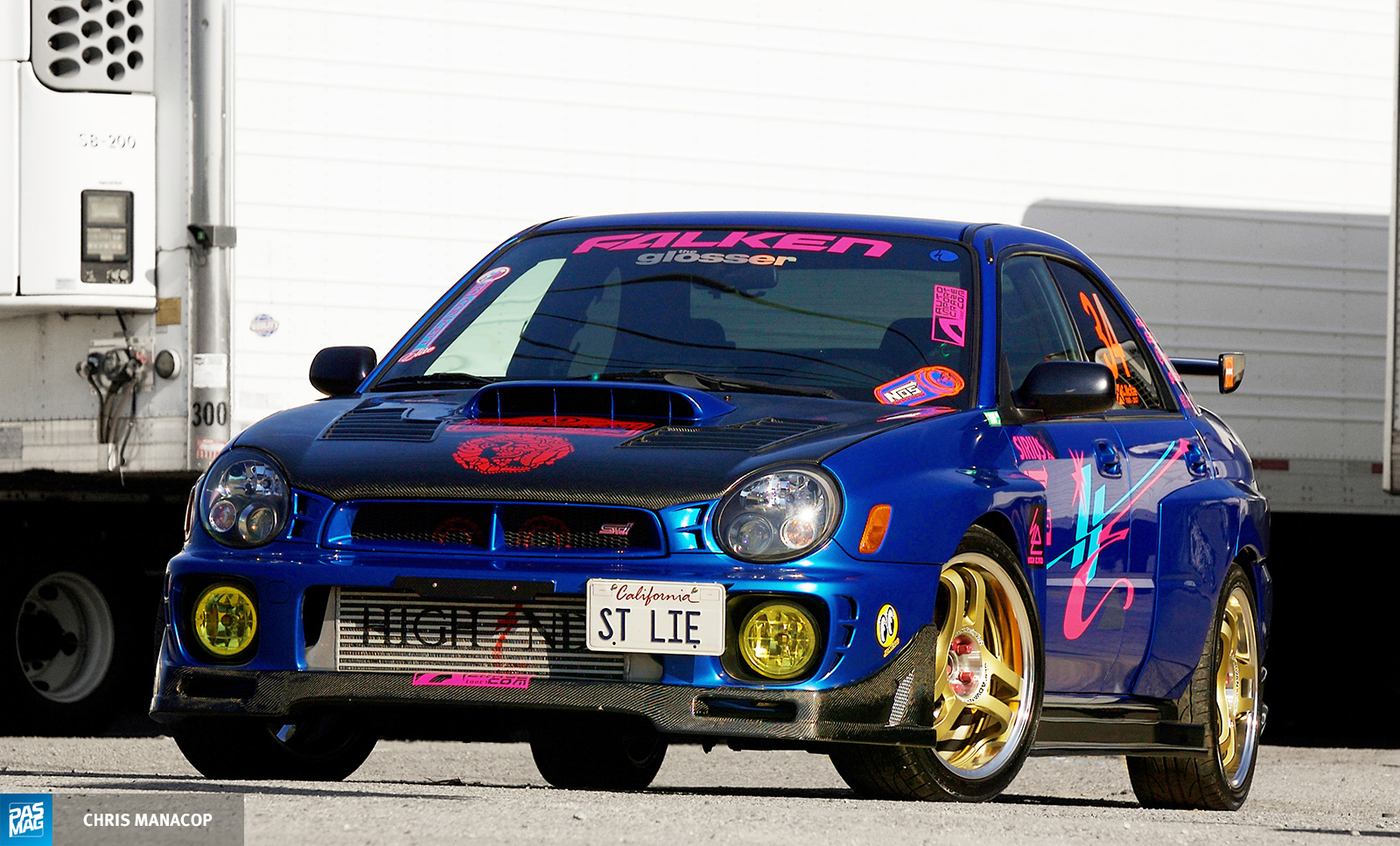 Known affectionately as 'Peanut,' Davis is a Southern California resident with seemingly impeccable taste for modding Subies. It's no secret that many enthusiasts found the factory-dressed WRX hard on the eyes, so it takes someone truly talented to help its level of beauty match its obvious brawn. Of course, this daunting task wasn't taken on alone, as he turned to his friends at High End Performance for their collective advice. Not wanting to mask the Rex's looks entirely, Davis accented them with the addition of a Seibon carbon fibre lip up front, EGR rear skirt and STi rear diffuser. The car's heavy WRC influence is magnified further with the addition of the Kukumei rear widebody, which is matched with custom widebody front fenders and sideskirts.
The WRX's style is as Japanese as a bag of wasabi peas, as Davis added numerous STi pieces – including the GeNome grill, hood scoop and HID headlights. No doubt one of the coolest parts of the car can be found bolted on the trunk lid, as the STi S202 wing is a rarer find than the dark-skinned version of Michael Jackson.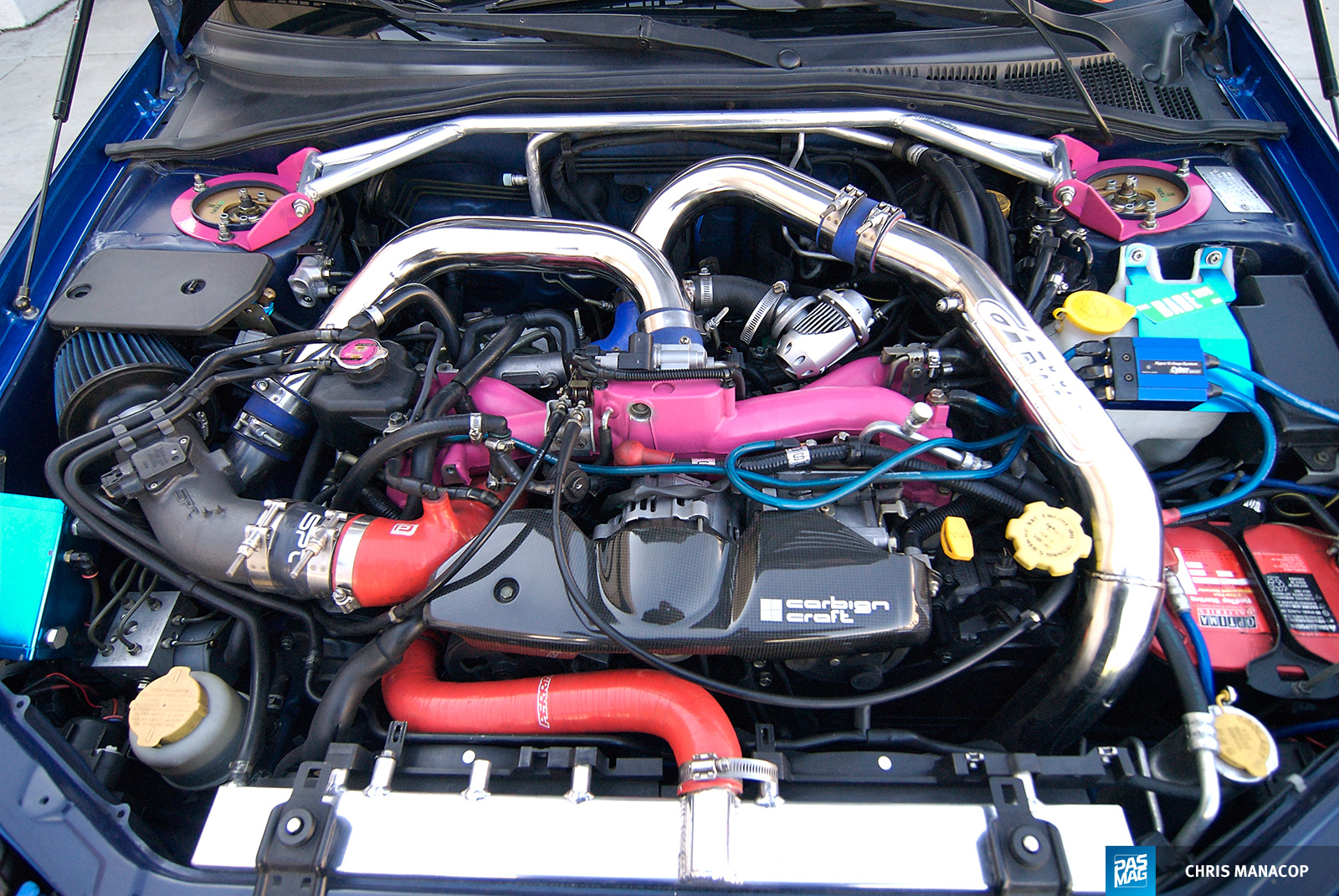 Packing a de-tuned version of the famous EJ20 under the hood, Davis sought a lot more than the 227 boosted horses Subaru granted its North American drivers. In its place, the Oxnard, CA resident fit a fully-built EJ257 short block (out of a USDM Subaru STi) to help spin all four wheels. This heart transplant also came along with a beefy IHI VF39 turbo upgrade, HKS blow-off valve and SS Autochrome front-mount intercooler to keep things chilly. A Bosal down-pipe / STi GeNome exhaust combo handles gas expulsion duties, while the octane-rich fuel is kept flowing thanks to the Walbro fuel pump and WRX injectors modified to flow 800cc. A custom ECU tune by AWD guru Mataan resulted in 320hp at all four wheels, more than enough get-up-and-go for this daily driver.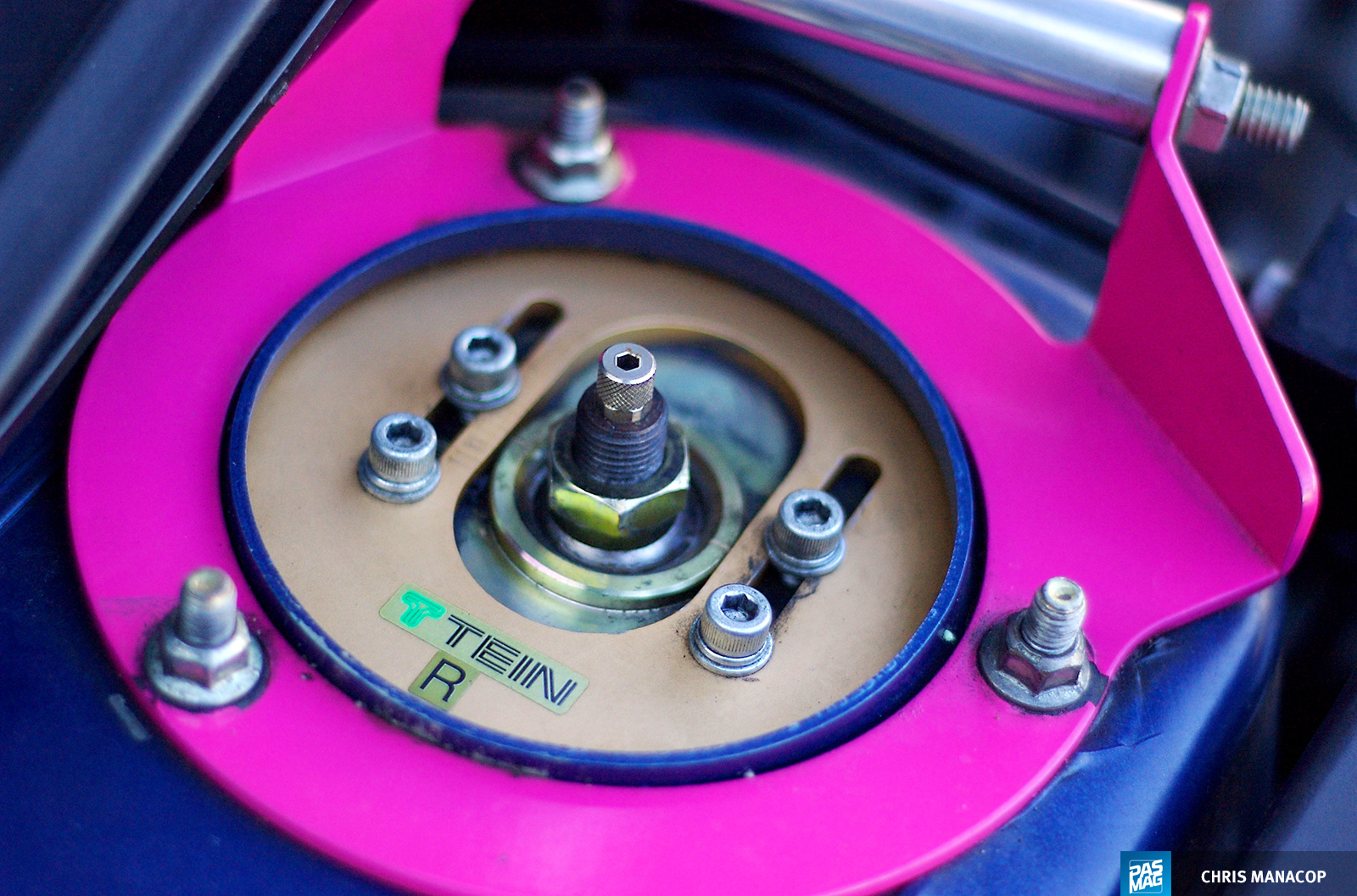 Helping harness this power is an upgraded suspension system that features a set of fully adjustable TEIN Super Street coil-overs. The dampers offer 16-way adjustability for damping force and rebound, while the pillowball upper mounts allow for precise dial-in. Chassis fortification comes in the form of Cobb front and rear sway bars, as well as STi strut tower braces up front and in the rear. Davis also went to the effort of replacing much of the stock bushings, using both Kartboy and NOLTEC performance bushings instead. Further assisting Davis with control, the WRX was fitted with the STi / Brembo big brake kit that uses massive four-piston calipers and vented rotors.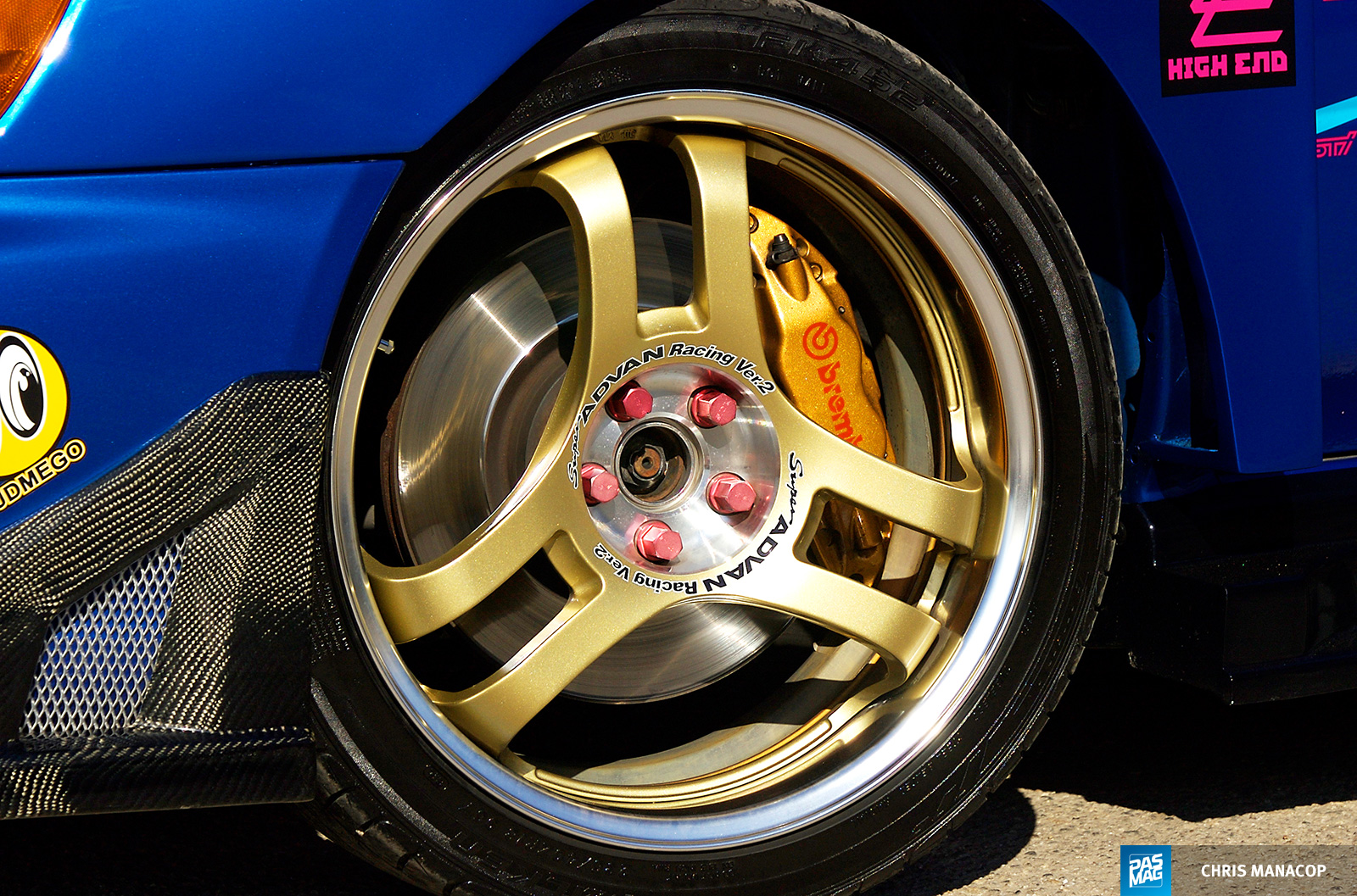 Adding Nippon style to the WRX's feet like an ultra-rare pair of Visvims, Davis went with the Holy Grail of JDM wheels – the Super Advan Racing IIs. Measuring 18 inches in diameter, the split three-spoke wheels feature a gold face and are lined in tight gripping Falken FK452 tires. Though the World Rally Blue Pearl-on-Gold colour combination is reminiscent of the car's years of WRC glory, Davis' WRX rocks the two-tone in a sleek and fresh way.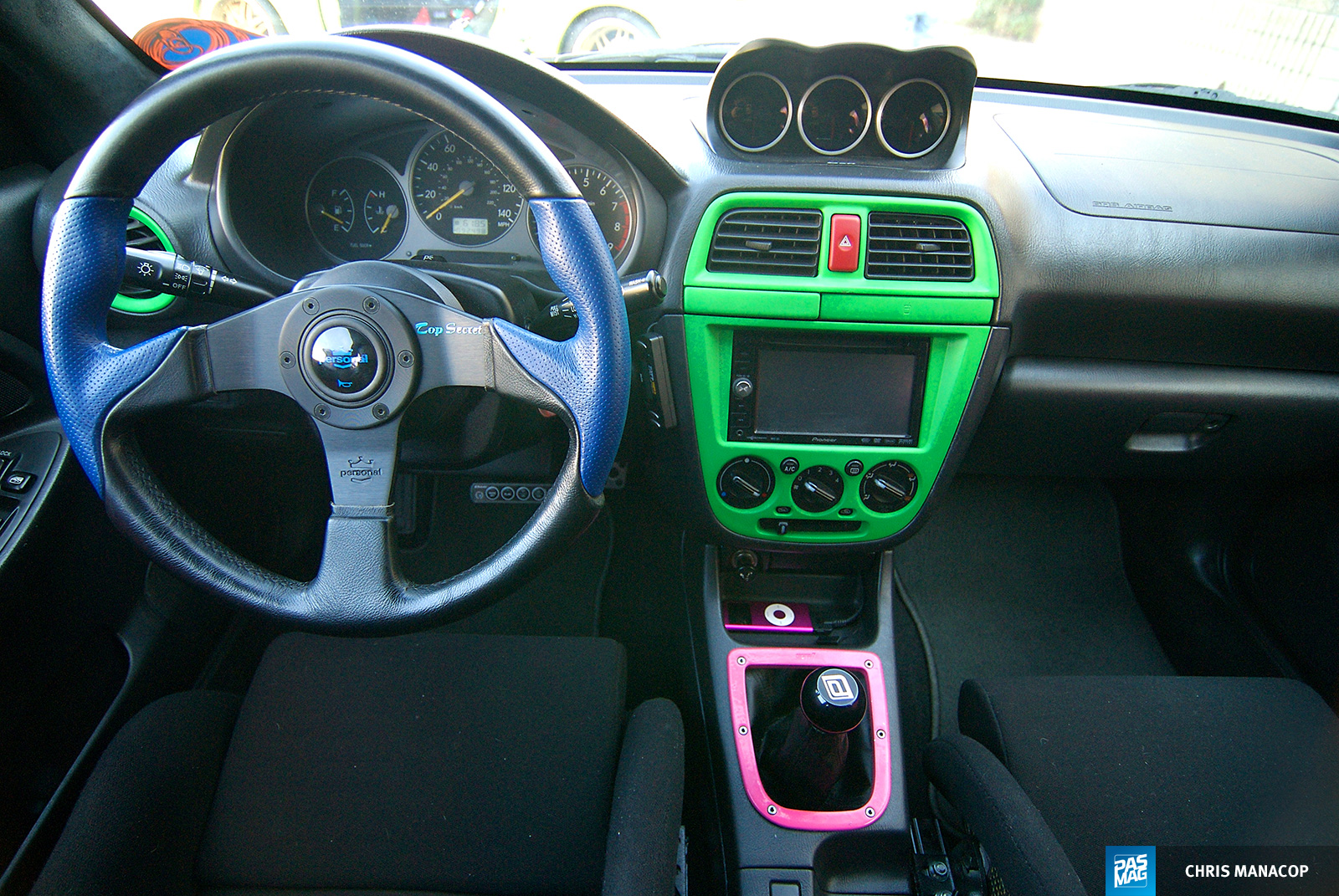 To be a member of Auto Concept Elite (the official car crew of High End Performance – also known as ACE), vehicles must not only look perform at a high level, but bring home trophies from the car show. In order to do that, you've got to get major love from the judges for maximum points. Davis helps to fill out the judges' scoresheets with a customized interior that features a pair of High End Performance's carbon / Kevlar seats, JDM STi Version VII gauge cluster and Top Secret steering wheel. The car's vitals are displayed via the Defi meters, keeping Davis on point with boost, oil pressure and EGT levels.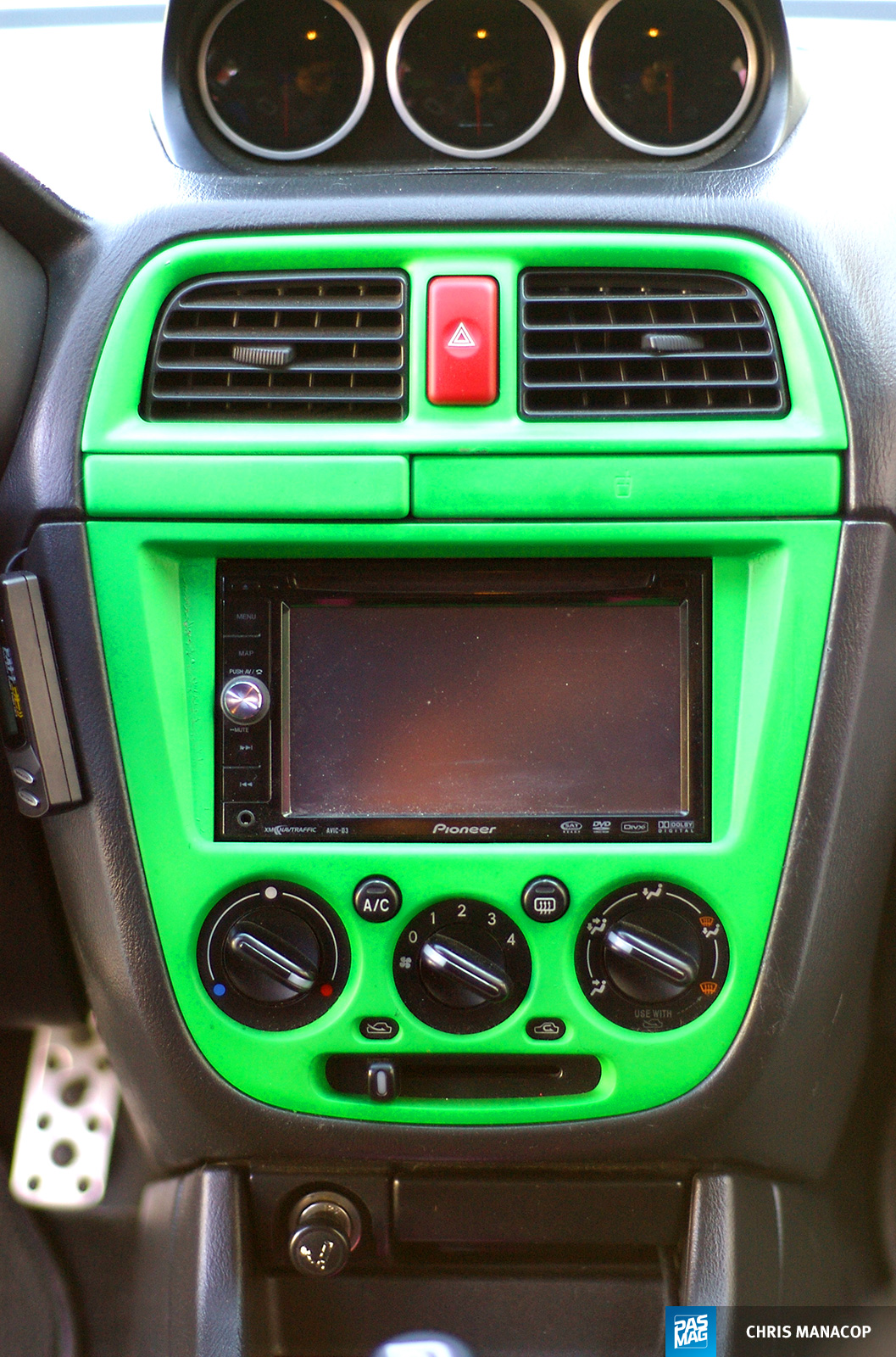 Having a booming multimedia system is also key to a well-round vehicle and Peanut doesn't disappoint with his Pioneer / Polk Audio / Elemental Designs custom system. Complete control comes courtesy of a Pioneer AVIC-D3 head unit that features DVD playback / display and GPS navigation. Juice is provided by a pair of Elemental Designs amplifiers mounted in the trunk, with a 9.2X pushing the Polk Audio speakers in the doors, and a 9.1x unit that handles the Elemental Designs 12-inch subwoofer. A custom Plexiglas cover with a Subaru emblem dresses up the trunk's setup.
With all the work Davis has poured into the project, the WRX is still under constant change. Even though the vehicle has been, along with the Auto Concept Elite crew, absolutely terrorizing the highly-competitive SoCal show scene, he still sees areas for improvement. Thanks to his boys at High End Performance, his Subie's evolution will continue and we can't wait to see what's he's got planned for the upcoming season. Make sure to log on to www.highendperformance.net for more information.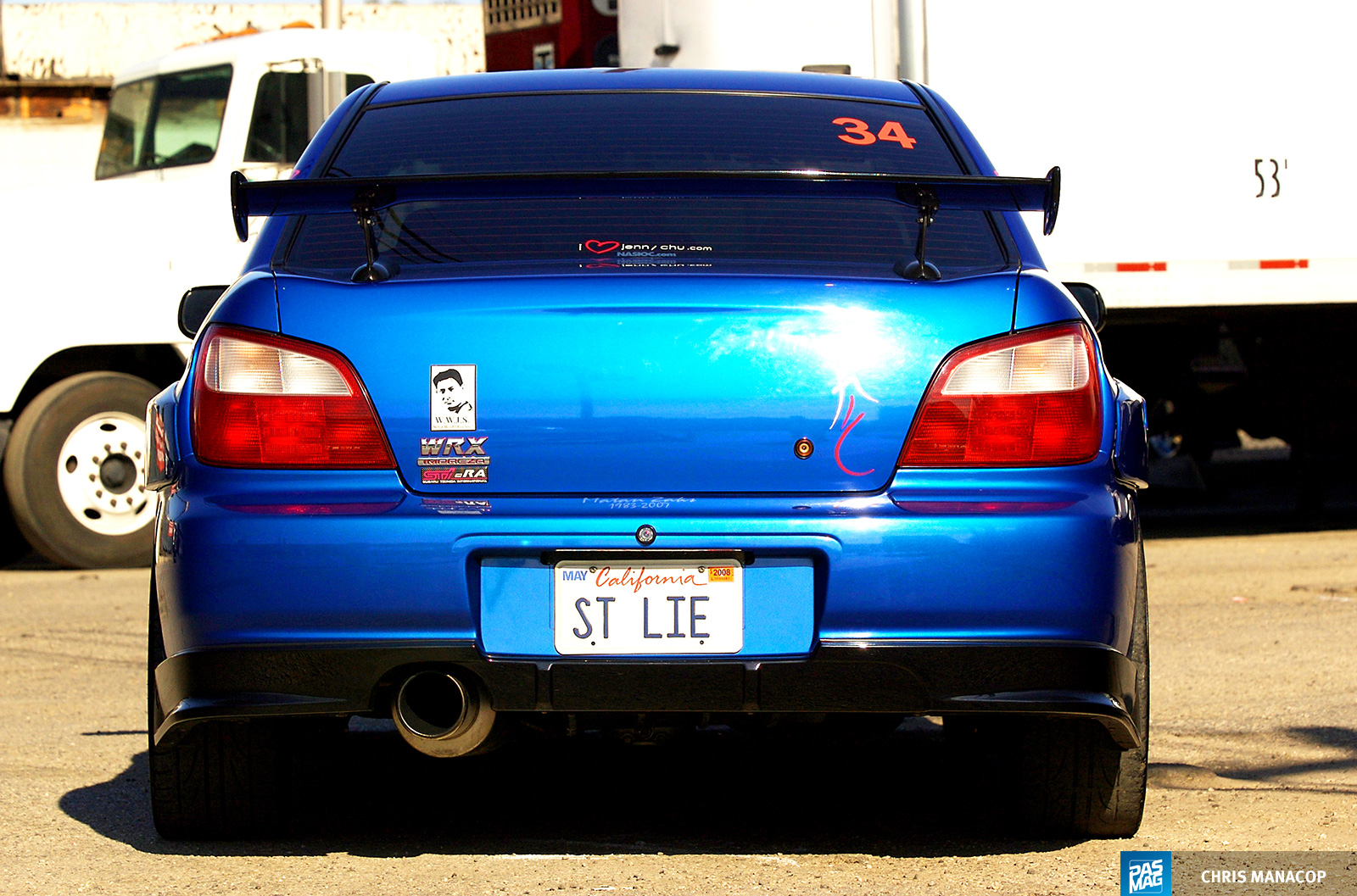 ---
ESSENTIALS
Owner: Michael "Peanut" Davis
Location: Oxnard, CA
Vehicle: 2003 Subaru WRX
ENGINE & PERFORMANCE
USDM EJ257 STI Short Block
Ported and Polished Throttle Body
Ported and Polished Tumble Generator Valves
SS Autochrome front-mount intercooler
HKS SSQV Version 2 BOV
IHI VF39 Turbo
Bosal Divorced Wastegate Downpipe
JDM STi GeNome Exhaust
Modified WRX Injectors Now Flow 800cc/min
Walbro 255lph Fuel Pump
Perrin Turbo Inlet Hose
Perrin Radiator Hoses
APR CF Accessories Cover
Koyo Aluminum Radiator
Unorthodox Racing Underdrive Pulley
Cyber Speed Hyper Grounding System
NRG Oil Catch Can
Custom Tune by Mataan AWD Tuning "Matune"
320 All Wheel Horse Power
Cusco Solid Motor Mounts
Turbo XS Manual Boost Controller
DRIVETRAIN
JDM STI Type RA Version 6 Gears
Cusco Solid Transmission Mount
EXTERIOR
Seibon CWII Carbon Fiber Hood
Seibon GD Style Carbon Fiber Front Lip
EGR Rear Lip
Kukumei WRC Rear Widebody
Custom Widebody Front Fenders
Custom Widebody Sideskirts
JDM STi GeNome Grill
JDM STi Hood Scoop
JDM STi Headlights with HID
JDM STi S202 Wing
JDM STi Side Markers
STi Rear Diffuser
Custom Blended Back Paint with a Blue Pearl for Sideskits and Rear Lip
Custom Carbon Fiber Lisecne Plate Relocating Bracket
WHEELS / TIRES
Yokohama super Advan Version 2 wheels - 18×8
Falken FK 452 tires - 235/40/18
SUSPENSION & BRAKES
TEIN SSP Coilover Suspension
COBB 24mm Sway Bars Front and Rear
STI Strut Tower Bars Front and Rear
STI Aluminum Control Arms
Whiteline Anti-Lift Kit
NOLTEC Steering Rack Bushings
Kartboy Shifter Linkage Bushings
Kartboy Rear Differential Outrigger Bushings
Kartboy Exhaust Hanger Bushings
STI Pitch Stop Mount
STI Brembo Front Brake Calipers and Rotors Retrofitted 06 STi
Project µ Brake Pads
STi Stainless Steel Braided Brake Lines
INTERIOR
High End Performance Carbon Kevlar Custom Seats
JDM STi Version 7 Gauge Cluster
USDM STi Carpet
Custom Pink Alcantara Door Panels
Custom Pink Dash Accents
Custom Black Alcantara Headliner
Custom Black A, B, and, C Pillars
Defi Black Face Amber Boost, Oil Pressure, and EGT Gauges
Defi Gauge Housing
Top Secret Steering Wheel
Perrin Shift Weighted Shift Knob
Perrin Adjustable Short Shifter
MULTIMEDIA
Pioneer AVIC-D3 DVD/ Navigation Head Unit
Pioneer IPOD Adapter for AVIC-D3
Rear View Camera
Polk Audio 5 1/2" Front Door Speakers
Polk Audio 4 1/2" Rear Door Speakers
Elemental Designs 12" Subwoofer
Elemental Designs 9.1x Amplifier
Elemental Designs 9.2x Amplifier
Custom Subwoofer Box
Custom Plexiglass Cover Plate with Etched Subaru Emblem
PHOTO GALLERY