Photography by Linas Lam
---
The bespoke automotive performance and styling consultancy has always had one clear objective: to stand out from the rest by working with the best. So, how do you soup a car that's already filled with a grocery list of goods? The answer is vision and execution.
The Audi R8 needs almost no introduction. It's one of – if not, the most underrated supercars of the modern era. In stock form, this 2008's V8 configuration uses the same Le Mans-winning FSI technology to push a consistent 420 horsepower and 317 lb-ft of torque to all four wheels, using an evolution of the same intelligent Quattro AWD technology that has been proven on World Rally circuits and over five million production vehicles over the better part of three decades.
From a GT standpoint, the R8 is the perfect specimen: low, wide, with a mid-rear engine layout that's been developed at the same factory as its R8 LMS racing brethren. It's a platform so proven that it's shared by its pricier (and typically more enamored) cousin, the Lamborghini Gallardo.
So when ReinART.Design was anticipating one of their earliest – and arguably most important – builds in the company's initial stages last year, the R8 seemed like a logical choice to show their – and the R8's – full potential in elite aftermarket performance and design.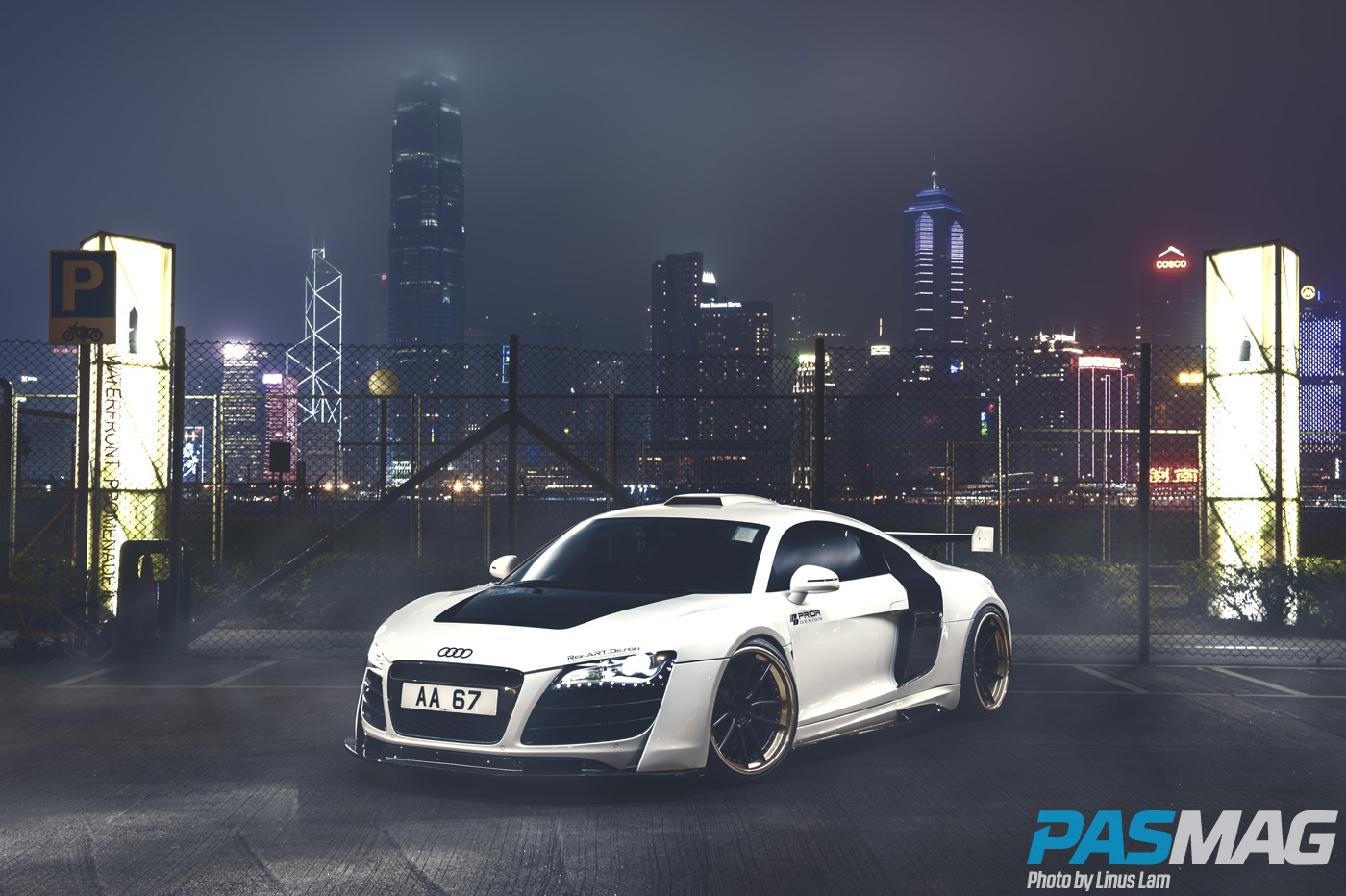 The owner of the car had one simple, but very demanding request: to make it the baddest R8 in Hong Kong.
Many builders would crumble at the intimidation. Hong Kong is the location of some of the most exclusive vehicles in the world and some of the most customized R8s and, let's face it – this 185 mile-per-hour German missile is not easily improved upon. Thankfully, ReinART's creative juices are always flowing and their design house already had a few ideas running through their heads at the request.
"We wanted to build a car that represents the style and design direction of our shop," company founder Justin Liu says. "We wanted a car that was attention-grabbing, yet classy at the same time."
"We also knew that in order to stand out amongst the crowd of R8s in Hong Kong, we needed to build something truly unique. We knew we had to go widebody."
Their choices for R8 widebody kits are about as abundant as Federweisser at your local pub, so when Liu and his team were looking at their choices, it could have only gone one of two ways: PPI Design's Razor GTR kit, or Prior Design's PDGT850 widebody, both coming straight from Deutschland.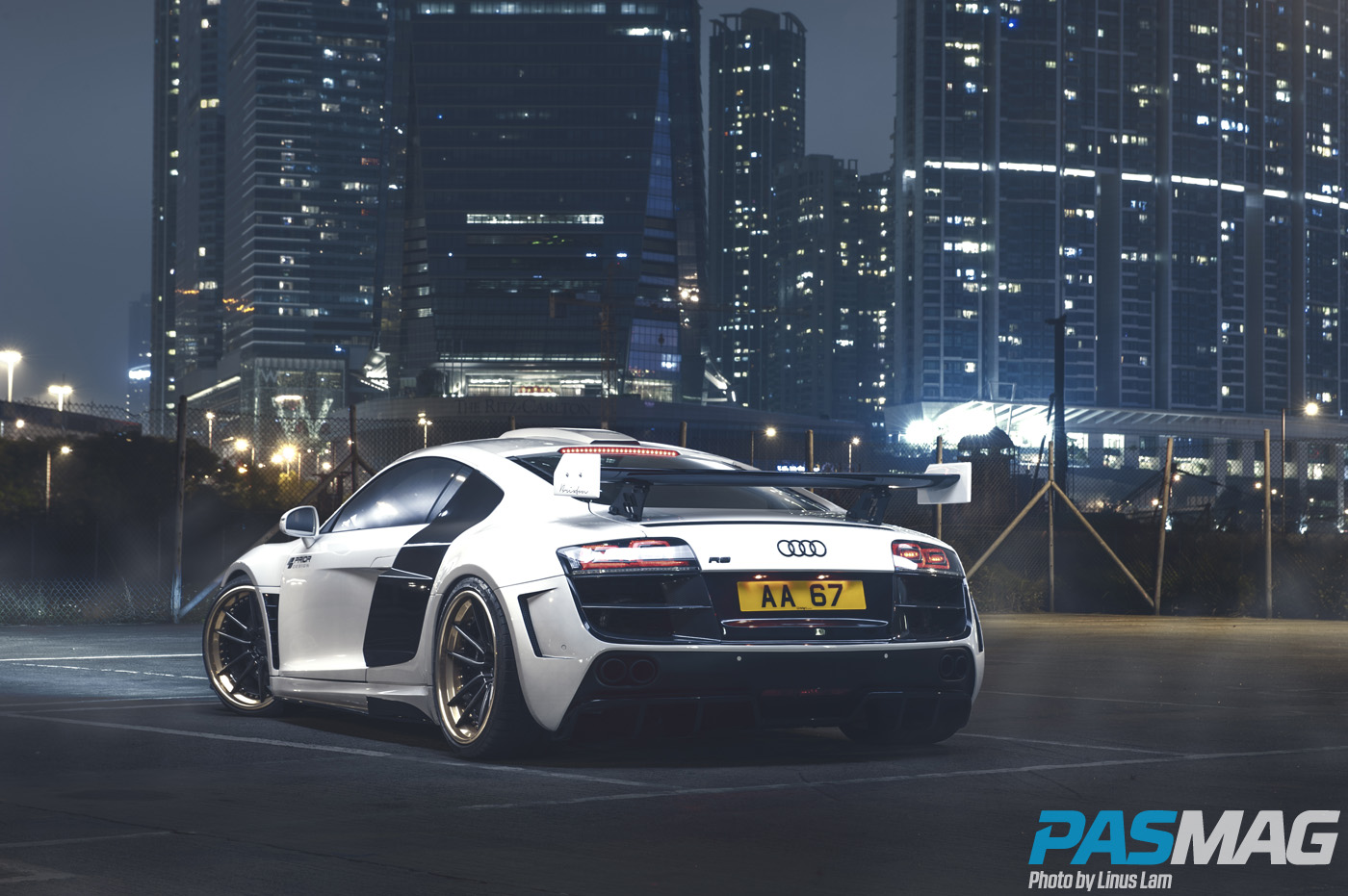 The PPI kit matched ReinART's desire for exclusivity and exotic materials, replacing much of the existing R8 body panels in favor of carbon fiber, but it was Prior Design's radical recreation of the body
lines that swayed the auto group.
"The [Prior Design kit] was aggressive and mean, yet it had some elements that were quite subtle as well," Liu says
Playing off the existing bodylines of the R8, the PDGT850 kit transforms the car as an evolution of itself. While the untrained eye may not notice, there are subtle, but obvious cues that bring it into the present and future generation.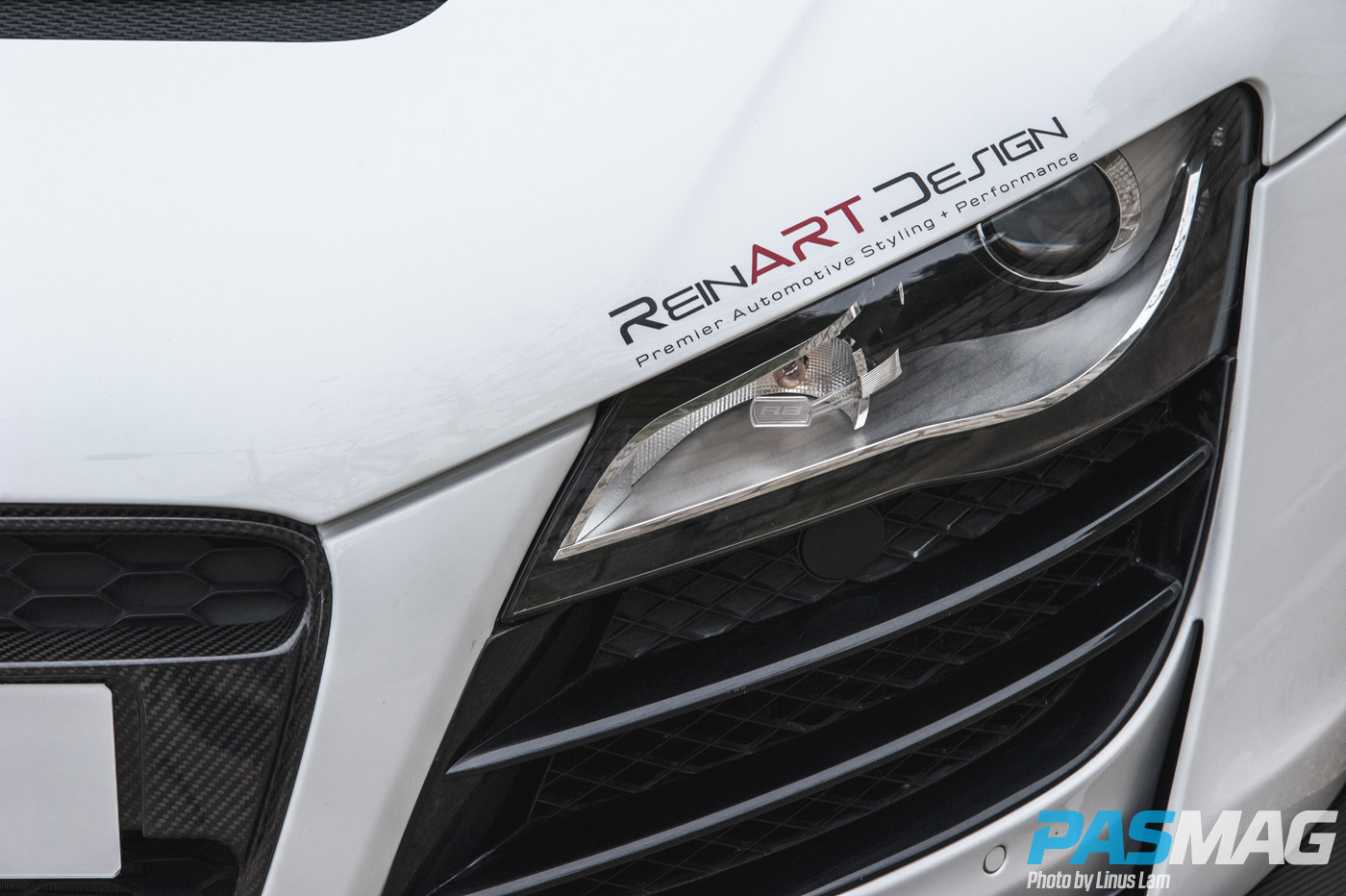 Directly up front, the headlamp/intake sections of the R8 remain unchanged and the stock grille locations have been filled with PPI carbon fiber replacements, but on either side, the front portion of the fenders are draped over the bumper and down to the skirt, giving the car a three-dimensional widebody appeal, all the way down to the ground.
Where it meets the front splitter, ReinART decided to forego the Prior Design version and installed an APR Performance carbon fiber lip for a more aggressive outward extension, which wasn't a straightforward task.
"The APR lip was originally designed to fit the standard R8 front bumper," Liu says. "Because the Prior Design bumper has a number of installation and design differences, there was actually quite a bit of work to get the splitter fitted properly."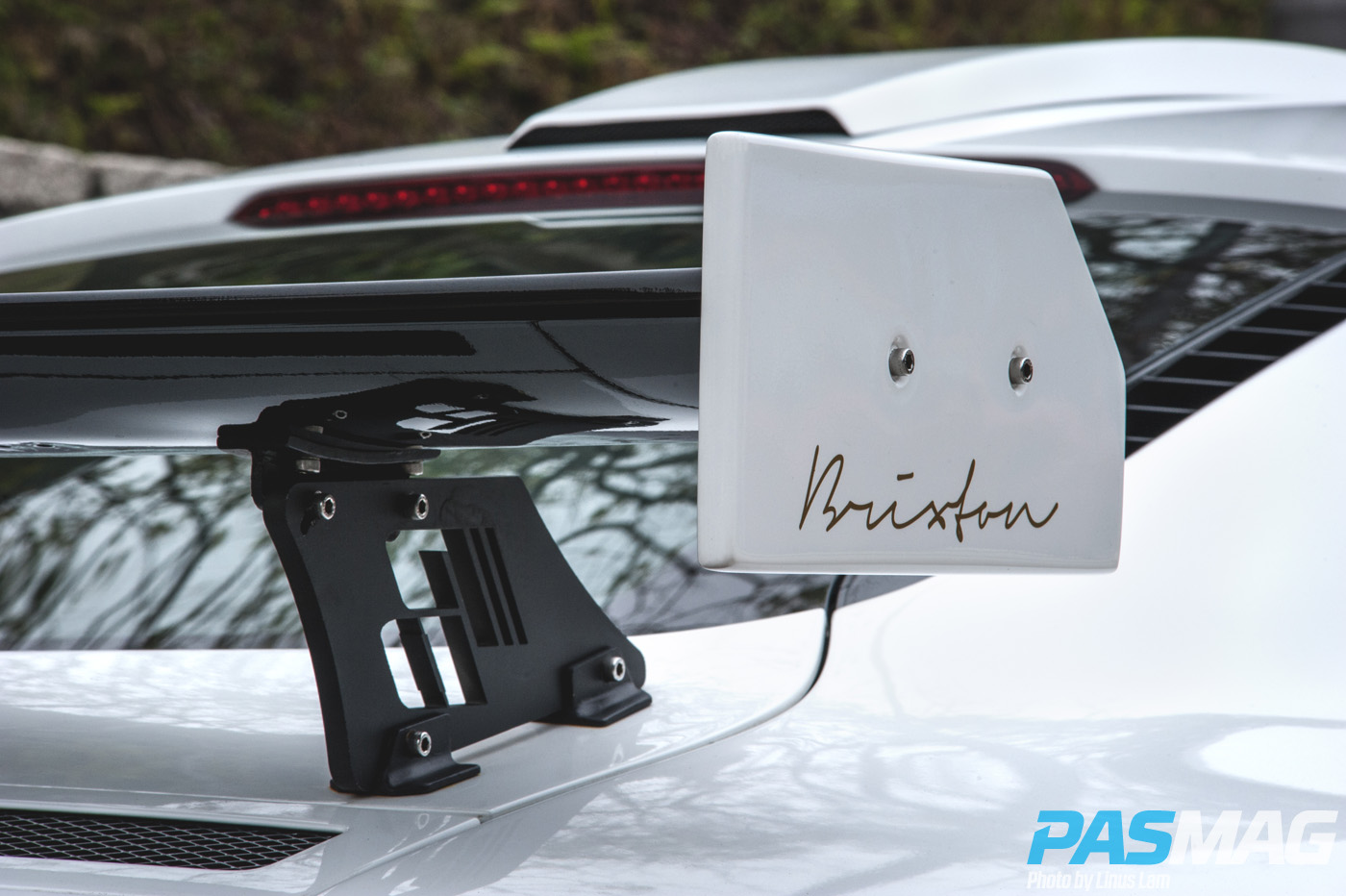 The wet finish was matched perfectly to the GT850 carbon side skirts, which billow rearward into the quarter panel intakes for engine, brake and transaxle cooling.
But the subtlest, and perhaps most impressive components of the kit cover the largest areas of the car.
"The hood of the R8 acts as the front fenders as well," Liu says. "Because it's a single unit and it's held down with three latches instead of hinges, getting it all to line up was a very time consuming task. Being a fiberglass body kit, it wasn't just as simple as bolting everything on, but once we did, it was perfect."
The result is a flawless finish with zero hood lines, noticed only by the most discerning eyes, but unknowingly appreciated by all.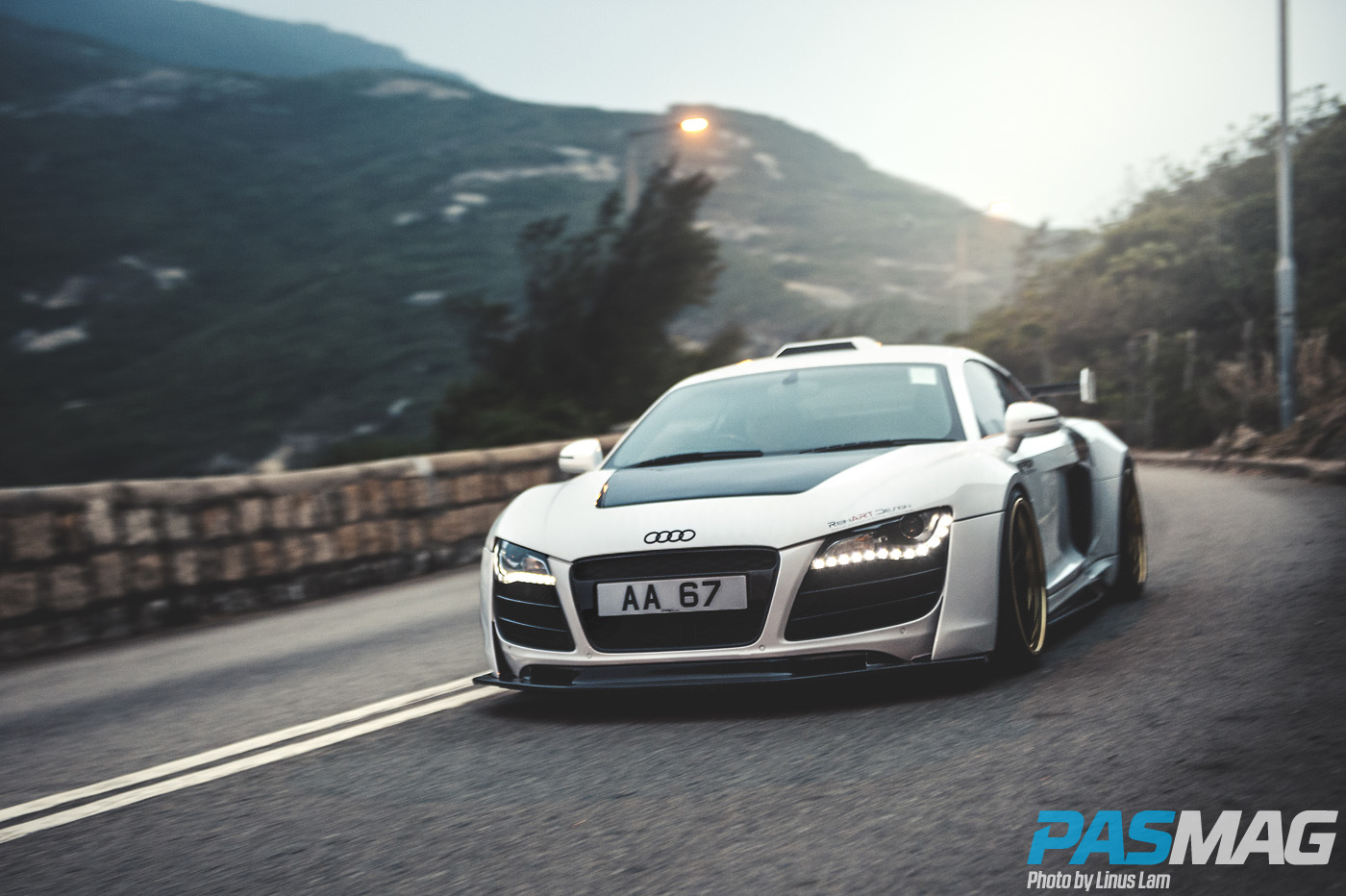 The deep outlet in the hood flows up and into a PD roof scoop that you'd swear should've come included with the original car. Pulling air in and pushing it down the rear windscreen and over the rear GT850 spoiler, it helps creates a symphony of aerodynamic symmetry that makes this GT supercar an even more potent weapon.
And with greater downforce usually comes greater suspension requirements. But, not wanting to mess with Audi's honed active setup, ReinART added KW coilover sleeves front and rear, which not only keeps functionality in tact, they lower the car, improve balance and use the factory rubber mounts for an easy fix of an otherwise complicated system. ReinART then installed an HLS2 hydraulic lift system, which saves that carbon front splitter from otherwise imminent curb rash destruction.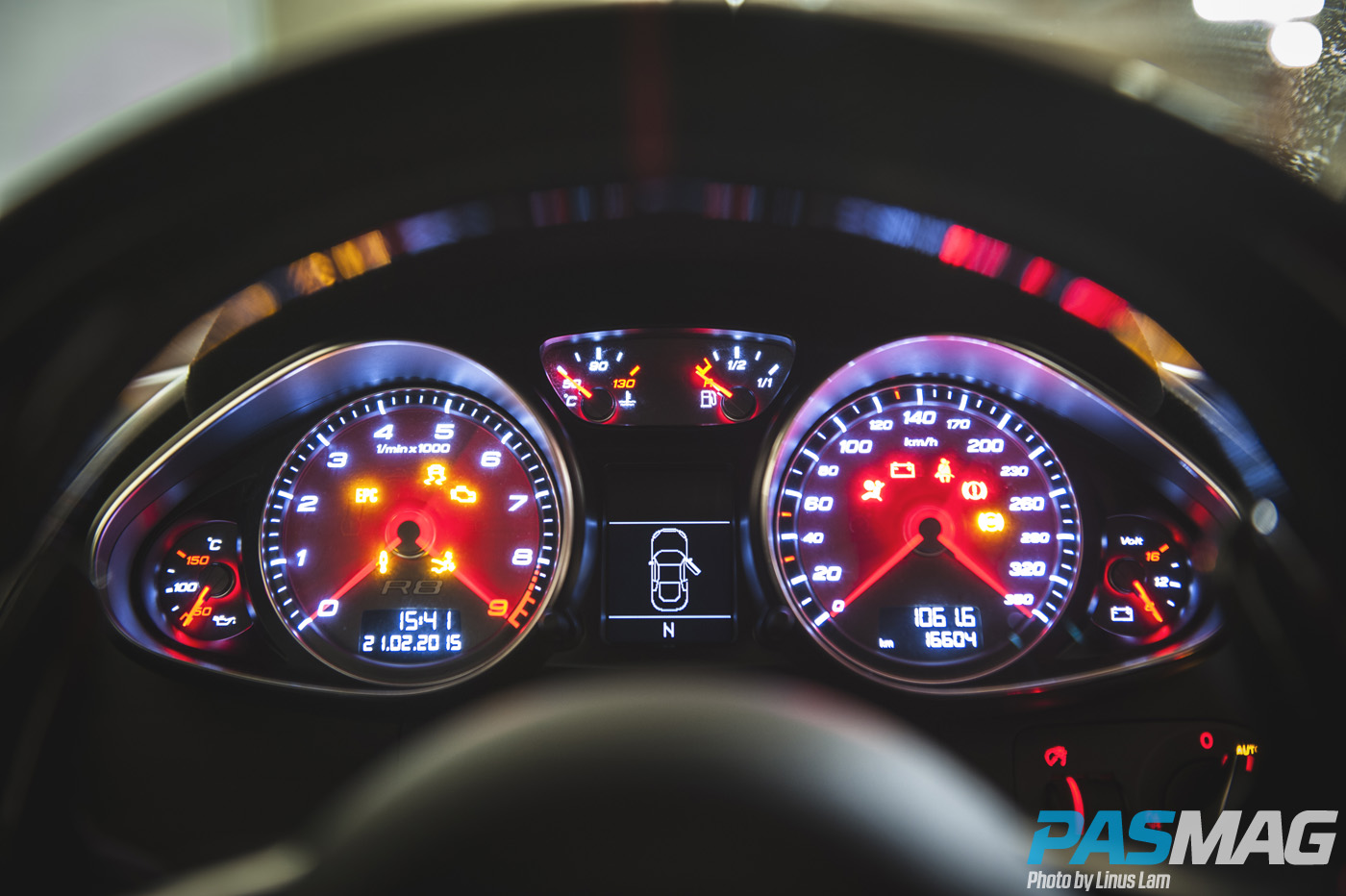 Inside, things are kept neat and sleeper. ReinART.Design custom quilted Alcantara panels cover the dash hood, seats, door cards and the headliner. MAcarbon carries the exterior wet carbon theme inside, which, when paired with the DCT Motorsport custom carbon fiber steering wheel and E-brake handle might seem like a pricy OEM upgrade, is anything but.
With the appearance nearly set, the white and carbon finish needed an exclamation point to set it all off.
"We had an idea and wanted to go with a quality wheel with a quality finish," Liu says.
To that end, ReinART went to Brixton Forged, a company that, like the Hong Kong-based builders, have been evolving the scene and producing products that have been breaking the mould ever since their beginning just over two years ago.
"We wanted to create a wheel fit for a super sportscar," Adam Majcherkiewicz of Brixton Forged says. "We wanted something that was classy, but also had an edge that suited the car."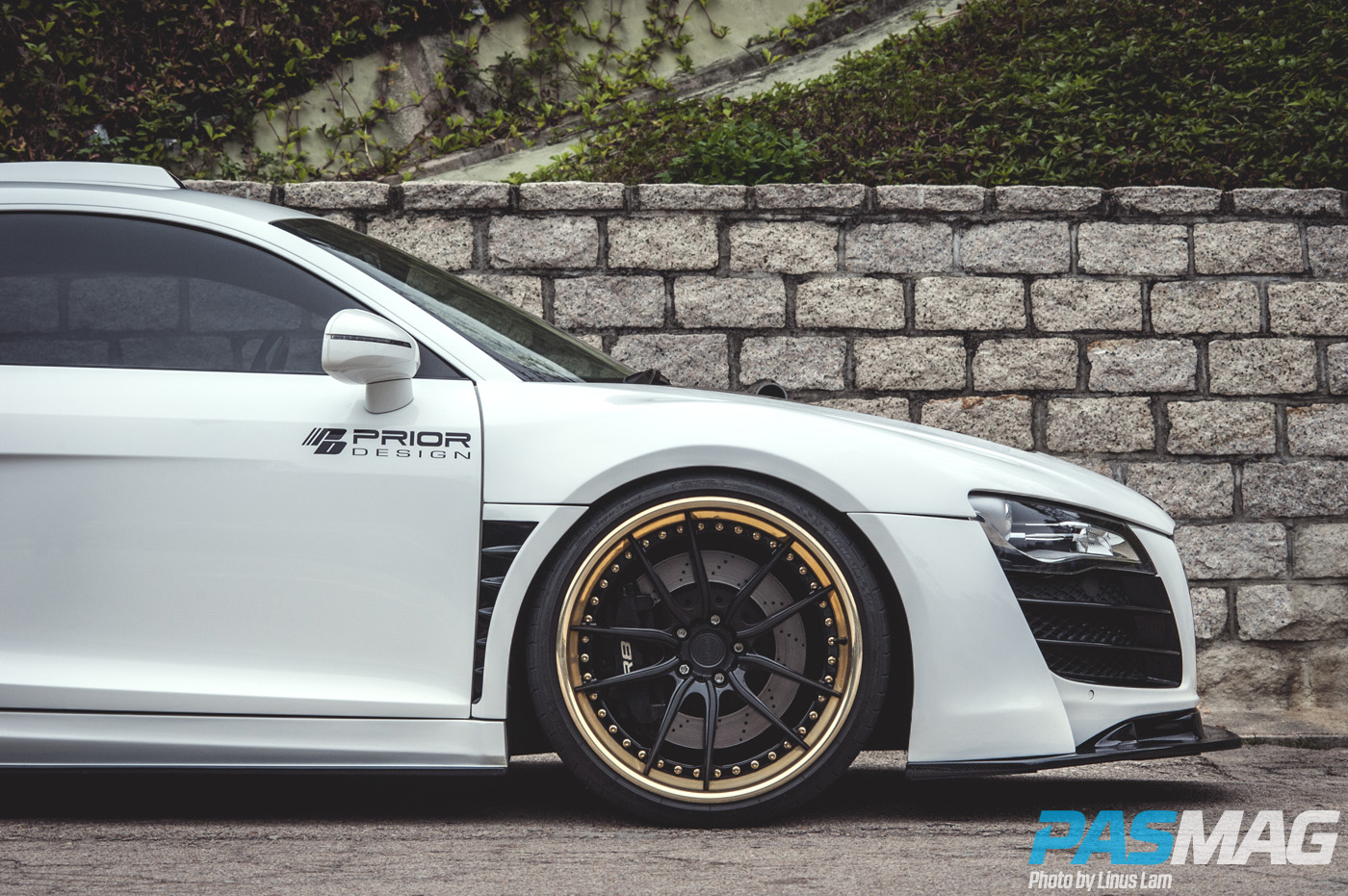 Going over a number of designs, the team settled on the M53 Targa in 20 inches; an aerospace grade three-piece 6061-T6 aluminum wheel with ground-breaking surface milled features that marked an industry first, paired with super lightweight step-lip rim halves for the ultimate in weight savings (up to 45%), strength (up to 29%), durability, rebuildability, performance and style.
The proverbial cherry on top (or in this case, the sides) is Brixton's finishing: the matte black center face expertly matches the carbon fiber treatments, and their 24K gold gloss clear lips and hardware play perfectly off the black and carbon, while not overshadowing the impressiveness of the overall build. It's a textbook example of vision and execution from two of the industry's best.
And sitting behind those thin, split-spoke forged three-pieces? Brake upgrades on a project of this scale would typically be a no-brainer, but seeing as this is a super sports exotic that can already halt from 100 to zero miles-per-hour in just 4.1 seconds, these factory cross-drilled rotors and six-pots will do just fine. It goes to show that sometimes the best soups are the ones that simply start with a good stock.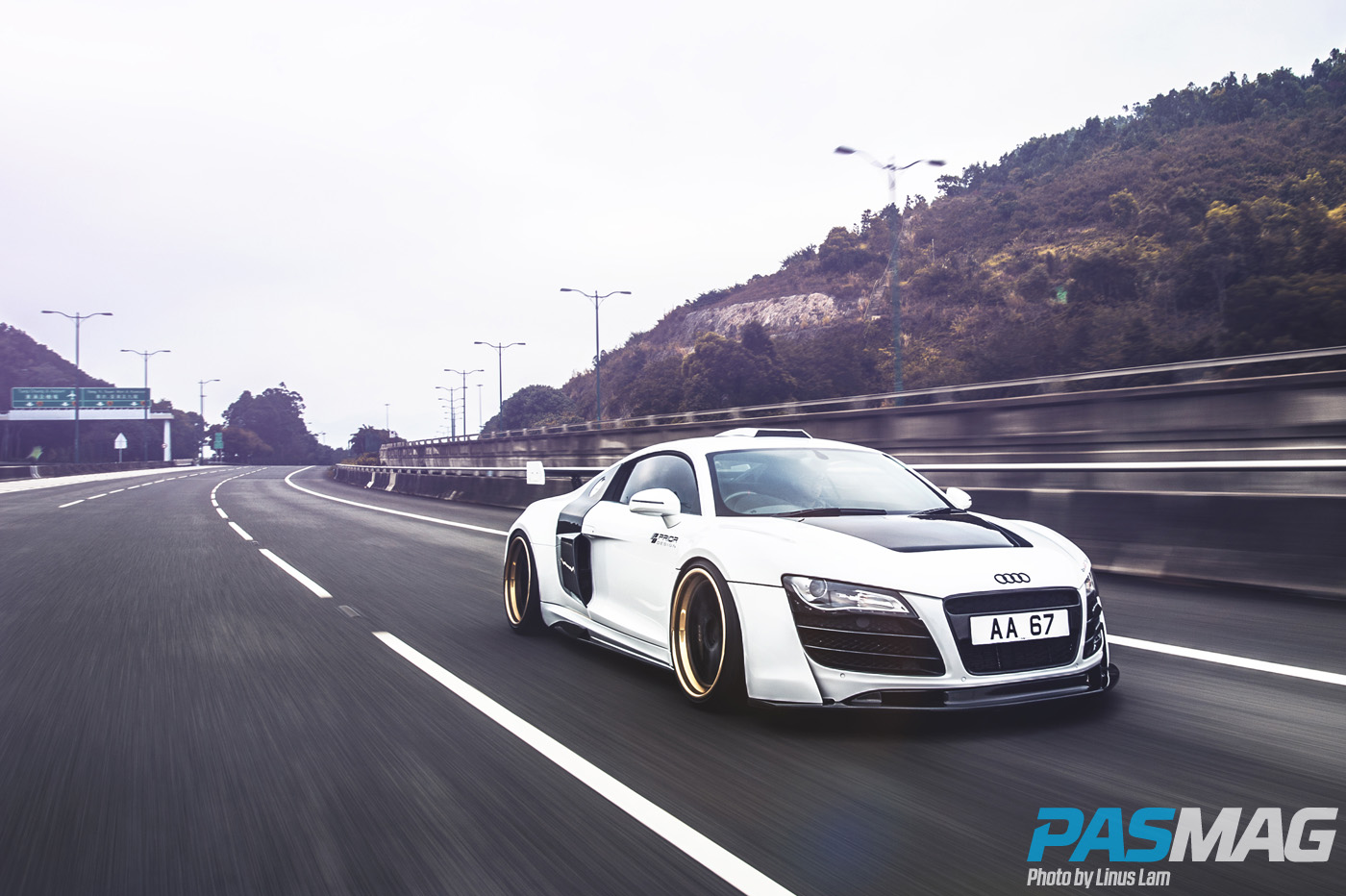 ---
ESSENTIALS
Owner: ReinART.Design
Built By: ReinART.Design
Location: Kowloon Bay, Hong Kong
Engine: Audi BYH 4.2L V8 FSI
Horsepower: 447 HP (est.)
Torque: 342 LB-FT (est.)
ENGINE / PERFORMANCE
TPC Racing intercooler
ECU Tuning Group (ETG) performance tune
EXHAUST
Quicksilver SuperSports exhaust w/ matte black tips
CHASSIS / SUSPENSION
KW Suspensions (Audi R8 coilover sleeves (f/r), HLS2 hydraulic lift system)
WHEELS / TIRES / BRAKES
Brixton Forged M53 "Super Concave" wheels (matte black center, polished black face windows, 24k gold gloss clear lip, 24k gold exposed hardware) – 20x10 +10 et (f), 20x12.5 +9 et (r)
Michelin Pilot Super Sport tires – 255/30 R20 (f), 325/25 R20 (r)
Audi brakes – 6-piston calipers, 14.4-inch cross-drilled rotors (f), 4-piston calipers 14- inch cross-drilled rotors (r)
EXTERIOR
Prior Design GT850 widebody (front bumper, rear bumper, bonnet/engine cover, front wide fenders, side skirts, roof scoop, rear widenings, rear wing, rear diffuser)
PPI carbon fiber front grilles
APR Performance carbon fiber front lip
Audi R8 GT taillights
Custom Audi white/ black two-tone paint
INTERIOR
ReinART.Design (custom quilted Alcantara dash hood, seat centers/w red stitching and door cards, Alcantara headliner, dash and door cards)
MAcarbon (door arm rests, door handles, dashboard, center console inserts)
DCT Motorsport (custom carbon fiber steering wheel, E-brake handle)
Red seatbelts
PHOTO GALLERY