Photography by Erik Harbour
---
Unfortunately, not everyone's first foray into the into the car enthusiast community can be a positive one. Jason McElroy's experience with a certain Scion xB car club was an example of a less than nice introduction to the lifestyle.
One day, while headed home, McElroy and his family noticed that they were being followed by a fellow xB. As they got into their driveway and out of their car, the driver of the pursuing Scion approached them about coming out to an xB club meeting that was happening that weekend. McElroy and his wife were confused but interested to meet other owners and learn about what could be done to their car, so they agreed and shined up their car for the meet.
With the family's 2013 xB, having some painted orange interior pieces and badges, two subs, and an amp being the only modifications made, the couple approached the other xB owners and were shocked at what they were met with.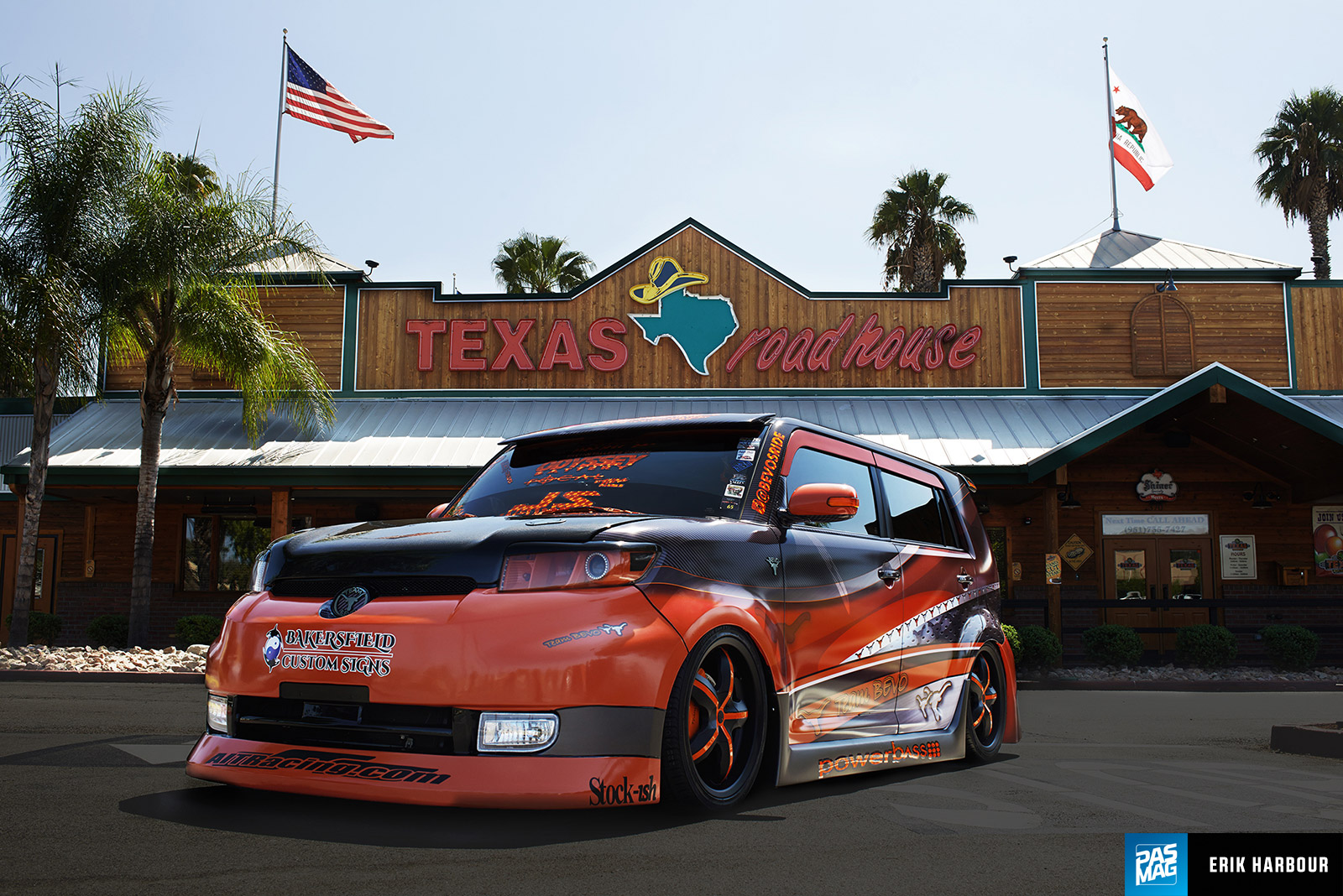 Click HERE to order your copy of PASMAG's Car Audio Upgrade Guide Vol. 8
"When we approached them they weren't very friendly and even ignored us," McElroy recalls, grimacing. "When the 'president' arrived, some of them showed us their cars, telling us how much money they spent, and then they decided it was time to eat. We decided not to go with them and leave, feeling like maybe this 'car club' thing wasn't for us. They didn't even look at our car and made us feel like it was nothing."
Experiences like that can put people off the idea of becoming part of the community for good, but, fortunately, the McElroys decided to look for inspiration elsewhere, striking gold on the forums with helpful owners and detailed pictures of modifications. In May of 2014, the xB displayed at its first show, not picking up any hardware, but igniting a fire in its owners to up their game and get hooked on the show scene. In the remainder of 2014, the xB received some light updates and attended 18 shows, earning 14 awards.
During the offseason, the McElroys started to pick up sponsors, moving them with an honest story of a car that's built and operated by a family. Their 15-year-old daughter turns wrenches on the car, helping with wheel and tire removal, and is, according to her dad, "pretty good with a torque wrench." Aunts, uncles, and even the McElroy's 90-year-old grandmother have been known to help out and show support at car shows. It really is a family affair.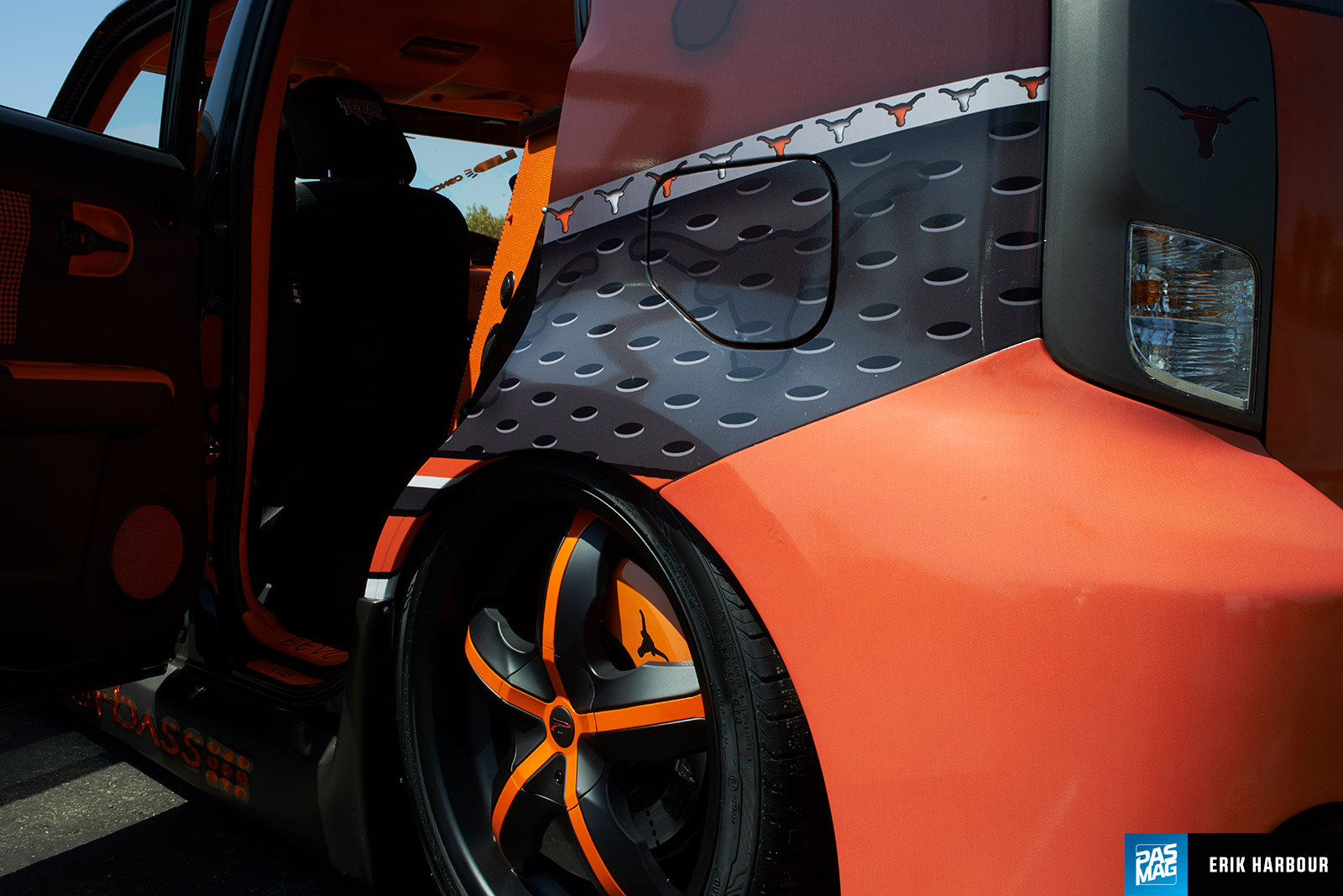 Click HERE to order your copy of PASMAG's Car Audio Upgrade Guide Vol. 8
For 2015, with some trusted brands on board, the xB received the name "Bevo" and became known as "Team Bevo." Bevo hit the show circuit with a new vinyl wrap design, now becoming pretty much all orange. Why the vitamin C look? The McElroys are diehard fans of the University of Texas Longhorns, of course (if you couldn't tell by the pictures already). The "Hook 'em Horns" cheer and the Longhorn symbol is featured throughout the car, and even in custom lighting on the enclosure and on the taillight covers.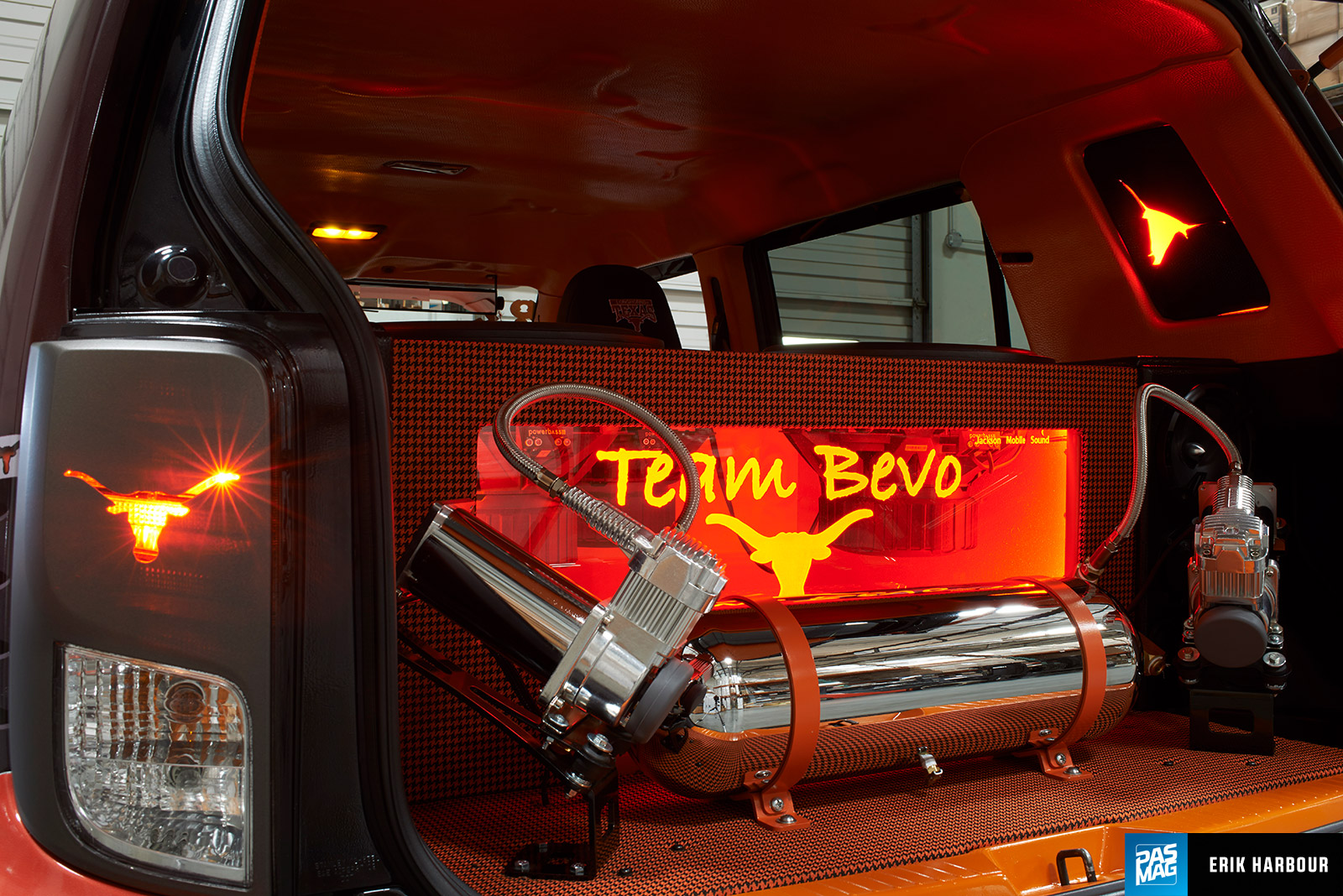 Click HERE to order your copy of PASMAG's Car Audio Upgrade Guide Vol. 8
The Texas-orange toaster rides on Platinum's 212 series Widow wheel with custom orange accents, and lights its way with custom-built LED Concepts demon eye headlights with halos. When its tiem for things to get loud, commands are sent through a Soundstream double-DIN source unit to the 33-speaker Powerbass system that the xB is equipped with. Eight 2XL three-way component speakers, 16 midranges, and six tweeters envelope the occupants with sound, while three 3XL 15-inch subwoofers in a ported enclosure provide quite a bit of kick from behind. With the rear seat out of the picture, four of Powerbass's ASA3 amplifiers sit happily in the back, toying with signals. With that much power going on inside, it's no wonder the car requires six Extreme Series Odyssey batteries.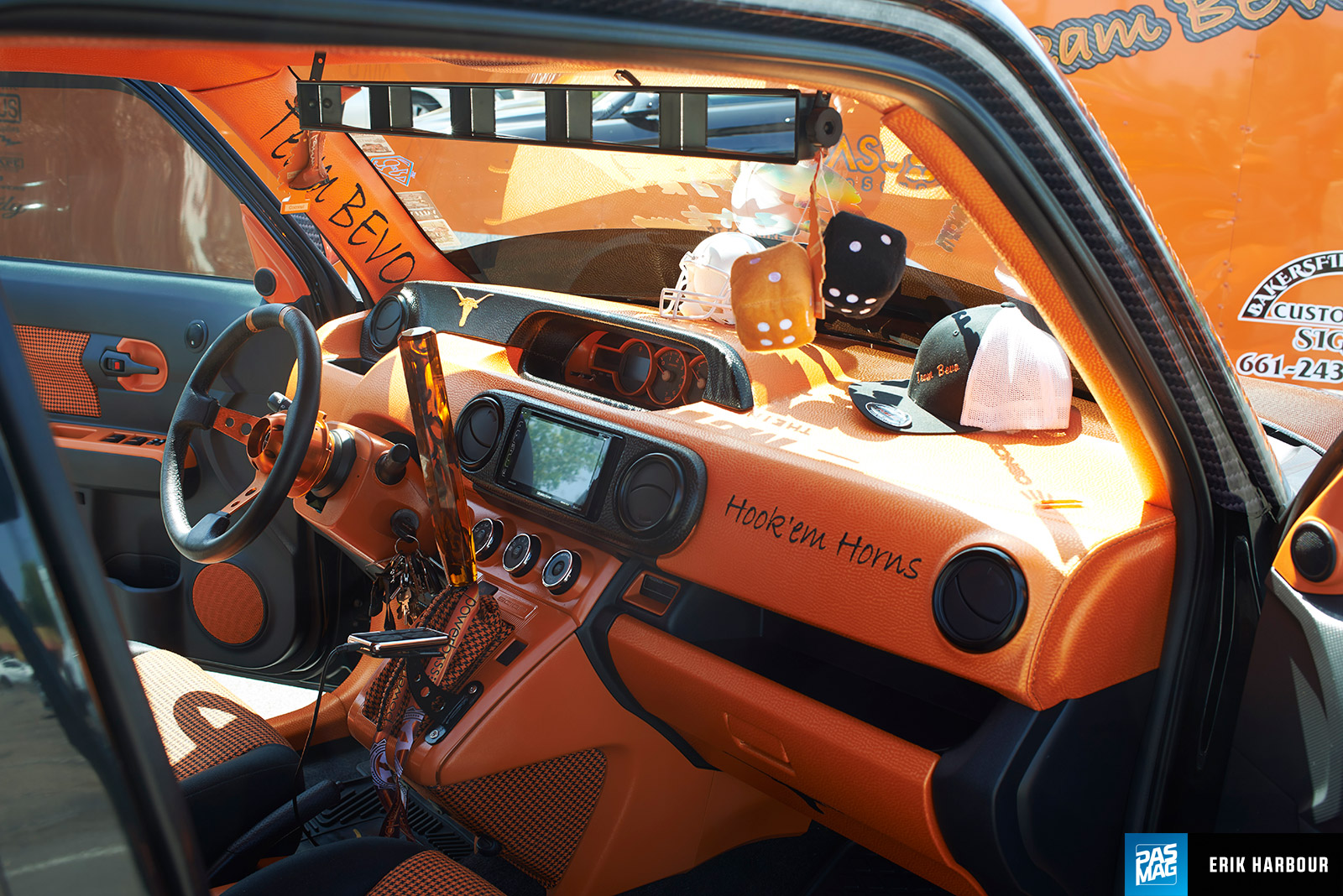 Click HERE to order your copy of PASMAG's Car Audio Upgrade Guide Vol. 8
The interior is also done up in a unique way. Bakersfield Upholstery did quite the job reupholstering the xB in orange marine vinyl and adding houndstooth inserts to the seats and door panels. There's even a 3D design of the Longhorns' logo on the headliner. Under the hood, the valve cover of the 2AZ engine, fuse box cover, and radiator tank have been hydro-dipped in a carbon-look orange, and a DC Sports stainless header is proudly displayed for some noise outside of the Scion as well.
For the 2017 season, the McElroys temporarily retired Bevo due to a medical emergency, but promise to return with something even bigger in 2018. Seeing as how far the car has progressed in just three short years, the newest iteration plans to be something truly unique.
"To reflect on our short show car career, we think it has been very blessed so far," McElroy says." We have made lots of new friends and fans. We are always thinking of new ideas and changes that we may want to make in the future, but for now, we will continue going to shows, meeting new people, and having fun as a family!"
With that kind of spirit, nothing can keep Team Bevo down!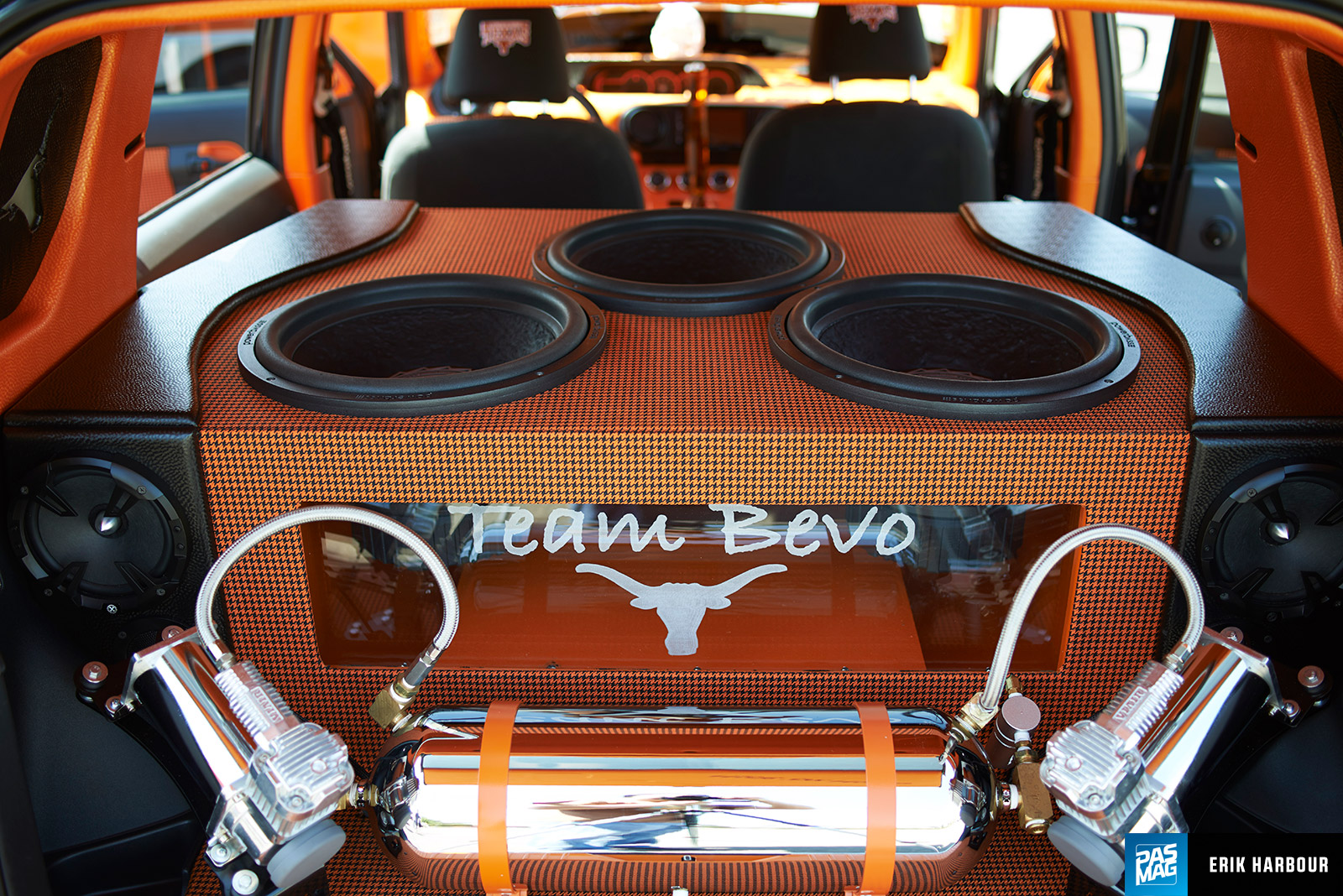 Click HERE to order your copy of PASMAG's Car Audio Upgrade Guide Vol. 8