Photos By: www.findjut.com
---
As pure as some enthusiasts claim to be, they often fail to realize that every car company started somewhere. Hell, Lamborghini used to make tractors, while Hondas and Toyotas were literally the butt of every car joke around back in the 1960s. Hyundai has made some bold moves in the past few years and their latest flagship eclipses even the highly-acclaimed Genesis Sedan. While Hyundai raised the bar yet again with the Equus and knew how to gain some street credibility, they would have to put a few $1 cars in the hands of the right builders.
One such tuner is Pete Colello who did damage for many years with his outrageous Toyota Celica. After a stab at the Scion Tuner Challenge, which he won in 2009, Colello has since teamed up with Hyundai to make this massive sedan shine.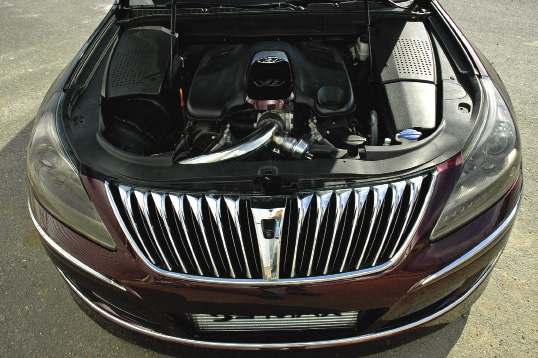 Under the lid is Hyundai's 4.6L V8 but with a few tweaks to push it well past 500whp. A Legacy Innovations custom turbo kit was fabricated using an SPA turbo. S-Max supplied all of the supporting mods including a wastegate, blow-off valve and a front mount intercooler. The exhaust was custom fabricated by Legacy Innovations which links up with a Magnaflow dual exhaust. The ensemble has also been ramped up with the addition of a Nitrous Express S.H.O. system for extra pull that the turbos can't muster.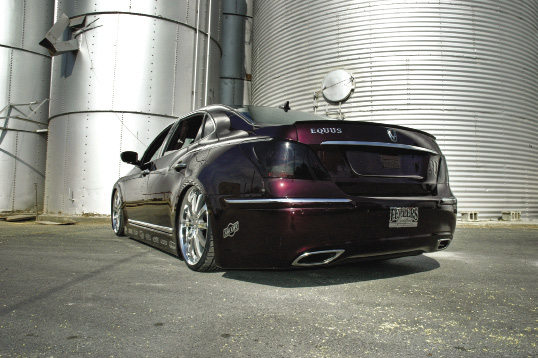 The appearance of the car may blend in with modern sedans, so Colello undertook the mission of making it look like nothing else. The shell was fitted with a 717 Motoring 5-piece bodykit consisting of: front and rear bumpers, sideskirts and a wing. A custom carbon fiber hood was added in addition to a custom trunk and a carefully applied roof and pillar carbon fiber wrap. LightWurkz stepped in to tint the front and rear tails while BASF provided the custom burgundy paint to set it apart from the masses.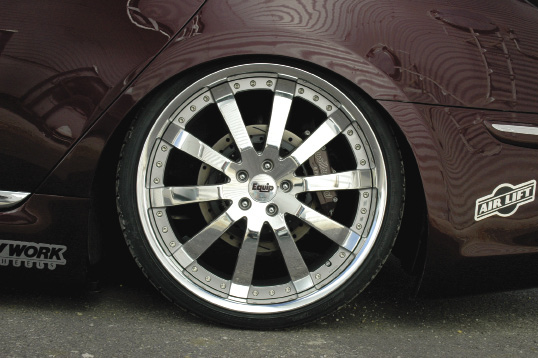 Being a big sedan meant that some dubs can be crammed in these oversized fenderwells. Colello opted for a set of Work Equip E10 wheels running 22x9.5-inch up front with a healthy 22x10.5-inch out back. With Falken onside for many of his projects, Colello spec'ed out some FK452s to make the contact with the road with 245/30R22 up front and a 265/30R22 for the drive wheels. To tuck the tires in nicely, a full AirLift air suspension with full in-car controls was installed. To bring the flying luxury sedan to a full and complete stop, Colello relied on Wilwood to make it happen. Up front is a set of 6-piston brakes clamping down on 14-inch slotted rotors with a 6-piston/13-inch combo in the back.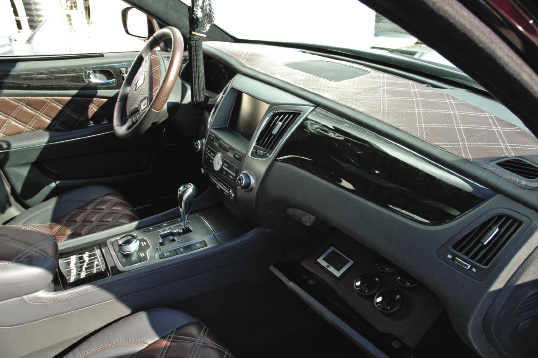 The interior got a bump by taking it to Idealist Designs for a complete reupholstering. The leather selected was a black and burgundy two-tone as well as black suede headliner and pillars. A total of four Glowshift gauges were added along with Southeast Carbonworks interior kit. Colello then placed some special orders with Japan's Junction Produce including door curtains and a Fusa Gintuna for that VIP look thanks to Freddie at Autofashion.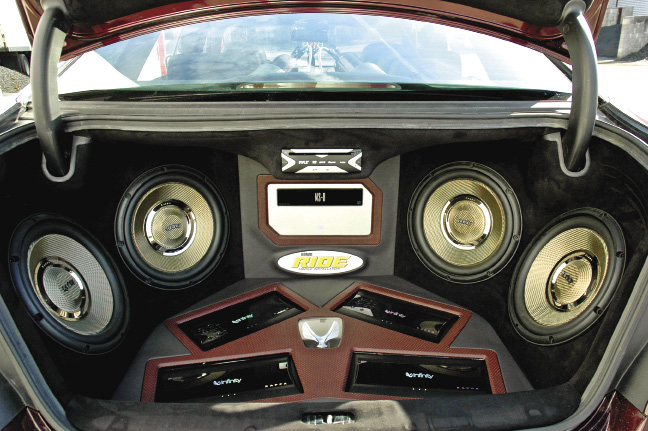 Finally, Colello began his audio and multimedia install for the looming SEMA Show with the help of Glenn Michael and Shawn Gorden from Ultimate Electronics. We mentioned last year that we'd be seeing many iPads in upcoming builds and this time around, Colello integrated two into his project. The iPads are joined by an Apple wireless keyboard and mouse to control the media files and to go online. The project also features a healthy 20-inch Pyle monitor with matching Pyle DVD player for video playback. The audio side of things was fulfilled thanks to Infinity Car Audio. A total of four Infinity Kappa Series amps were added to drive four Infinity Kappa subs in the trunk. The mids and highs are belted out using a pair of Infinity Kappa 5.25-inch components and three Infinity Kappa 6.5-inch components all linked with Mobile Spec wiring. The whole ensemble is tuned with JBLs new MS-8 Digital Signal Processor and lit up with an Optima Battery and Kinetik 80A power supply.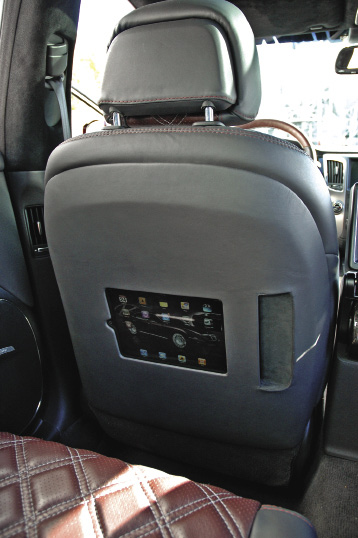 Colello would like to thank the following for making this project possible including all his supportive sponsors, Glenn Michael, Shawn Gorden, Bob Dructor, Dave Lightner, Shawn Baker, Jut Imes, Tyler Goodman, Vince Beaver, and Deb Colello.
We like Colello's approach and have to give him credit for being a pioneer with this Equus. Since the car wasn't even on the market at the time, Colello had to have everything fabricated. Since the Equus is aimed directly at the Lexus LS, Infiniti M and the legendary luxury lines from Mercedes and BMW, we'll have to wait and see how they compete. Rumor has it that the new 430hp V8 should help move things along.