Photography by Martin Kruk (@framelous)
---
Since he was a little kid Mariano Bucaoto has been a fan of nice cars, more specifically he was a huge fan of the Toyota Altezza. After seeing pictures of the HKS Track Attack Toyota Altezza in car magazines, Bucaoto fell in love and knew that one day he wanted to own and build one.
Fast forward to 2008 when Bucaoto returned from a deployment to Iraq, he purchased the US version of the Altezza, a 2001 Lexus IS300, in San Diego, CA. As faith would have it he wouldn't get to start modifying the car for another two years as he was heading out to anther deployment, this time to Afghanistan.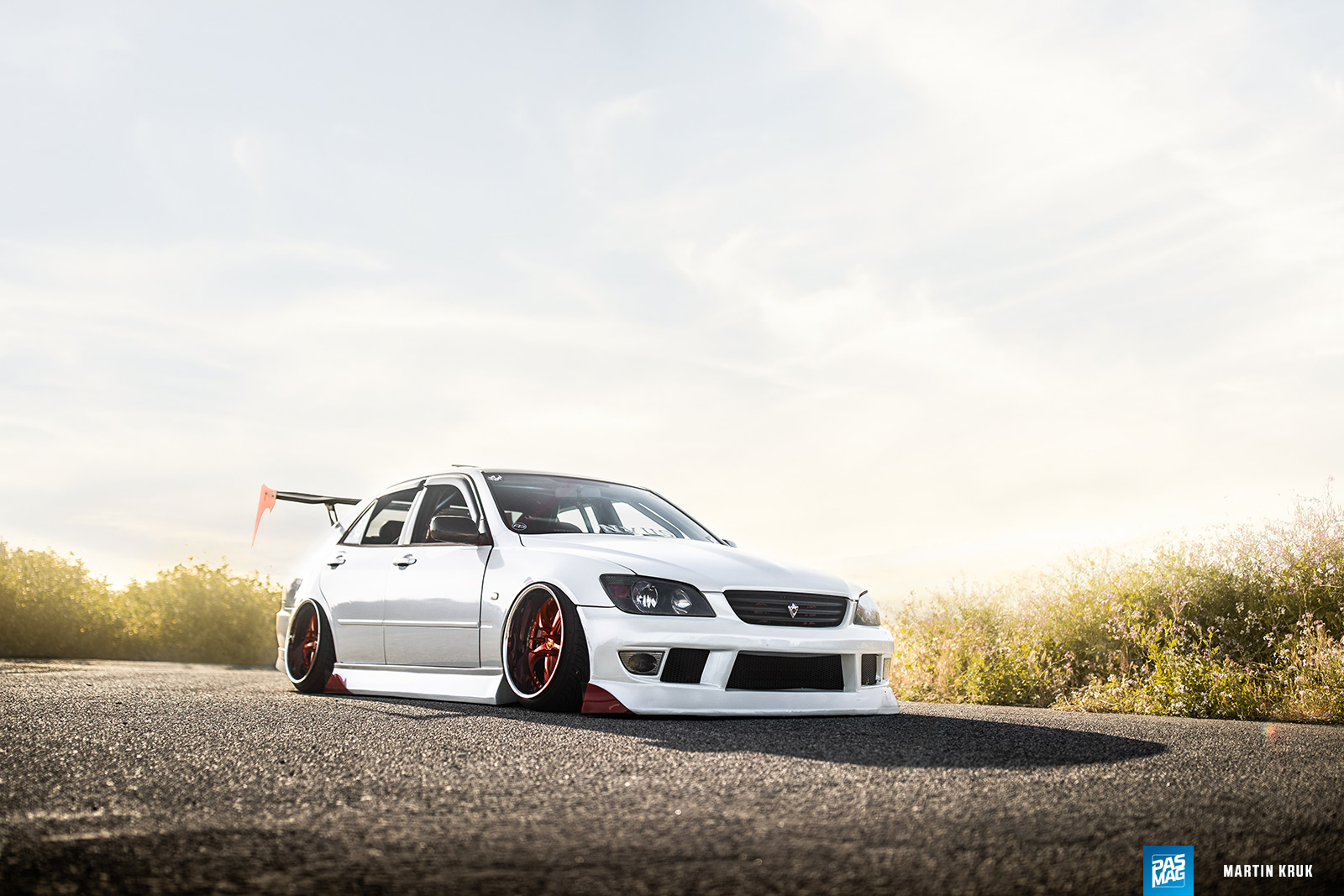 Upon his return, Bucaoto set up to modify his car and wanted to do most of the work himself. For example, instead of paying for a wrap, he decided to attend a class at Wrapix Academy in Burbank, CA so that he could learn the basics and do the wrap himself. Since he is an Aircraft Structural Mechanic in the Marine Corps, Mariano was able to utilize his skillset to create the custom carbon fiber pillars, engine covers and mirrors himself as well.
When most people see this car they assume that it is a garage queen. Don't be fooled, after deciding to part ways with his Tacoma and GSX R, Bucaoto assigned daily driver duties to his IS300. The car currently pulls a 80-mile round trip commute all while looking good. This is a big feat as this car is now relatively old, meaning that parts are harder to get, especially since the car had a short run (only from '01-'05), so the majority of the parts have to be imported from Japan or custom-fabricated.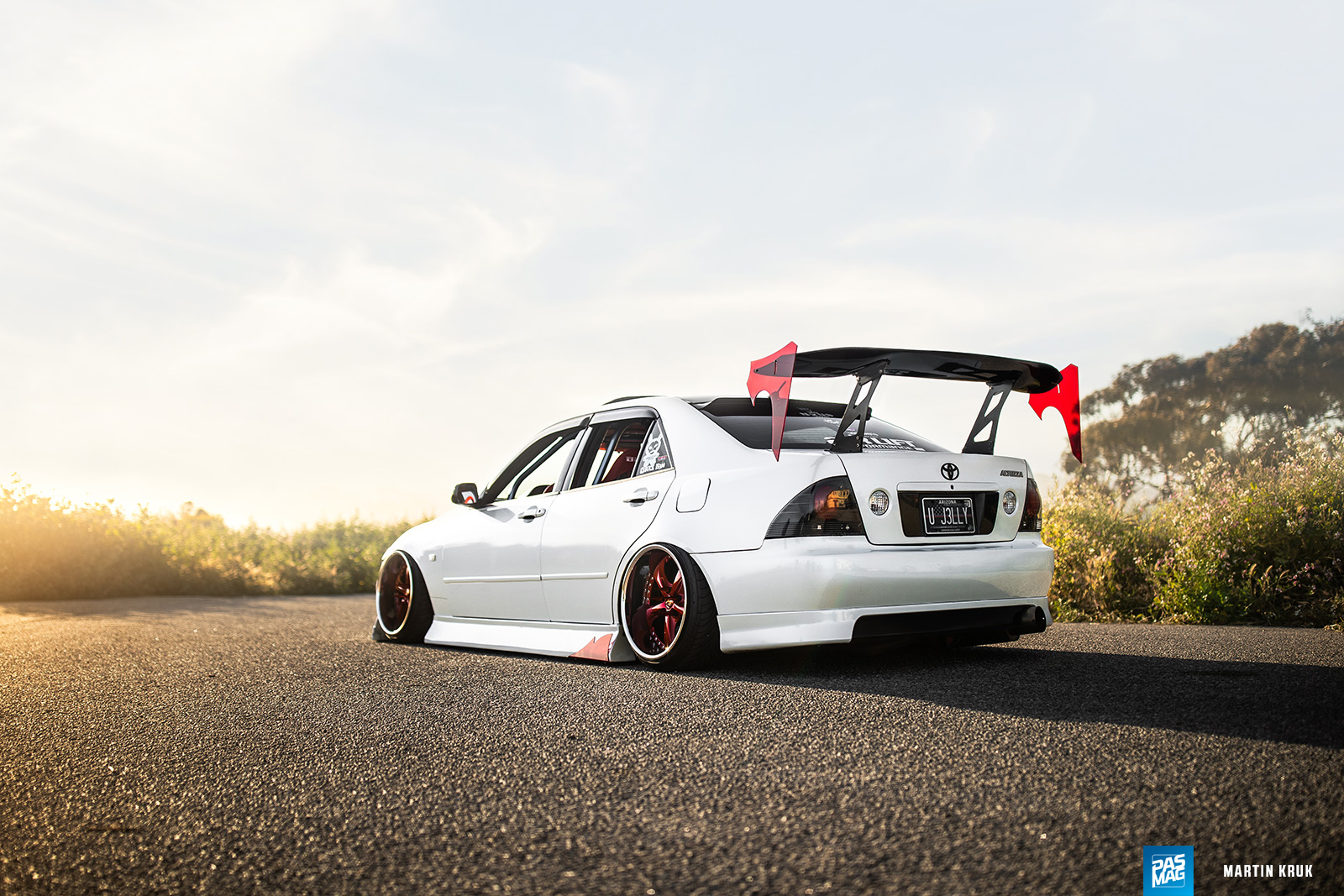 Bucaoto is still as much in love with the body lines of the IS300 today as he was the first time he saw it, and plans to enjoy it for many more years to come. The car could be getting a transplant in the near future with potentially a 1JZ or 2JZ motor going in.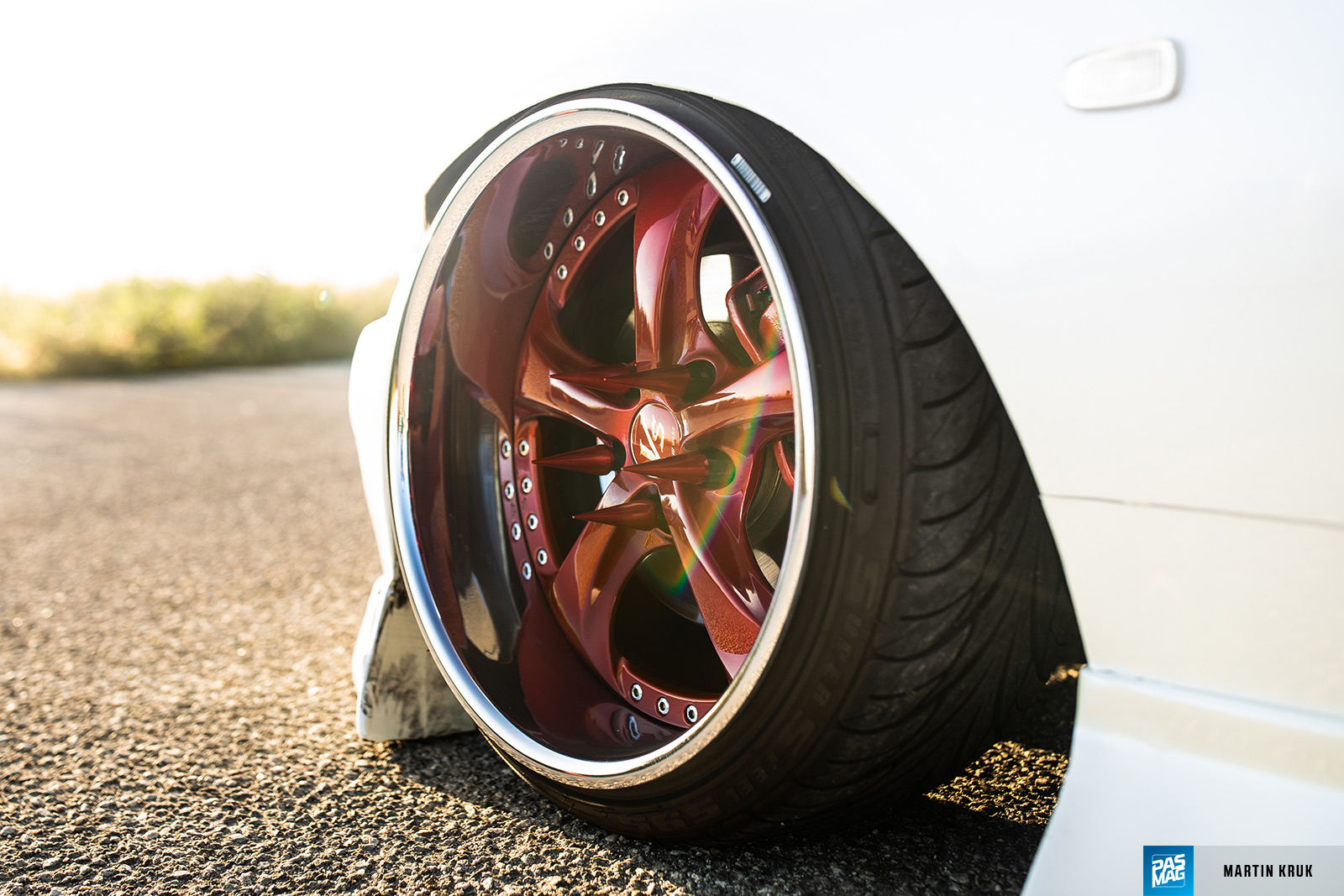 In the meantime, Bucaoto plans to continue to enjoy the car and to continue to be motivated and inspired by his team members from Team NvUS and other car enthusiasts.
Keep an eye out for this build, some bight things could come up in the (near) future.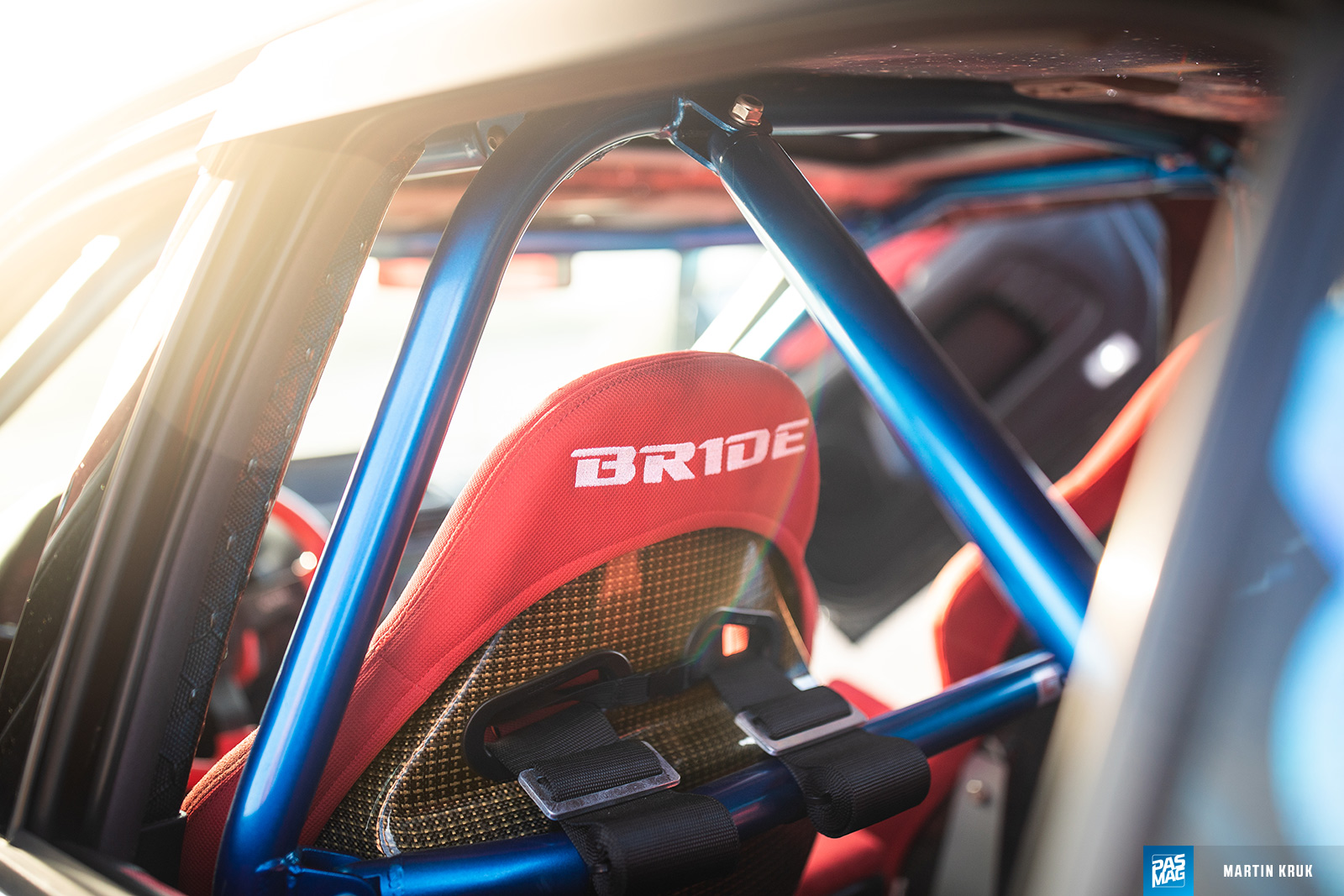 With 51% of the Popular Vote, the winner of the PASMAG Tuner Battlegrounds #TBGLIVE award category competition at Hot Import Nights: Los Angeles was Mariano Bucaoto!
Mariano Bucaoto's 2001 Lexus IS300 is featured in PASMAG #155 + Style Book #6. Click HERE to order.
---
ESSENTIALS
Owner: Mariano Bucaoto
Location: Menifee CA
Vehicle: 2001 Lexus IS300
Engine: 2JZ-GE 3.0L
Horsepower: 215 whp
ENGINE
2JZ-GE 3.0L
Swift Racing Technology intake
Swift Racing Technology air filter
Custom honeycomb carbon fiber-wrapped air intake inlet duct
Custom honeycomb carbon fiber-wrapped timing cover
Custom painted engine cover
Custom honeycomb carbon fiber-wrapped ECU cover
Custom honeycomb carbon fiber radiator cooling plate
EXHAUST
HKS HiPower exhaust
OBX Y-pipe
PERFORMANCE ELECTRONICS
Swift Racing Technology ECU
WHEELS & TIRES
Work VSKF wheels - 18x10.5
5-inch triple chrome outer barrels
5.5-inch inner barrel powder-coated gloss black
Custom candy red faces
Threepiece.us red/gold Work VS center caps
Polished hardware
VMS Racing black lug nuts
VMS Racing red true truck spikes
Federal 595 tires - 225/35/18
BRAKES
R1 Concepts cross-drilled & slotted rotors (f/r)
R1 Concepts brake pads
Custom red painted calipers (f/r)
CHASSIS & SUSPENSION
Air Lift Performance air struts (f/r)
Air Lift Performance 3P management
Air Lift Performance 5-gallon aluminium tank
ViAir 444c compressors (2)
FIGS Engineering caster arm polyurethane bushings
FIGS Engineering front lower arm polyurethane bushings
EXTERIOR
BN Sports front bumper
BN Sports side skirts
JDM Toyota Altezza rear bumper
JDM Toyota Altezza TRD rear lip
JDM Toyota Altezza fenders
JDM Toyota Altezza front fender side markers
JDM Toyota Altezza power folding mirrors
Honeycomb carbon fiber mirror covers
JDM Toyota Altezza dark chrome 3 bar grill
JDM Toyota Altezza black housing headlights
JDM Toyota Altezza yellow fog lights
JDM Toyota Altezza window visors
JDM TRD carbon fiber license plate garnish
Vertical doors
HIC rear window visor
MMSports black housing taillights
Clear inner trunk taillights
F1 Style third brake light
NRG 69-inch carbon fiber wing
Aerowolf red wing endates
Aerowolf red double fin side skirt canards
Aerowolf red single fin front bumper canards
Custom pearl white wrap
Custom license plate "U J3LLY"
LIGHTING
55w 8k HID
LED lights
LED strobe inner trunk taillights
Custom galaxy roof liner with 450 fiber optics
OPT7 LED Interior Lights
OPT7 LED Underglow
INTERIOR
Cusco 6 point roll cage
Cusco harness bar
Bride Gias LowMax with kevlar back driver red seat
Bride Gias LowMax with kevlar back passenger red seat
Takata Drift 2 black racing harnesses
Bride red shift boot
Bride red arm rest
Bride red door panels upholstery
Bride reupholstered red rear seat with custom-notched to fit roll cage
Bride custom red front floor mats
Bride custom red rear floor mats
Bride custom red front seat neck pillows
Carbon fiber-wrapped door switches
Custom OPT7 LED interior lights
Custom galaxy headliner with fiber optics
Clear lens LED courtesy door lights
Custom honeycomb carbon fiber A-, B-, C-pillar
TRD carbon fiber gauge cluster wrap
Custom White dash LED
Custom painted blue gauge needles
OPT7 LEDs floor lights
NRG short hub
NRG 4.0 Gen red quick disconnect
Grip Royal 330mm SI Red steering wheel
We Are Likewise Death Grip shift knob
AUDIO & MULTIMEDIA
7-inch Pioneer double din head-unit
7-inch OEM navigation retrofitted GPS screen
Alpine 6.5-inch front speakers
Alpine 6x9 rear speakers
JL Audio W3 10-inch subwoofers (2)
Power Acoustik 1600w amplifier
MTX Thunder 850w amplifier
FAVORITE MODIFICATION
FUTURE MODIFICATIONS
1JZ or 2JZ-GTE engine swap
SPONSORS
Air Lift Performance
Voodoo
Mishimoto
AP Upholstery
Grip Royal
Bumpboxx.SoCal
SHOPS/MECHANICS
Team NvUs - Jimmy, President
AP Upholstery - Albert
Kenji Garage - Tim
BBC86 - Lee
Grip Royal - Scott
Voodoo Ride - Hai
bumpboxx.socal - Les De Los Santos
SPECIAL THANKS
"Everyone from Team NvUs, my Instagram followers and last but not least, my wife Ali and daughter Aria for putting up with my passion. Thank you"