Photography by @slightlykrispy, @iamkre8tiv, @daniello_productions.
---
Isaiah Lucero got into the car scene at a very very young age. "Cars have always been a passion for me," he mentions, "from watching Fast and Furious to playing with Hot Wheels." Lucero bought the 2015 Scion FR-S brand new on his 18th birthday, and decided to modify it due to the fact that he wanted to stand out and be different from the rest. "Originality is big to me and I have always liked to stand out," he states.
The people who have helped him with this build are his girlfriend (Adrianna Ortiz), family, @nmgrizzlyr32 and @revivewraps. In addition to the FR-S, Lucero also has a 1990 Volkswagen Rabbit and a 1995 Lexus LS400 VIP build in the works.
Inspiration for Lucero comes from within. "I want to be able to help anyone with anything car-related," he states, "and I want to help anyone in younger generations to be and do the best they can, and strive for greatness." He's someone one could always ask for help or look up to. Additionally, Lucero looks up to people like TJ Hunt, Ken Block, Dustin Williams, Evan Shanks and Jimmy Oaks.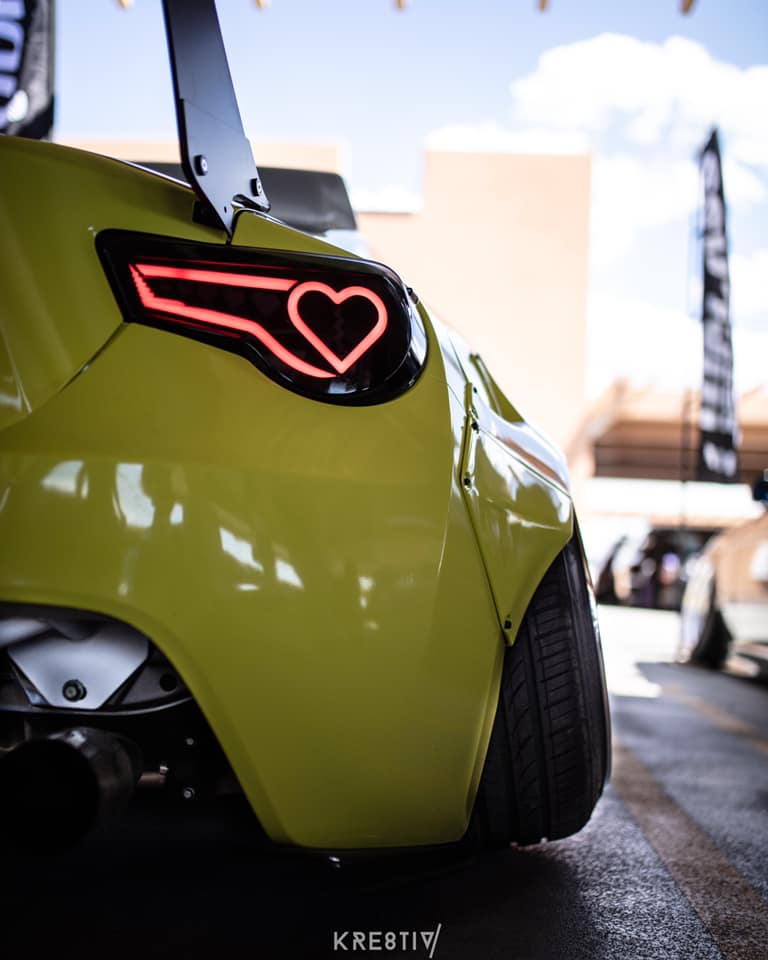 Isaiah Lucero was the Runner-Up in the PASMAG Tuner Battlegrounds award category and online competition at Low Class Militia: Spring Fest 7 in El Paso, TX on March 15th. Click HERE for more details.
---
ESSENTIALS
Owner: Isaiah Lucero
Location: Albuquerque, NM
Vehicle: 2015 Scion FR-S
Horsepower: 215
Club: @vadedmob
SOCIAL
Facebook: Isaiah Lucero
Instagram: @zayylucero
EXHAUST
Tsudo Performance cat-back
WHEELS & TIRES
Work VSKF wheels - 18x12.5
Federal tires - 255/35/18 (f), 265/35/18 (r)
CHASSIS & SUSPENSION
BC Racing coilovers
326POWER Swift springs, 55k
Parts Shop MAX lower/upper
EXTERIOR
Rocket Bunny kit
Big Country Labs wing
Todoroki roof stabilizer
LIGHTING
Custom taillights from Japan
Spec D headlights
INTERIOR
Braum Elite racing seats, seatbelts
We Are Like Wise steering wheel, shifter
JDM tsurikawa
3M interior wrap
FAVORITE MODIFICATION
"The custom heart taillights from Japan!"
FUTURE MODIFICATIONS
Revive Wraps livery
326POWER Japan body kit
New wheels from VR Wheels
SPONSORS
Vaded Mob
Standard Gang
Revive Wraps
ZipTiez
Detailed Auto Solutions
Limitless and Company
SHOPS & MECHANICS
PHOTO GALLERY