It's the summer of 1990 and it's a bit spicy out. Leaving the 7/11 with the door chiming behind you, refreshing grape soda in hand, you pass a few kids on the sidewalk hopping around their Skip-Its. Fearing the fate of your ankles, and possibly the paint on your car, you quickly slip into your E30 coupe with thoughts of picking up Kimberly tonight to go see that new Patrick Swayze movie where he's a ghost or something. First, it's time for a cruise. Pushing in a cassette, "Hold On" by Wilson Phillips fills your speakers and you're off with a smile. After all, "things'll go your way."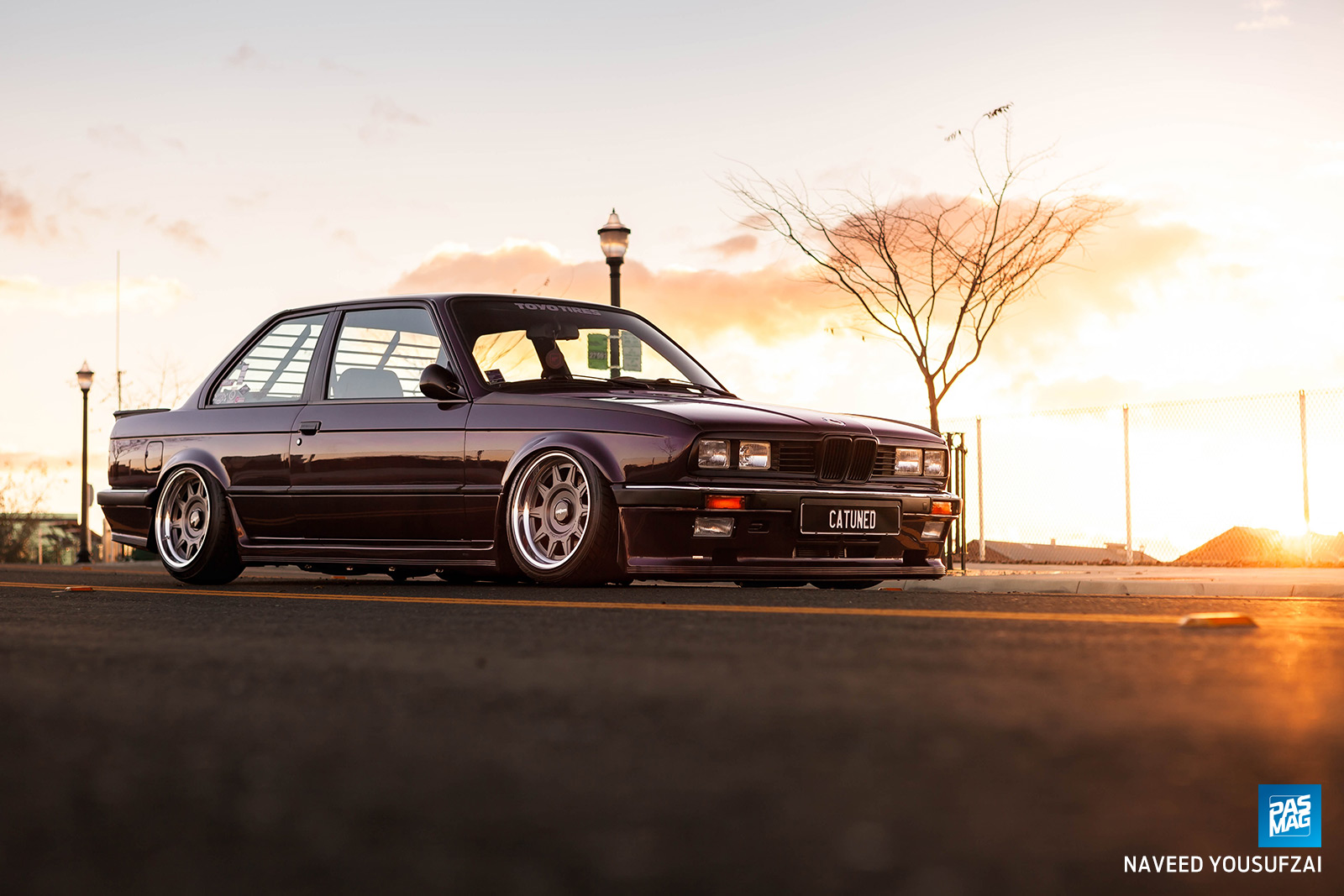 In what may be the most 1990 paragraph ever written, that's what we imagine Igor Polishchuk of CAtuned was dreaming of during a particularly tough 16-hour day. Fantasizing of better times and better cars, he finally had a project idea that he wanted to act on, as well as a spare two-door E30 to do it with. CAtuned was about to transform an old and beat late '80s 3 Series into a pristine time traveller, and Polishchuk had already gotten a head start grabbing all the necessary retro parts.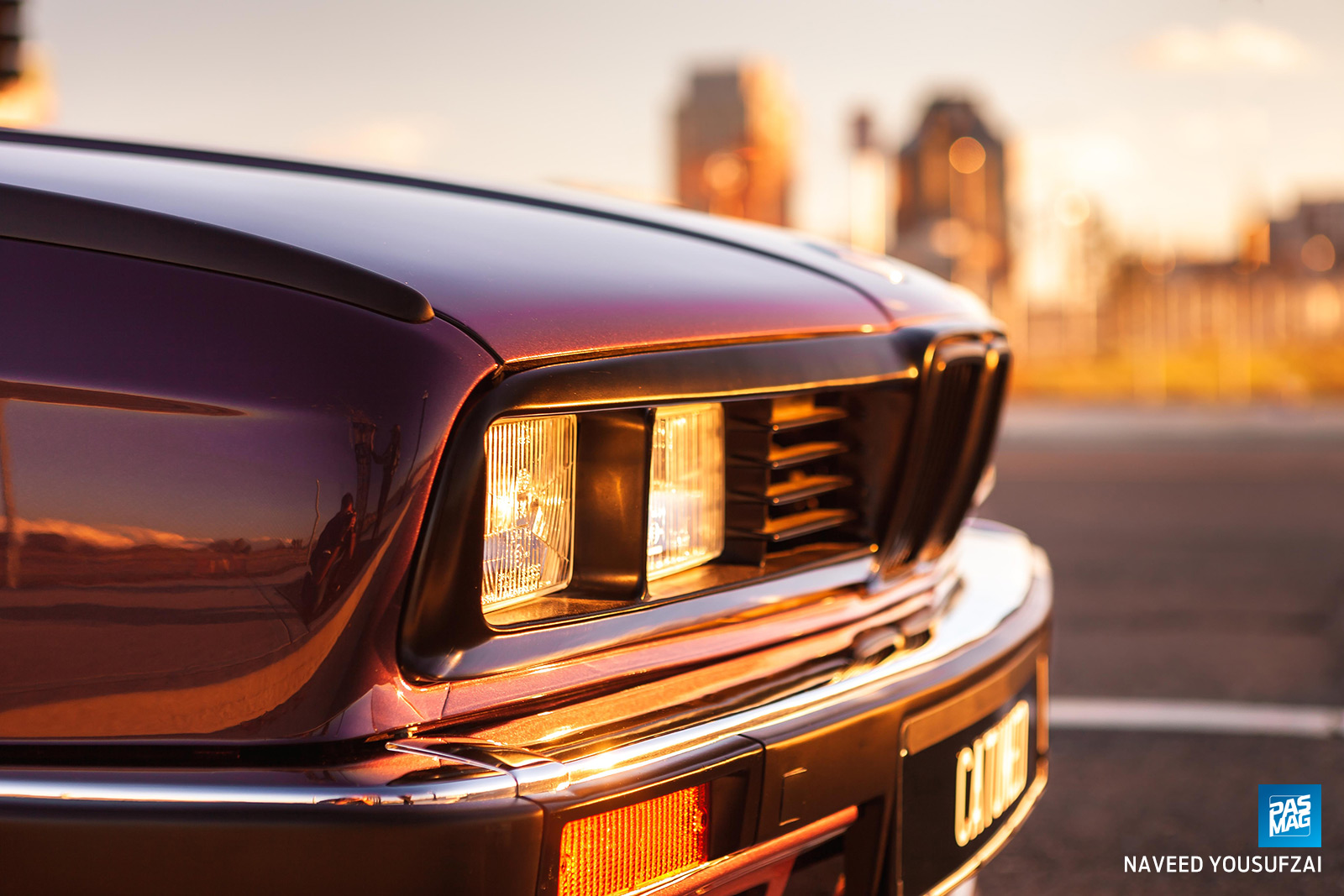 Starting with an '87 coupe that still ran and drove (sort of) with a roughed-up body that needed both fenders and doors replaced, Polishchuk started framing up his work by taking it right down to the frame. Stripping the entire car down to a roller, he dove right into the interior, ripping up the floorboards and scraping away any surprises underneath. After treating the 30-plus-year-old floors to a coating of POR-15 rust-preventative paint, Polishchuk broke out the Fatmat sound deadening before reassembling the floor for a new and improved E30 experience.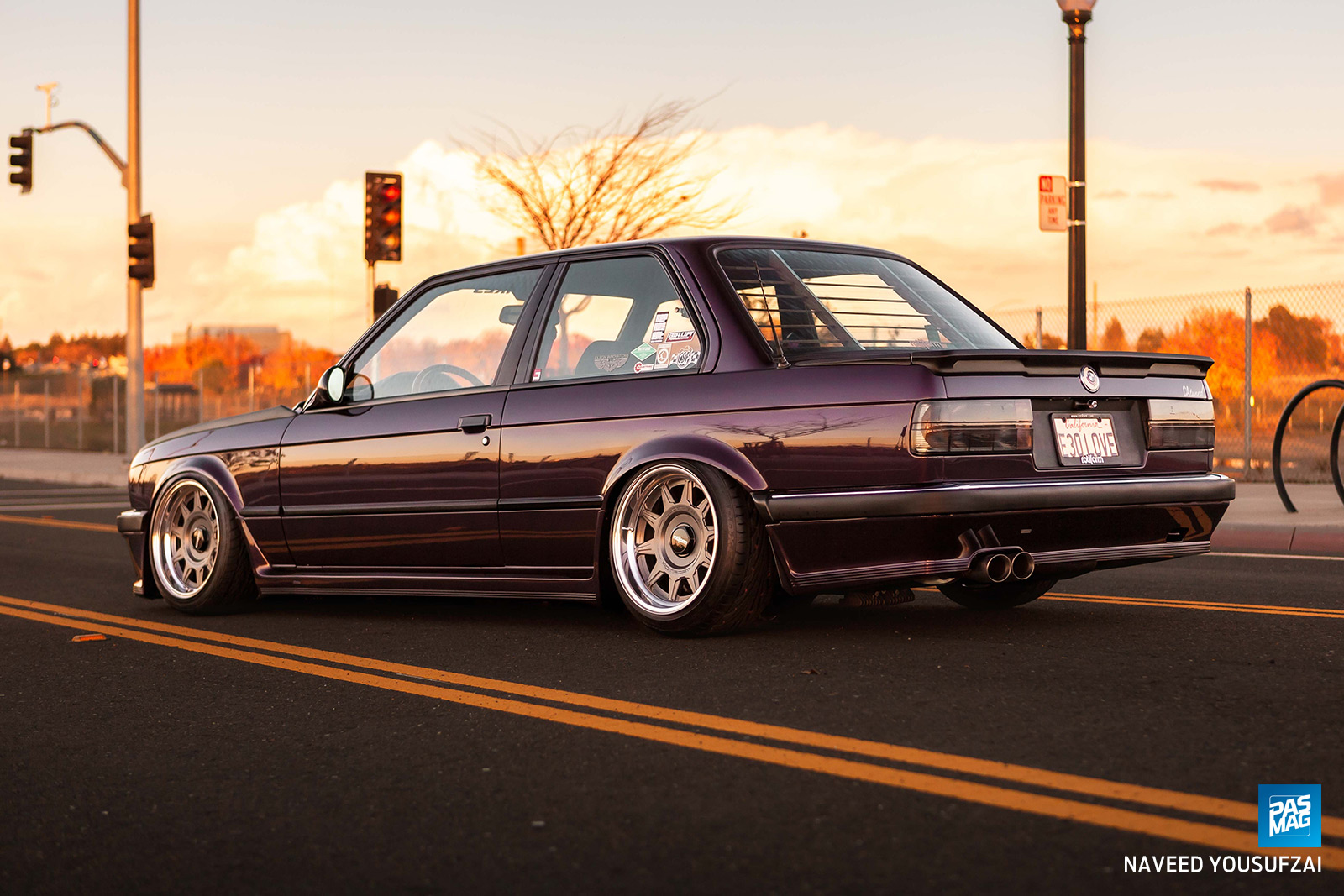 With new doors and fenders ordered from BMW, which Polishchuk says are still readily available for the time being, it was time for paint. For this, CAtuned turned to 916 Fresh Cars to turn their project 3 Series an attention-grabbing shade of purple - BMW's Daytona Violet to be exact. Due to the hue choice, it wasn't long before the E30 was affectionately named "Grape" by the team. With Grape off to the paint booth, the build crew took advantage of whatever time they had to get things rolling, as Toyo Tires had once again chosen their build to occupy a feature car spot right out front of the main entrance of SEMA. Time to hustle.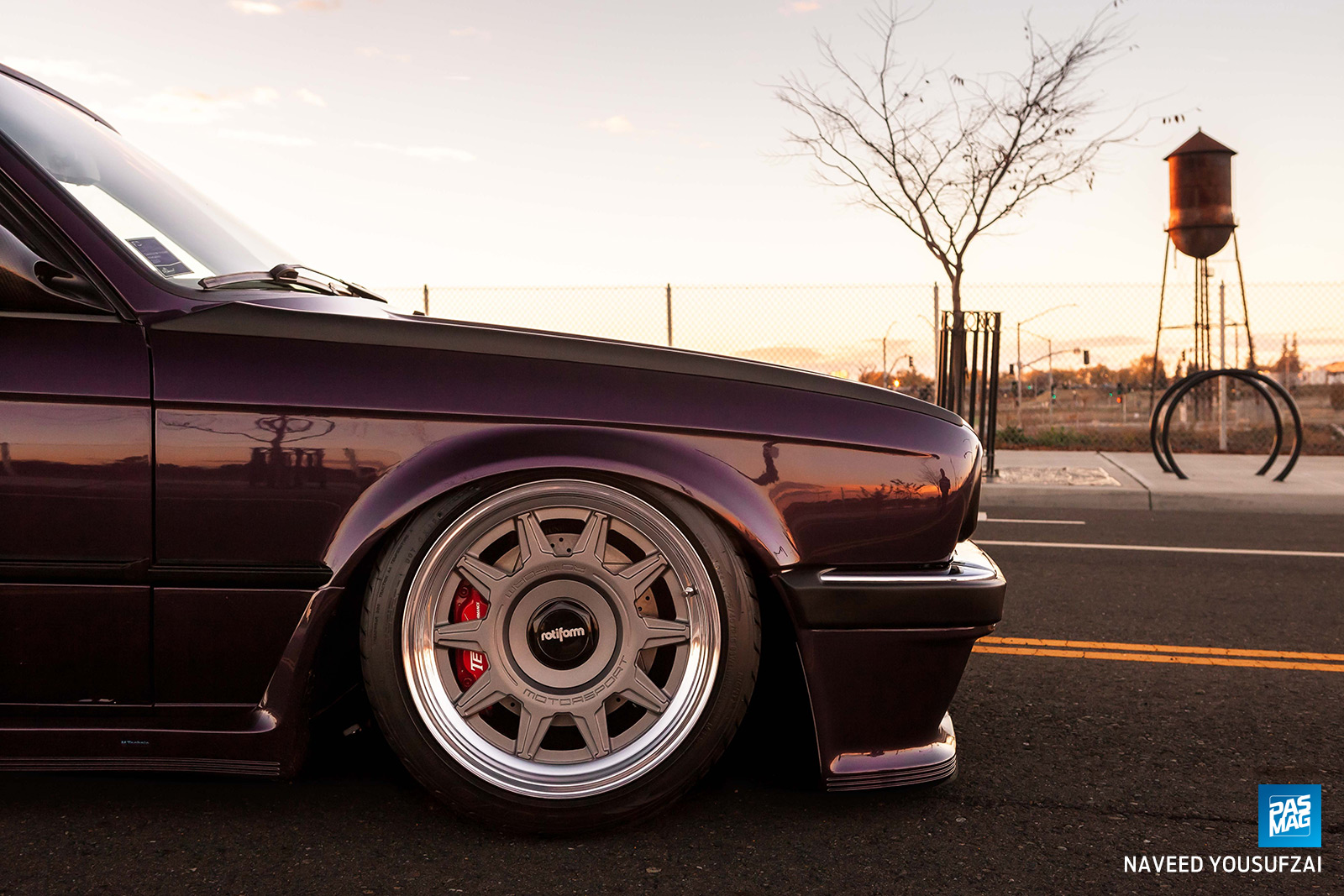 Just because there was more of a rush, it didn't mean that Polishchuk's dream of a new and improved retro E30 had gone out the window. After welding reinforcements to the front and rear subframes, as well as throughout the chassis, all bushings were replaced with polyurethane upgrades, and the E30 was even treated to custom CAtuned chromoly axles and their Stage 3.0 four-piston BBK up front, with refreshed brakes in the rear. The addition of a custom-built Wavetrac LSD converted to a two-way with a higher 3.46 gear ratio was a sign of things to come.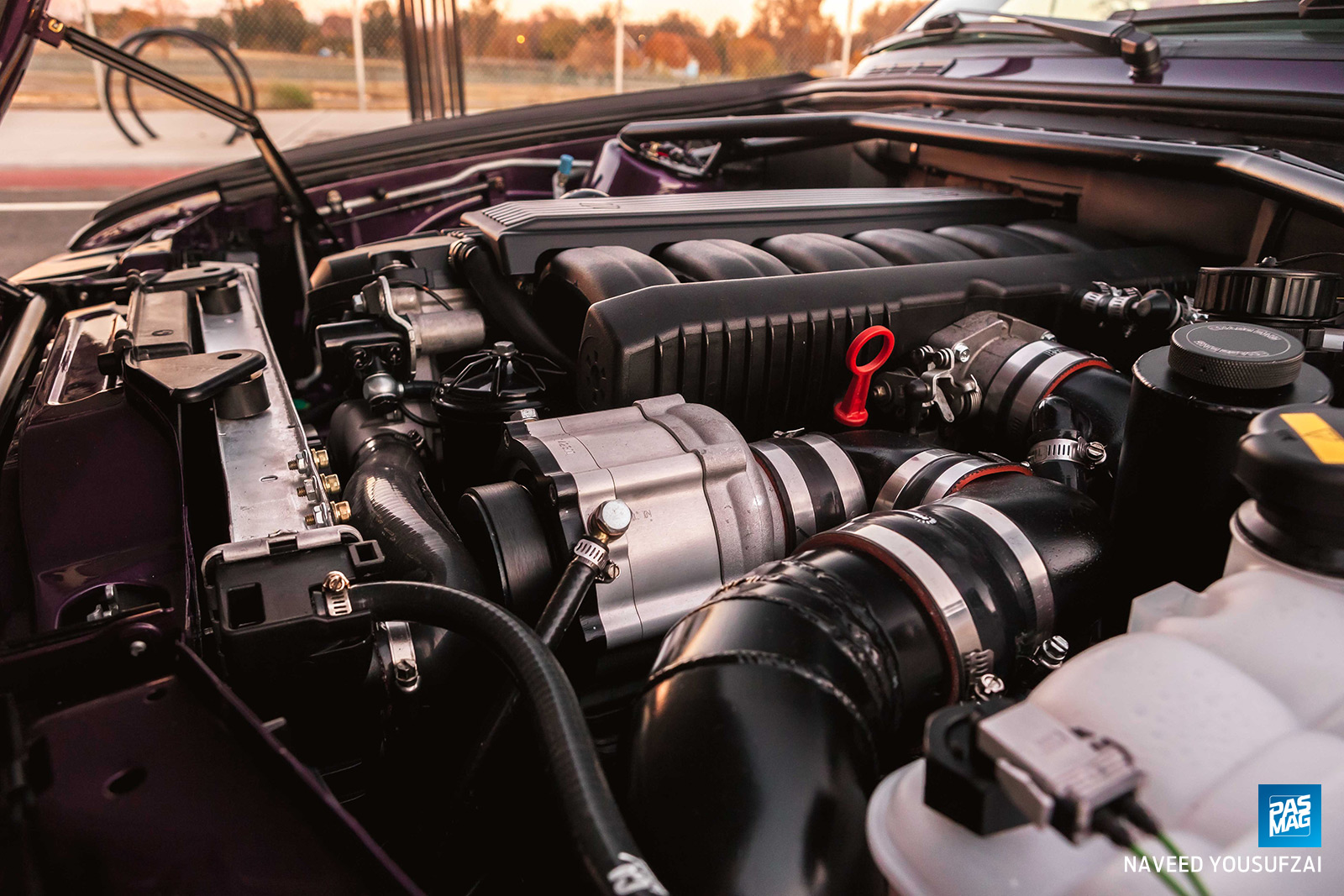 Admittedly, Polishchuk has a lot of love for the BMW M20 motor, but there was something he was craving in this build, and to get it, he'd have to hop into his time machine and travel a little further into the future: the mid-to-late '90s. The E36 M3's S52 inline-six engine was his goal, plus a good bit of boost from an Active Autowerke Stage 2 supercharger system. The high-ratio LSD makes more sense now, right? The S52 has been built up to 11.5 to 1 compression and utilizes VAC Motorsports' lightweight pulleys for some quicker acceleration out of the new blower. All in, the E30 is making 450 horsepower, which probably makes it the fastest car in the world named Grape.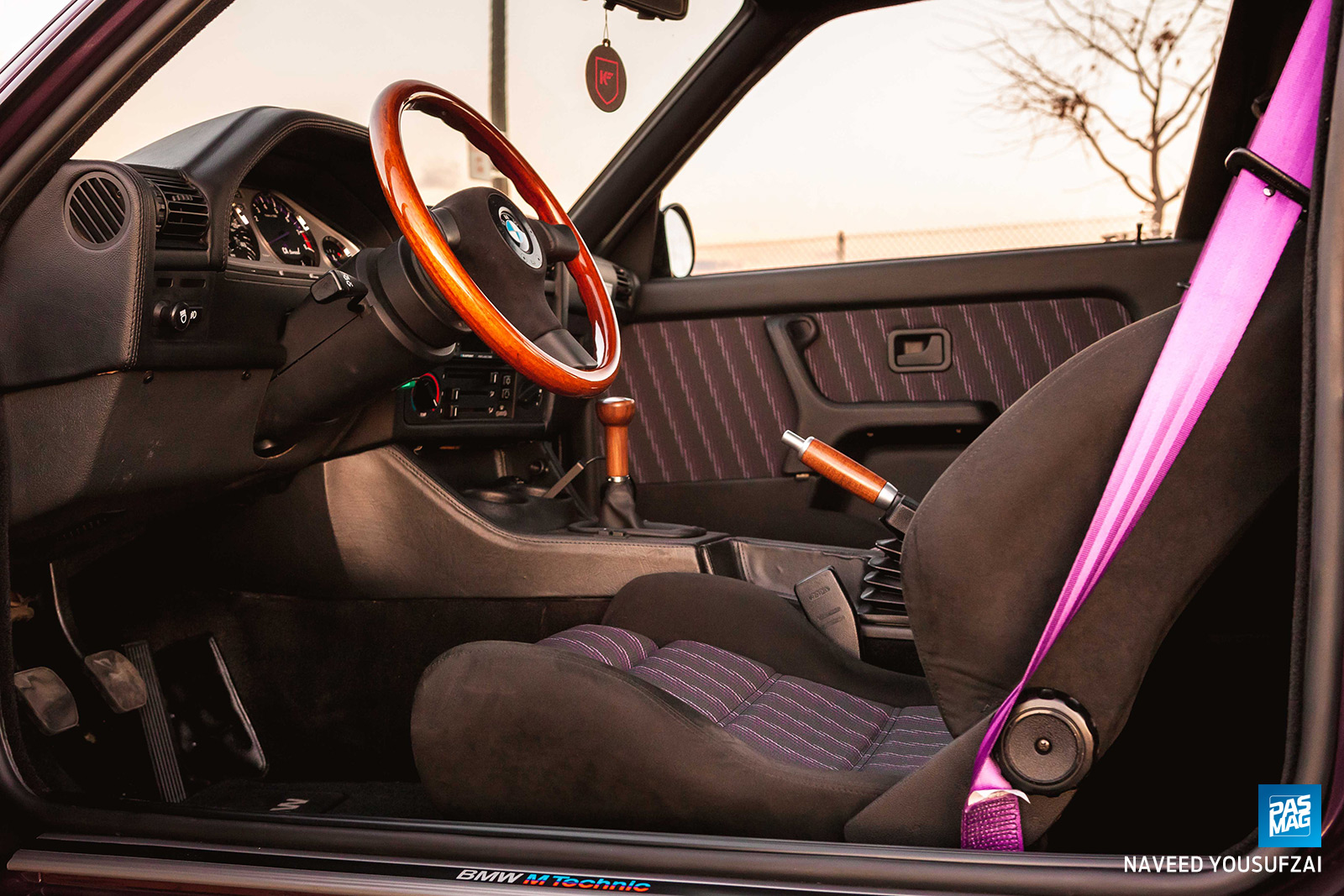 With the new engine mated to the chassis and newly-painted body, plus a Z3 steering rack swap for that close-ratio goodness, it was time to start plugging away at the goodies Polishchuk had been stashing away. Sourced period-correct Recaro seats were soon reupholstered in purple M Technic fabric, as well as the rear seats and door cards, while the dash, glove box, and center console were covered in stitched leather. The chance also came up to own some rare throwback pieces, like the cassette tape holder that integrates with the center console, and even a BMW car phone that occupies its own bag. Wooden accessories, like the Auto Asthetik shift knob, Kooglewerks e-brake handle, Nardi steering wheel, and custom sun blind setup in the rear window tie together the wayback theme beautifully.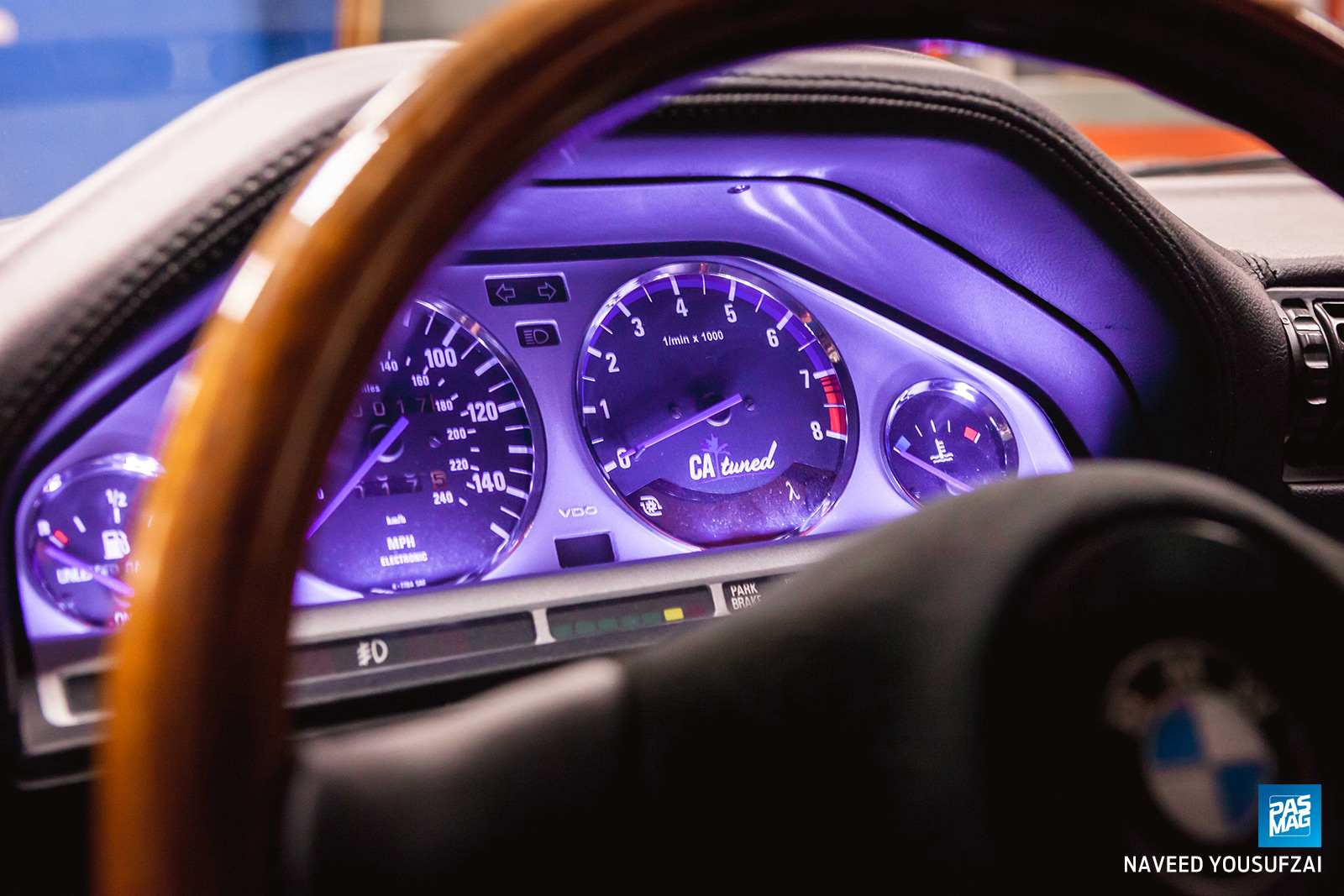 Bringing together modern day and the late '80s are some stunning pieces from Bavarian Restoration. Integrated into the E30's gauge cluster is a digital portion along the bottom of the tachometer, which reads the boost and AFR from the supercharged-six under the hood. It also glows purple via LED backlighting, just to make it that much cooler - the same goes for the custom Euro clock that they threw into the deal.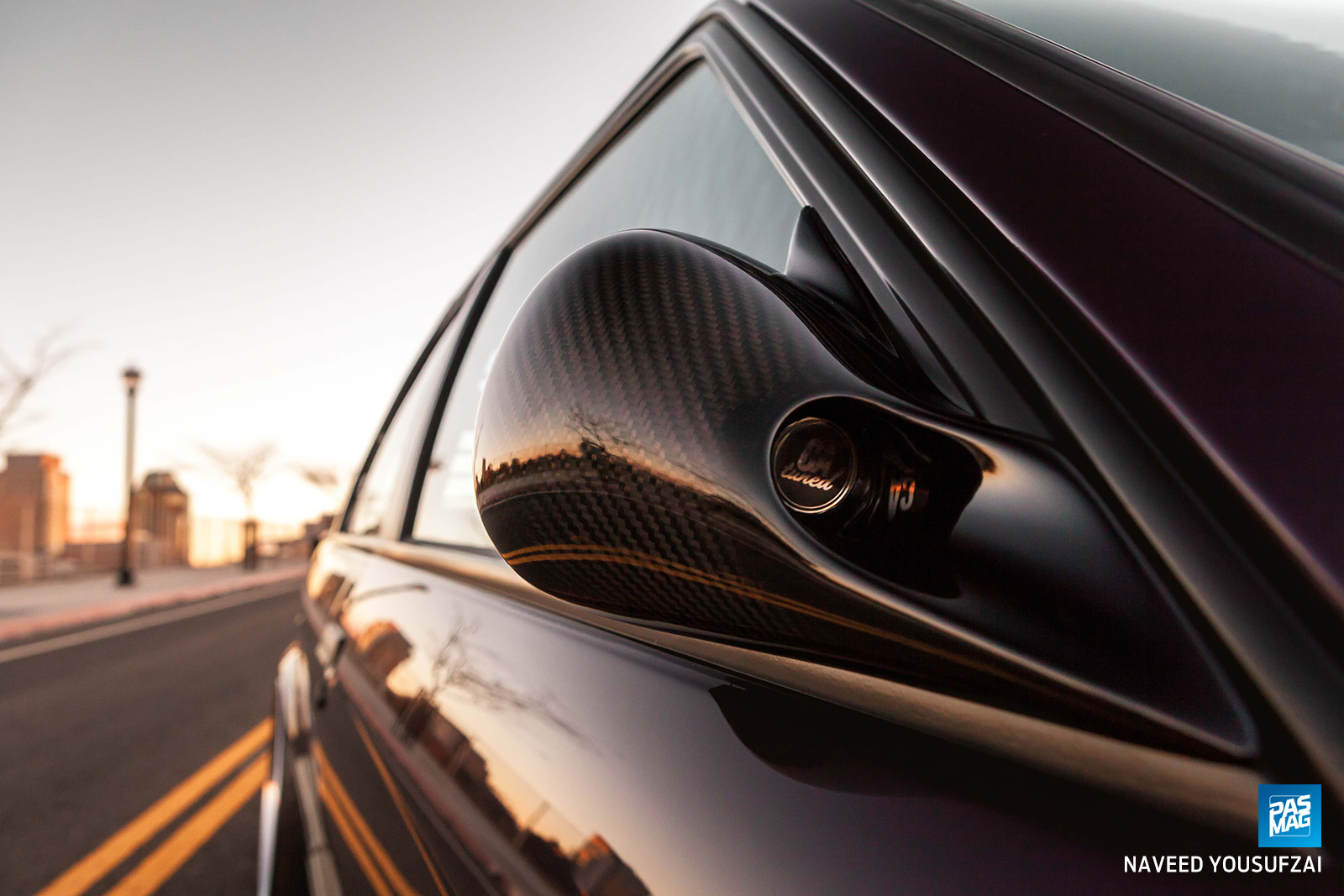 Outside, the much-loved M Technic 1 body kit is paired with the much-hated Typhoon square headlights, making for just the right amount of controversial. Startec taillights, carbon fiber DTM side mirrors, retro BMW roundels, and front fender strips and rear spoiler from Kamei round out the exterior options on every E30 enthusiast's wish list - past and present.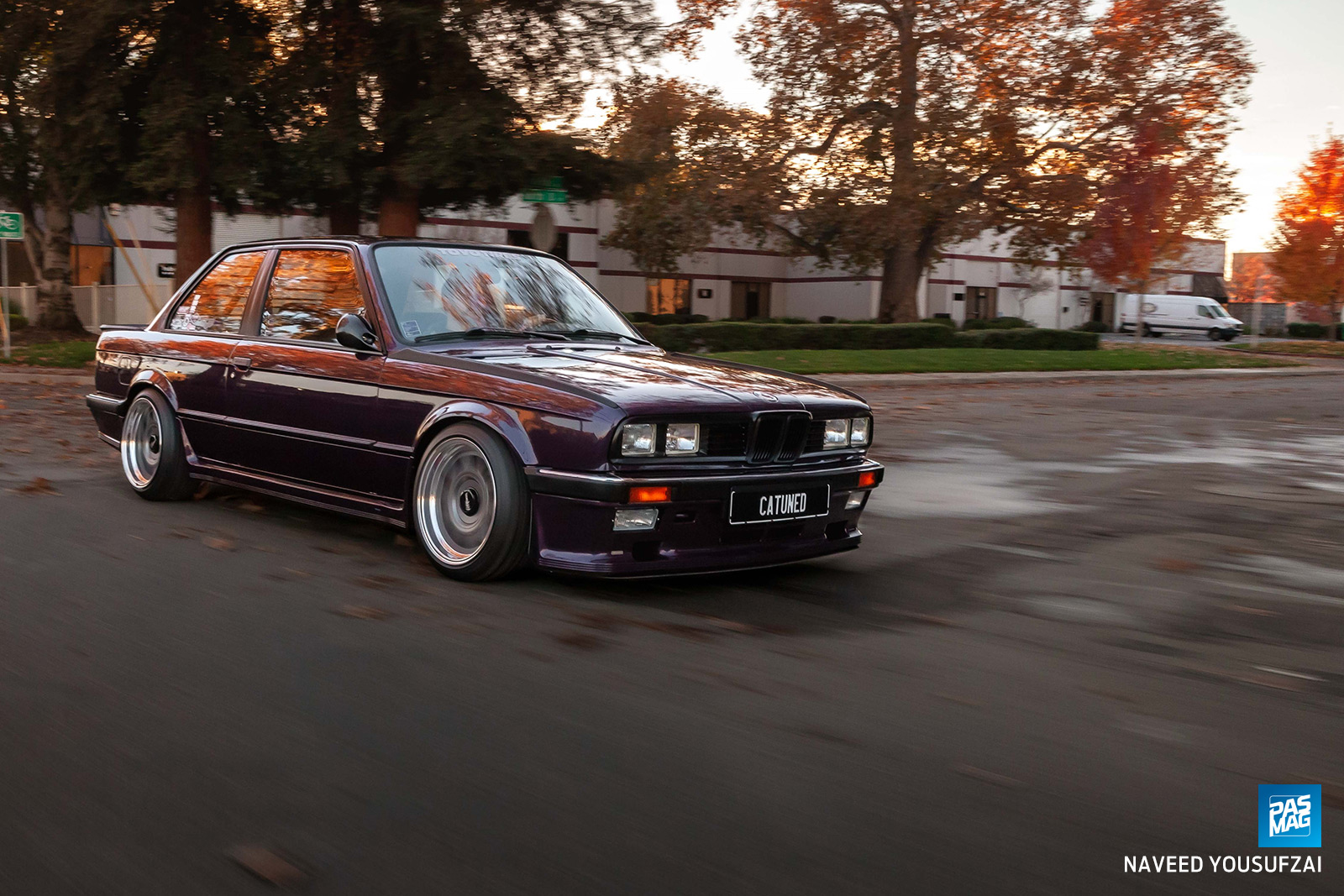 The whole package is brought down by Air Lift Performance's 3P management, CAtuned's E30 air struts, and a FLO air tank. The latter is custom-mounted to the top of the trunk and topped off with an awesome retro-style hardline provided by a friend of CAtuned, who flew in from Tilson Innovations in Oklahoma. When the BMW airs out, it does so over the first-ever set of Rotiform SAC (as in Sacramento, where CAtuned is based) wheels in 16-inch sizing - eight-wide in the front and nine-and-a-half in the rear. Wrapped in Toyo Proxes 4 tires, and this Bimmer is officially the ultimate all-rounder daily driver and show-stopper.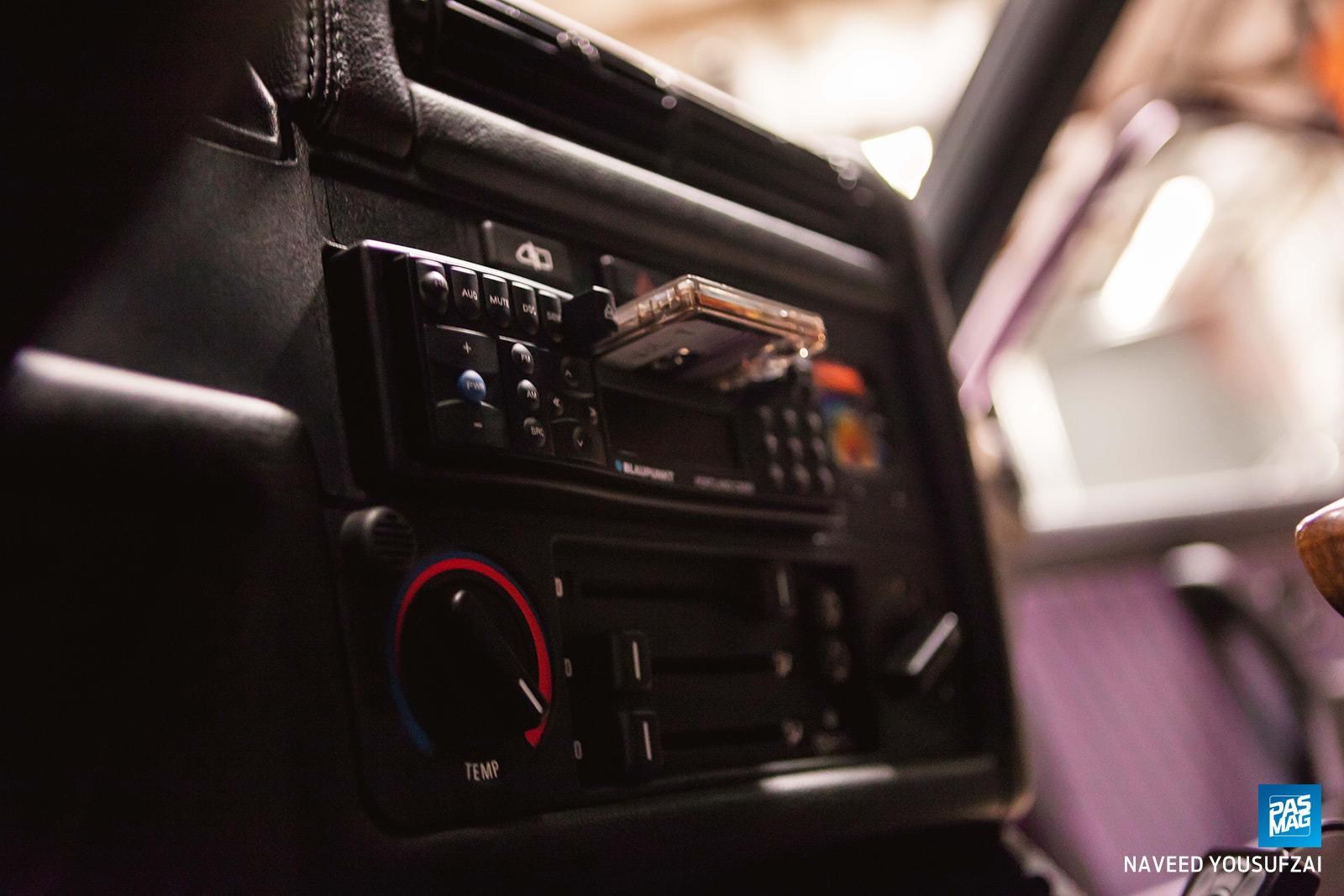 Through long days and sometimes sleepless nights, Grape made it to SEMA complete and on time to occupy its spot outside of SEMA's front doors. The BMW didn't just function as a quality set piece, but also made its way up the ranks in SEMA's Battle of the Builders competition to the Top 12. While it is a stunning example of an E30 all around, a peek inside is a little like taking a trip back in time. To the curious passerby who lived through the '80s and '90s, maybe it's like a brief visit back to a place where they pushed in a cassette on their way to go pick up Kimberly to see a flick with Swayze and Whoopi Goldberg.
Igor Polishchuk's 1987 BMW 325is is featured in the pages of PASMAG #152. Click HERE to order.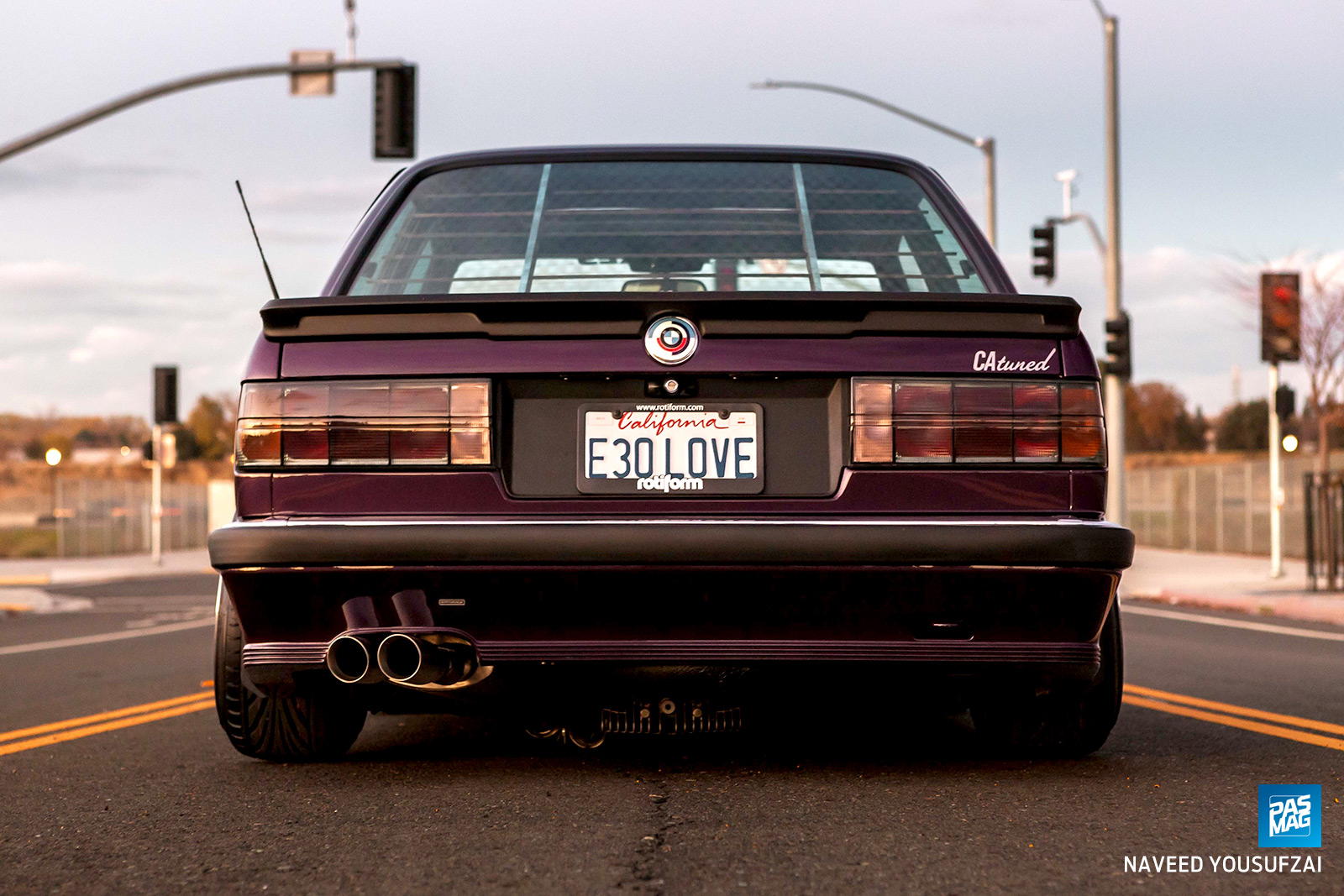 Photography by Naveed Yousufzai
---
ESSENTIALS
Vehicle: 1987 BMW 325is
Owner: Igor Polishchuk
Location: Sacramento, CA
Built By: CAtuned, 916 Fresh Cars
Engine: BMW S52 3.2L I-6
Horsepower: 450 hp
Instagram: @catuned_igor / @catuned
ENGINE
BMW (S52 engine swap, E90 engine studs)
Ported & polished cylinder head
JE 9.0:1 pistons
11.5 to 1 compression
Coated bearings (rod, main)
Supertech (double valve springs, valves, valve retainers)
Revshift polyurethane engine swap mounts
Bavarian Autosport ignition coils
Port-matched intake manifold
Active Autowerke Stage 2 supercharger system
VAC Motorsports lightweight pulleys
K&N air filter
CSF radiator
SPAL radiator fan
CAtuned hoses (radiator, cooling)
ARP head studs
EXHAUST
Vibrant custom stainless steel exhaust system
DRIVETRAIN
CAtuned (modified Wavetrac 2-way LSD - 3.46 ratio, braided clutch line)
Fidanza flywheel
Revshift polyurethane transmission mounts
WHEELS/TIRES/BRAKES
Rotiform SAC wheels - 16x8 (f), 16x9.5 (r)
Toyo Proxes 4 tires - 205/40 R16 (f), 215/40 R16 (r)
CAtuned Stage 3.0 BBK - (12-inch drilled & slotted rotors (f), 4-piston calipers (f))
Ceramic brake pads
Porsche 944 brake booster
BMW 7 Series master cylinder
CHASSIS/SUSPENSION
CAtuned (custom airbag performance suspension, chromoly sway bar links, chromoly axles, polyurethane bushings, chassis reinforcement, steering guibo)
BMW Z3 steering rack swap
Airlift Performance management
FLO Air Ride custom-mounted air tank
Tilson Innovations "retro" hardlines
MRT adjustable outer tie rod ends
Condor Speed Shop control arm (bushings, "eye ball" mounts)
ST Suspension sway bars (f/r)
Red46 skid plate
EXTERIOR
BMW Daytona Violet paint job by 916 Fresh Cars
M Technic 1 body kit
Startec taillights
Typhoon square headlights
CAtuned (custom motorsport door handles, shorty antenna, retro roundels)
Carbon fiber DTM mirrors
Custom diffusers (lip, skirts)
Kamei (rear spoiler, front fender fins)
Ceramic Pro ceramic coating
INTERIOR
BMW (NOS floor mats, retro tape deck console holder, retro bag phone, Euro rear-view mirror)
Black-dyed carpeting
Bavarian Restoration (CAtuned custom gauge cluster, modified Euro clock)
CAtuned (black suede headliner, custom purple seat belts, wooden rear window blinds)
Recaro bucket seats
M Technic (reupholstered rear seats, reupholstered Recaro bucket seats, door sills)
Leather reupholstered (dash, center console)
Auto Asthetik wooden shift knob
Kooglewerks (wooden e-brake handle, cup holders)
Nardi wooden steering wheel w/ suede cover
Fatmat sound deadening
MOBILE ELECTRONICS
Blaupunkt retro head unit
Infinity (KAPPA 50.11cs 5.25-inch component speaker system, Reference REF-5032cfx 5.25-inch 2-way speakers)
SPONSORS
Toyo Tires
Rotiform
Bavarian Restoration
Airlift Performance
CSF Radiators
FLO Air Ride
Tilson Innovations
Wavetrac
916 Fresh Cars
K&N Filters
---
PHOTO GALLERY