Photography by Alexander Turnbull & Dylan Ackimenko
---
As we get older, our tastes gradually change until we settle into what we're going to like for the rest of our lives. You could take this as literally as taste in food, like a distaste for tomatoes when you were younger that became a meal staple later in life, or even as taste in fashion, as I'm willing to bet that there aren't nearly as many princesses and dinosaurs on your clothes now than there were before (not that I'm judging if that's still the case – good for you). In the automotive world, which is made up of so many different styles and subgroups, it's a playground to immerse yourself in to discover which direction you'd like to take your build, and sometimes, it takes a few builds to get to where you want to be. It's like the best kind of trial and error.
Starting out, Justin Wallace cut his teeth building the usual suspects in the tuning scene, and eventually found his way to a car that he'd go all-in on. His first project was an EG Civic Si, which Wallace describes as "nothing serious," but it seriously sparked something. The alluring fun factor of rear-wheel-drive came calling from overseas next, as Wallace imported a RHD 180SX from Japan in 2004. This car would be his first "serious build," and when it was complete, it caught our attention in 2007 enough for us to warrant setting up a feature in the magazine. Unfortunately, before a single photo could be snapped, the S13 show car was stolen and has since never been recovered.
Reeling from the loss of a car that he'd put his all into, Wallace started a search for a new platform in a different state of mind.
"The goal was to have a daily driver that was all show and all go," he exclaims. "After the loss of my first project, which was only driven to and from shows, I told myself never again; the next car will be driven, show car or not!"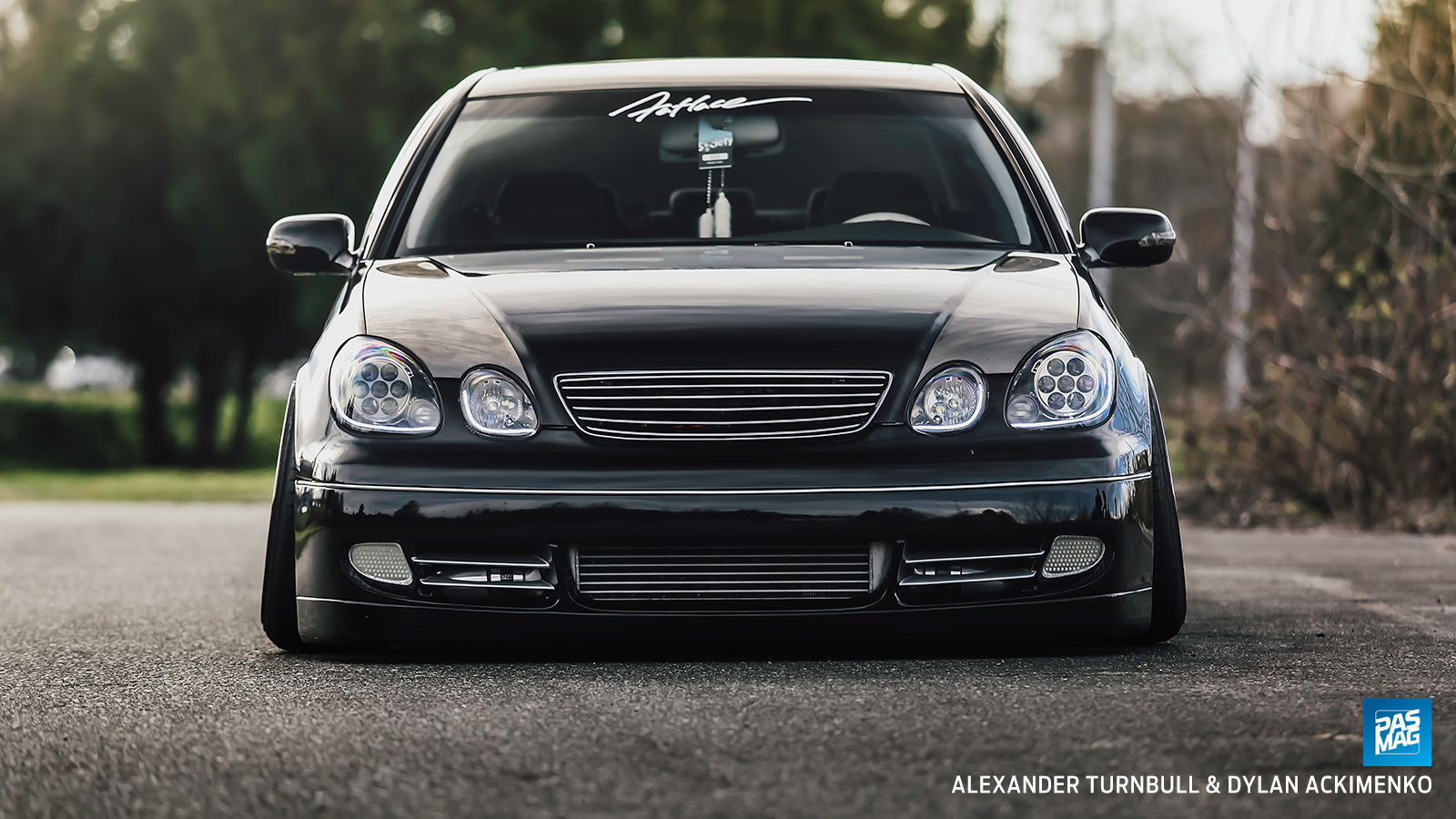 That daily driver would end up being a 2000 Lexus GS300. Luxurious leather, power everything, comfort, and quiet – the ideal formula for a workday warrior. At this point, we often hear the same batch of lies at PASMAG from nearly every owner who has just bought a car as a daily; "I was going to keep it stock, maybe change the wheels, and get a tint, but I wasn't looking to seriously modify it!" Wallace wasn't lying to himself whatsoever when he picked up his GS, as he planned to swap out the comfort-tuned three-liter inline-six 2JZ for the less-well-behaved GTE version from the get-go.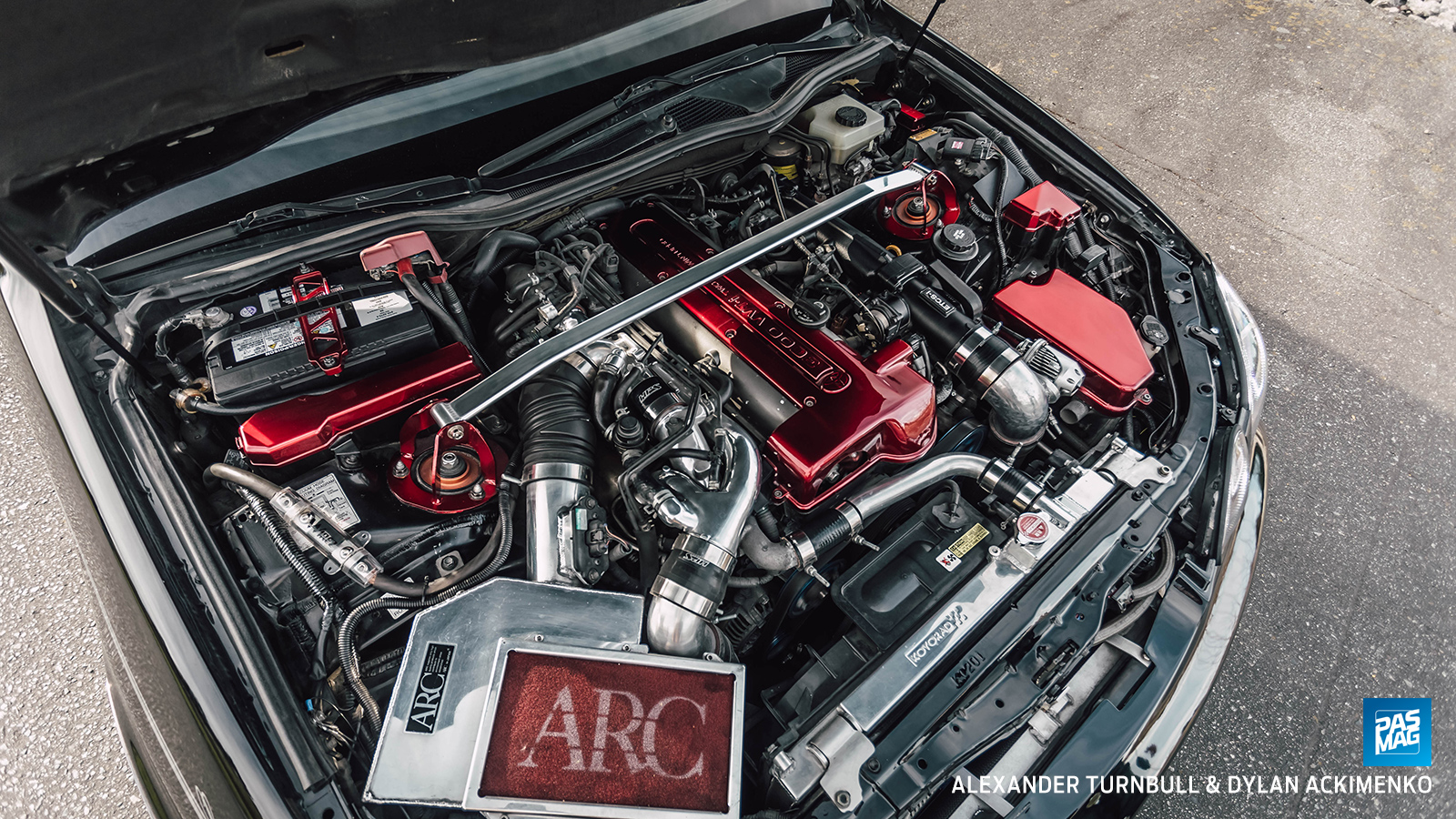 If you're going to rip out a perfectly good engine for another, you may as well get some parts on the new one before you slap it into the bay. For Wallace, he made sure to toss in Tomei adjustable cam gears, a full suite of Greddy cooling gear, an ARC Super Induction air intake, and some HKS goodies, like their "Defencers." The GS has two HKS Defencers: Fuel Cut, to raise the factory fuel cut level to increase boost pressure, and Speed Limit, which unlocks the speed restrictions on the 2JZ-GTE to allow for speeds over 112 miles-per-hour (180 km/h). This land yacht moves at a quicker pace than before, that's for sure.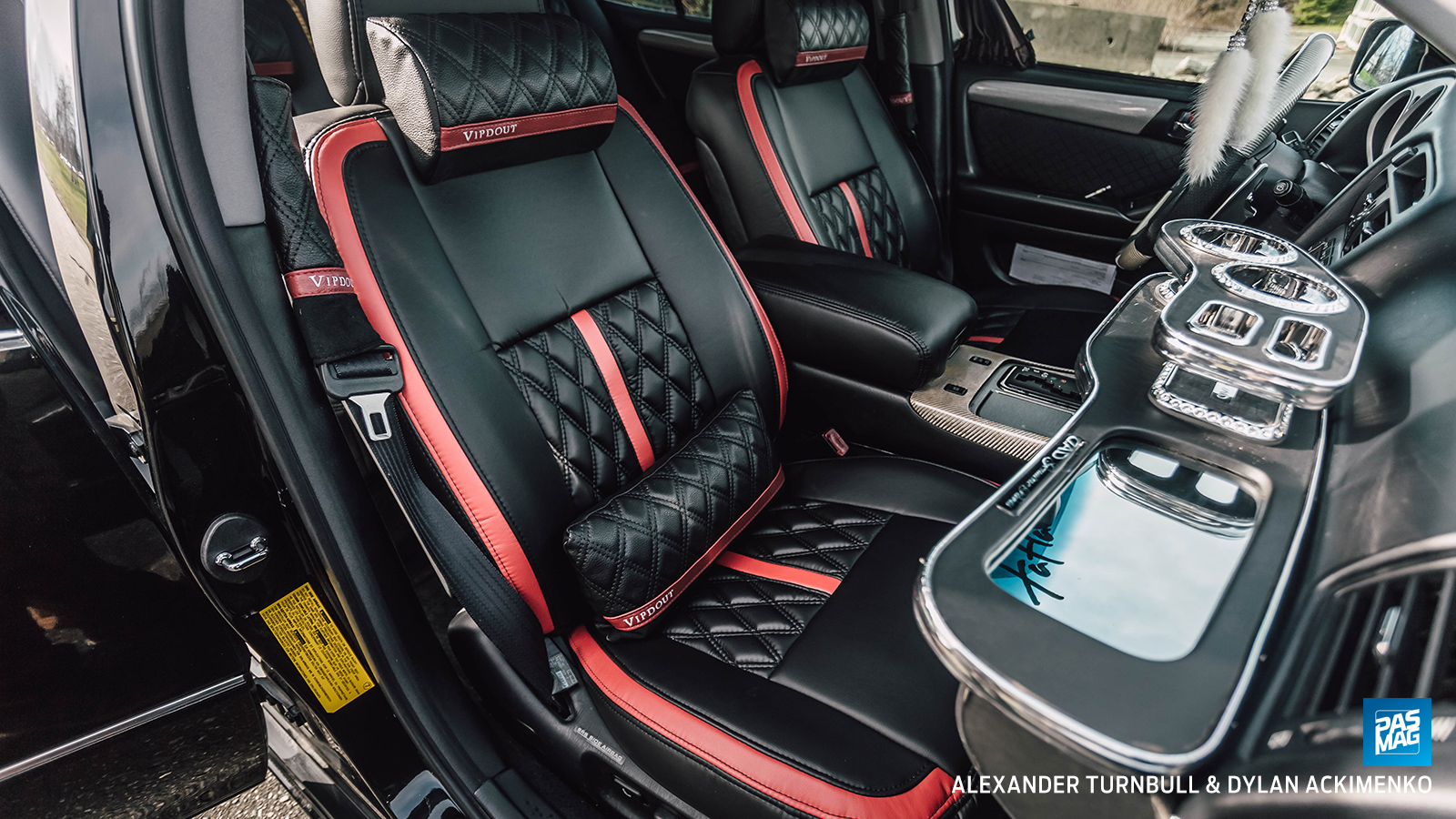 While that all sounds great, Wallace was after a luxury land yacht, so he's gone around the GS sprinkling LEDs, crystal, chrome, and extra leather wherever it will fit. A prime example of this is the Garson D.A.D VIP gear that takes up residence in the interior, like the custom front table, coaster sets, crystal chains, velvet door curtains, and glittery shift knob. Grace Executive Diamond Edition leather covers adorn the seats and start the black and red diamond-stitched theme, while VIP'd Out neck pads, belt pads, and assorted cushions add to the lounge look and feel. Draped between the rear seats is a "Wiserhood" banner that displays the words "The Society of Uncompromising Men," which kind of encompasses VIP as a whole, doesn't it?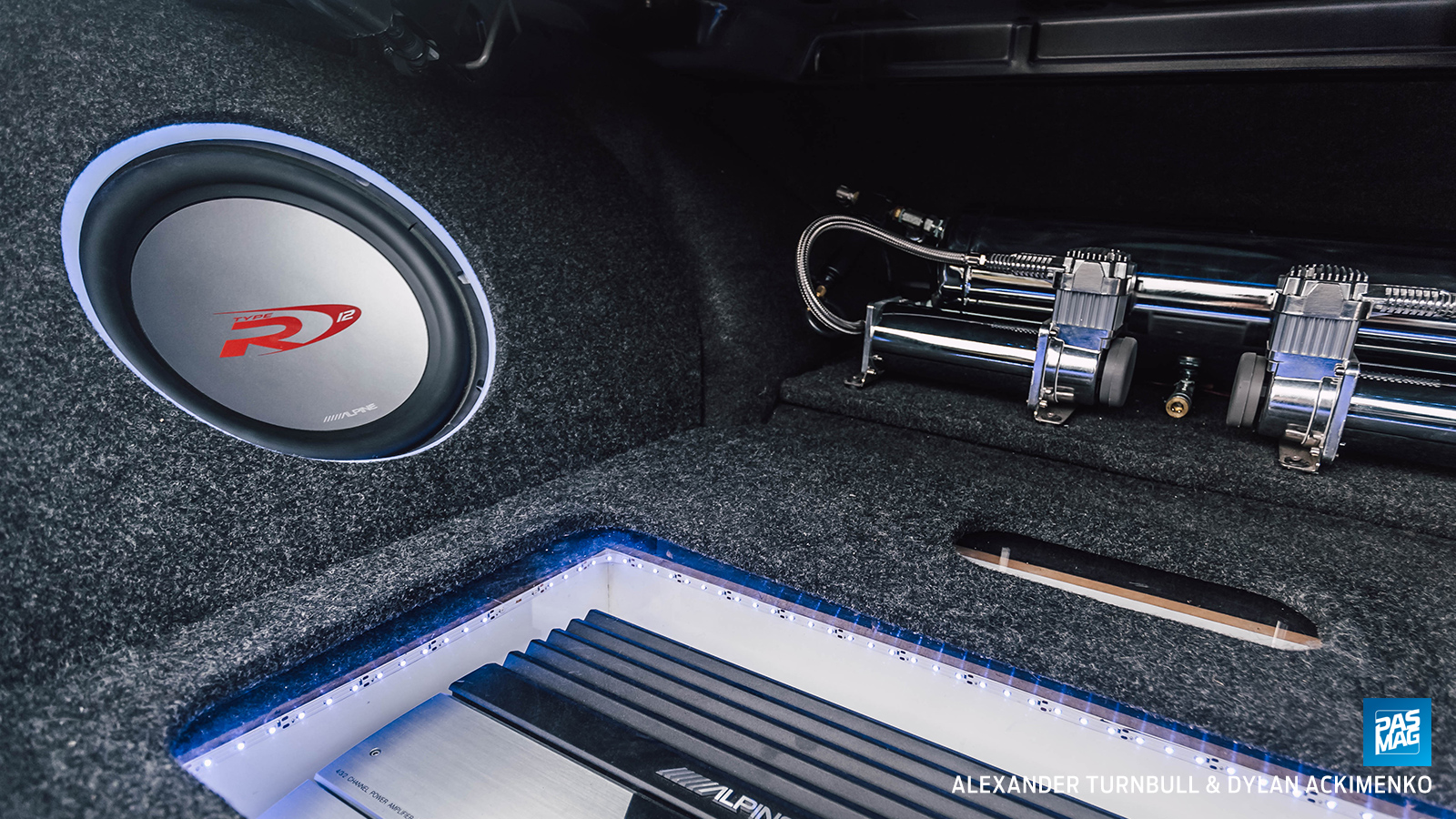 And what kind of a lounge doesn't have a lounge singer? You may have heard of the one that frequents Wallace's place – they go by the name "Alpine." Situated snugly in the trunk, under some plexiglass, are a four-channel and a monoblock amplifier, rimmed by LEDs. This duo powers the twin 12-inch Type-R subwoofers on either side of the trunk, as well as the four 5.25-inch Type-R components in the cabin.
"My car has gone through a few different body kits, but there has always been one on my mind," says Wallace. "It's super clean looking, highly sought after, and rare. The price tag was the only thing holding me back."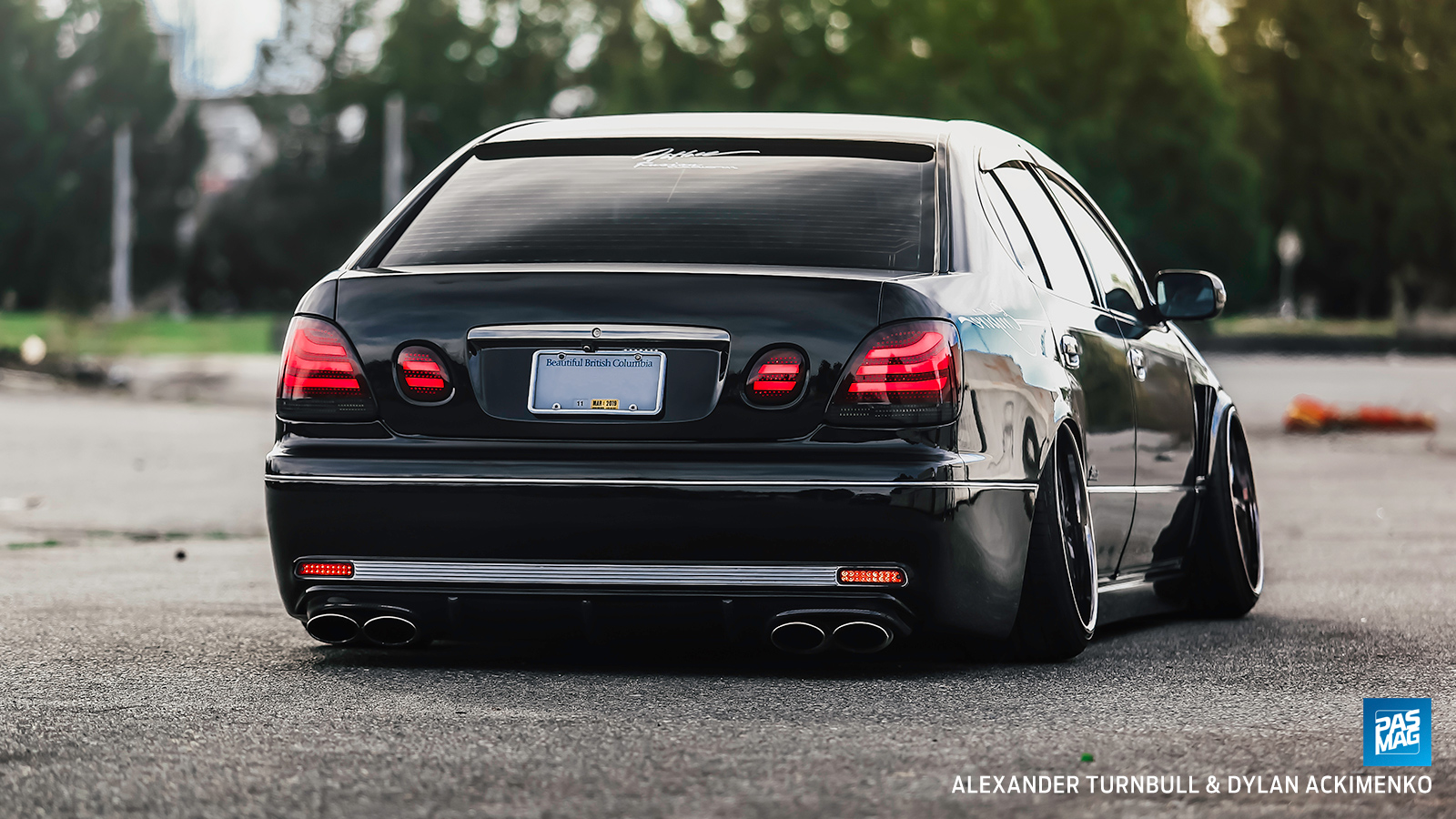 Eventually though, when you want something enough, your wallet finally caves to the pressure. For Wallace, the pièce de résistance for his GS300 is the Phantom aero kit from Mode Parfume - a fairly rare Japanese aero kit producer. While the Phantom kit results in a clean and classy look, Wallace has accentuated the lines and flow of the Lexus with custom metal Baby Bear Gangster vented front fenders, a Junction Produce roof spoiler, and a custom carbon fiber diffuser. Of course, no VIP build is complete without the appropriate amount of LED lighting, as evidenced by the black chrome housing headlights that play host to retrofitted Infiniti Q45 projectors and custom-built chasing LED acrylic taillights, while every other bulb on the car has been replaced by Monarch LEDs.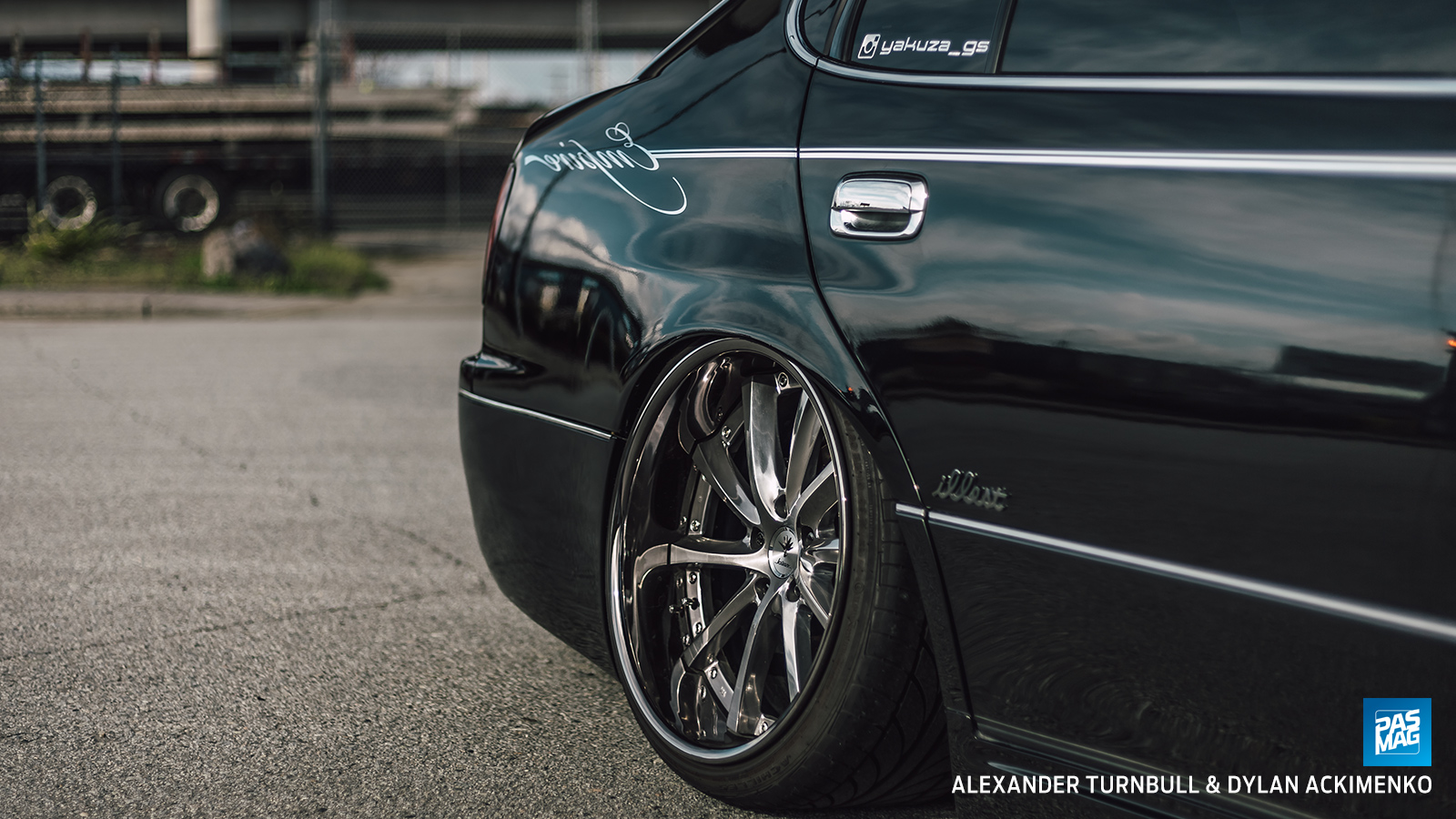 For going out shoes, the GS wears custom-finished Weds Kranze Vishunus in 19x10 in the front and 19x11 in the rear, and to get them properly fitted, it takes a team. As the sedan was going to be getting low, the roll center was adjusted 30 millimeters, which allows the SPC front upper control arms and TCS rear upper control arms to safely tailor the stance while at whatever height is set on Wallace's air suspension system. Said system is made up of Air Force bags, Accuair VU4 valve unit, Dakota Digital management, dual Viair 444c compressors, and a five-gallon air tank.
"I've been into cars even before I could drive," says Wallace. "Back in the early '90s, in my high school years, I would read tuner magazines and just be amazed by how you could take something ordinary and build it to your liking. The only thing that influenced this build were generations of VIP builds in Japan."
After running the gamut of tuning entries, Wallace has found something that resonates him, and has reinvigorated his build bug. No more uncomfortable seats or loud exhausts – he's moved up to the land yacht life, and with a daily driver that looks this good and performs and shows even better, we think his taste has found exactly where it wants to settle for good.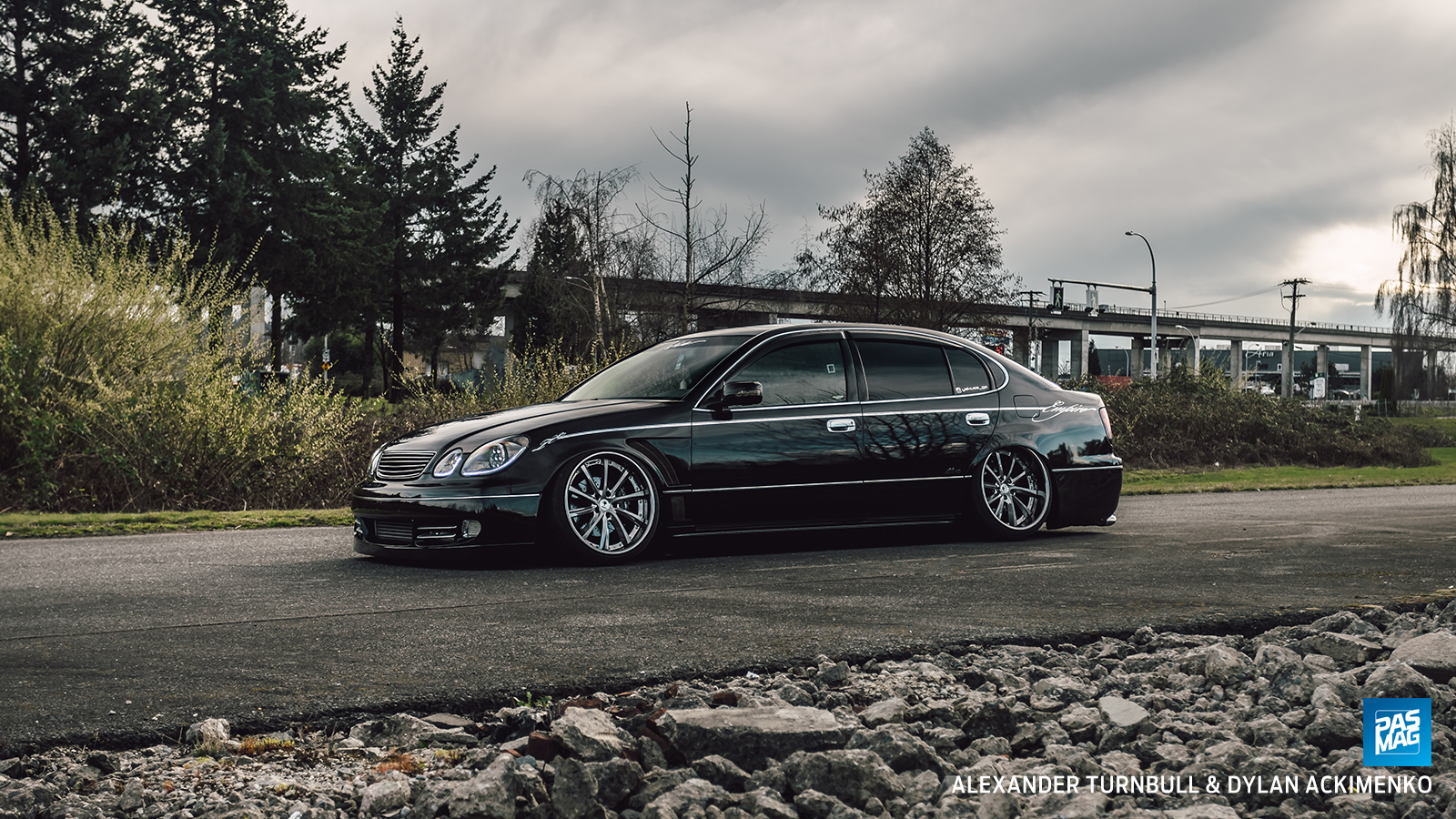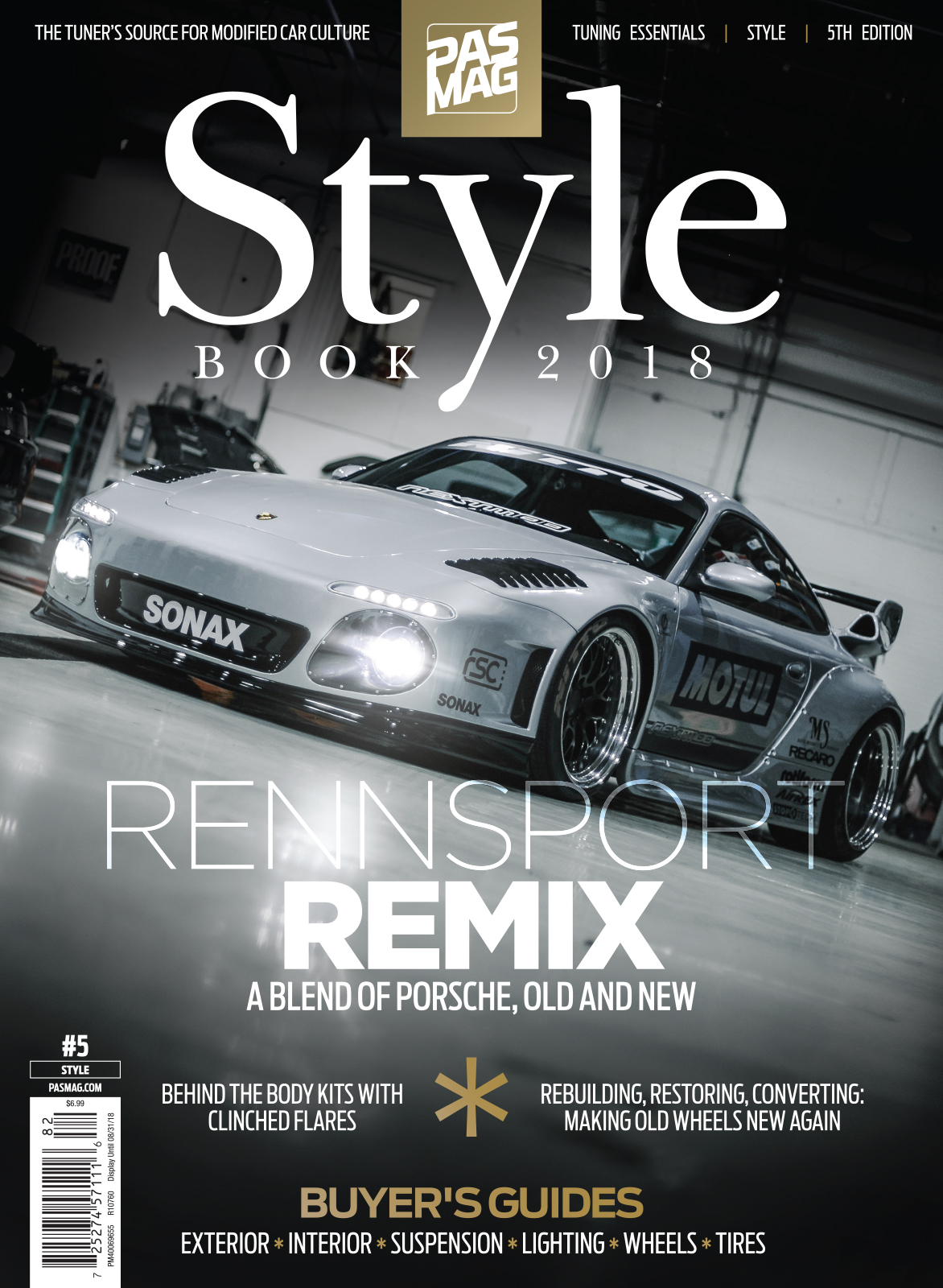 Full feature of Justin's 2000 Lexus GS300 can be seen in PASMAG Tuning Essentials: Style Book Vol. 5.
Click here to order.