Since 2000, the Kia Optima (also the Kia Magentis, depending on where you live) has become so much more than a spin-off of the Hyundai Sonata. All the way up until the 2010 model year, the Optima has been a cheaper, underwhelming platform compared to the other entry-level luxury cars that it desperately tried to compete against in North America, but with a European injection from ex Volkswagen Auto Group designer Peter Schreyer, Kia's four-door would finally become a viable player. This move also introduced the Korean sedan to enthusiasts, who are always hungry for a new platform to build upon.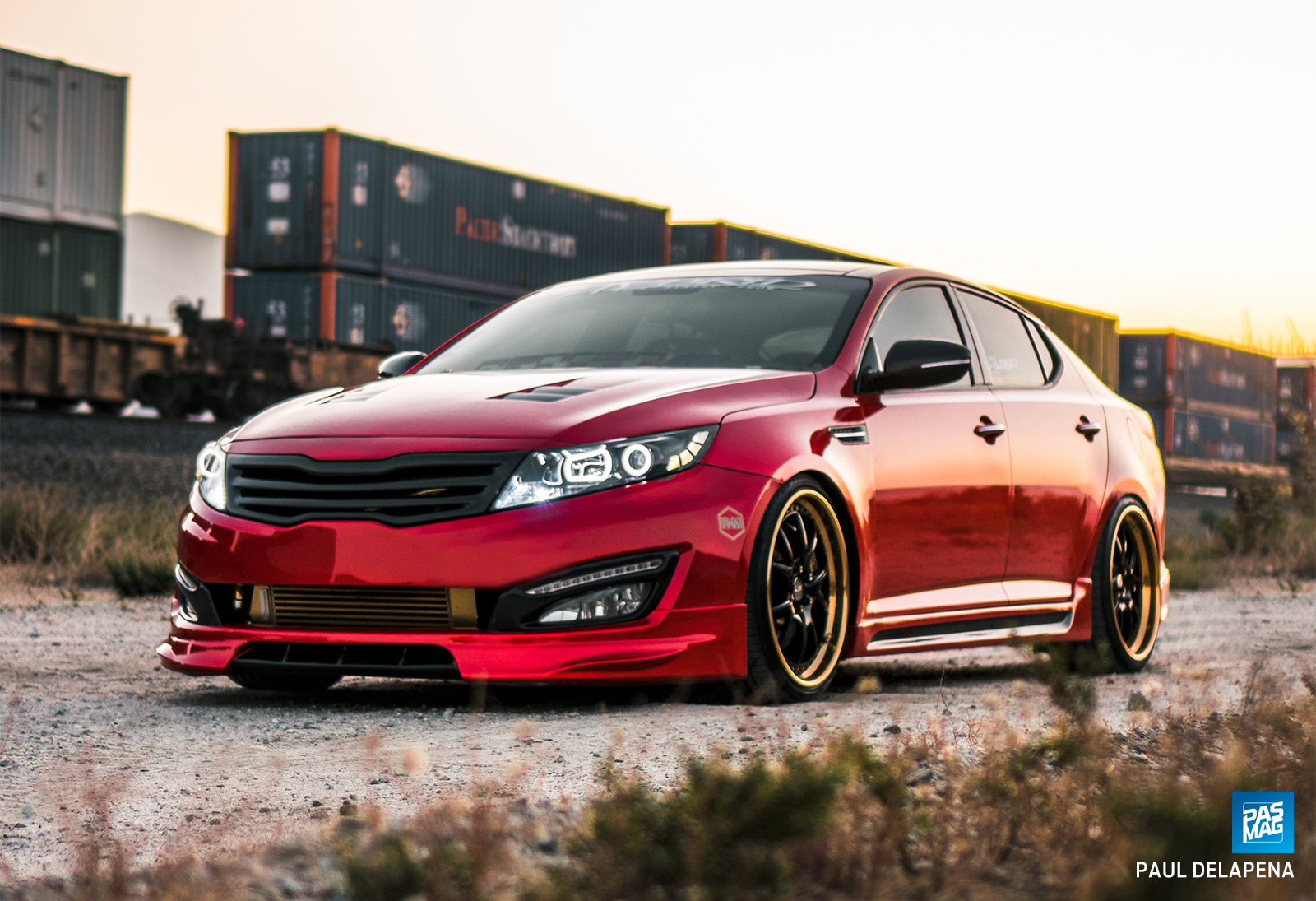 One such enthusiast is Sunny Suravarapu, who was in the market for something new back in 2014. Deciding between an Infiniti G37 or a convertible BMW 335i, but not able to find one in the spec he wanted that fit his budget, he started looking outside the box. That's when he spotted an ad for a 2013 Kia Optima that he couldn't ignore. The last 2013 left at the dealer, which had already been lowered and had an aftermarket exhaust added to make it that much more enticing, left the lot and came home with Suravarapu, where he would transform it further.
Suravarapu has quite the track record with modified vehicles, as an active member of Team Hybrid for over a decade and builder of the first six-speed manual Accord with two doors and two turbos (a fantastic project that we featured back in 2010), there was never any question that the Optima would be worked over, inside and out.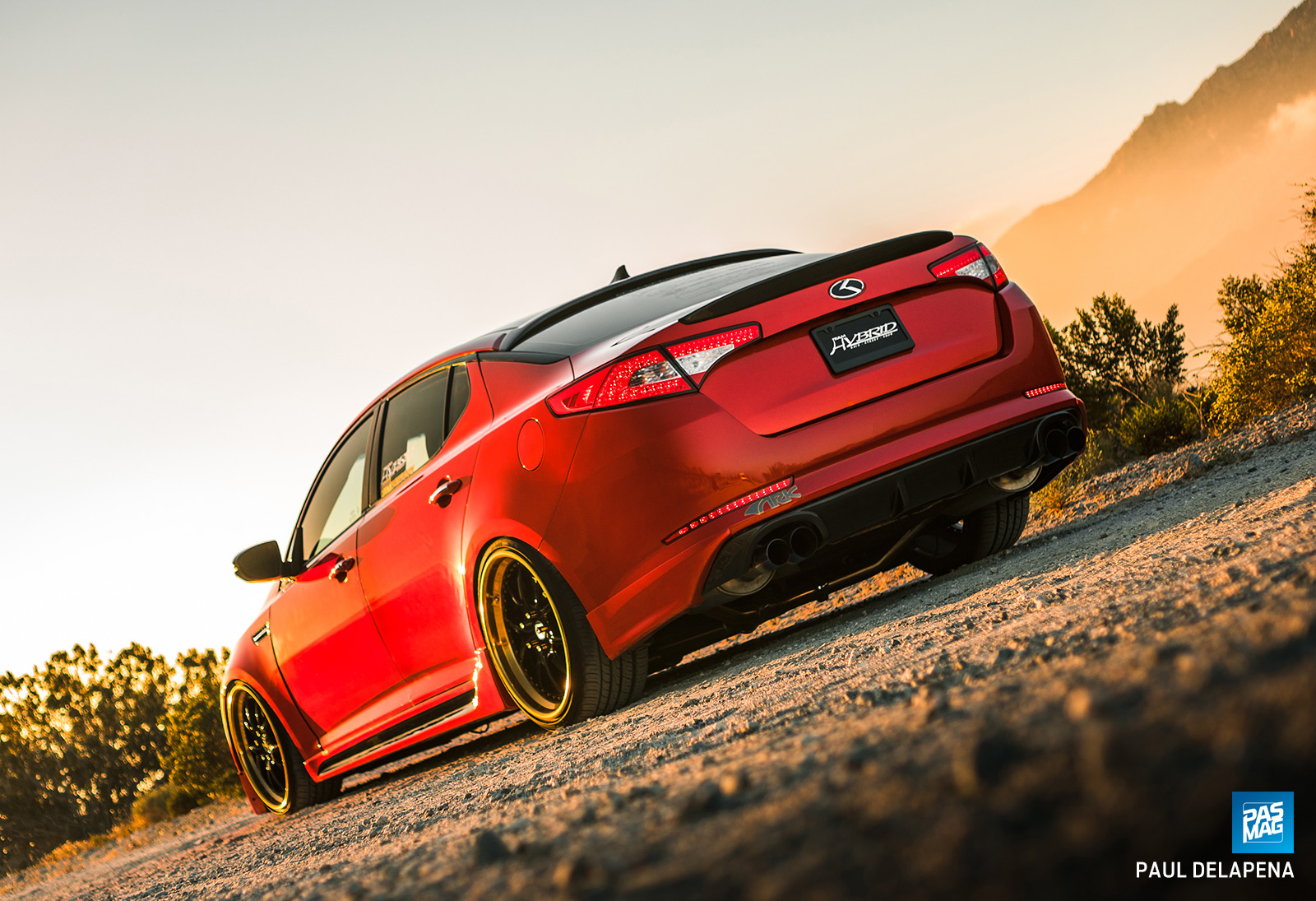 Not long after getting the Optima signed over, a SEMA spot was offered to Suravarapu, which lit the fire to get the car together quickly – we're talking four months fast, from lowering springs and exhaust to full-on show car. And with a platform that's not very supported from an aftermarket standpoint, you can see where the challenge would be, but this isn't Suravarapu's first rodeo, so he knew exactly the people to talk to in terms of getting the Kia done by deadline.
The lowering springs became a full D2 Racing air suspension system with their Vera system management, and the unnamed aftermarket exhaust switched to Ark Performance, even splurging for titanium tips, plus a better-flowing down-pipe and cat from 845 Motorsports that equate to newfound sound and performance from the directly-injected Theta II engine. To further bolster that kick, 845 Motorsports also modified the stock turbo and added their upgraded intercooler. Combined with AEM meth injection, more squirt from some 400cc injectors, and a Byetronik tuner mounted with a custom tune from Concept 3, this Kia is uncharacteristically quick. Bringing the Optima down are a set of big brakes from D2, four-piston in the rear and six-piston in the front, which are color-matched to the same gold that takes place on the lips of the 20-inch three-piece Rennen MV-55 wheels on all four corners.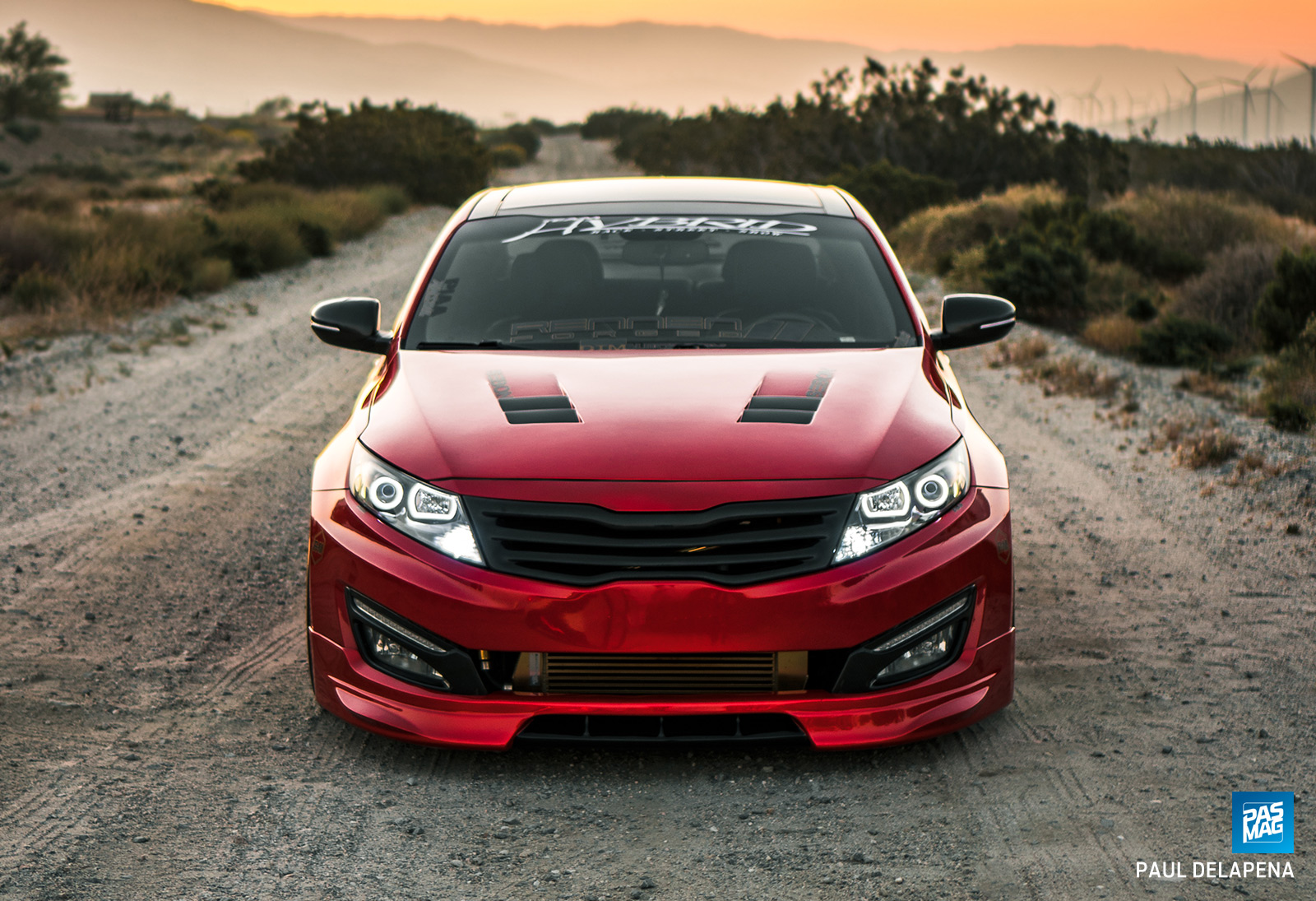 A fast car should have a fast color, too, so Suravarapu sprang for three stages of a Ferrari shade of red – Rosso Scuderia from BASF. This red dress drapes over a full Korean K5-styled kit from Ikon Motorsports, as well as a Seibon carbon fiber trunk and vented hood, showing just a hint of carbon on the openings of the latter. Other additions of carbon fiber, like the Concept 3 diffuser and SoCal Garage Works fender inserts, grille, and mirror covers add to the sportiness that Suravarapu aims for his Optima to exude. Add to that the modern twist that the custom-built Living Light angel eye headlights and blacked out front turn signal area provide, and this Kia is fit to turn all kinds of heads on the show floor.
"I just wanted to make the car my own and I can't leave any car I own stock," he admits. "Like other builders, I want to make something that's basically 'cool,' but clean and quality because those elements are timeless. I wanted to keep it sporty and not have an identity crisis. If someone sees it they know it's sporty, not asking 'Is it sporty or is it VIP? What's it trying to be?'"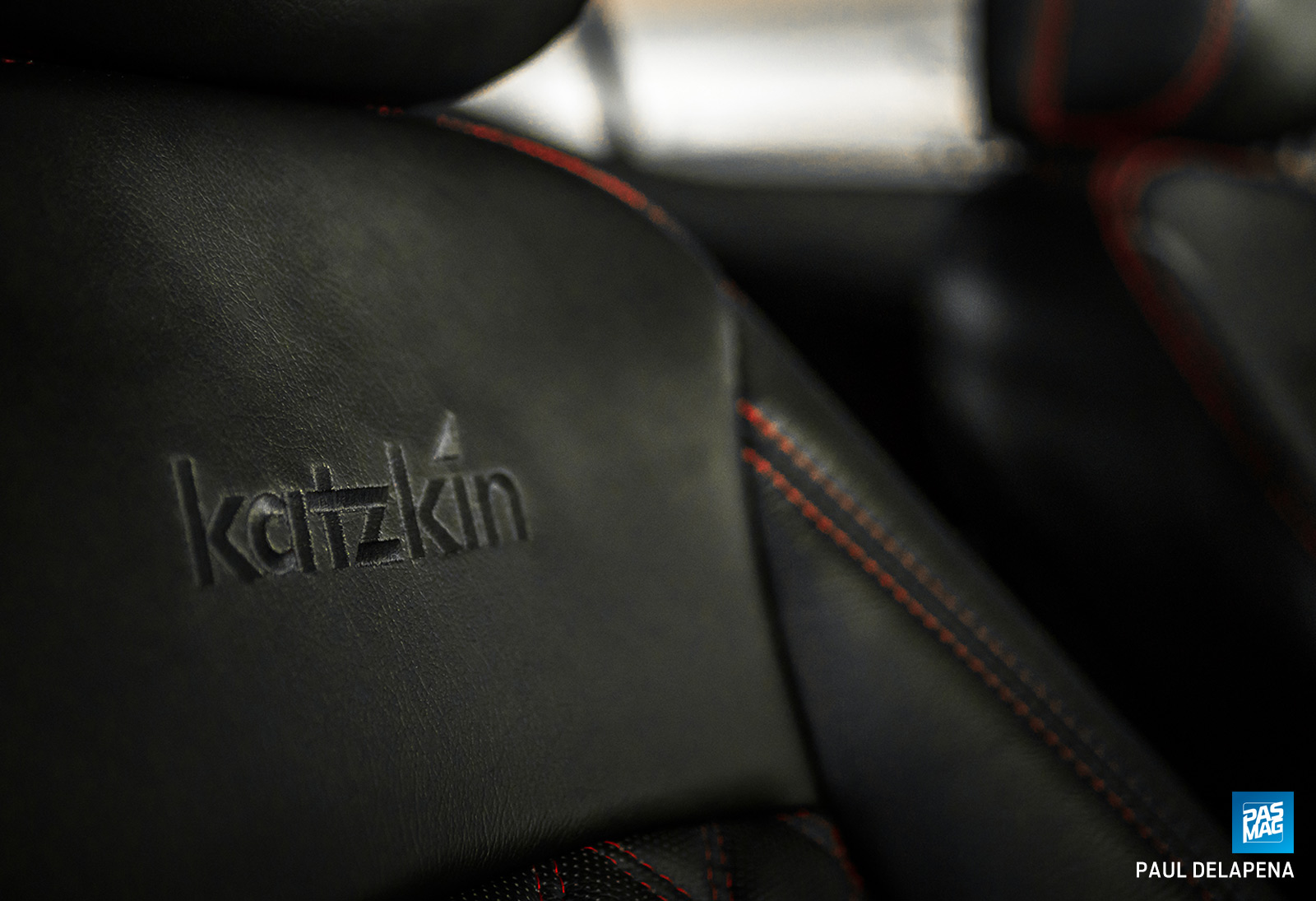 While the look from the outside is great, the interior really shines as well. A Plus Upholstery has done up the headliner, door inserts, and sun visors in diamond-stitched leather, which is repeated on the Katzkin leather seat covers to complete the look. Carbon fiber, like the exterior, is a major player here as well, covering much of the dash and trimming the AEM AFR and boost gauges, while the stitched leather makes its way into the trunk to dress up the air and audio install that Kreative Audio & Tint knocked out of the park. Two 12-inch Phoenix Gold Elite2 subwoofers fire into the trunk space, right over the Elite2 and Elite 4 amplifiers nestled under plexiglass and rimmed with red LEDs, while the red air tank gets the same showcase treatment.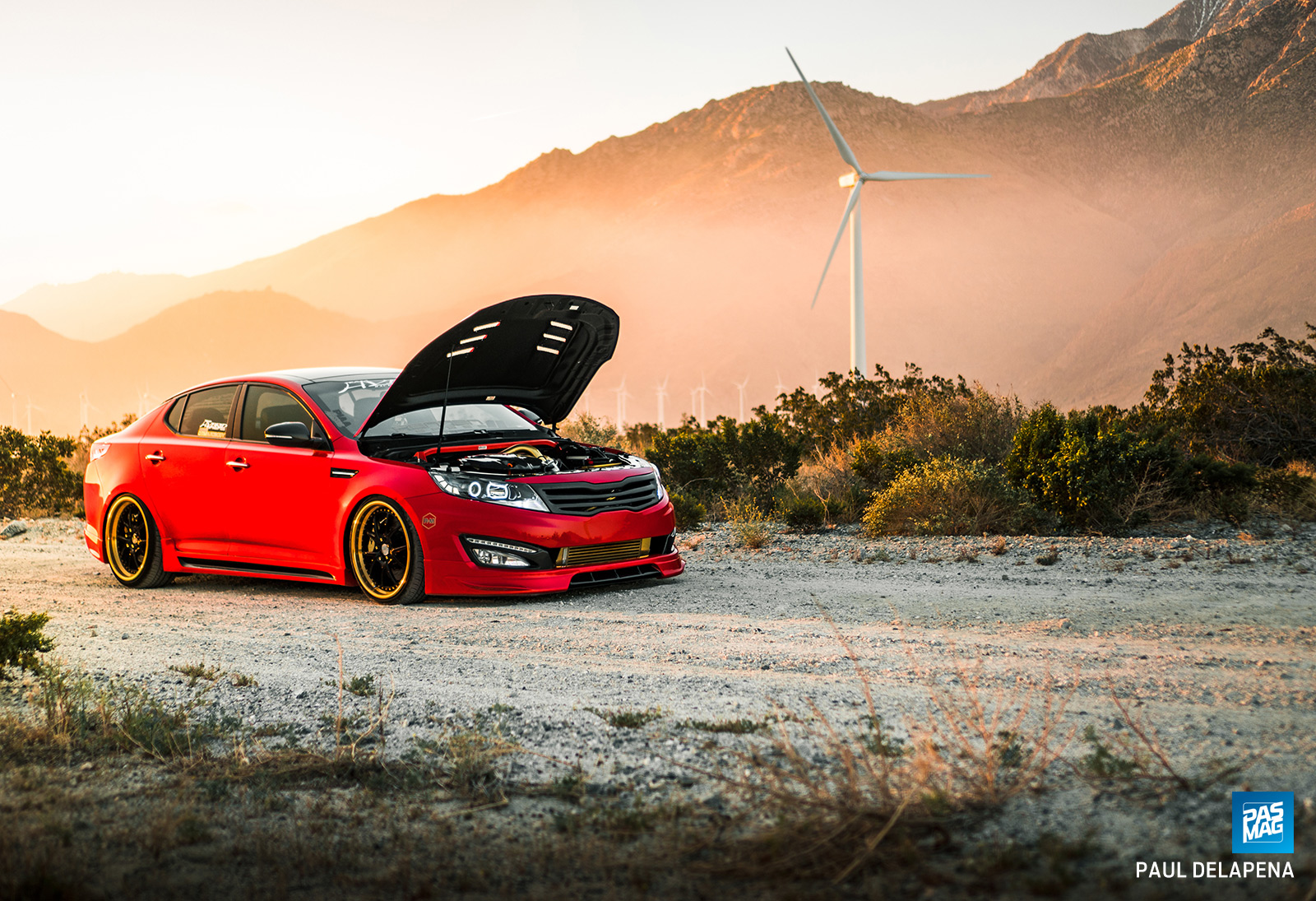 "There aren't many aftermarket companies making specific parts for the Kia Optima, so many owners will tell you everything needs to be custom," Suravarapu explains. "I had four months to build the car from stock to full custom before SEMA. If it wasn't for the hard work of DTM Autobody, Kreative Audio & Tint, A Plus Custom Upholstery, and Freddy's Garage, I wouldn't have made it."
It's all about who you know, and who Suravarapu knows is a lot of talented people that are committed to building great cars. The Optima's custom-built journey won't stop here either, as Suravarapu has told us that a widebody that's the first of its kind is on the way from Canada's Fortune Flares before attending 2018's SEMA. This Optima may be optimal as it sits, but the amount of broken necks and "wait, that's a Kia?" are set to go way up.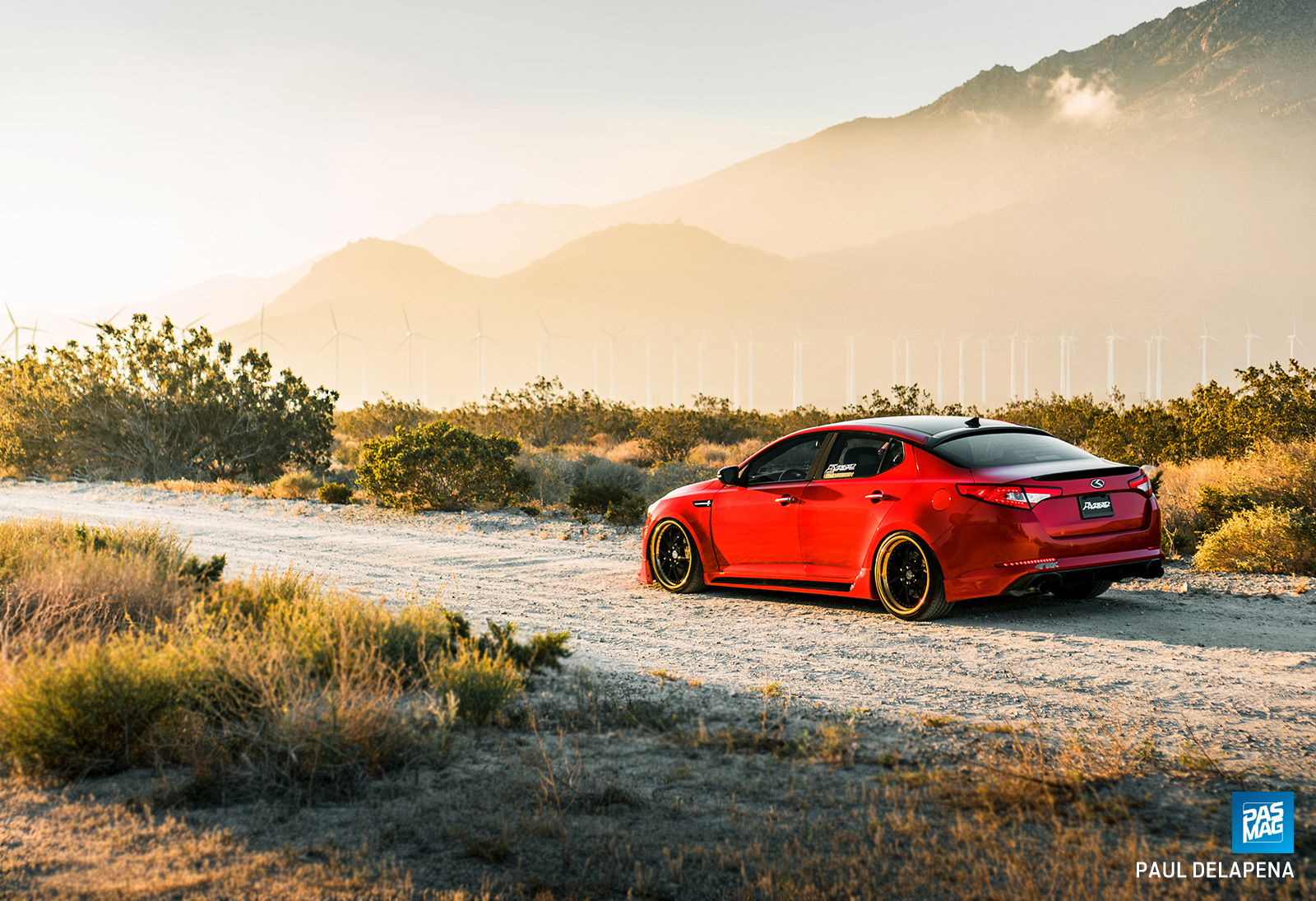 Full feature of Sunny Suravarapu's 2013 Kia Optima can be seen in PASMAG #149. Click here to order.
Photography by Paul Delapena
---
ESSENTIALS
Vehicle: 2013 Kia Optima
Owner: Sunny Suravarapu
Location: Azusa, CA
Built by: Freddy's Garage, DTM Autobody, Kreative Audio & Tint, A Plus Upholstery
Engine: Kia Theta II GDI 2.0L turbocharged I-4
ENGINE
845 Motorsports (modified stock turbo, intercooler, intercooler piping)
Anodized Industries gold anodized (intercooler piping, front-mount intercooler)
Hose Techniques hoses
Hose Candy (radiator hose, carbon fiber hose skin kit)
HKS SSQV blow-off valve
AEM (methanol injection, air filter)
Deatschwerks 400cc fuel injectors
NGK Racing spark plugs
Innovated Mounts (engine mounts, transmission mounts)
NRG (dress-up bolts, oil catch can)
Sick Speed (oil cap, radiator cap, 24k dress-up bolts)
Phase 2 Motortrend hose clamps
Slickcarbon carbon fiber (engine cover, radiator cover)
Bytetronik ECU tuner
Concept 3 custom tune
AMSOIL fluids
EXHAUST
ARK Performance (exhaust system, titanium exhaust tips)
845 Motorsports (down-pipe, catalytic converter)
WHEELS / TIRES / BRAKES
Rennen International MV-55 wheels – 20x9 +42 (f), 20x10 +38 (r)
Toyo Proxes 4 Plus tires – 225/35 R20 (f), 245/35 R20 (r)
Sick Speed lug nuts
D2 Racing big brake kit – 8-piston calipers, 356-mm 2-piece drilled rotors (f), 4-piston calipers, 330-mm 2-piece drilled rotors (r)
EBC Redstuff brake pads
Stainless steel braided brake lines
CHASSIS / SUSPENSION
D2 Racing air suspension
Vera Air air management
Ultra Racing (sway bars (f/r), strut bars (f/r)
Whiteline urethane bushings
EXTERIOR
BASF Rosso Scuderia Red 3-stage paintjob
Ikon Motorsports (front bumper front lip, side skirts, side skirt extensions, rear bumper)
Concept 3 carbon fiber (diffuser, A-pillar)
Seibon carbon fiber (vented hood, trunk, trunk spoiler)
B&I carbon fiber window pillars
NRG carbon fiber license plate frames
SoCal Garage Works carbon fiber (fender inserts, grille, side mirror covers)
Living Light Custom "angel eye" headlights
Kia KDM (blacked out front turn signals, rear turn signals)
Metra LED lighting (underbody, engine)
Meguiar's car care
INTERIOR
A Plus Upholstery (headliner, door inserts, sun visors)
Katzkin customized leather seat covers (diamond stitch)
New Faces shift knob
Slickcarbon modified stock steering wheel (carbon fiber top, leather reupholstered)
AEM gauges (boost, AFR)
B&I carbon fiber gauge trim
Manicci floor mats
Kia KDM (gold pedals, center console)
Metra LED interior lighting
MOBILE ELECTRONICS
Phoenix Gold (Elite2 2-channel amplifier, Elite2 12-inch subwoofers (2), TI65CS component speakers, Elite4 4-channel amplifier)
Custom sealed enclosure
Stinger (SPV20 battery, fuse holder, wiring, distribution blocks, capacitor)
Optima Yellowtop D35 batteries (2)
Rosen (DVD player, rear monitors)
Whistler radar detector
SPONSORS
Meguiar's, AMSOIL, NRG Innovations, 845 Motorsports, AEM, AAMP, ARK Performance, A Plus Upholstery, BASF, Concept 3, B&I, D2 Racing, Deatschwerks, DTM Autobody, NGK, Freddy's Garage, Hose Techniques, Fox Marketing, Katzkin, Kreative Audio & Tint, Metra Electronics, Optima Battery, Phoenix Gold, Ikon Motorsports, Rennen International, Seibon Carbon, Stinger Electronics, Thermo Tec, Ultra Racing, Phase 2, Motortrend, Innovative Mounts, Living Light Custom, Graphic Spyder, PIAA
---
PHOTO GALLERY