Back when Robert Fragoso was just a young boy, his father was into cars, so naturally the love for modifying vehicles was passed down. Growing up as a teenager in the late '90s and early 2000s, his surroundings of racing video games and movies only furthered his love for tuning. In 2012 Fragoso was living in Japan, and with access to so many JDM sports cars, the racing heritage and style of the Skyline GT-R was too much for him to resist. He had to have one of his own.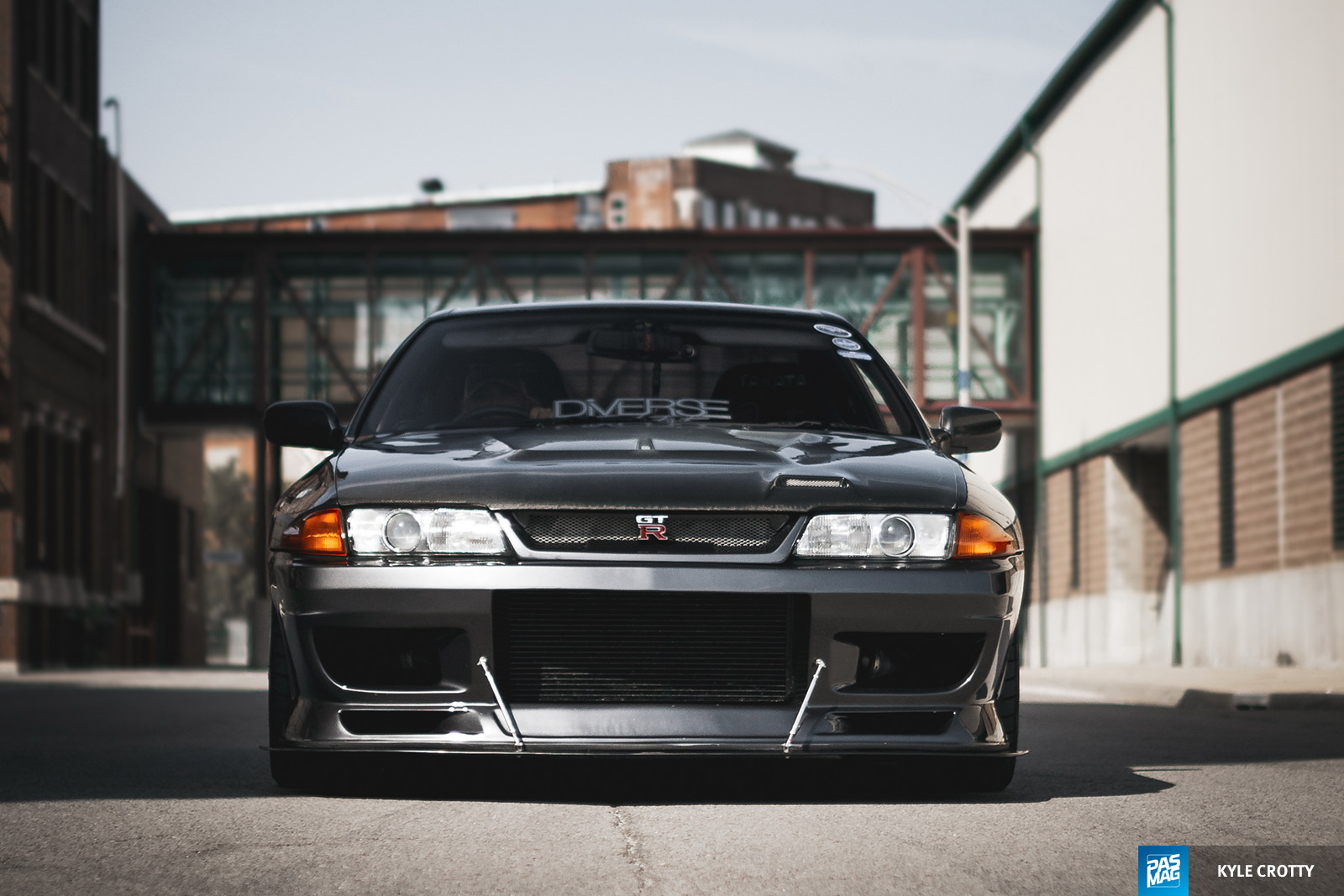 With intentions to build a track car that would emulate the racecars of the GT-R's past, he brought his car to ATTKD, a time attack specialist shop. A 2.7L RB serves as the power plant of this track machine, and absolutely no aspect was left untouched. In order to maintain peak JDM style while on the track, and so the car could hold its own at shows, Midwest Custom Creations helped Fragoso with body work and aero. Like many GT-Rs before it, but unique in all the right ways, Fragoso's GT-R is a truly well rounded build, at home on the street, the show floor, and the track.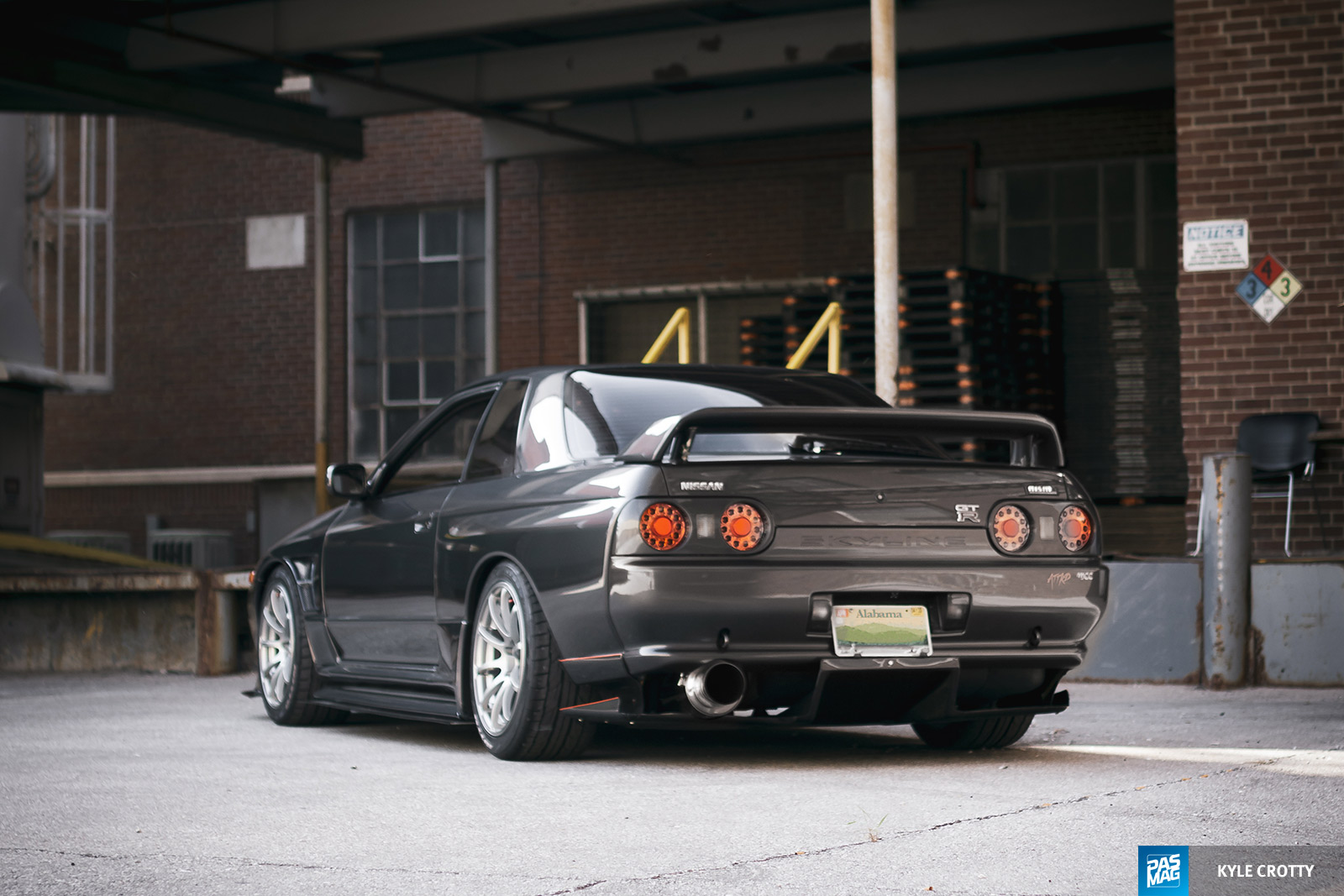 Photography by Kyle Crotty (@tier_seven)
---
INTERVIEW
PASMAG: Why did you choose the Nissan Skyline GT-R?
Robert Fragoso: As mentioned above, I have been chasing the Skyline for years like many others folks out there. My goal originally was to get an R34 GT-R, but life happens and smarter "in the moment" choices are made. I bought my second R32 GT-R (this one). The goal is still to get a R34 GT-R, but I'm not complaining at all about having this R32.
Do you have any prior build experience?
Yes, but not as much as I would have liked. I'm always willing to and am learning something new.
What got you into building in the first place?
To be fair, Gran Turismo and the Need for Speed Underground video games really had a big impact. My dad was into different types of cars than myself. We both loved GT3, LMP, and F1 racing, but he was more muscle and exotic, where I was more import. Even though I had a love for the circuit racing series and actual track cars, to say the Fast and the Furious, video games, and big shows like Hot Import Nights didn't have an impact on my style would be an understatement. So all those things combined with my dad's love for cars pushed me towards building in the first place.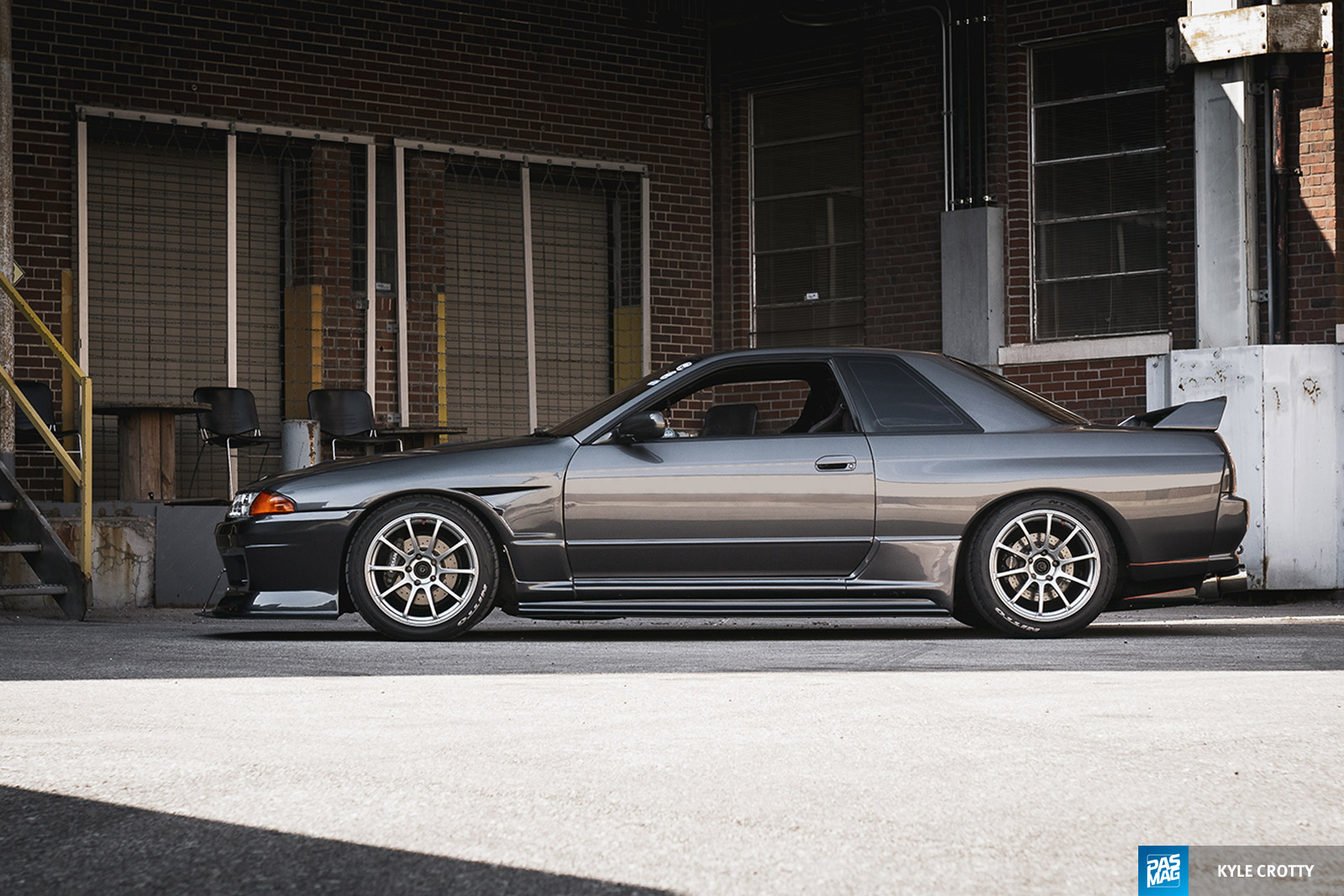 What is your favorite aspect of the build?
It's all centered around the idea that a track car can always be a show car. Originally, I thought I would actually track the car, but as the receipts grew and the reality of what the price tag was becoming for the build set in, it slowly turned into a desire to Sunday drive it, and take it to shows. As much as I would love to track it I simply can't afford to go backwards by breaking things. It sounds like the opposite of what a true car guy would say, but life and family take priority, and a major rebuild from an accident or engine blowing isn't in my budget. So for now, we as a family are enjoying going to shows and competing in a different way now. I will continue to put money into the build, and believe me, every piece will be track-oriented even if it never sees a track.
Were there any major challenges you experienced in the build?
Shipping the car to the states was a major challenge. Obviously, at this point most American car guys are aware of the NHTSA 25 year regulations on importing a car even if they don't know all the ins and outs. Sean Morris was a big influence on me and my desire to not just know the regulations, but to follow them. I have talked with him in-and-out since I was a teen on forums and following his sites and pages. One of the biggest hurdles for me originally was that I had two R32 GT-Rs I was trying to import. I was having a lot of trouble getting an exporter I thought I could trust on the Japan side, and there was the problem of having to store both cars because I was slated to leave the country before either was legal. Luckily, both cars were built in the first month of production for the R32 GT-R, August. However, it still meant I was 8 months shy. Long story short, I was forced to sell one in a panic the week or so before leaving the island, and just by the grace of God I was able to pull a last-minute find on an exporter and storage situation for my current GT-R. There are so many stories to be told about this particular car, but this one popped in my mind most readily.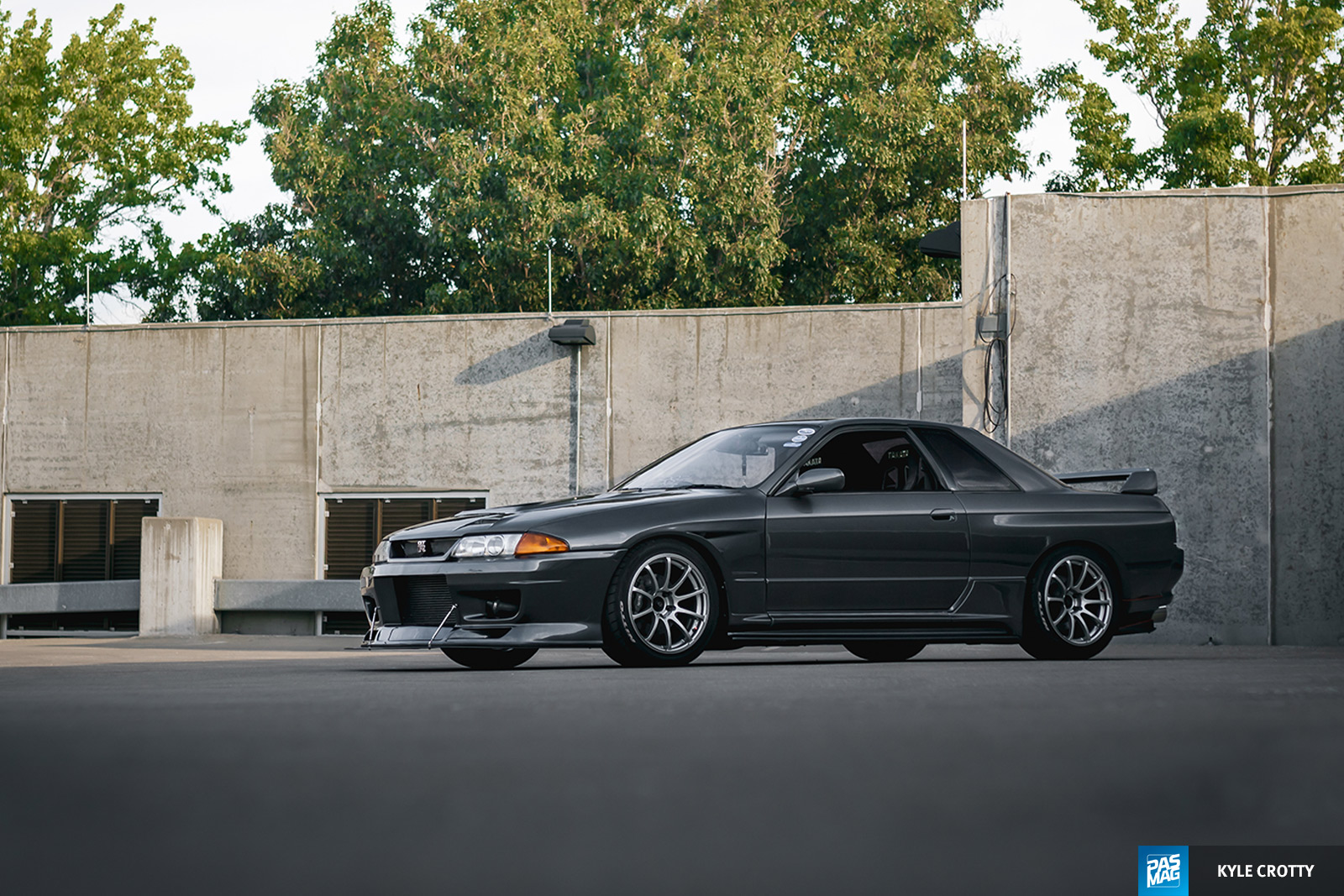 What were your original intentions with the build?
Time attack was the original intent, but shows the current use of the car. Nothing has changed on the build. Every part bought will still serve an actual functional purpose, even if the car never sees a track. If an item is strictly eye-candy it will still have the functional look.
Why did you choose certain brands for your build?
APR Performance was a major brand for me. The first piece I bought from them was a custom made front splitter. Ricky and I actually sat on the phone for close to an hour discussing the actual benefits of a front splitter and how to get the most use out of it without 1. having actual access to a wind tunnel and 2. with consideration of the intentions of my future parts in mind. We settled on a 2.5-inch lip due to the current and future HP plans for the car. The benefits were immediate upon install. Taking the time we did to discuss the use of the part using their vast knowledge of aero was amazing and paid off immensely.
ATTKD was the other major part of this build. I could tell you about them for days, but I would encourage most folks to look them up and get to know them. They don't post much and 90% of it is in Japanese, but trust me they know what they are doing!
What influences or inspiration helped you over the course of your build?
We started to build the car again after quite a long break. It was more of a distraction from some issues in my life that had spilled over to affecting our family. The issues were over save for the healing process, and this car helped me take a break when I was in the car or working on the car from the stress caused by my life choices. My wife probably knew this was a place for me to reset. She has been on board throughout the build. Even if she thinks it should be done every time a new part gets installed. I feel my desire to share my passion with both my kids and my wife is what helps me keep pushing to make the car that much better every year.
If there was one other major inspiration, it would be the crowds it generates. People get excited when they see it. I see the flaws in it everyday; I get depressed to a small degree just like every other car guy when a new chip or a mistake happens. But the people that see it on the street or at shows love it. They don't see the flaws (or at least don't point them out). They just fawn over it and commend me on how perfect it is or how much they love the look of the build. It pushes me to keep maintaining it and keep adding to it.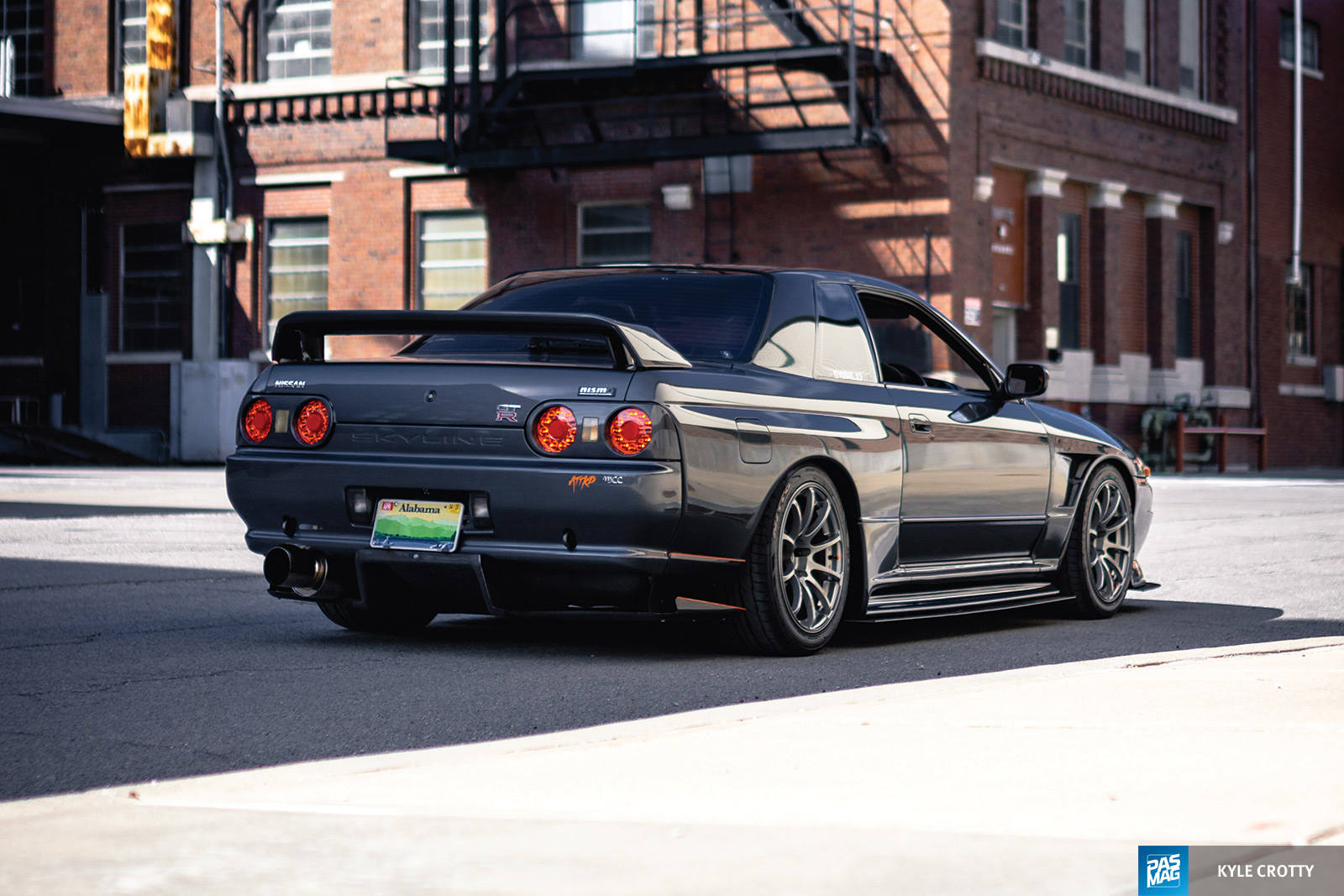 Is there anything personally or about the build that you would like readers to know?
Since the car has a track mindset to it, the front bumper with splitter is mounted to a tube frame that, with 4 bolts, slides the entire unit off in one piece. Allowing you to get to everything in the front for easy access to work on it.
Personally, there are so many stories about this car:
How I purchased it.
How it is both my kids first car ride home from the hospital.
How it had to be geiger counted before export.
How much my kids love it and choose it for their first day of school every year.
How it played a part in my renewed marriage connections
How it has made me new friends and helped me live a childhood dream of having a car build featured in a magazine.
You name it! I have a story that HE can tell. One of my biggest goals now is to have it be one of the first R32 GT-Rs that pops up on Google Images when you type in "R32 GT-R" (LOL). Attending SEMA with it in almost any capacity would be my other big goal. I have been told by several SEMA level builders that it is close, but I personally feel it still has a ways to go.
Feel free to attach any stats or interesting facts about your build here:
Not sure what more I could say without talking your ears off. That's generally how a show goes for me. The difference is the people generally talk back, and I don't have to see how much I say in written form. I'm open to any questions that ya'll may have. Just ask and I'll tell you more.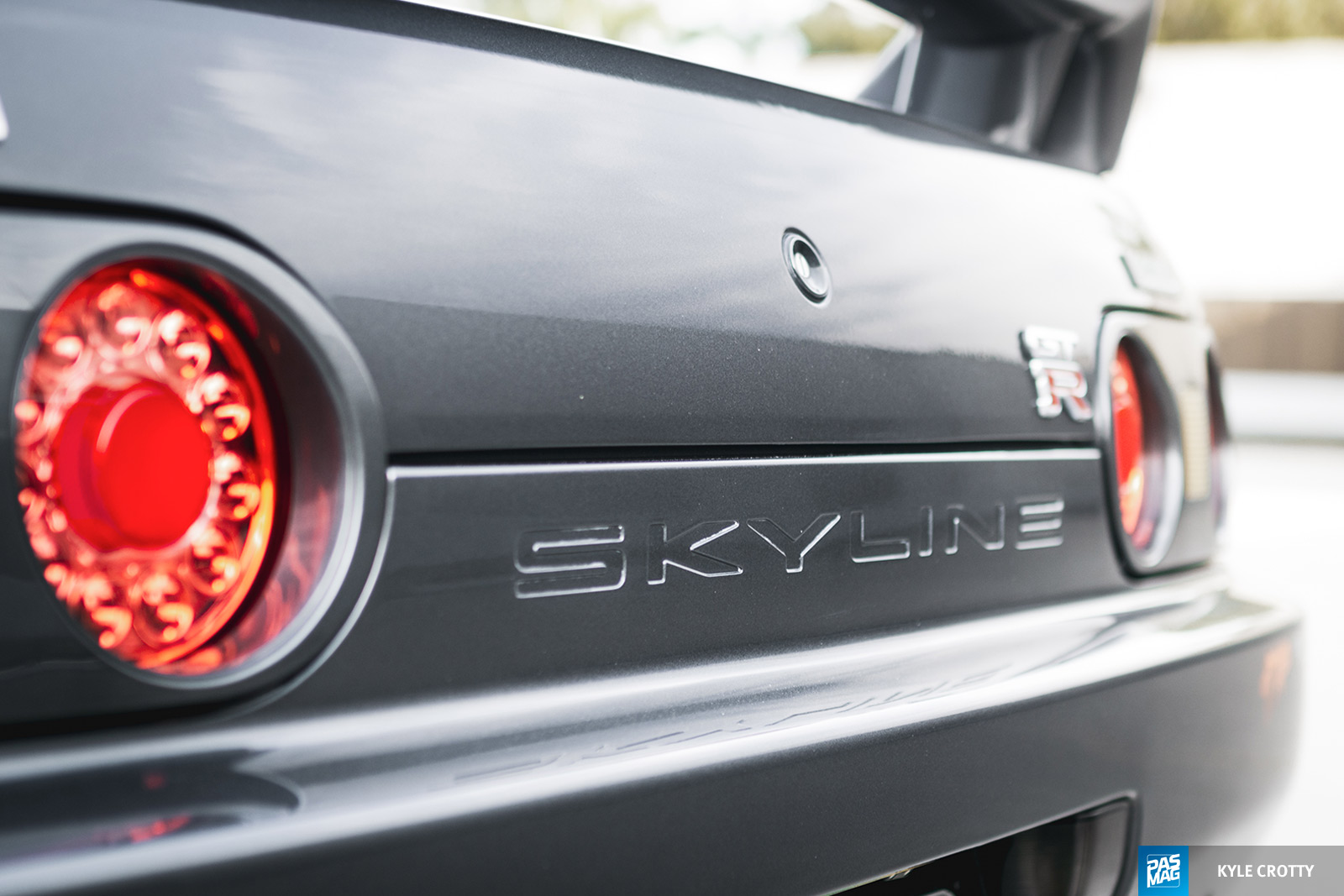 ---
ESSENTIALS
Owner: Robert Fragoso
Vehicle: 1989 Nissan Skyline GT-R
Location: Knob Noster, MO
Engine: Nissan RB26DETT 2.6L Turbocharged I6
Horsepower: 480 whp
SOCIAL
Facebook: /robert.fragoso.73
Instagram: @yoshi_2.7
Event: Japansas City
Location: Kansas City, MO
Popular vote: 58%
ENGINE
ATTKD (RB2.7DETT engine build, oil catch can)
Autech (pistons, rods, crankshaft)
Nissan R34 Skyline N1 Nismo turbos
Calsonic (radiator, intercooler)
HKS (gaskets, SSQV blow-off valve)
GReddy (oil cooler, oil filter relocation)
Splitfire coilpacks
NGK spark plugs
Nismo N1 (oil pump, water pump, fuel pump)
A'PEXi power intake
Custom Blue Chair Bay rum antifreeze overflow bottle
EXHAUST
HKS (Silent Hi-Power exhaust, flexible down-pipe, down-pipe extensions, catalytic converter)
DRIVETRAIN
ATTKD rebuilt transmission
Nismo (clutch slave cylinder, coppermix clutch)
Drift Works HICAS elimination kit
WHEELS / TIRES / BRAKES
Advan Racing RS wheels - 17x9.5 (f/r)
Nitto 555G2 tires - 255/40/17 (f/r)
ATTKD (brake pads, drilled rotors)
CHASSIS / SUSPENSION
Blitz Damper ZZ-R coilovers
Cusco rear strut bar
Nissan front strut bar
EXTERIOR
Do Luck T2 HCR32 front bumper
Feast Auto R33 grille
APR Performance (custom 2.5-inch front splitter, custom side splitter)
Touge Force vented front fenders
Nismo N1 (side extensions, spats)
Jsai Aero side extension
Top Secret Japan rear diffuser
Stout Aero carbon fiber Type R hood
OEM Nissan R34 GT-R emblem
Drift Works LED tail lights
INTERIOR
Takata (Race LE front seats, 4-point harnesses)
Recaro rear child seat
Carbon fiber trim/accents
APR Performance (custom carbon fiber seat bracket cover, custom carbon fiber rear speaker deck delete panel)
Nismo (leather shift knob, floor mats)
Custom wood trunk floor
AUDIO / MOBILE ELECTRONICS
Pioneer (head unit, 10-inch subwoofer, 6x9 speakers)
SPONSORS
APR Performance
Tier Seven
Warrensburg Professional Detail
---
PHOTO GALLERY