What if we told you that gaining an extra 100 horsepower and torque was attainable in 5 minutes, and you could do it from the comfort of your own home? It may sound too good to be true, but Unitronic came to us to deliver the good news.
Unitronic Performance ECU & TCU Software is now available for the MK8 GTI, MK8 Golf R and 8Y S3 equipped with the 2.0TSI EVO4 engine and DQ381.2 7-speed DSG transmission. They're the first on the market with an off-the-shelf ready tune for the platform, and the results are downright impressive. Gains of +109 horsepower and +100 lb-ft were achievedon the Mk8 Golf R with Unitronic Stage 1+ 93octane/98ron Performance Software, for a maximum of 446 HP / 410 lb-ft. Power outputs on the Mk8 GTI are increased by up to +95 horsepower and +93 lb-ftwith Unitronic Stage 1+ 93octane/98ron Performance Software for a maximum of 361 HP / 377 lb-ft.
As if the numbers weren't impressive enough, the fact you can do this yourself with the Unitronic UniCONNECT+ cable from the comfort of your own home in 5 minutes is part of what makes this so great for enthusiasts! Forget taking your almost stock car to a professional tuner and shelling out even more money to unlock your car's potential once you already have the parts.
With extensive experience with SIMOS controllers found in modern VW and Audi vehicles, Unitronic Engineers wasted no time recalibrating the SIMOS 19.6 ECU found in the MK8 GTI, Golf R and 8Y S3 to achieve optimal performance through an increase in boost, optimized ignition timing, lambda, camshaft timing, and much more. R&D continued with further dyno, track, and road testing while closely monitoring running conditions through high-speed data logging tools and equipment to ensure maximum performance is achieved, while maintaining complete OEM-like reliability and drivability. Part of ensuring OEM-like reliability meant extra attention was paid to turbocharger shaft speed, exhaust manifold absolute pressure, intake pressure, and many more factors that were monitored closely.
Since they are constantly collecting data, Unitronic often discovers a vehicle's choke point in the pursuit of power. In the case of the 2.0TSI MQB EVO4 engines, Unitronic found the factory intercooler quickly heat soaks and loses its ability to keep charge air temperature at reasonable levels before the ECU's logic intervenes to reduce output based on IATs being too high. Luckily, they're also in the business of replacing hardware parts too.
Performance Software results are made possible in part by the Unitronic Intercooler Upgrade, which is required to achieve the advertised power figures. The graph below compares horsepower and torque from Unitronic's 8Y S3 before and after adding Unitronic's Intercooler Upgrade. As you can see, simply adding the Unitronic Intercooler Upgrade significantly reduced charge air temperatures and unlocked +35 horsepower/+23 lb-ft.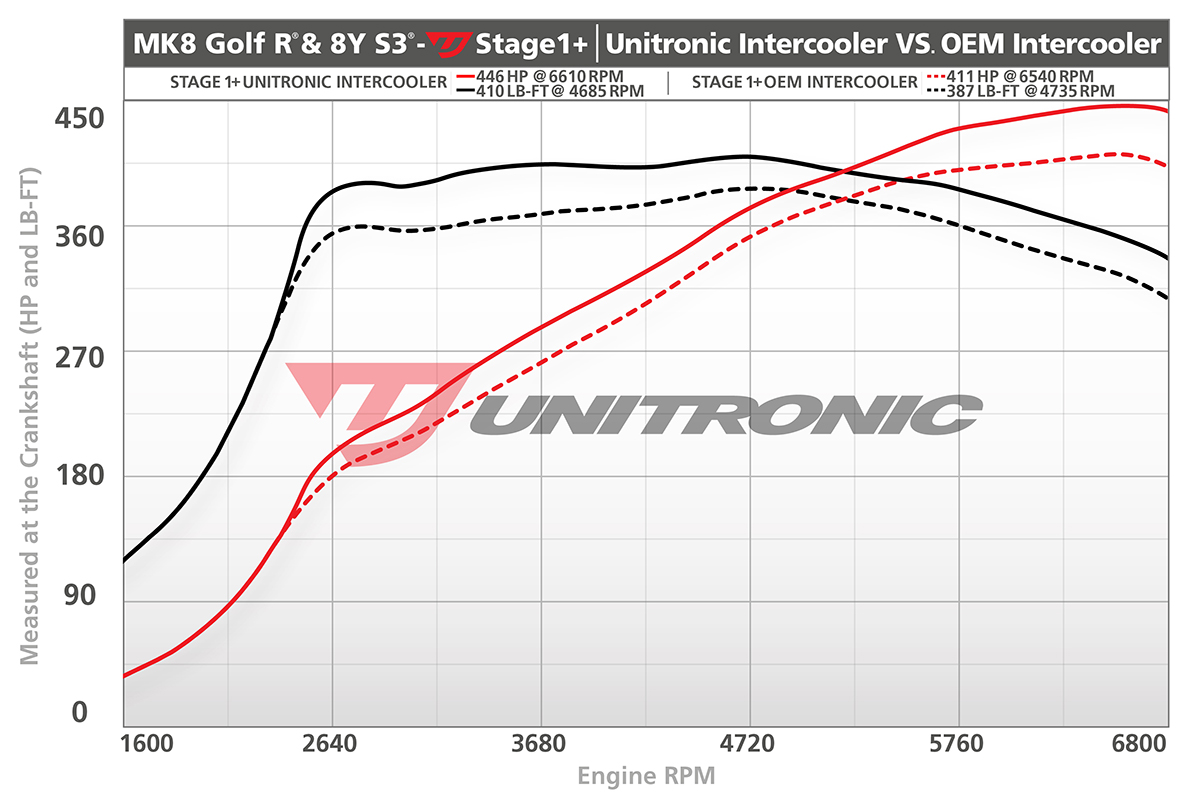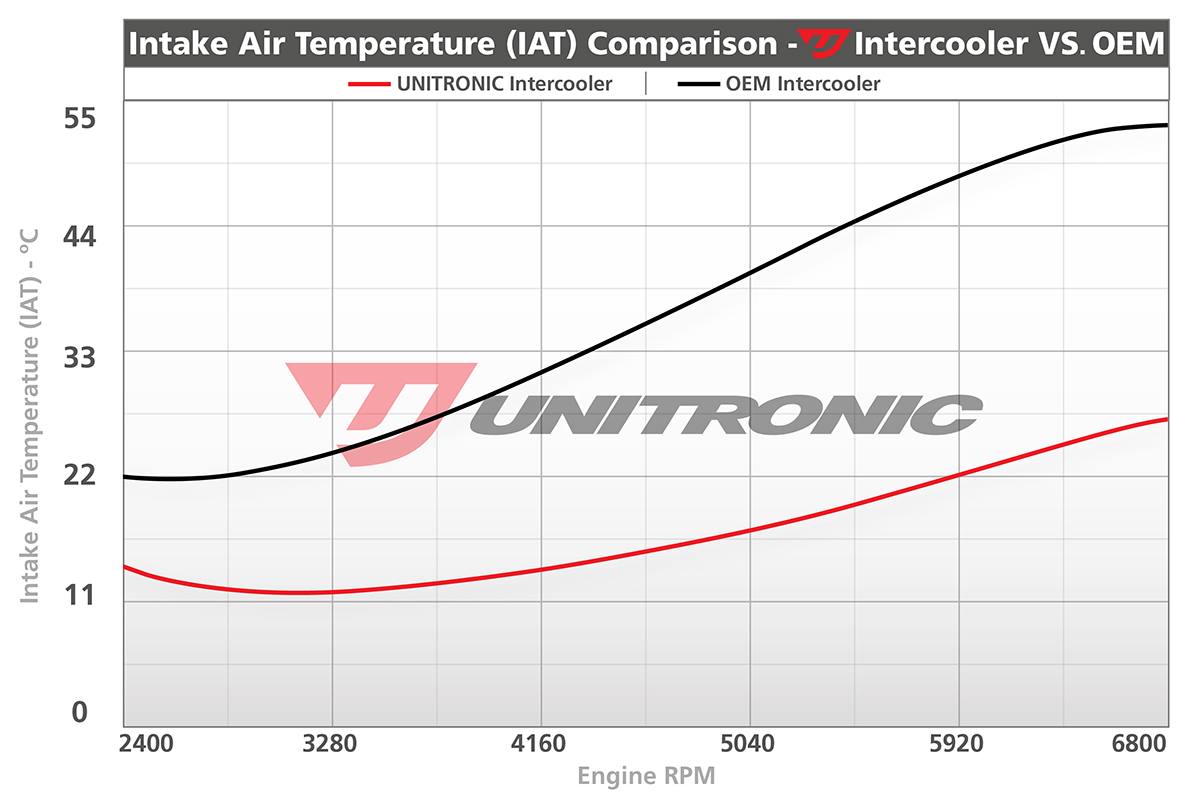 The modern SIMOS 19.x ECU's, similar to those found in previous generations, are highly intelligent controllers that can effectively adapt to environmental and operational data collected from the system's sensors to ensure an unmatched level of reliability in ever-changing conditions. Unitronic Engineers further enhance these models to ensure an unmatched OEM-like level of reliability without compromise, while simultaneously engineering hardware upgrades that will solve critical short-comings present with the factory hardware. Similarly, Unitronic's Carbon Fiber Cold Air Intake System with Air Duct and upcoming Cat-Back Exhaust Systems for the MK8 GTI, MK8 Golf R, and 8Y S3 will address air-flow restrictions both on the pre-compressor intake side, providing an increase in compressor efficiency and exhaust side of the turbocharger with a backpressure reduction.
With these upgrades combined, Unitronic Engineers were able to achieve increased performance and boost pressures through reducing turbocharger shaft speed made possible only with its expertly engineered performance hardware that functionally and aesthetically performs to the absolute maximum. With such, Unitronic ECU Performance Software calibrations are engineered to stay safely within the maximum turbocharger speed limits, because exceeding maximum turbo shaft speed limits can reduce the life and reliability of the turbocharger.
Unitronic Engineers also quickly identified gearbox torque limitations on the TCU side of the DQ381.2 gearbox. In order to overcome these limitations while ensuring proper torque management and clutch operation, TCU Performance Software is required. Unitronic Stage 1 TCU Performance Software was developed to improve your overall driving experience with adjustments including an increased torque limiter, advanced torque management, adjustable launch control, optimized gear shift points, quicker shifts, and gear display enabled. At the moment, only DQ381.2 gearboxes with BLvXXXX0301 are currently tunable through the OBD2 port with support for the newer TCUs with BLvXXXX0401 in the works.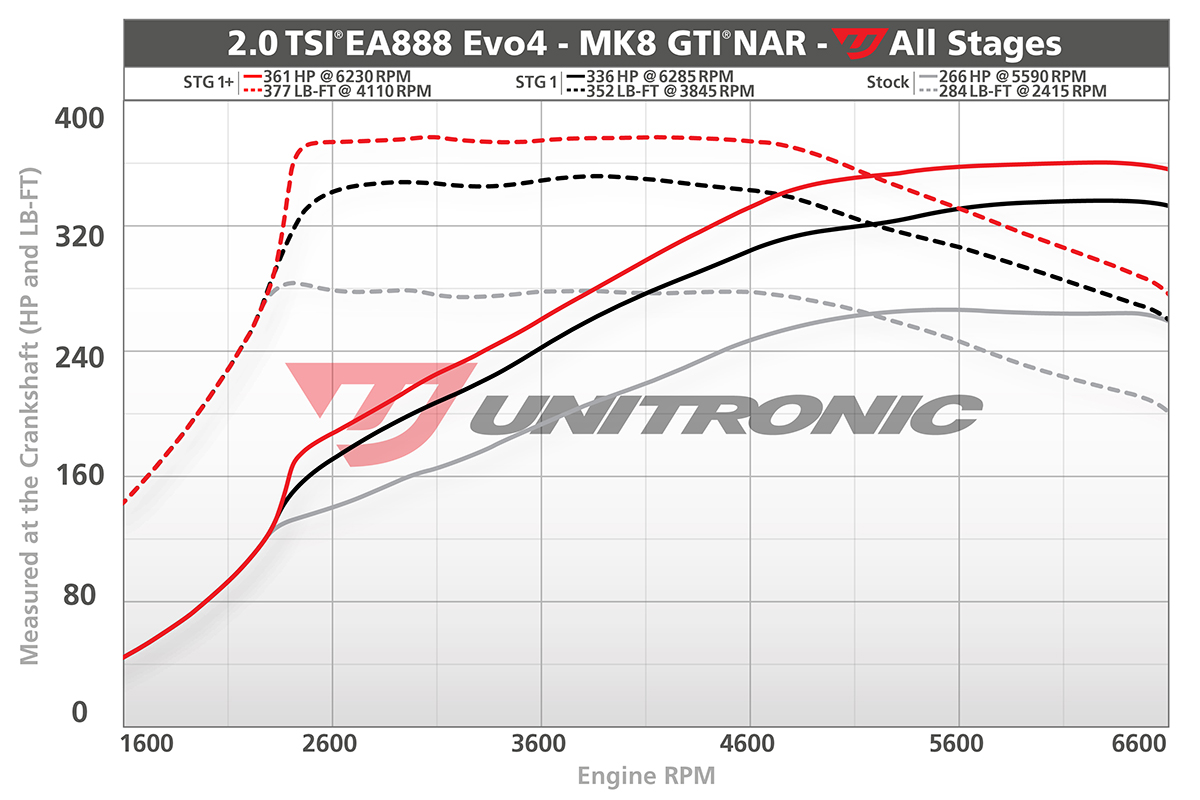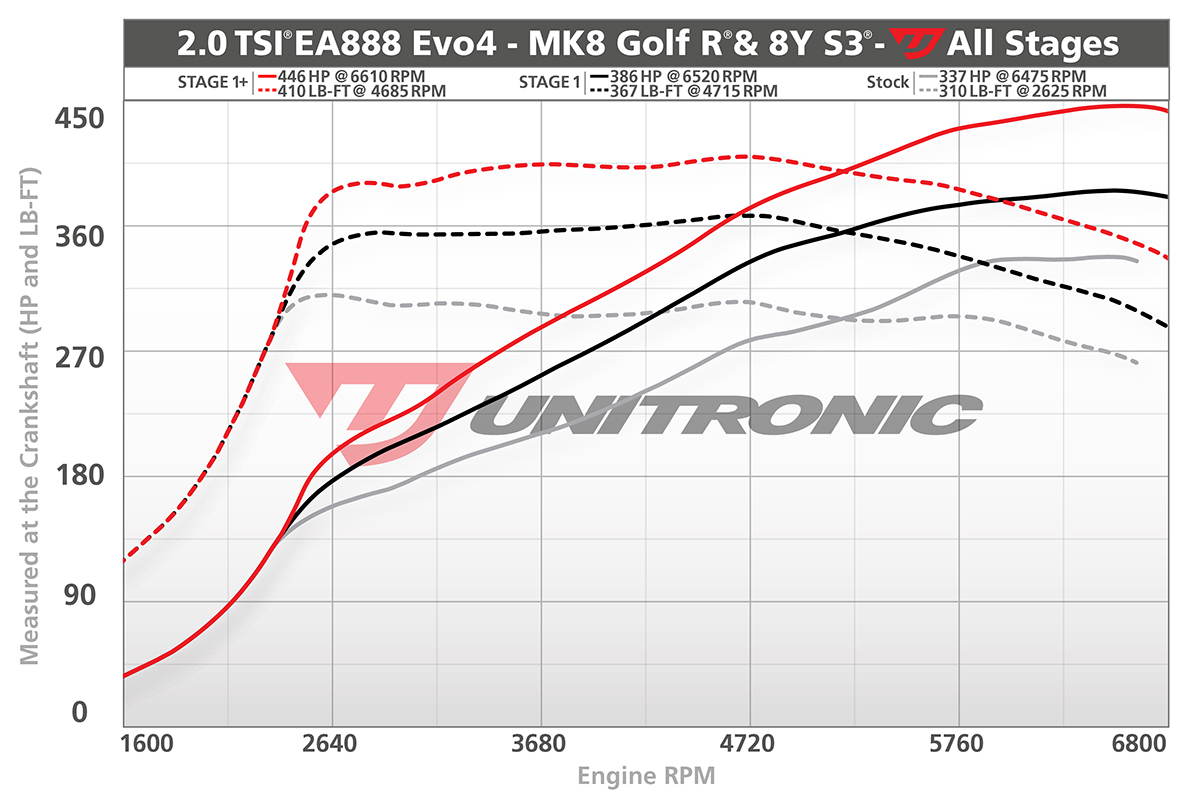 If you have a vehicle with the latter TCU, Unitronic offers both Stage 1 and Stage 1+ ECU Performance Software suitable for safe use with the stock TCU calibration in a limited torque format with Stage 1+ for 93 octane fuel on a MK8 Golf R or 8Y S3 making 430 horsepower / 377 lb-ft. Once support is unlocked for the latter TCU types, you'll be able to purchase Unitronic TCU Performance Software with a $150 DSG Combo Discount, and use their Stage 1 and Stage 1+ ECU Calibrations engineered for use with their Stage 1 TCU Calibrations to unleash your vehicle's full potential.
For users with access to a prepped surface or with drag radials/slicks who think they can handle a bit more on the launch, not only does Unitronic have TCU calibrations with increased torque on launch available, but you can utilize their Adjustable Launch Control to choose between 3500rpm and 4000rpm setpoints. The higher 4000rpm launch control setpoint is engaged with the kickdown button at the end of the accelerator pedal travel. It's important to note that it doesn't stop here for the Unitronic development team as they're committed and anxiously looking forward to getting the dev cars back to the track in the near future to continue to push onward in their never-ending pursuit to further improve on results and welcome feedback, data, and information from their customers all over the globe.
For more information, visit @unitronic and www.getunitronic.com.