Oklahoma City - February 27, 2020: Today, DeatschWerks is announcing their release of the new DW X2-Series Dual Pump Module for the 2011-2019 Ford Mustang. This dual pump module accommodates the fitment of the latest technology in-tank fuel pumps, which deliver more flow at higher pressures, thus allowing the use of 2 pumps where previously 3 or 4 pumps were necessary to achieve needed flow. By reducing the number of pumps from 3 or 4 down to just 2, DW is able to utilize the extra space for retaining OE functions such as low level pick up and saddle tank transfer so that customers can get the flow they need and enjoy full vehicle performance at tank levels down to 1/8 and lower.
The DW X2-Series Mustang Module is made up of a top-hat, center section, and the OE lower bucket. These 3 components work together to deliver the flow you need and the OE functionality you want.
The top-hat section is made of anodized T6061 Aluminum and has a -10AN feed and -6AN return. A set of M5 stainless bulkhead wiring studs ensure your pumps get all the current they need to maximize flow. There are also electrical bulkhead connections for the fuel level sending unit. The top-hat fits the OE module retaining ring with enough clearance for all wiring and fuel lines.
The center section is anodized DW orange and is specially designed to fit both 2011-14 and 2015-19 Mustang lower buckets. The o-ring friction fit provides a secure fitment of 46mm fuel pumps (i.e. DW400), and an adapter insert is provided to fit standard 39mm fuel pumps as well (i.e. DW300 and others). Fuel pump spacing in the center section also allows fitment of 55mm bell-bottom fuel pumps. The module is available in 2 different PN's: 9-401-7030 includes dual DW400's which combine to flow in excess of 800LPH to support more than 1500HP and PN 9-000-7030 the lower-priced module-only option allowing the customer to install any 39mm or 46mm pump they choose.
The customer's OE lower bucket is retained in the X2-Series module and is easily installed onto the DW center section without any cutting or modifications, allowing a full return to stock later if needed. By combining the DW top hat and center section with the OE lower bucket, all OE functionality is retained so customers can confidently drive at fuel levels of 1/8 tank and beyond.
The X2-Series module is for use in return-style fuel systems only. Therefore, plumbing in return lines, regulators, filters, etc. is a requirement. To make this process as easy as possible, DW has created 4 different plumbing kit options that include everything needed for a full return fuel system customized to your needs. The plumbing kits are available in -8 or -10 feeds, and both CPE hose or PTFE hose. Part numbers and pricing for the plumbing kits and the Mustang X2-Series Module are below…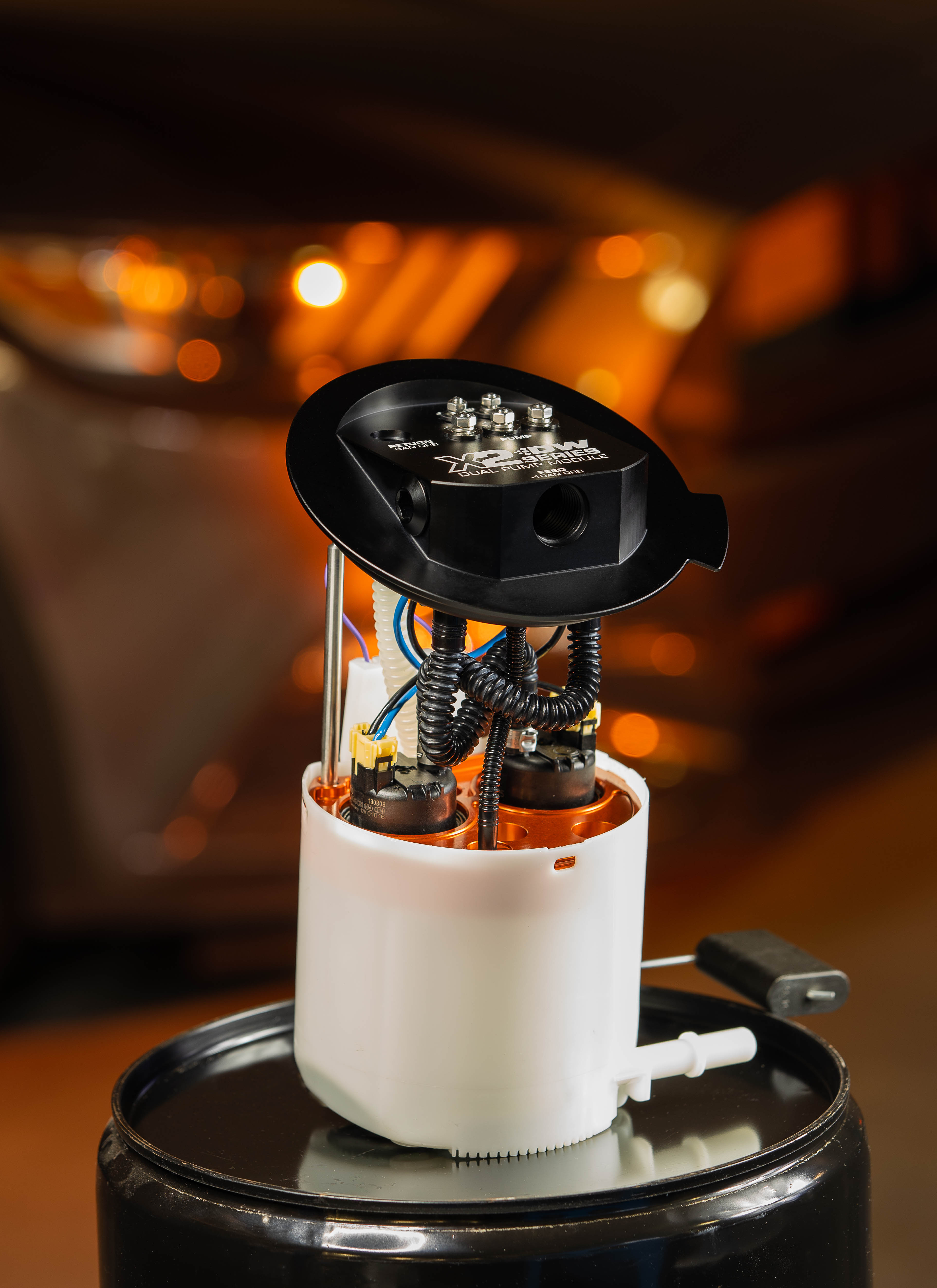 X2-Series Mustang Module with Dual DW400s
X2-Series Mustang Module only (no pumps)
CPE Plumbing Kit with -8 feed
PTFE Plumbing Kit with -8 feed
CPE Plumbing Kit with -10 feed
PTFE Plumbing Kit with -10 feed
For more information, visit www.deatschwerks.com.