Photography by courtesy of Wagner Tuning
---
It can be a little overwhelming upgrading your intercooler - even more so if it's your first time shopping for an intercooler alongside your first taste of forced induction.
How do you know you're getting an upgrade? What design or size of core should you be after? What even goes into an aftermarket intercooler that makes it an improvement over an OEM unit? These are all important questions to consider when moving onto something cooler - pun intended. As such, I spoke to Henry Bueno of Wagner Tuning about the company and their famed intercoolers, as well as their new "Build Your Own Custom Race Intercooler" online system to make universal application shopping that much easier. In addition, we've thrown in some helpful tips to cool your brain off.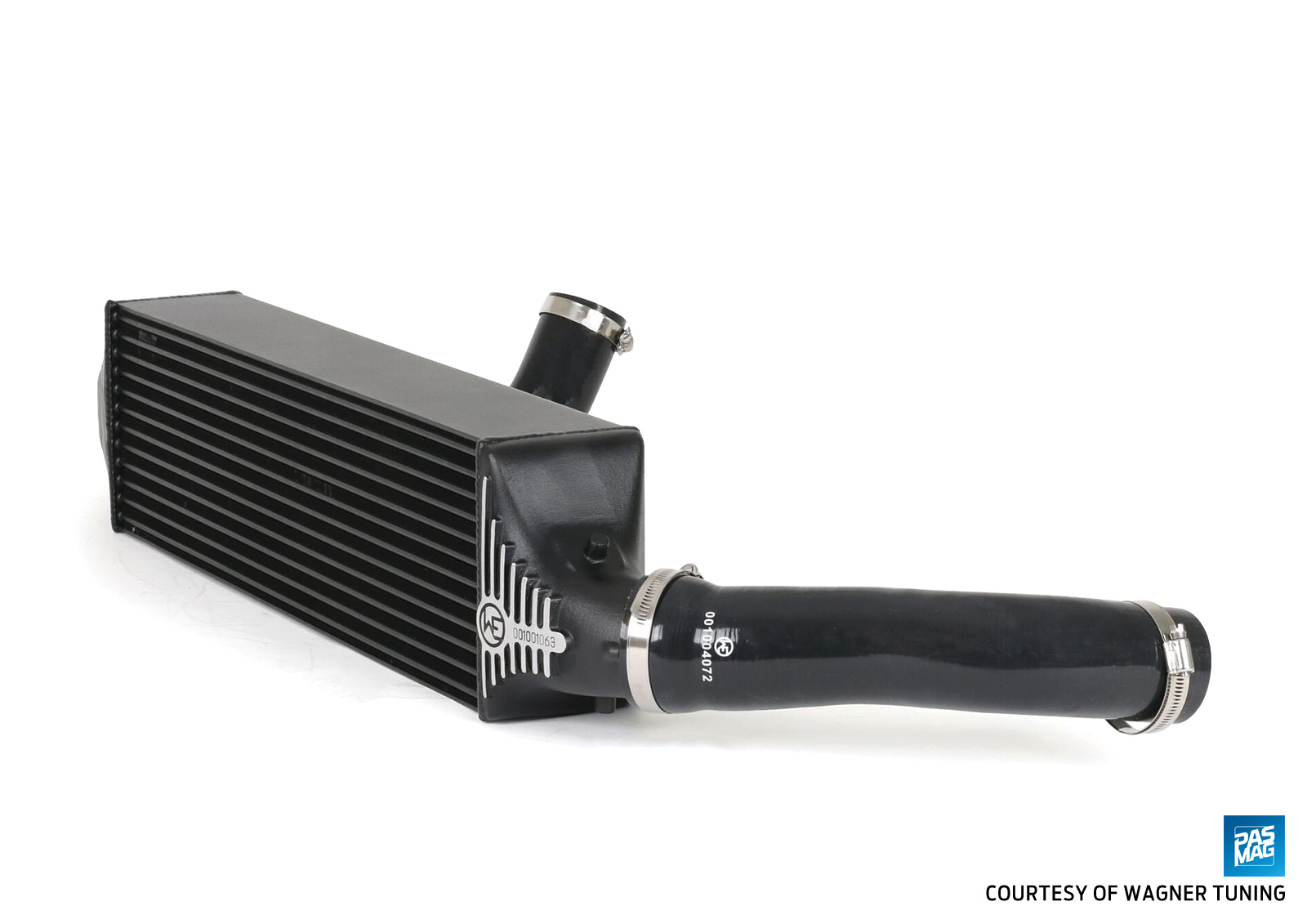 HOW IT WORKS
After air is taken in by the intake, that cool air is then heated when the turbo has compressed/charged it. If that hot air made it to the engine after that, the heat soak would be real, and so would the decrease in the engine's efficiency and its ability to make power. This is where an intercooler comes in. Cooling that charged air (why they are sometimes called "charge air coolers") from the turbo cools intake and exhaust temperatures, which makes your engine and turbo last longer, as well as makes your engine more efficient at making power, therefore increasing horsepower and torque!
If you're experiencing heat soak, you're being robbed of power and hurting your engine. Upgrade stat!
COOL TIPS
When deciding on an intercooler, there are a few things to take into consideration before you can make the right choice for your application.
ROOM
How much room do you have for an intercooler? If you're looking to upgrade to something bigger, look at two things: how wide you can go and how thick you can go. Wider and thicker intercooler cores are the most efficient at using air flow, so if you can't go wide, go thick, and if you can't go thick, go wide!
BLOCKAGE
Odds are, in most applications, the intercooler is going to sit in front of other cooling components, namely your radiator. If you cheaped out and got a brick of an intercooler or got something that doesn't measure up to the air flow you need, you could be blocking or stealing cold air from your rad and increasing coolant temperatures, which isn't rad.
RATING
Pay attention to what the pressure rating is on your intercooler, and don't choose something below your needs. If you're trying to run more boost than what your unit is rated for, you'll blow the welds on your endtanks.
Then no one is having fun.
BAR V.S. TUBE
When choosing an intercooler core, you'll be met with two choices for design: bar and plate or tube and fin. The main differences between the two are the facial surface structure, a.k.a. the space between the vents that's either flat (bar) or round (tube). When air hits the surface of the intercooler core, it slips through the vents, but then has to interact with the solid bar or tube in between. When air hits the bar, it's hitting a flat surface head-on, so the air deflects, while a tube surface is extruded and rounded, which channels the air towards the vents and increases airflow. Both are good choices, but if you're looking for that extra edge, a tube and fin core is the way to go.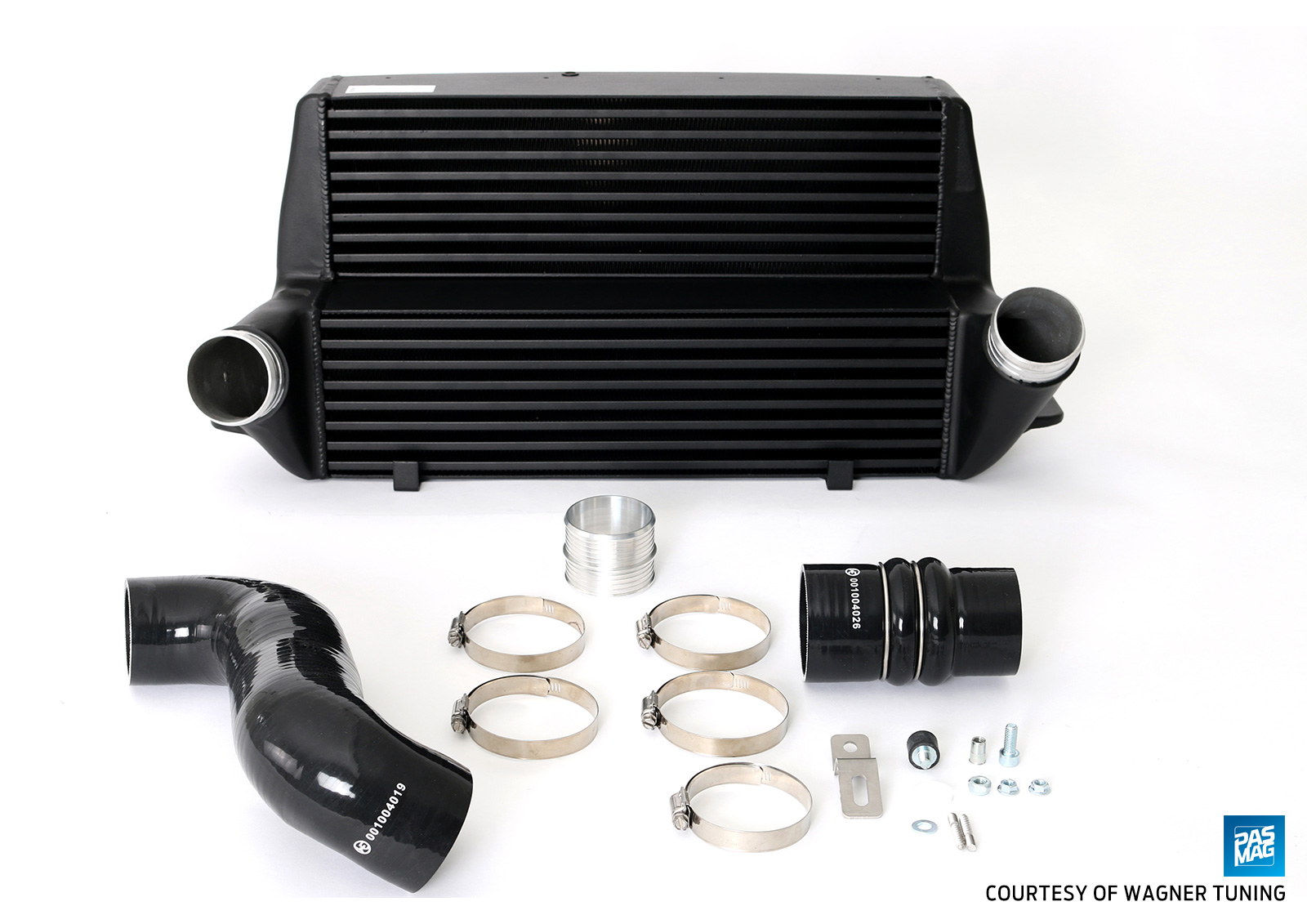 WHAT'S THE STORY BEHIND WAGNER TUNING? HOW DID THE COMPANY GET ITS START AND HOW DID INTERCOOLERS BECOME ITS SPECIALTY?
Wagner Tuning originated out of a speed shop that father, Werner, and son, Carsten, Wagner started in 1994. After a period of time, Carsten Wagner started to venture into performance products for Audis. In 2002, Carsten established Wagner Tuning with his first intake manifold. From there, a series of exhaust manifolds followed and became sought after in the European market. In 2007, Wagner Tuning produced our first performance intercooler and is now a leader of intercooler development in the performance aftermarket.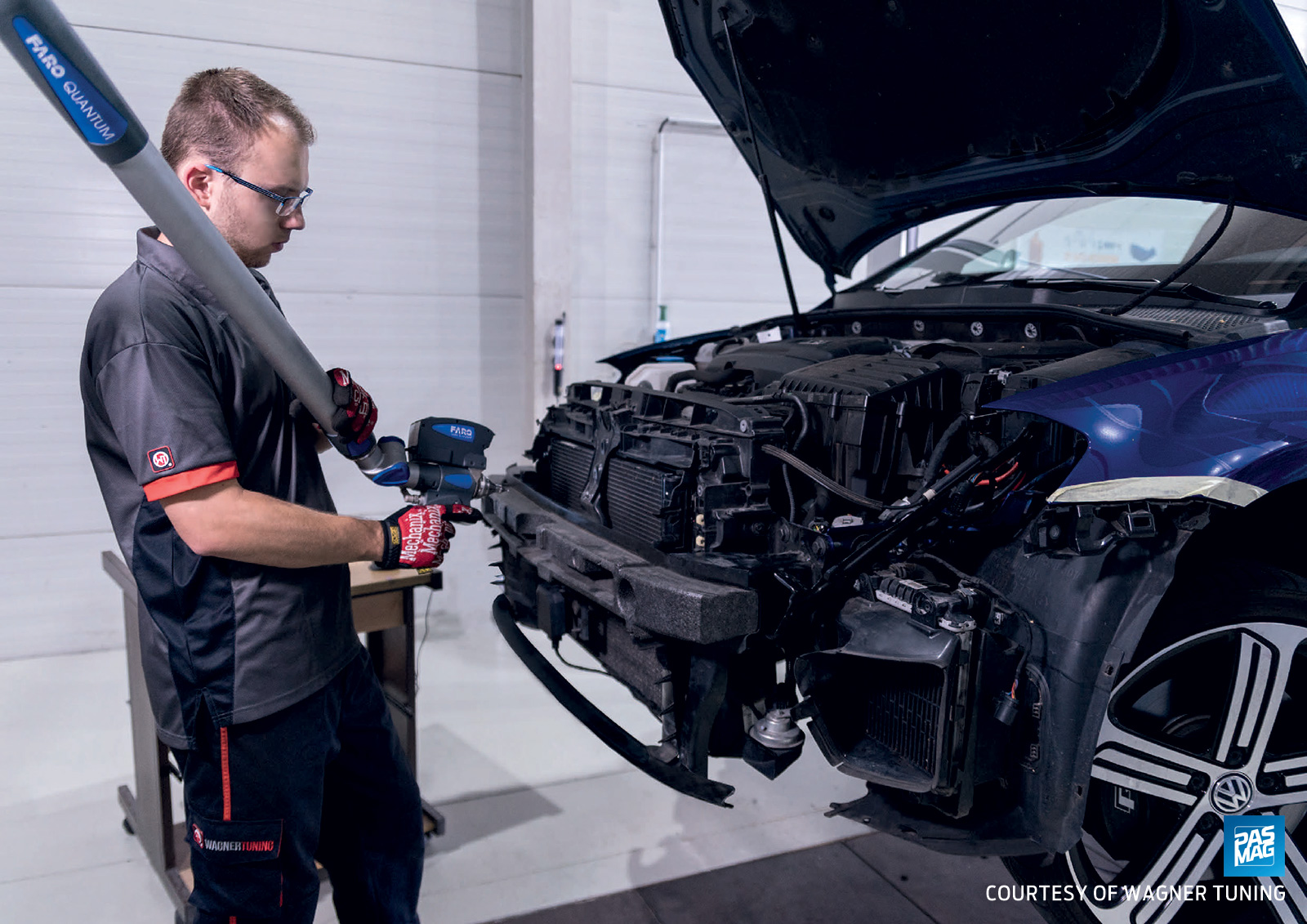 WHAT SETS WAGNER TUNING APART FROM OTHER INTERCOOLER MANUFACTURERS?
When Wagner Tuning started to have interest in the intercooler market, we decided to develop an intercooler for specific vehicles and design it to perform, removing all bottlenecks that would cause restriction. We produced an intercooler that works in conjunction with all other cooling elements of the vehicle, like radiators and A/C condensers. We also increased the size of the intercooler compared to the OEM intercooler, increasing the amount of air volume and facial cooling surface. Development is what we do!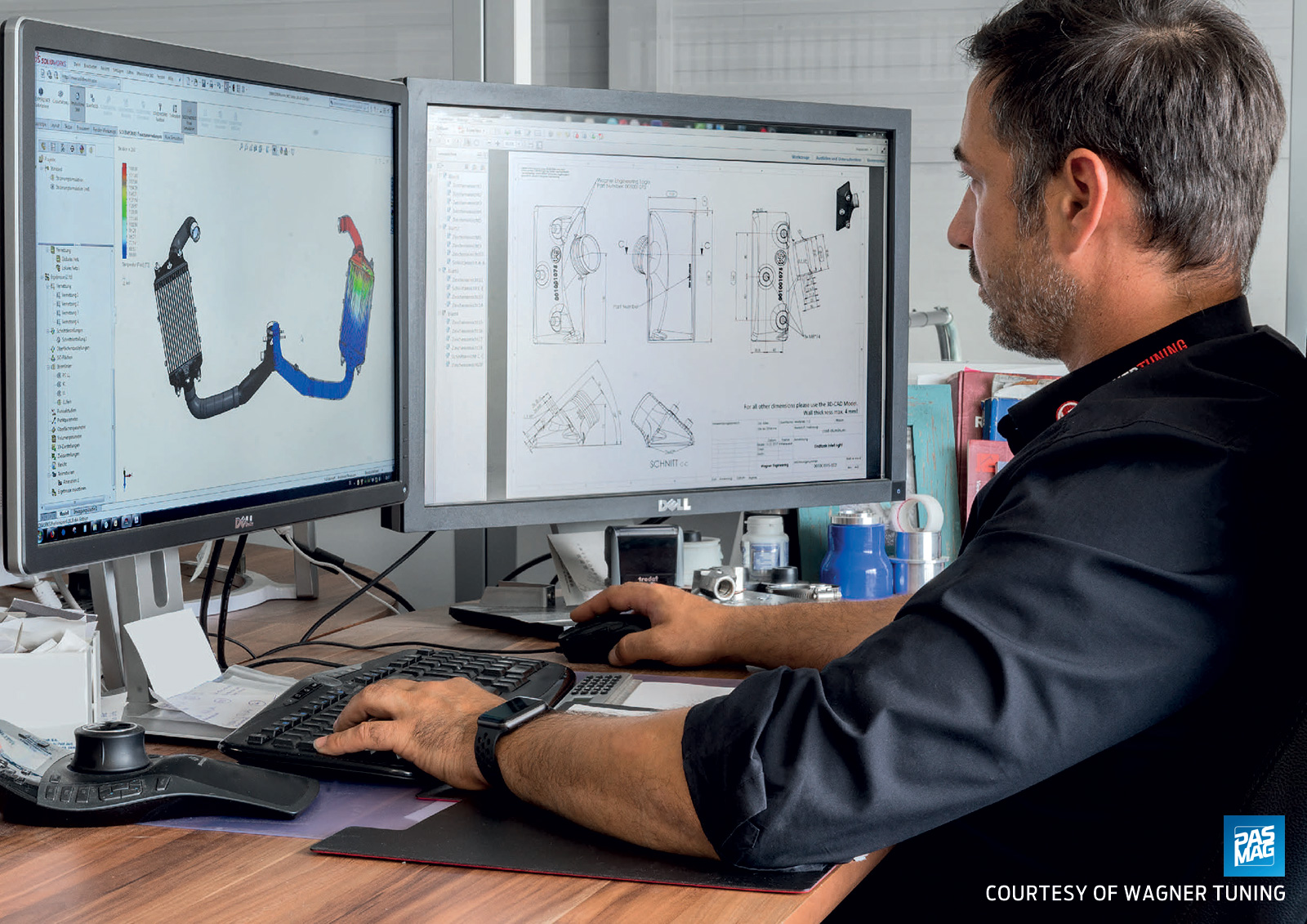 HOW DOES A WAGNER TUNING INTERCOOLER GO FROM A CONCEPT TO A COMPLETED PRODUCT ON A CUSTOMER'S CAR?
First, we research the vehicle and its potential to perform. Most turbo vehicle's restrictions are the OEM intercoolers not being large enough or efficient enough, so that's where we start our research and development to design an efficient unit. We 3D scan the location of the factory intercooler and use all the space that is available to be used for a newly developed intercooler unit. After state-of-the-art testing, we produce a prototype and run a true vehicle test. After it has been proven to perform as developed, we start production and supply the market.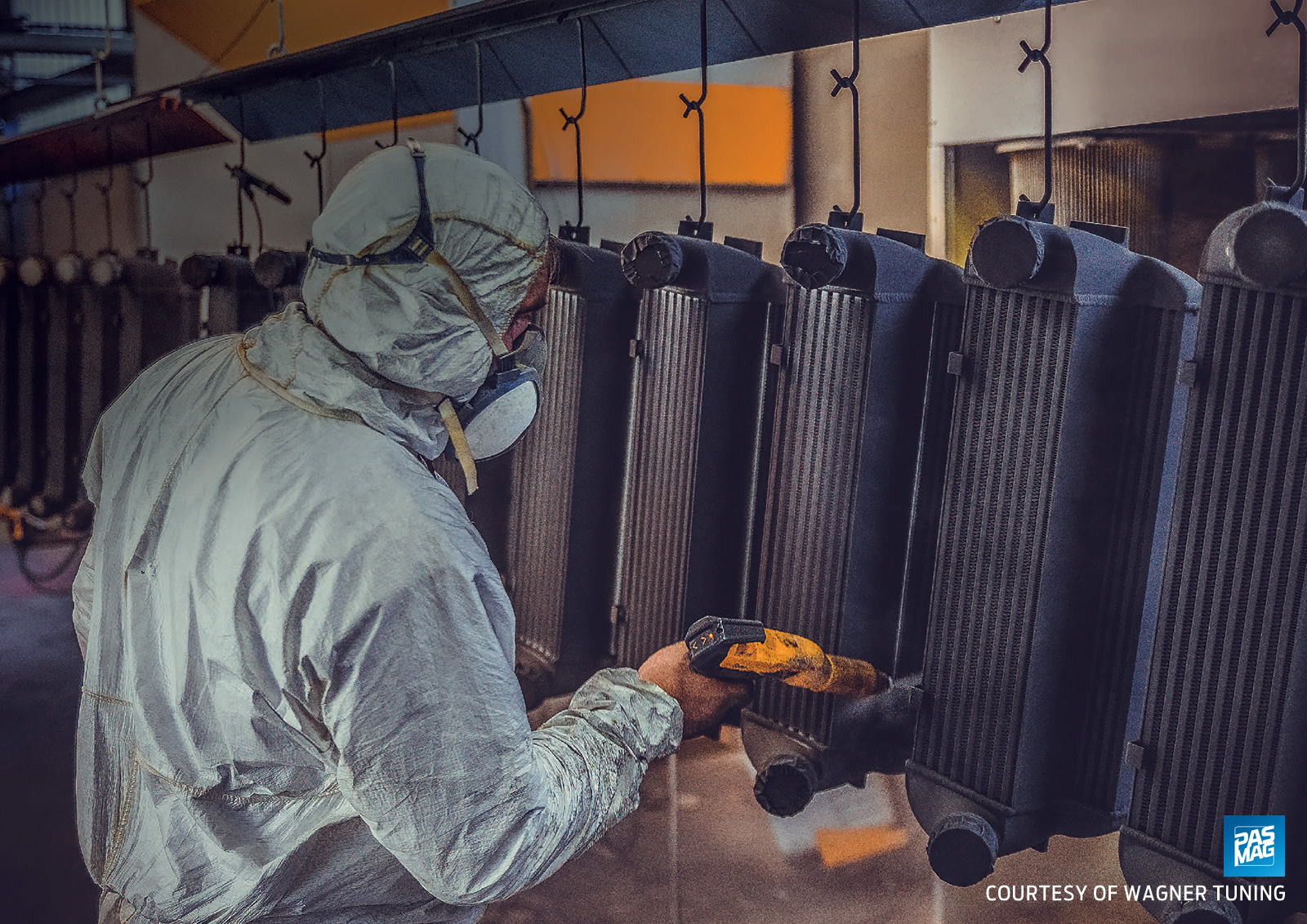 DOES WAGNER HAVE ANY EXCLUSIVE MANUFACTURING PRACTICES?
Wagner Tuning was the first to produce an intercooler using cast aluminum endtanks. This is one our first exclusive ways of producing an intercooler, and soon the competition followed. We also coat our intercoolers to protect them from the elements.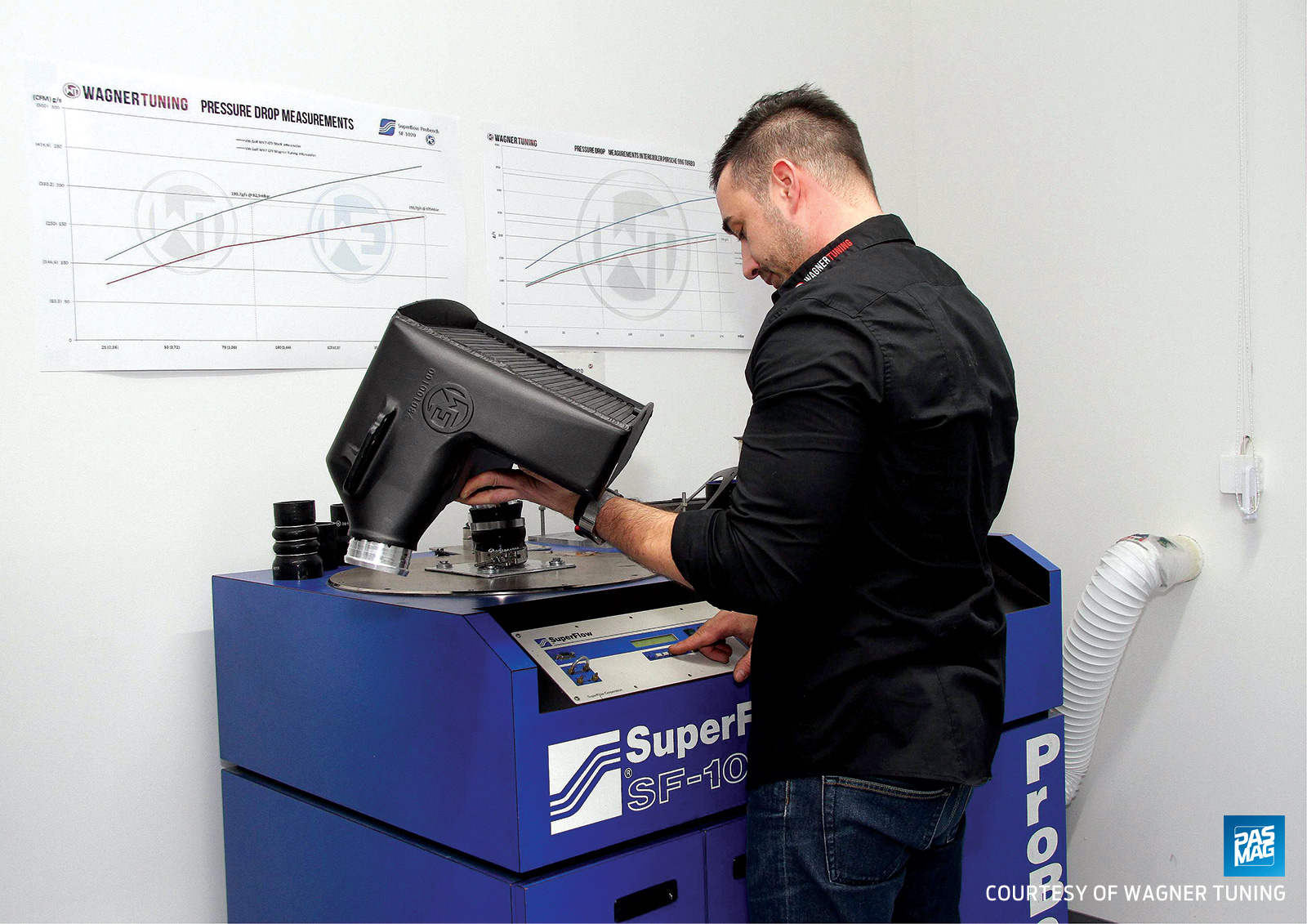 WHEN SOMEONE IS LOOKING TO ADD AN INTERCOOLER OR UPGRADE THEIR EXISTING SETUP, HOW CAN THEY TELL WHAT KIND OF CORE THEY'LL NEED FOR THEIR POWER LEVEL?
There have been a lot of rumors and stories about the benefits of each core system. Wagner Tuning, being a developer and manufacturer with over 11 years experience in performance intercoolers, would like to share our knowledge on this topic. Basically, when it comes to core systems, there is no good or bad; there are only characteristics attributed to each version that have benefits or drawbacks for each given situation.
The BAR & PLATE core is a heavy system that's "sluggish" in taking temperature. This is great for short, full-throttle situations you see on the quarter mile. For longer rides in the summer, on a hot highway or race track, the greater mass in material retains more heat over time that can't be released effectively. Manufacturing a bar plate core is uncomplicated and less expensive because there is no special tooling needed.
The TUBE & FIN core is lightweight system that absorbs temperature quickly. The maximum stock temperature is below the bar plate core. This core is not as efficient in performance on the drag strip, but is ideal for not holding heat on the highway or racetrack because it recovers much faster from full throttle compared to bar plate construction. Manufacturing a tube fin core is more complicated and requires special tooling, making it more expensive to manufacture.
There is no evidence that one or the other is more pressure resistant. Pressure resistance of both core systems relies on the build quality. Wagner Tuning's tube fin core can handle over 100 psi, depending on the application.
We have two different series of intercoolers: the Performance Series, which is a bar and plate center core, and the Competition Series, which is a tube and fin center core. We originally started with the Performance Series, and as we progressively started to improve our product line, we developed a better solution to handle and create more power.
Each series is offered in an EVO1 or EVO2 intercooler. The difference is the size of core. A bigger core surface can receive and adapt to more air volume and heat. The EVO2 is always our recommendation when the turbo is running at its limit and producing very hot outlet temperatures, but you can also run an EVO2 system with light ECU tuning with the option to increase performance with a more aggressive tune in the future.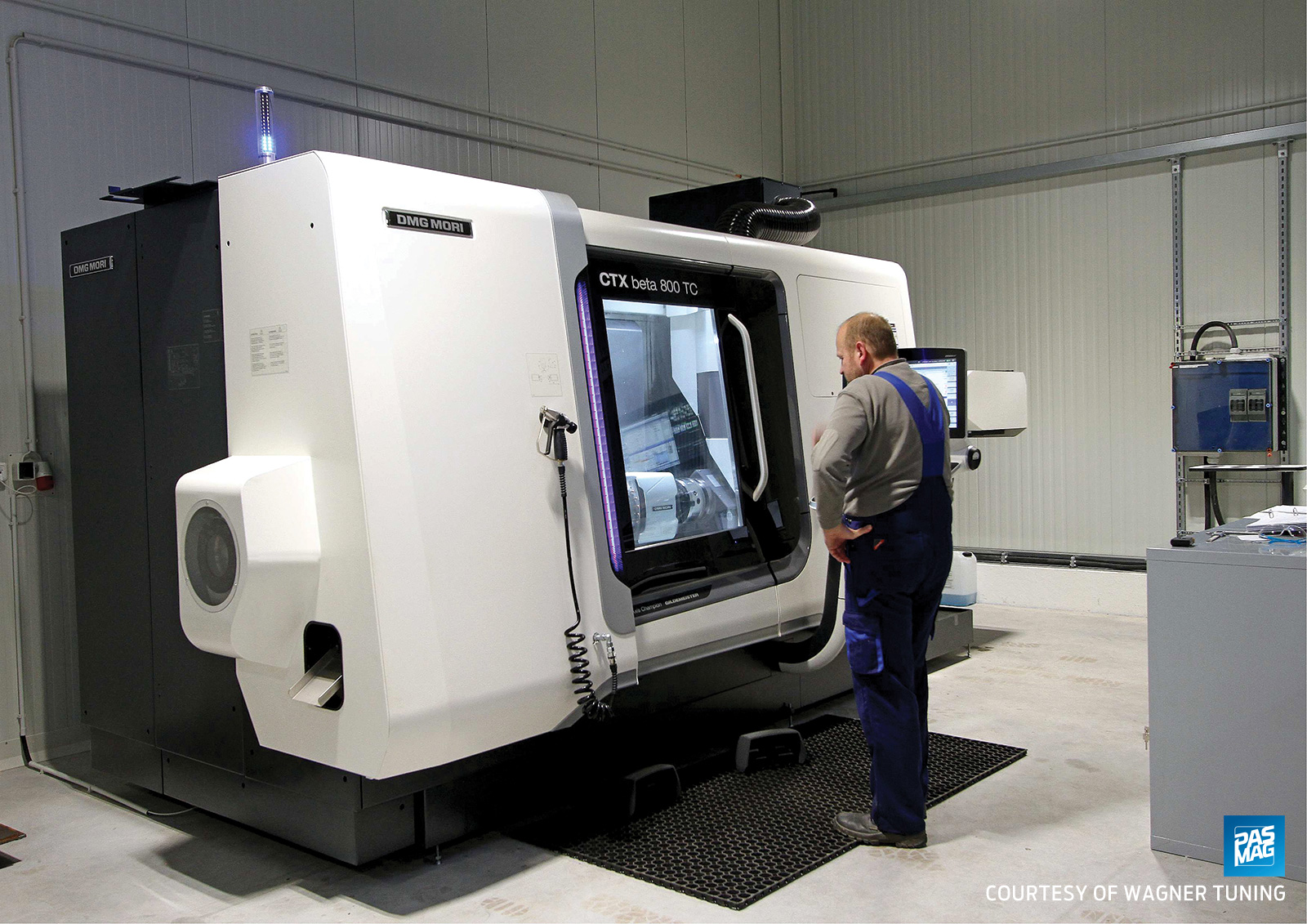 WHEN IT COMES TO THE INTERCOOLER CORE, IS BIGGER ALWAYS BETTER?
Yes, to a certain extent! Some builders think that because they have built a huge intercooler that it will perform better, but that's not always the case. There is a point where being too big and having too much air flow can cause problems. There's a certain air flow formula that needs to be considered to make sure that things like pressure drop doesn't occur and the turbo isn't working too hard to supply enough air flow to actually produce power.
WHAT LED WAGNER TUNING TO SETTING UP THEIR BUILD YOUR OWN CUSTOM RACE INTERCOOLER SYSTEM ONLINE? HOW DOES IT WORK?
From early on, we have always received calls asking about a certain application that we don't produce and if we offered a universal intercooler. We have come up with a way to be able to build over 6,400 different versions of a custom intercooler. This includes our specifically-designed center cores in both Performance and Competition Series, cast aluminum endtanks with angle options, and several option sizes of inlets and outlets.
We have over 6,400 part numbers to choose from in our Build Your Own Custom Race Intercooler system and have created a design with every option possible so that the customer can choose what they are looking for. It starts with a customer determining where they will locate the intercooler, and then they will determine what type of design they want. Using this system, they can enter the specific designs of type of core, type of endtanks for each side, and the inlet size and outlet size. In the end, they'll have an intercooler that's ideal for their unique application!