For about as long as I can remember, the folks at Boston Acoustics have been turning out innovative, well engineered products that sound great and last for years. Not long ago, I received one of the cool new SPG555 subwoofers to put through the paces here in the lab. Priced around the $699.95 (US), the SPG555 is definitely on the high end of what a good woofer costs, so I thought it would be interesting to see if the bang was worth the bucks.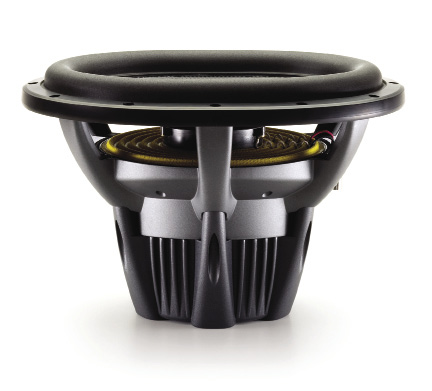 FEATURES
With its unusual oval shape, even a car audio rookie will immediately understand there is something quite a bit different about this woofer. Truth be told, the SPG555 represents quite a technological achievement, and this woofer is quite a bit different from conventional woofers in many ways. First and most obvious, the cone is oval or "racetrack" shaped. Because of its unusual shape, the SPG555 woofer will fit into the same height space as a typical 10" woofer, but provides more cone area than you would get from a standard 12" round woofer. More cone area translates directly into greater overall output and when it comes to your woofers, that's a good thing.
Another innovative feature is the patented 3.5" RVC (Removable Voice Coil) (U.S. Patent Number 7,272,237) which when combined with Boston Acoustic's patented RadialVent™ cooling (U.S. Patent Number 6,430,300), allows for an incredible power rating of 1000 watts continuous. By utilizing the woofers ability to pump air through vents that are integrated into the chassis of the woofer, and act like forced air cooling, the voice coil can handle higher power levels without overheating.
Plus, if the RVC coil were to become damaged, or if you wanted to re-configure your system and change the impedance of your SPG555 woofer, the entire coil assembly can also be replaced right in your car by the dealer. How cool is that!?
And the innovation doesn't stop there either. The SPG555 features a unique SPS™ (Soft Part System) which also allows you to change out the entire cone/spider/surround assembly if it ever got damaged. (Like when your buddy carelessly tosses his golf clubs into your woofers cone… don't ask)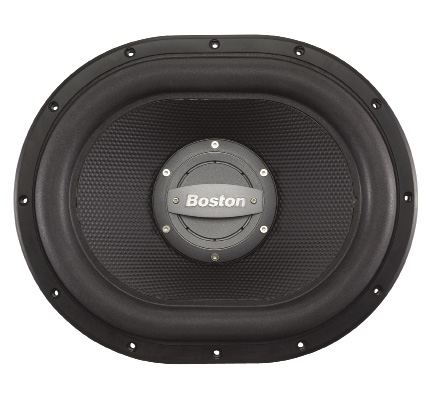 Instead of relying on heavy and inefficient ceramic ferrite magnets for the motor assembly, the SPG555 incorporates a very powerful neodymium magnet, which while providing the magnetic energy of a 50 pound woofer, the SPG555 tips the scales at only 26 pounds.
If you are into customizing your gear and like to show off your system (and who doesn't?) the SPG555 will be right up your alley because it can be completely disassembled and the basket can be plated, painted, powdercoated and re-assembled. And because the dustcap is removable, you can re-orient it in multiple directions to suit your particular installation.
For you tech-heads who are into the details of the woofer, the SPG555 uses an injection molded mica-filled polypropylene cone, and is connected to the basket via a UV treated foam spider and a progressive polyester/cotton spider, with integrated tinsel leads. To reduce mass, the 3.5" voice coil is wound on a Kapton former and uses copper clad aluminum windings. All of this is mounted in a cast aluminum basket that comes finished in charcoal gray powdercoat.
The SPG555 works in a wide variety of enclosures ranging from small 1 cubic foot sealed enclosure to high efficiency ported designs. For this test Boston Acoustics shipped the SPG555 in the recommended 2.5 cubic foot ported design. Measuring approximately 30" x 14" x 18", the vented cabinet is small enough to fit in most car trunks and even space-limited vehicles like a Jeep Wrangler, for example.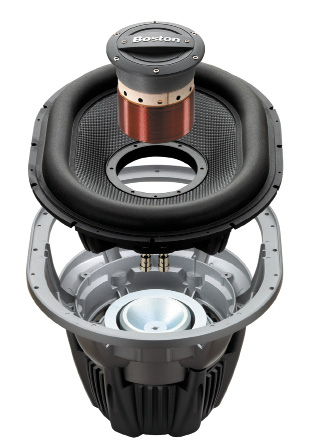 LISTENING
After connecting the Boston Acoustics SPG555 to my reference system, I set the low- pass filter for 100Hz at -24dB per octave, and to keep from accidentally damaging the woofer from over excursion at low frequency and high power levels, I also used a -24dB/octave subsonic filter at 30Hz.
As I often do when I really want to put a woofer system to the test, I began with one of my all time favorite bass test tracks, "Oh Yeah" by Yello. The SPG555 handled things in stride, producing deep, loud bass with no hint of straining. A few more tracks from 50 Cent, The Pussycat Dolls and Nine Inch Nails quickly proved that this system will boom with the best of them.
Changing musical gears, I switched over to another really cool bass track that a lot of younger bass-heads won't recognize. The song is "Not Fragile" by Bachman-Turner Overdrive who were better known simply as BTO. Produced in 1972 or '73, this was one of the first recordings I ever heard that had really well-recorded low bass on it. It's also the first song I learned to play on bass guitar. At the beginning of the track, bassist Fred Turner lays down a deep groove, that's continued throughout most of the song. The track is pretty telling of a woofers ability to reproduce rapid changes in deep bass notes, and the Boston Acoustics SPG555 made it seem like child's play.
Deep bass is great, but a good woofer system also needs to be articulate, and have the ability to not just boom, but also to reproduce all the intricate details that can be found in the bass portion of music. For this type of performance evaluating, I like to use several different tracks, such as Rickie Lee Jones' "Danny's All Star Joint", and Thom Rotella's "Friends". Both of these tracks feature incredible musicianship and can be a challenge for a woofer system to reproduce correctly. I listened very carefully to other tracks from the Barenaked Ladies with that cool sounding plucked stand-up bass and, of course, Rush's own Geddy Lee doin' his thing. I ended my listening session with a few tracks from Deep Purple and one of my all time favorites, Weather Report, featuring the outstanding playing of the late, great Jaco Pastorius.
At the end of it all, the Boston Acoustics SPG555 had performed impressively, with very good articulation of bass notes, well defined chord changes, and good detail, even on subtle things like the impact of the kick pedal batter on the drum head. This was another one of those times when I wish I could just sit and listen to music… it's that good.
ON THE BENCH
With listening completed, I let the SPG555 cool off overnight, and moved into the lab for some basic measurements. I found that the system has a tuned frequency of right around 30Hz, and when I measured the SPL of the system, as expected it is noticeably higher than a conventional 12" woofer system. I found all of Boston's published specs to be on the money, and everything measured exactly as you'd expect.
CONCLUSION
I have to say, I came away really impressed with the sonics of the SPG555. No matter what type of music I chose or how loud I played it, it simply seemed to be able to do it all, and ask for more. And while certainly not the least expensive system you can buy, the craftsmanship and technology in the SPG555 woofer is difficult to ignore. To be able to make repairs or change impedances simply by swapping out the parts for new ones and to have a completely customizable woofer that works this well, some might call that priceless. So for me the bottom line is, yes, the SPG555 is expensive- and worth every penny. For more information, visit www.bostonacoustics.com.