For those who need a connected multimedia receiver so you don't miss a single bit of your favorite content, Clarion has just introduced the all new VX405.
Designed for full smartphone connectivity and loaded with all kinds of source capabilities – and a new, easier-to-use interface – the $499.99 (U.S. MSRP) double-DIN source unit should be a favorite for anyone who needs to interface with either an Apple or Android based smartphone.

Features and Functions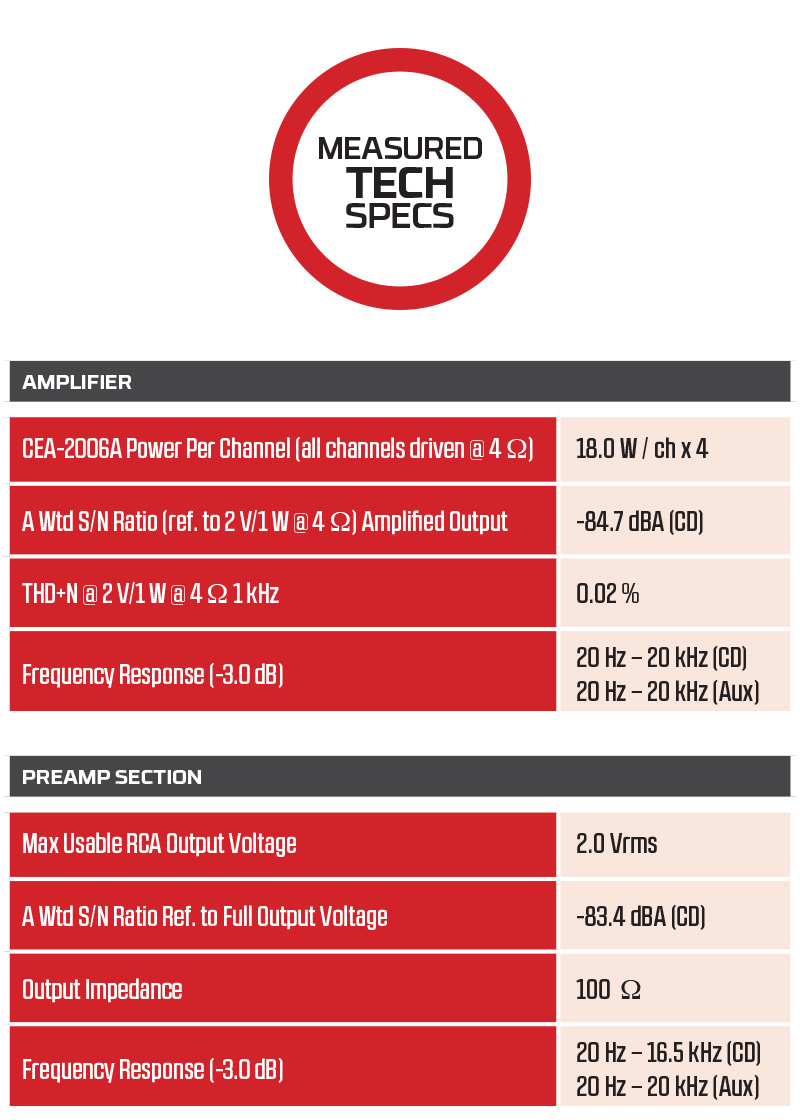 The all-new VX405 is equipped with a high quality six-inch TFT touch screen display with crystal-clear 800x480 resolution, as well as very good video playback. Fully equipped with a great AM/FM tuner, DVD playback and compatibility for almost any type of digital media (MP3, WMA, AAC and FLAC audio files, AVI, MP4, MPEG and 3GP video), it also offers built-in Bluetooth connectivity, including the usual profiles for hands-free telephony, as well as importing your phone book and A2DP/AVRCP streaming.
Still want more? The VX405 has SiriusXM and Pandora Internet radio, so you'll never be looking for entertainment. Tagging of songs for future lookup on iTunes is also supported. Naturally, you'll need an active data plan and a connection via 3G, EDGE or Wi-Fi, and the Pandora app loaded on your smartphone.
What really makes this unit special is the HDMI input (cables and HDMI to MHL adapter if needed, are sold separately). Now you can mirror your smartphone and most of your smartphone apps directly on the VX405. This makes it possible to stream internet content, play games, or use the navigation app already in your phone. Your phone is still used to control the app, but the display is now shown on the screen of the VX405. You can even have your phone's navigation app on screen and play your favorite audio source at the same time.
The degree of connectivity you'll experience depends on which smartphone you have, but the VX405 is compatible with most Android or iPhones. When it comes to controlling your iPod/iPhone, you can either select the normal mode where all of the controls are done via the unit's touchscreen, or with "Simple Mode" (the default mode on iOS), you can change songs and settings directly from your Apple device. It's perfect when a passenger wants to play DJ on a long road trip.
Speaking of road trips, the VX405 can be a savior with dual zone functionality and rear seat video output to keep the kids entertained. To that end, there are two auxiliary inputs, a 3.5-mm front panel mounted connection, and a dedicated pair of RCAs on the rear panel. Other rear connections include an input for a rear view camera and a steering wheel control adapter (sold separately).

Audio
The audio section of the VX405 boasts a four-channel MOSFET amplifier with an advertised power of 19 watts per channel into four ohms, and three pairs (front/rear/sub) of two-volt pre-amp outputs. Also included are selectable frequency high- and low-pass crossovers, a three-band equalizer with nine adjustable frequencies, and a variable Q. Clarion's Magna Bass EX loudness contour is also included to provide a richer, more pleasant listening experience at low volumes.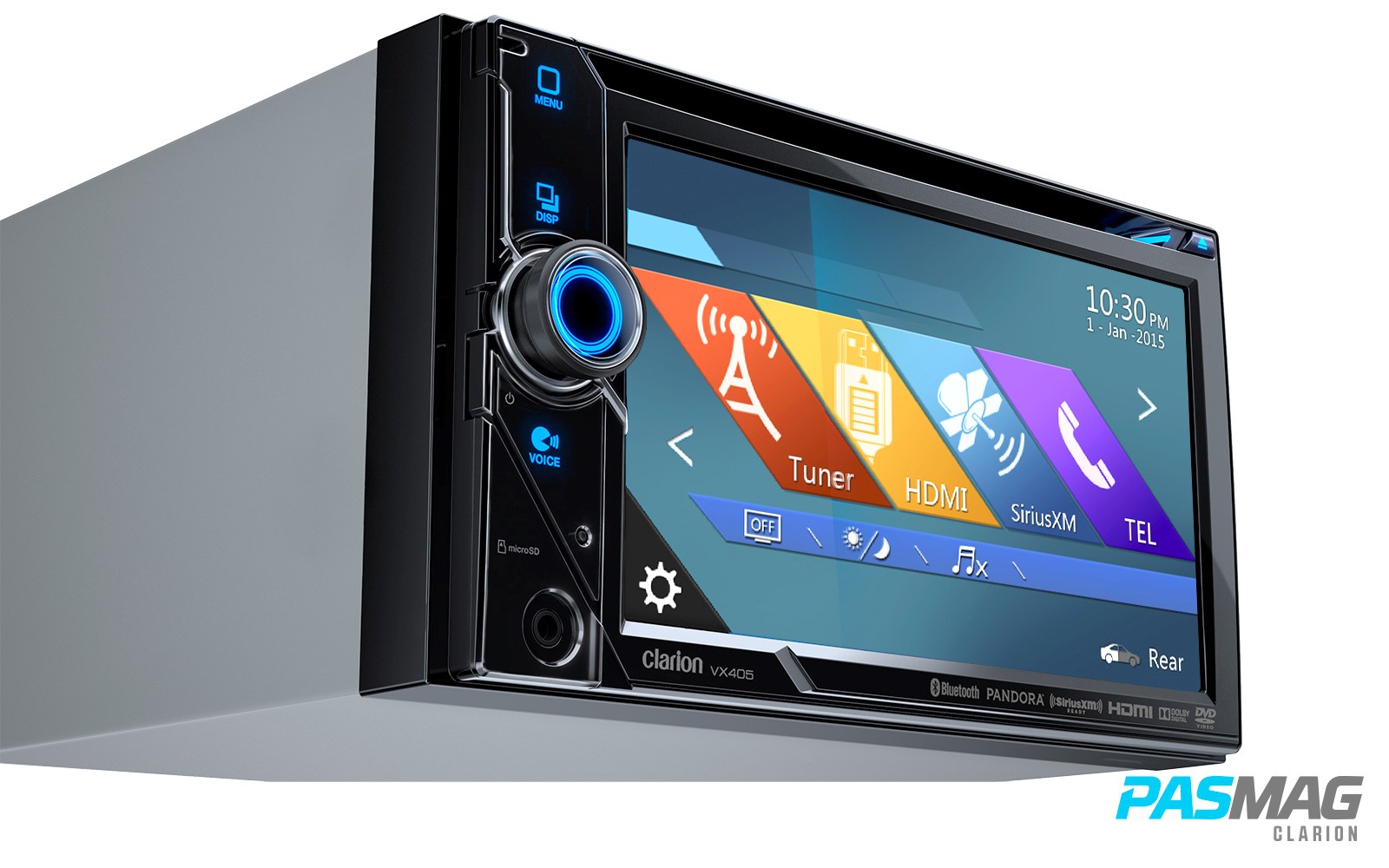 Controls and Ergonomics
I'll preface this section with an admission that for the last few years, I have been less than impressed with the Clarion user interface. Thankfully (and at long last) the VX405 is a complete departure from the old stuff with a completely updated and redesigned GUI. I'm very happy to report that the new interface is a vast improvement from the previous slow and clunky one. Thank you, Clarion. Frustration here is no longer an issue.
Regular readers of my reviews know that I consider a head unit's ergonomics to be a critical aspect in day-to-day use. The Clarion VX405 gets high marks in this regard, thanks to its rotary volume knob and a large screen with easy-to-understand and use icons. You can also customize the screen so that your most used sources are always at the ready, which reduces the time searching for the source you want. The new GUI allows you to access the settings menu icon from any screen, a handy and welcome feature for the "tweakers" out there.
I have no problems when it comes time to pair my Android phone to the VX405. My iPod also connects readily. I test iPod connectivity with a Gen-4 Classic and iPod Touch. By using the appropriate cables, I'm able to get audio and video playback and the controls are intuitive. When I connect my Android phone via HDMI/MHL cables, I'm able to view apps such as CoPilot, YouTube and even my web browser on the head unit screen, all while audio plays in the background. All of these functions work easily and correctly the first time I try, which is more than I can say for the other units I tested recently.

Listening
I move the VX405 into my listening room and connect it to my reference studio amplifiers and loudspeakers. I begin my listening session with the DVD of Joe Bonamassa's Live at Royal Albert Hall. The sound and video quality is superb, as is the image on the 27-inch monitor connected using the VX405 video output.
Everything works exactly as intended when I experiment with the EQ and crossovers. I use as many sources as possible during the listening: CD and DVD discs, my iPod, a USB drive, and the built-in tuner. Overall, the sound is pleasant and smooth.
I experiment quite extensively with what may be a very useful feature for many users: Clarion's Magna Bass EX. This is a volume dependent loudness contour, which can provide as much as 14 dB of boost when the unit volume is at the lower positions. This compensates for our ear's inherent insensitivity at low frequencies and makes the music much fuller and richer sounding. As the volume increases, the unit automatically reduces the amount of boost to prevent unwanted boominess and woofer damage. As the volume reaches maximum, the EQ effect is automatically reduced to virtually zero. It's a nice feature, especially when you typically play your music at lower volumes, but still want to experience the whole sound.

On the Bench
Moving back to the test bench and connecting to my trusty and brutally-accurate Audio Precision analyzer, I put the Clarion though the usual battery of tests.
The VX405 measures as close as it possibly can to the published specs, which comes as no surprise after listening to it. THD measures low at around 0.02 percent and stereo separation is excellent, as is the signal-to-noise performance from all sources. Output impedance is a respectable 100 ohms. The built-in amplifier delivered just over 18 watts per channel, and the pre-outs also meet their two-volt rated output.

Conclusion
The Clarion VX405 offers a number of features and functionality for the price, particularly if you need smartphone integration and a very flexible audio platform. Whether you want the convenience of adding your phone apps to the screen, streaming audio, or dual zone entertainment to keep the back seat entertained, the VX405 can do it all. Slated for availability in Q2 2015, check one out at a Clarion dealer near you.
For more Clarion VX405 information and specs, go to http://www.clarion.com/us/en/products-personal/multimedia/VX405/index.html.