Experts agree that when it comes to improvements and upgrades to an OEM audio system, the biggest improvements per dollar can usually be made by replacing the factory speakers. And when it comes to getting new speakers that fit, the folks at Pioneer probably do more research and measuring of new vehicles than all the other brands combined. In this review we're going to take a look at a speaker system that was designed to be a great bolt-on replacement for a wide variety of vehicles, the Pioneer TS-A1684R 6-1/2-inch 4-way speaker.
In the Details
At first glance, the 4-way TS-A1684R's would appear to be just another set of conventional 6-1/2-inch coax speakers but if you look closely you can see they are nicely designed.
First of all, the stamped steel basket used is configured for a common 4-bolt 4.375" pattern, and will fit in mounting holes as small as 5" in diameter, but because of the wide flange, the speaker is still compatible in 6.75" applications. And its mounting depth of only 2.125" (54mm) helps to ensure there should be no window mechanism clearance issues in even shallow door applications.
Injection molded ABS plastic grilles are included, and incorporate a mesh screen over the delicate coaxially mounted tweeter assembly. Continuous power handling is rated at 50 watts per channel, again making them perfectly suited as higher performance replacements for factory speakers.
The Pioneer speakers use an IMPP (Injection Molded Polypropylene) woofer cone which has been reinforced with graphite and long aramid fibers. The result is a high density cone that is both lightweight and very rigid. The cone is connected to the basket by a lightweight elastic polymer surround that is built to handle the rigors of an automotive environment with better durability than a foam type surround. A big difference in this speaker is the larger woofer Pioneer uses, which is actually 17% larger than conventional cones found in the same 6-1/2 inch basket. The advantage of the larger woofer results in more bass at lower frequency overall.
Electromotive force comes from a twelve ounce strontium ferrite magnet, driving a specially treated heat resistant copper 4 ohm voice coil, wound on an aluminum former.
The upper midrange driver is a lightweight ¾" dome diaphragm, for better dispersion and a smooth response, powered by a neodymium motor. There are two additional high frequency tweeters, with diameters of 7/16" and 3/8" respectively. Each tweeter uses silver PET (mylar) film for the dome material.
Listening
After installing the TS-A1684R's in my listening baffles, I sat down to make some notes on how they sounded. I have to say I was quite impressed at the overall performance considering these speakers only retail at about 119 bucks a pair. Bass response was quite good due to the larger cone, with tight well defined kick drum and bass reproduction. The bass was well balanced, and did not add coloration to the lower midrange. Vocal intelligibility was good, and quite natural sounding, and the high frequency output proved to be crisp and clean, with just a hint of upper midrange accentuation. I noted good definition on plucked strings and cymbals, perhaps slightly subdued off axis, but the highs were smooth and clean without any brittleness or bite. Make no mistake, while these value-oriented speakers may not be confused for a thousand dollar set of components, they will be a huge improvement over the typical junk that comes with any vehicle's factory system.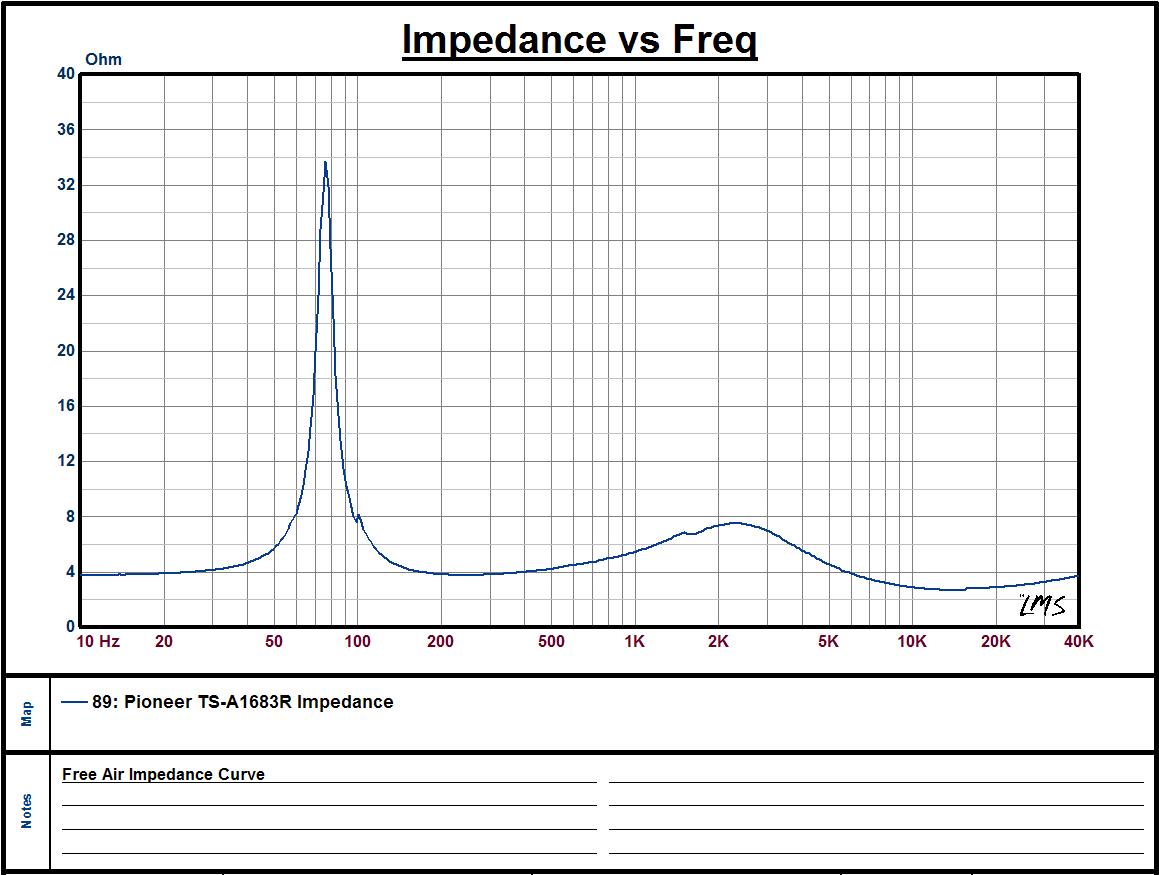 Conclusion
Pioneer has consistently provided well made, good sounding speakers that are actually designed to be bolt-on replacements for the OEM speakers. The TS-A1684R's follow in that tradition, and because of the clever design, they'll fit in almost everything from Aspires to Volkwagens. A definite improvement in sound over even premium OEM speakers, the Pioneer TS-A1684R should please anyone looking for the maximum performance boost per dollar.
www.facebook.com/PioneerNorthAmerica