For those of you who aren't into doing the spec reading, calculating, modeling and woodworking required to design a low cost, high performance enclosure for your subwoofer system, you're in luck, because Boston Acoustics has done all the work for you with their new GTuned Series G110PS subwoofer system.
Features
The GTuned Series of subwoofer systems have been specifically designed and tuned to get the most performance from the Boston Acoustics woofers, specifically in this case the Boston G1 10" subwoofer. The 4-Ohm G1 woofer is rated for 200 Watts, and is designed to be a perfect match for the Boston GTA-602 amplifier. Mechanical power handling comes courtesy of a high excursion suspension system utilizing a dual layer UV treated foam surround and a poly/cotton progressive type spider. The cone material is copolymer for low mass and enhanced rigidity, with a glass-filled nylon dustcap. Underneath the cone, a two inch, four layer aluminum voice coil is wound on a polymide former. The magnetic energy to drive the coil assembly is supplied by a 56 ounce ceramic magnet, measuring 30mm high by 133mm in diameter. The back plate of the motor assembly is bumped to allow greater excursion without risk of bottoming the voice coil. All of these components reside in a stamped steel, zinc coated basket featuring Boston's RadialVent cooling. Tinsel leads are stitched to the spider to prevent accidental damage or unwanted lead-slap noise.
The enclosure designed for the G1 10" woofer is very nicely made, constructed of 5/8" MDF with the end panels dado cut and glued together. For maximum rigidity and best sonic performance, the front baffle is doubled, for a total thickness of 1.25". All of the seams are sealed well with adhesive, and the 3" port is placed on the end panel beside the terminal cup. Boston has taken a step forward in preventing accidental overload damage to the system by incorporating their SureSet Fuse protection system, which in this case incorporates a 4-Amp ATC style fuse.
The enclosure measures 19.75" wide, 12.875" high and is 14.625" deep at its deepest point. Covered in rich looking black and gray automotive style carpet and sporting a tasteful Boston badge in the lower right hand corner, the system is good looking and nicely finished. If you carry a lot of stuff in your trunk, you may want to add a grille to protect the woofer, as the system does not come with one.

Listening
Before doing any critical listening, I simply hooked the G110PS system up and let it play for a couple of days to make sure it was fully exercised. I should point out here that it's not necessary to go through any sort of formal break-in period with this woofer system when you purchase it, but I do it in the interest of accurate comments and measurements for my reviews. Under normal use, the woofer will work perfectly out of the box, and automatically break itself in over the first few weeks you own it.

For my listening evaluations I deliberately choose some fairly difficult tracks and make sure I have plenty of clean amplifier power. After experimenting with crossover points, I settled on 100Hz at -24dB per octave. I began as I frequently do, with one of my all time favorite bass test tracks, "The Planet Krypton". In this track there is a one-minute thirty-nine second crescendo that goes down to about 18Hz. If your woofer system has excursion issues, this track is going to make sure you know about them. I'm happy to say the G110PS handled the track even at full rated power. Changing gears musically, I was curious to hear how the ported design would do with more intricate bass information, like the amazing Jaco Pastorius and Weather Report, and the slapped bass in Rickie Lee Jones' "Danny's All Star Joint". Again, the Boston woofer did a great job of reproducing the detail in the bass lines of those tracks, and I was impressed that the vented design sounded as tight as it did. The well recorded kick drum in the beginning of Brooks and Dunn's "My Maria" sounded accurate and natural, without the ringing or boomy sound I sometimes hear in less well-designed vented designs.
Overall I came away totally satisfied with the sound quality and overall sonic performance of the system. It's worth noting that while the woofer doesn't need a ton of power to sound good, it's not the most sensitive vented system I've tested, so once you have one of these systems in your car, I'm betting you'll want to use a 200 Watt amp just to ensure you're getting the best possible performance from this well designed system.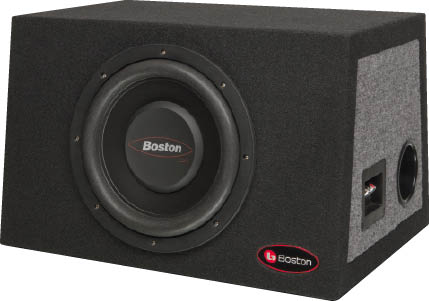 On The Bench
With a system like this, the majority of my testing is done in the listening room, but just to be thorough, I did bring the G110PS system into the lab and measured the system impedance, and the frequency response. Just as it sounded, the system measured well, with very good output from just below 30Hz to around the 100Hz mark. The impedance curve verified that the system was tuned to 34.8Hz, which is almost exactly on the 36Hz advertised tuning frequency.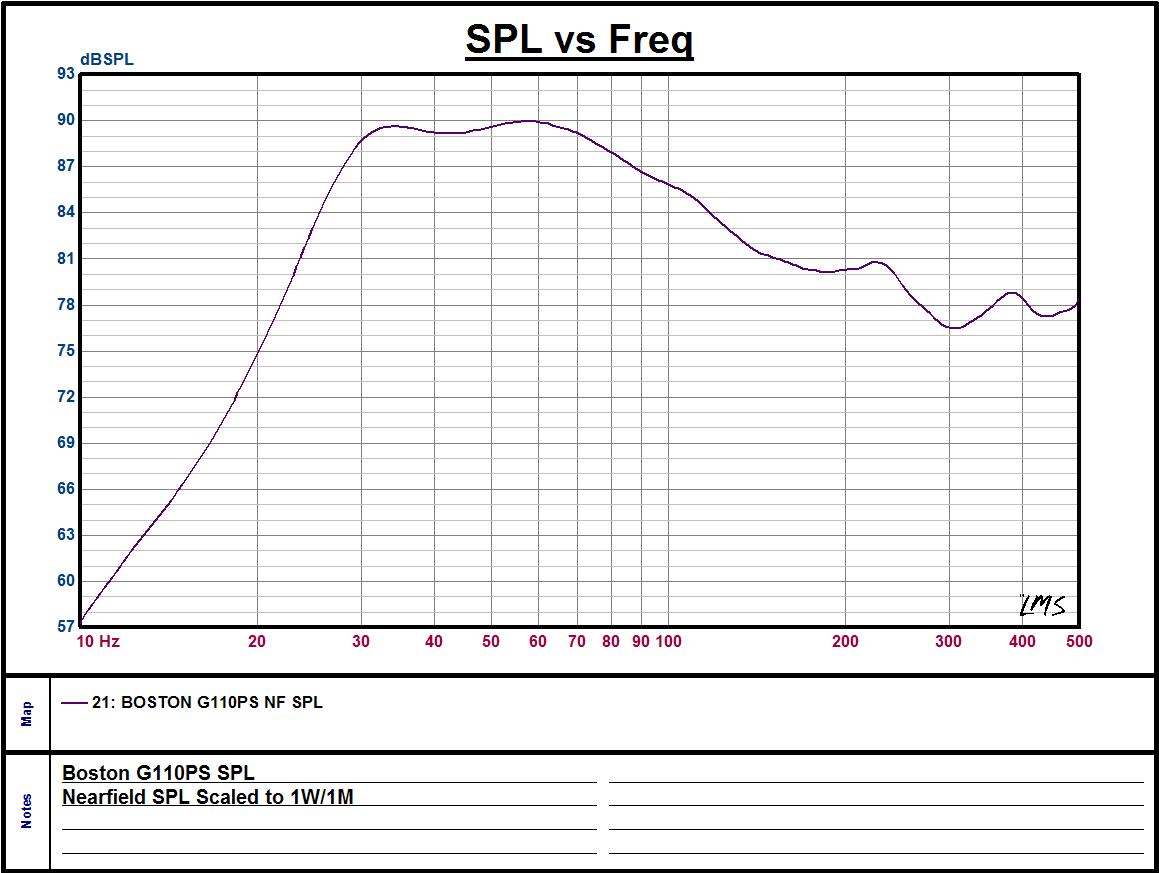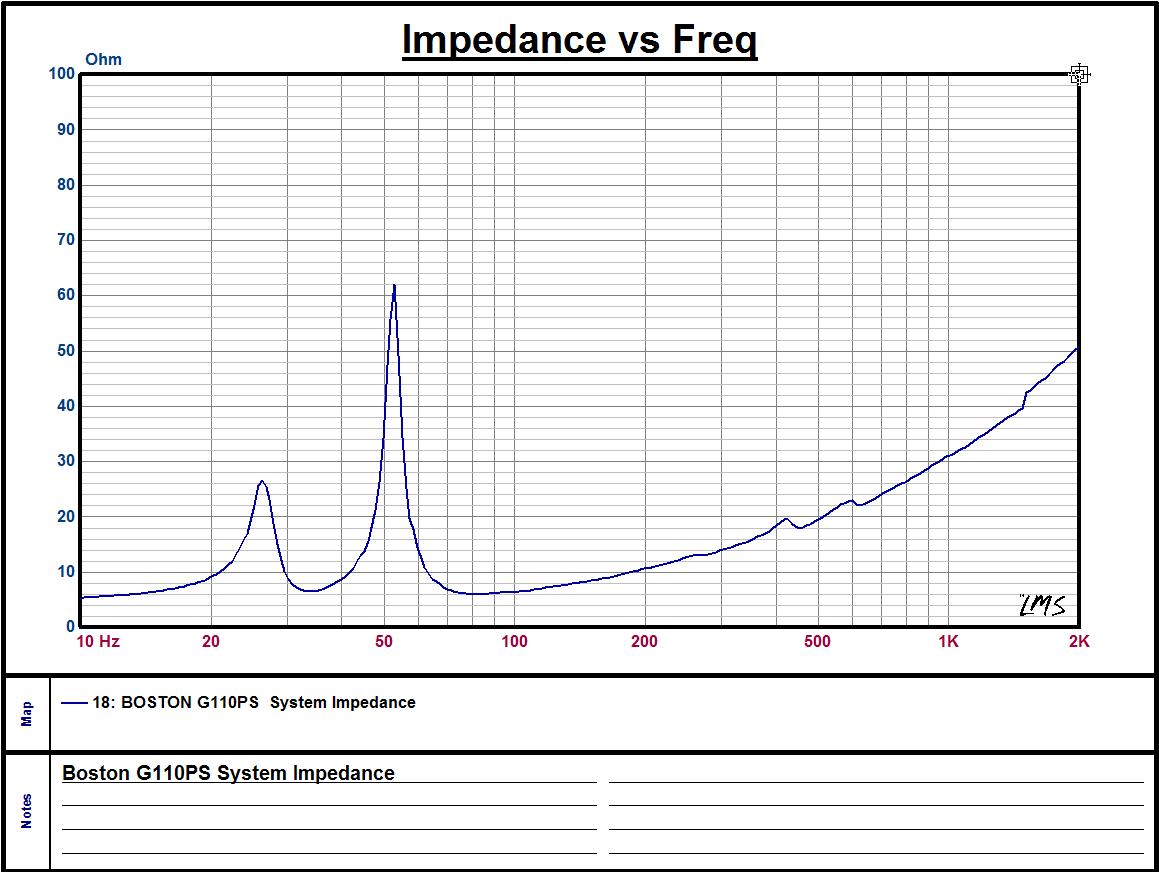 Conclusion
As I said earlier, if you simply don't have the time, money or inclination to take a chance on custom designing your own subwoofer system, the Boston Acoustics G110PS system could be exactly what you need. It sounds great, is very well made, and is small enough to fit in almost any vehicle. And at a retail price of just under $200 here in the U.S., it's a pretty tough value to beat.