As I watched my neighbor fill a full-size Ford Excursion to the gunnels with her potted plant collection, it occurred to me that whether you drive a gigantic three-row SUV or a tiny Peel P50, there is never enough room to carry everything you'd like.
And since you're reading this, I can safely assume that among your most important items that must be on board is a good subwoofer system. So, if you have been wondering how to get great subwoofer performance without losing the space needed for the dog, groceries, golf clubs, hockey gear or full tool collection, read on.
From JL Audio comes the new, lower-priced TW1 Thin-Line subwoofers and PowerWedge enclosures, which are specifically designed for anyone who needs great subwoofer performance in a very limited amount of space. Available in 10 and 12 inches, the TW1 woofers are designed to fit small, shallow enclosures and require minimal frontal clearance. For our review, they kindly supplied us with a pair of 12TW1s and an appropriately small enclosure.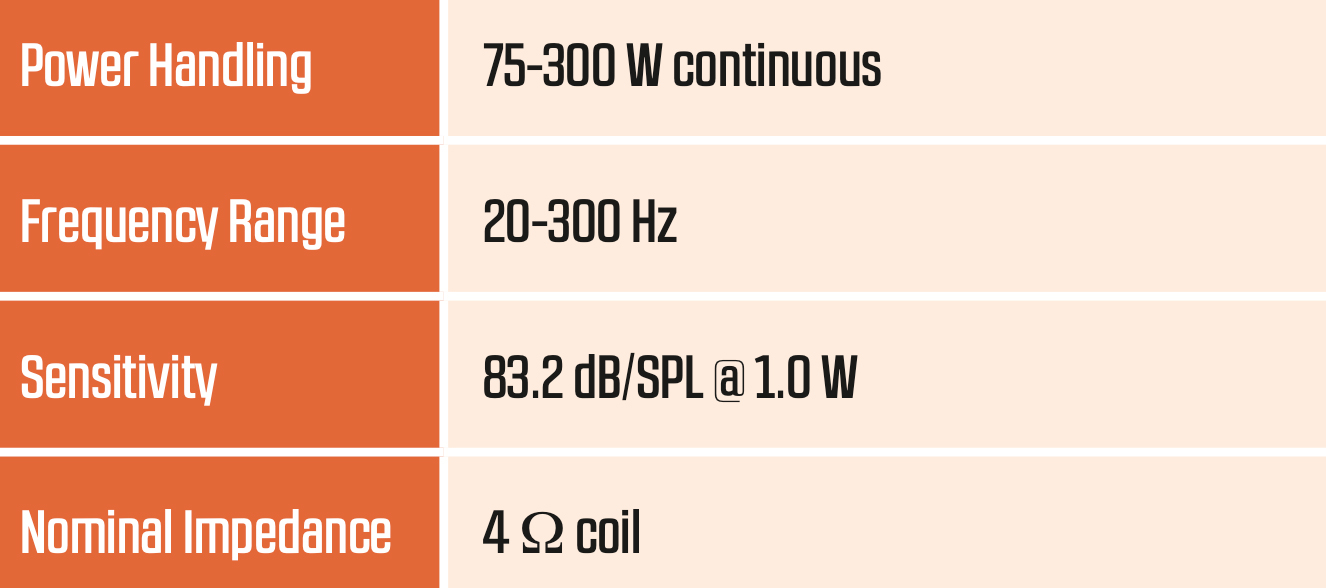 Features
The 12TW1 woofer utilizes a low profile, cast aluminum frame with a mounting depth of less than 140 mm. Including a metal mesh grill, the woofer only protrudes about 22 mm from the front of an enclosure. This is partly thanks to a recessed, two-piece, mineral-filled poly cone and rubber surround that are built around JL Audio's patented Concentric Tube Suspension technology. This innovative design eliminates a conventional top plate and optimizes motor placement, specifically to maximize excursion in low profile woofers. The magnetic motor itself is designed to provide reduced distortion and much more linear cone movement because of JL's use of Dynamic Motor Analysis (DMA), which allows engineers to fully analyze the force applied by the motor, not just over the full excursion travel, but also as the AC signal is applied to the coil in real time.
The 12TW1 uses a six-pound (2.7 kg) strontium ferrite magnet that powers a 34 mm diameter voice coil, wound with round copper wire on a Kapton former. Because the pole is not vented, the back of the basket can fit flush against the inside wall of the enclosure, further decreasing mounting depth requirements. The woofer is rated to handle 300 watts continuous power. The result is a nicely finished, high-tech looking woofer.
Put all of this technology together and you get a 12-inch woofer that will work in sealed enclosures down to 0.65 cubic feet. (18.4 liters) Think about that for a minute. That equates to an enclosure barely bigger than the woofer itself!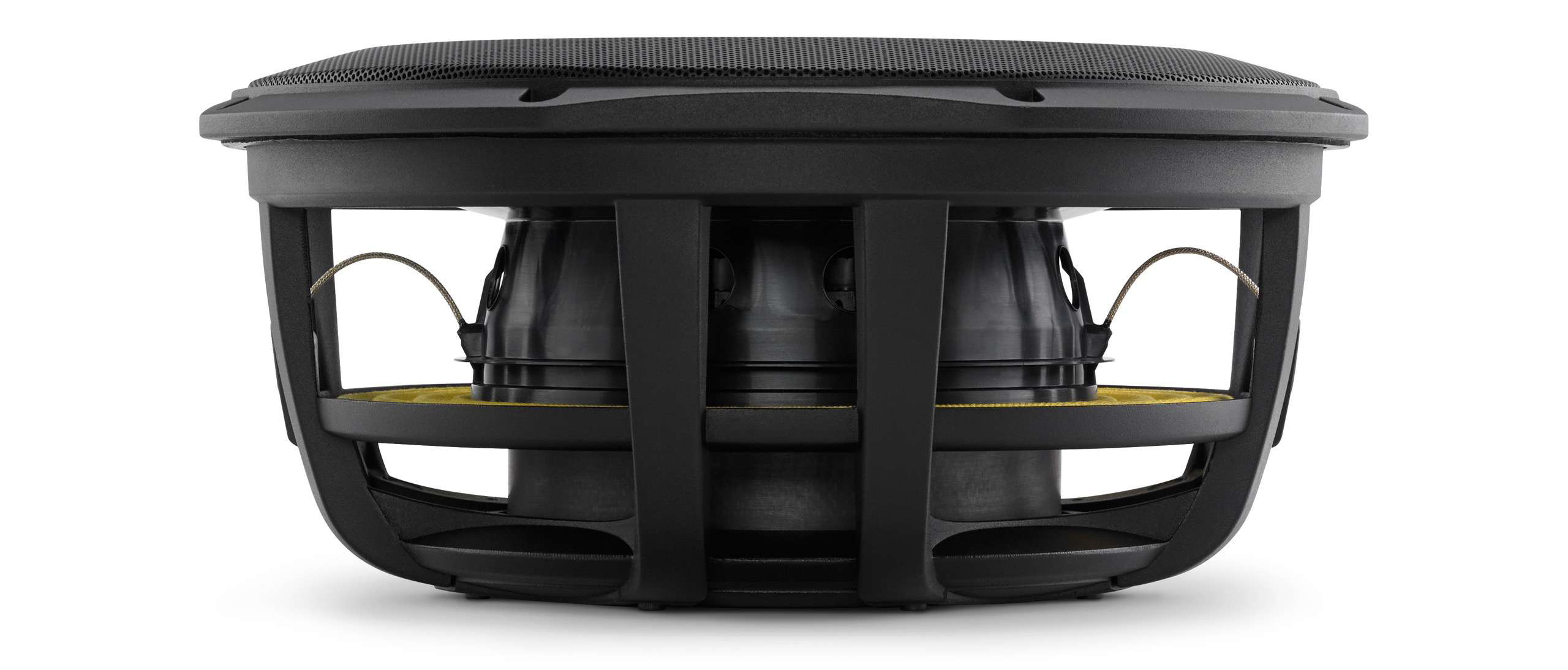 For my test, Manville Smith of JL Audio was kind enough to provide me with one of their CS212LG-TW1 PowerWedge enclosures. The enclosure, measuring only 26.25 x 14 x 8.875 inches (66.7 x 35.6 x 22.5 centimeters) contains a pair of the 12TW1 woofers, wired in parallel. Even with a two-woofer enclosure, the whole thing is small enough to fit in any trunk space, and most hatchbacks as well. It also works very well in my Tacoma pickup.
| | |
| --- | --- |
| | |
With the system connected in my lab's dedicated listening room, I power the JL subwoofers with a 500-watt amplifier and set the crossover to 80 Hz, with a fourth-order L-R filter. The session begins with a favorite disc, Jazz At The Pawnshop. This disc is so well done and so musical that good equipment can seemingly make it come to life. That's just what the 12TW1s does. The bass performance from these low profile woofers in an impossibly small enclosure is truly amazing. Sure, there is plenty of output, but what really makes me smile is the musicality of the system. I expected the tiny enclosure to result in more resonance and narrower bandwidth, but that is not the case at all. The bass is well controlled and damped. Extended low frequency stuff is obvious and credible without being boomy or obnoxious. Definition in bass notes and nuances in a players fingering are not just audible, they're correct. Track after track, disc after disc, the session goes on into the evening. I always know I've come across something uncommonly good when the listening session turns into more fun than work.
| | |
| --- | --- |
| | |

Conclusion
When I first listened to JL's TW3 Concentric Tube Suspension woofers last year, I came away impressed. Now the TW1 series offers similar performance for less money! Although the 12TW1 woofers are priced lower than their TW3 big brothers, these are still not what you'd call cheap. At a suggested retail price of $299.95 for the 12-inch version, or $699.95 for a pair of them in a very well constructed and nicely finished cabinet, you can spend less, but if you do, that's probably what you'll get. Less output, less musicality, less value. While the JL Audio 12TW1 woofers may not be the absolute best subwoofer system in my shop, they are easily some of the best woofers I've heard that will work so well in such a small enclosure. If you need to conserve as much space as possible, but don't want to compromise on your system's sonic performance, the JL Audio 12TW1s should be very high on your shopping list.