Sometimes getting good audio in a vehicle represents a real challenge.
Maybe there is very limited space or perhaps it's a classic or vintage ride that you simply don't want to modify to fit a traditional source unit. Maybe you have a motorcycle, boat or UTV that needs a simple, but high quality audio system that will stand up to the elements. Or maybe you have an older radio and would simply like to add the ability to stream music from your phone. Well, if you find yourself in any of the above situations, you will be happy to know the folks at Kenwood have a solution for you.
The Kenwood KAC-M1824BT four-channel amplifier will provide four channels of clean amplifier power, and thanks to its Bluetooth connectivity, you can control the music on your phone via the water resistant controller, which can be mounted virtually anywhere that's convenient.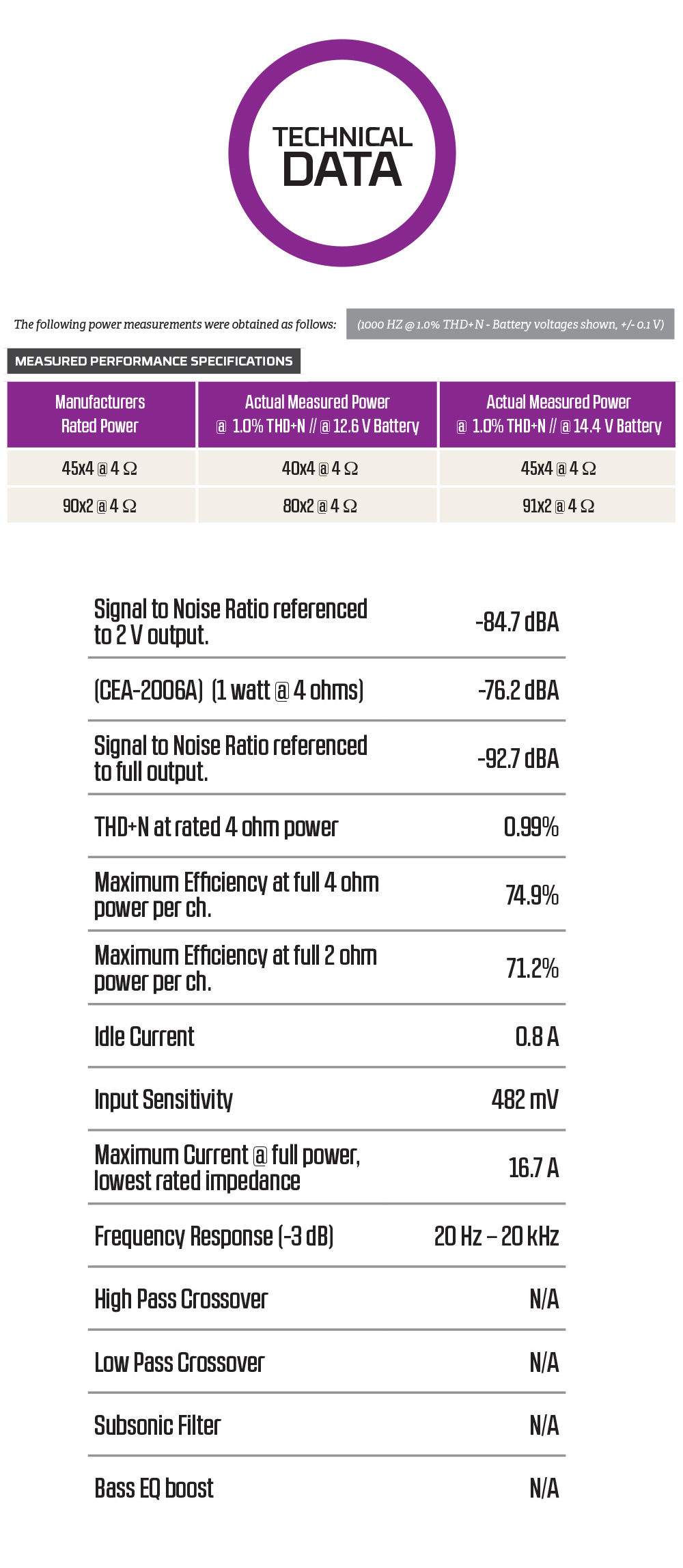 FEATURES
The KAC-M1824BT is a compact four-channel Class D amplifier, measuring about 6.75 x 3.875 x 1.75 inches. The heatsink is made from extruded aluminum and finished in tasteful brushed silver. Controls and connections are found on each end of the unit. One end houses the Molex speaker/power connector and a USB charge port. The charge port is simply there to maintain your phone charge during use and does not have any playback capabilities. On the other end of the amp, there are controls for a front/rear fader setting and an output mode switch for stereo or bridged mode operation. The connector for the wired controller is also found here, as well as traditional RCA inputs for front and rear and a set of pass through RCA outputs. Both of the amp's Molex connectors have water resistant boots on them to prevent the ingress of unwanted moisture. The unit is also built with marine-type conformal coating on the PCBs to withstand moisture and dampness, and ensure reliability in difficult conditions.
As you probably have figured out, this makes the KAC-M1824BT fully compatible with a typical source unit as well, and also provides signal output for a subwoofer amplifier. The other point worth noting is that the Kenwood amplifier develops roughly double the amount of power in a typical radio!
There are no other controls, so there is nothing to be adjusted or set. Gain is fixed and there are no crossovers. The Bluetooth control module is quite compact and can be installed almost anywhere. Despite its relatively compact size, the control buttons are easily manipulated with a gloved finger and have a nice tactile feel. You can select the source (Bluetooth or Aux), as well as control volume and change tracks on your Bluetooth device. A nice mounting cup is provided for custom flush-mounting of the controller. The KAC-M1824BT uses Bluetooth version 3.0+EDR, and the codecs supported include SBC, AAC and aptX.
LISTENING
My listening session with the KAC-M1824BT is fairly straightforward, consisting of a CD player driving the RCA inputs and my HTC One phone streaming music. The first Bluetooth pairing is fast and simple, and in less than a minute I'm streaming music to the amp.
I begin with a playlist on my phone containing very good quality recordings from various audiophile CDs (AAC and MP3 files at 320 kb) and did some listening. Given the small footprint of the amp, my expectations were not all that high, but I'm pleasantly surprised. Beginning with some of Manhattan Transfer's biggest hits, I'm pleased with the musicality and natural sound produced by the KAC-M1824BT. Some full-range Class D amplifiers I audition have tended to add a bit of "bite" or harshness to horn sections, and occasionally they tend to be a bit sibilant especially with female vocals and cymbals. None of that is found in the Kenwood amp.
Moving on to some rock tunes from Deep Purple, Rush, Frank Zappa and Supertramp, I'm impressed with the amp's ability to produce tight, controlled bass, while still providing a nice articulate top end from the front channels. Pushing the volume higher, I eventually reach the amplifier's limits, but at volume levels much greater than I expected. The overall performance is actually better than I had expected. I drive the amp pretty hard on all kinds of music for a couple of hours and the heatsink is barely warm to the touch, indicating the amp's high-efficiency Class D topology.
PERFORMANCE/BENCH MEASUREMENTS
On the test bench, the amplifier meets all of its published specifications, performing exactly as expected.
CONCLUSION
The Kenwood KAC-M1824BT is an excellent choice for any sort of Powersports vehicle or motorcycle. It has very low current requirements and good thermal management. Plus, it has more power than you'd expect and it's very easy to install and use. Couple all of the above with a suggested retail price of only $400 in Canada and a bit less in the U.S., and it becomes an affordable, high quality solution for taking your tunes wherever your favorite vehicular activities take you.