At the uppermost level of Kenwood's amplifier lineup is the eXcelon "Reference-Fit" series. In that list, perhaps the most impressive amp is the five-channel XR900-5. Rated for a maximum total power of 900 watts into 2 ohms, but only measuring 10.3 x 6.7 x 2 inches, it's amazing to think this one amp can drive an entire system.
FEATURES
The eXcelon XR900-5 is designed to be the only amplifier you'll need, while fitting almost anywhere you have small amount of space. The all Class D amplifier includes basic features such as variable high-pass crossovers for the four main channels and of course, a complimentary variable low-pass crossover for the sub channel. In addition, a bass EQ control provides up to 18 dB of boost at 40 Hz. Connections are made via screw terminals on the top of the amp that are hidden by a removable brushed aluminum panel. The amp accepts up to 10-gauge speaker cable and 4-gauge power cable. Four-gauge cable will be required because at full power, the eXcelon XR900-5 needs all of the current possible to pass through its three 40A ATC fuses. Thanks to Class D efficiency, the vast majority of the power consumed by the amp is converted to audio, but with 900 watts on tap, a built-in cooling fan keep the thermals under control.

LISTENING
Always my favorite part of the evaluation, I connect the Kenwood amp to my listening room system. After setting just the gain to properly match the output from my preamp (I use about 10 dB of gain overlap for those of you who care about such things), I leave the main channels in all-pass mode, set the subwoofer for about 80 Hz, the EQ flat, and settle in for some listening.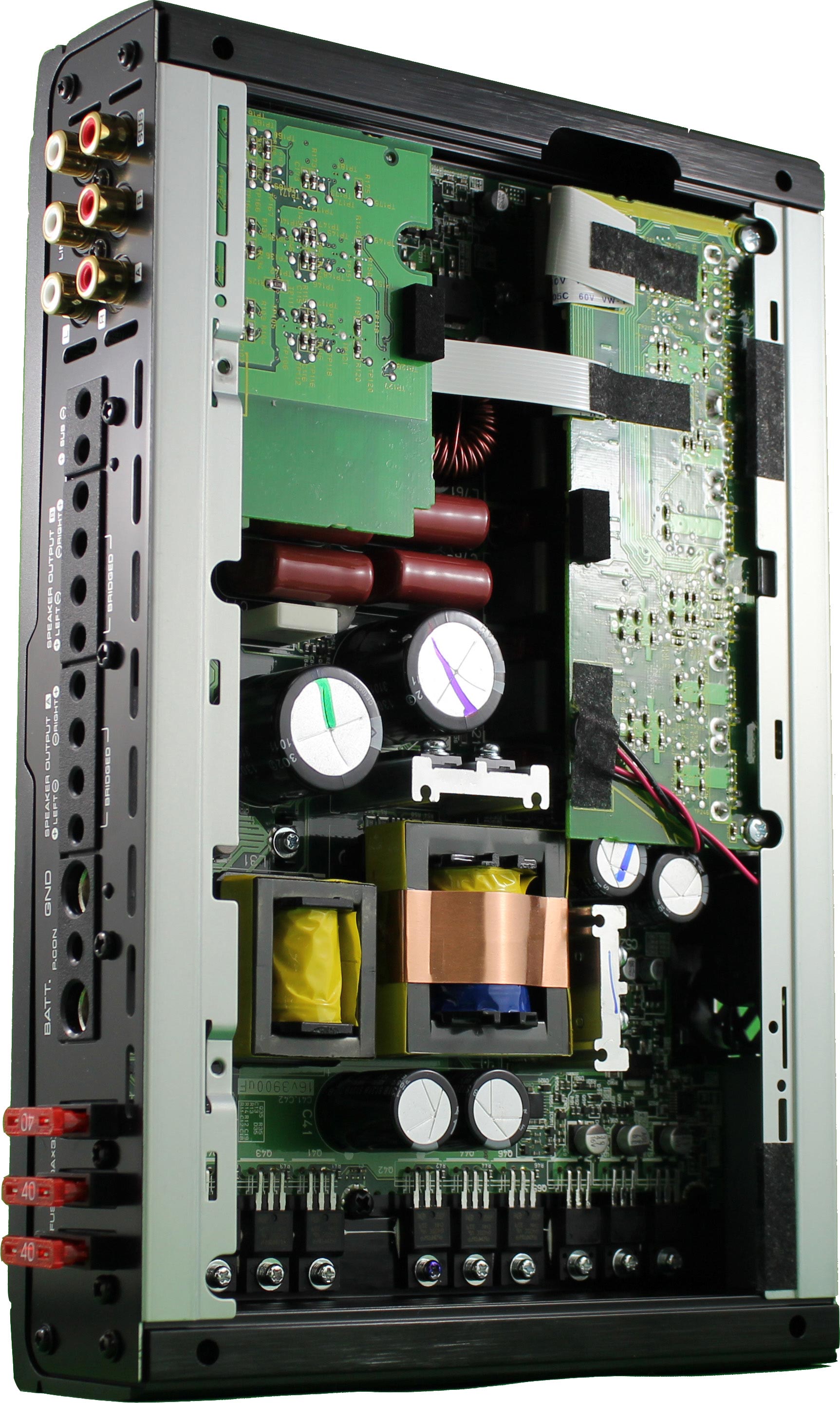 Driving a pair of ultra high-end 6.5-inch component speakers in custom cabinets, the XR900-5 sounds nice and transparent, with no apparent sonic signature of its own. This is precisely what a good amplifier should do – simply amplify the signal without adding any noise or alteration of the music. I listen to a few favorite tracks including the complex and detailed A Day in Tunisia by Spies, and Ride of the Valkyries by The Cincinnati Pops Orchestra. Both of these tracks sound very lifelike, with plenty of energy and a good sense of "air" that comes with these amazing older Telarc recordings. Don Dorsey's synthesizer work and Neil Peart's drum solo (The Rhythm Method) prove the eXcelon amp has good control of the loudspeakers. Even at high volumes the sound is tight and accurate; the dry decay of Dorsey's synthesizer being reproduced faithfully and no unwanted ringing or overhang in Peart's astoundingly-good drum work.
The stereo image is very good and as I mentioned, the sense of space I heard makes things almost three dimensional. This was particularly evident during Mannheim Steamrollers "Dancing Flames," where I actually opened my eyes and looked around at one point. I listened to it at fairly high levels for a period of time and when I disconnected it, I noted the chassis was quite warm. But yes, it sounds pretty good.

ON THE BENCH
The next morning and it's bench-testing time to see what sort of specifications I can wring out of the XR900-5. Overall, the amplifier proves to meet or exceed each of the published specifications, but there are one or two minor niggles that I think are worth mentioning.
First, the warm chassis I experienced during my listening session is repeated on the bench, where I managed to get the amplifier downright hot. The XR900-5 has two different methods of thermal control. The first is of course the fan, which does a good job of pulling hot air out of the amp and drawing cool air in on the opposite side – but it can't keep up. To remedy this, the second method is a clever scheme that reduces the output power of the amp as you are listening to it, without having to shut the amp completely down. This happens quite imperceptibly, and most people will never even know it's happening. But the power reduction occurs quite soon if you drive the amp near its power limits, and even sooner if you are using 2-ohm loads.
The second niggle is the lack of a subsonic filter. This is not an inexpensive amplifier and I believe for the money, this feature should have been included – particularly when you consider that most Kenwood woofers are quite compatible with vented enclosures.
The amp also lacks any sort of input signal steering, and must be used with three pairs of RCA inputs. It's also sans any remote level control for the woofer channel. I suppose the omission of these two features could be explained by assuming such a high-end amp will also be driven by a high-end source unit, with three pairs of pre-outs and a separate volume control for the subwoofer output.

CONCLUSION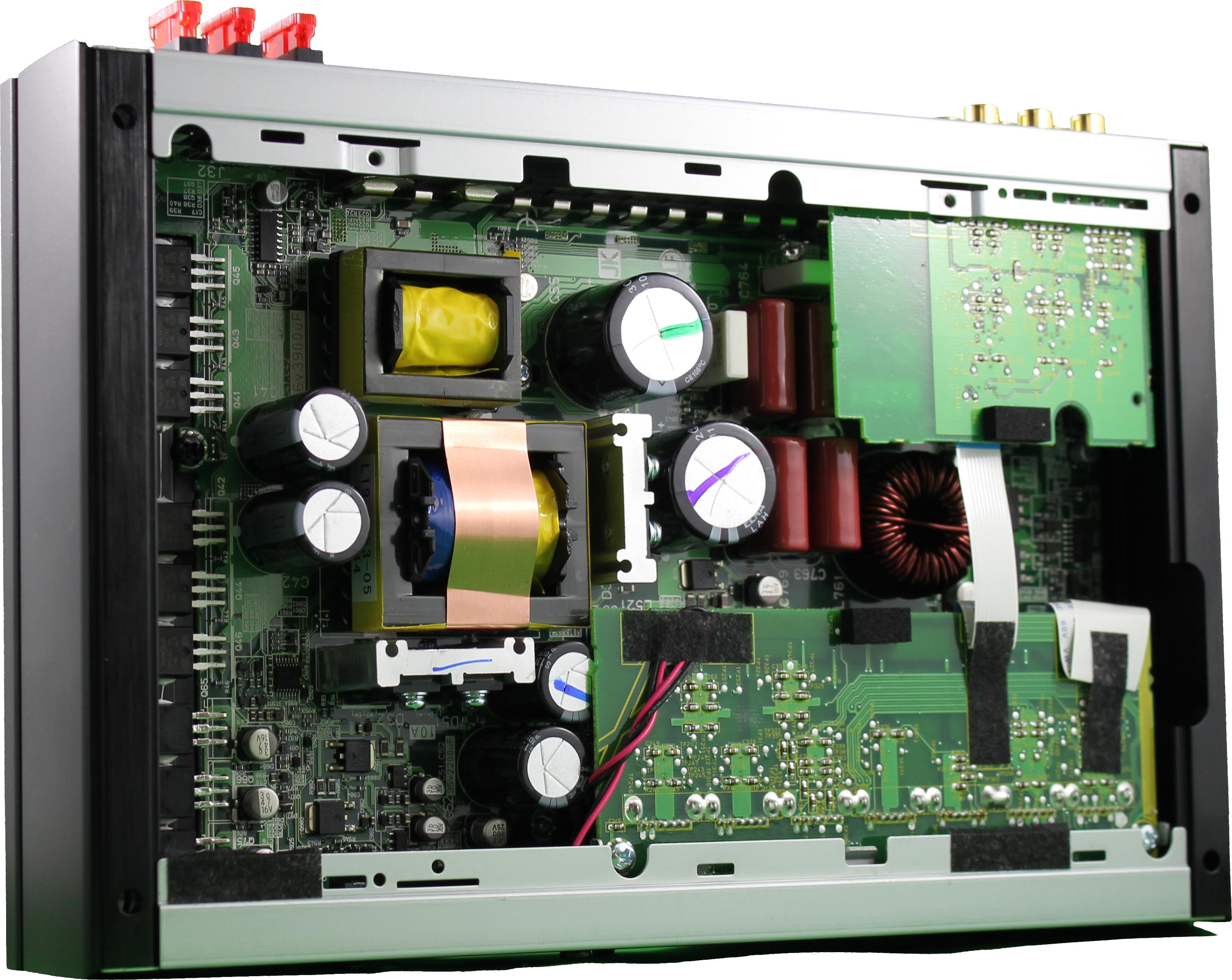 Overall, the Kenwood eXcelon XR900-5 amplifier is well built and packs prodigious power into a very tidy package. It sounds good, has a great two-year warranty, and can be a simple, one-amplifier solution for an entire system. It is a great choice for anyone who wants an unobtrusive yet high-performance audio system for the occasional loud song, rather than headbanging at wide-open-volume all the time – a refined amplifier for refined tastes, perhaps. Drive it with a head unit worthy of its performance, put your woofer in a sealed enclosure, and you could have a system to enjoy for many years.