When it comes to designing and manufacturing a truly good sounding loudspeaker, there is as much art in the process as there is science. No company understands this better than Focal. This is a company that is known for building some of the best sounding home and car speakers for the past three decades, so they know a few things when it comes to building loudspeakers.
There are a few key concepts that Focal understands very well, like keeping the moving diaphragm of the loudspeaker low in mass so that it can accelerate and stop quickly. It must also be very rigid so that it functions well as a piston and does not deform when moving or changing direction. And lastly, it must be well damped to prevent unwanted coloration of the sound.
Adhering to these concepts is more difficult because each of these properties contradict one another in several ways. For example, stiffness generally means more material and therefore more mass. Not good for accuracy. Low mass is also difficult to damp properly, so sound coloration occurs.
Features
In an effort to resolve these issues without resorting to ultra-expensive space age materials, the engineers at Focal developed a "sandwich" technique of cone manufacturing that enables them to combine modern composites with natural materials. While thin skins of fiberglass prove to be the optimum material for rigidity, a lightweight yet strong and well-damped material is required for the core of the sandwich. Focal went looking for a material consisting of non-woven fibers that could be formed into a cone by an automated stamping process to keep costs down.
The best material available happens to be a common crop in France – flax. Flax is also used for linseed and flax oils, but in this case, the real focus of the crop is on the plant's naturally straight and strong fibers. One of the oldest textile fibers known to man, flax has been used to make fabrics and paper for many centuries. It is very low in mass (thanks to a hollow center) and its cellular structure provides excellent natural damping. In addition to its low mass and natural damping, flax is also very strong with a Young's modulus of 60GPa, which is similar to Kevlar fibers or aluminum!
The Focal engineers are so impressed with the potential of this material that you will see it used in many of the brands finest loudspeakers in the future, for both car audio and home audio lines.
My first experience with flax cone speakers is a set of Performance Expert Series PS 165 FX components, which have a list price of $599.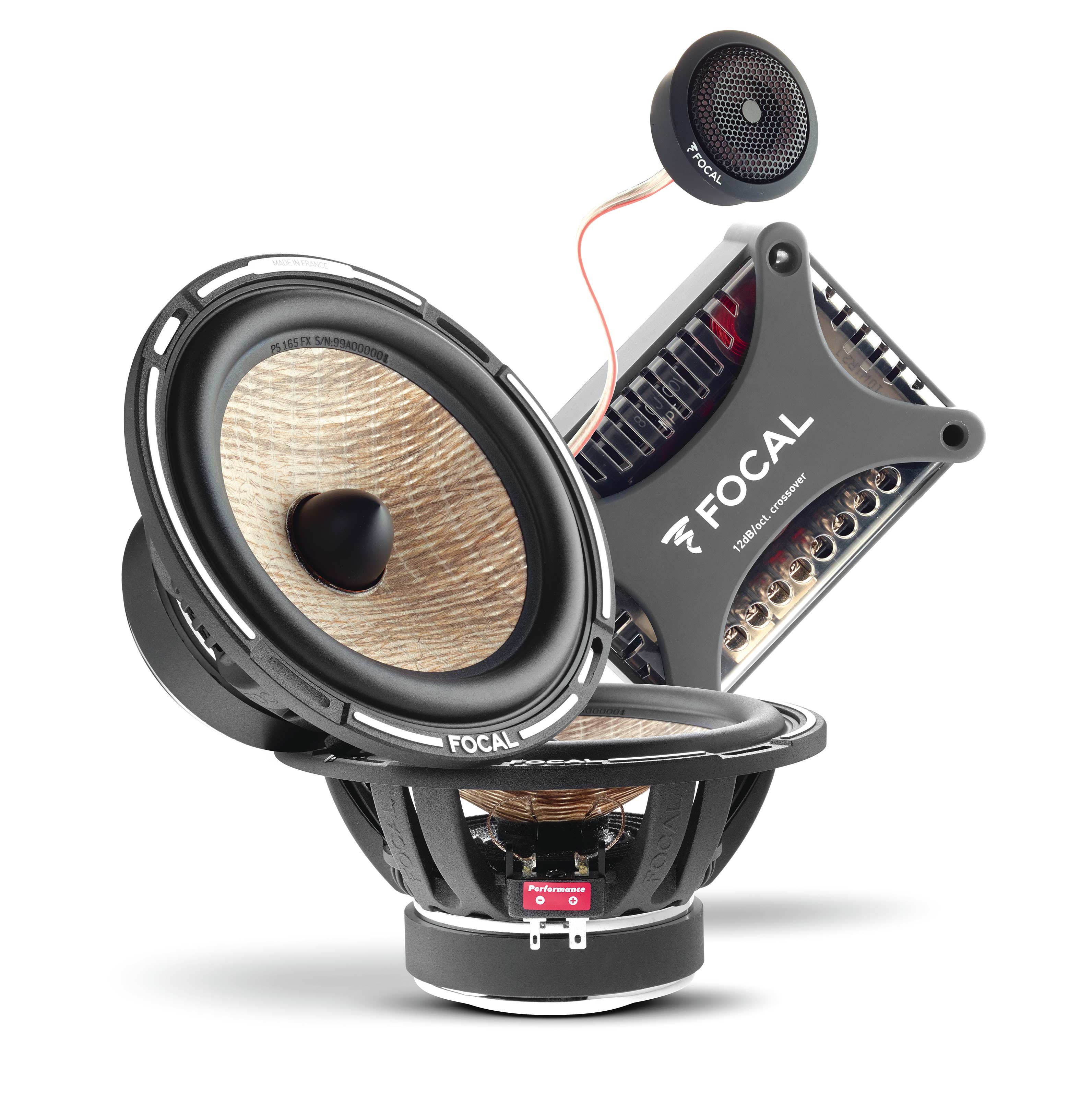 The 6.5" midrange obviously utilizes the breakthrough technology flax cone augmented with a butyl rubber surround and specially-shaped phase plug. Focal goes to great lengths to discourage thieves, to the point of actually engraving the speakers serial number right on the inner edge of the surround where it attaches to the cone. The midrange driver is built on a nice cast aluminum basket and the moving assembly is driven by a 1.25-inch voice coil, powered by a 3.6-inch ferrite motor. Flat spade type electrical connections are integrated into the basket and are solidly mounted. The motor assembly features chrome plated top and bottom plates. The whole driver has a "high end" look and feel.
The PS 165 FX tweeter is equipped with an aluminum/magnesium alloy inverted dome and PORON urethane suspension for long life and reliability. The tweeter comes with flush-style mounting cups or angled surface mount pods.
The crossover modules included in the kit are fairly typical in size, but they include the ability to bi-amp the system and use high-quality components inside. You won't find any iron core inductors or electrolytic caps here -only air core inductors, mounted correctly to prevent magnetic interference, and polystyrene capacitors. There are two available adjustments in the crossover: a switch that changes the level of the tweeter by 3 dB, and another that has a similar effect on the upper midrange. These adjustments are designed to provide optimum system performance across a wide range of mounting locations. As an added luxury, the outer surface of the housing is coated in a very nice soft touch material.
Listening
I mount these speakers in my listening room baffles and sit down to evaluate my first flax cone loudspeakers. I'll admit that before I began, I was skeptical about the system. I have been less than enamored with a few high-end Focal systems in the past few years, and it seemed to me like they'd lost their way in car audio. Plus, I've never been a real fan of metal dome tweeters.
Well, I couldn't have been more wrong. The first track I play was Anders Osborne's Trippin' in Montana. This is a very good recording, with plenty of subtle but interesting detail. The Focal PS 165 FX components sound spectacular. Good enough in fact to make me play the song twice. Suitably impressed, I move on to some other favorite tracks that can quickly reveal a loudspeaker's shortcomings. I listen to acoustic piano and guitar, solo horns, very revealing female vocals, and rich harmonies. Regardless of the tracks I choose, the Focals do a superb job of reproducing the music with very little coloration. I note too, that these speakers don't mind playing loud, they don't sacrifice sonic excellence as the volume goes up. And as far as the metal dome tweeters go, somehow even recordings that tend to be on the sibilant side sound better on this system.
I listen, then listen some more. I listen long enough that I've actually lost track of time. When I finally have my notes complete, I realize I'd been auditioning these speakers for over four hours! After all that, you have to know these are fairly extraordinary speakers. I've heard many home bookshelf systems that would not outperform this new Focal system. Folks, the flax fiber works.
Conclusion
I'll admit I was a bit skeptical when I first read about the use of flax fiber as a cone material, but the PS 156FX system has made me a believer. The system is accurate and natural sounding as some other systems I've tested that cost almost twice the price. Sure, 600 bucks is a lot of money for a pair of car speakers, but if you are a serious listener, when you hear these you'll understand why they are worth every penny and then some.
Measured Tech Specs
| | |
| --- | --- |
| Power Handling | 80 watts RMS |
| Crossover, Woofer | -12dB per octave |
| Crossover, Tweeter | -12db per octave |
| Frequency Range | 55-28000Hz |
| Sensitivity | 87.3dB/SPL @ 1W/1M |
| Nominal Impedance | 4 ohms |