When upgrading the performance of your OEM car stereo, usually the first thing people change is the radio. As we do the majority of our personal interfacing with the stereo, we subconsciously reserve it as the most important piece of audio equipment. In actuality – from a sonic perspective – it is probably the one thing that makes the least bit of difference. Nine times out of 10, the biggest performance gains are made by replacing the OEM loudspeakers. Here we are looking at a new set of coaxial speakers from Powerbass that retail for $100, which should give you an idea how to make real improvements in your sound quality without spending a lot of money.
Quick Tech Specs
| | |
| --- | --- |
| Power Handling | 90 watts RMS |
| Frequency Range | 70 Hz - 21 kHz |
| Sensitivity | 89.8 dB/SPL @ 1.41V (1W) |
| Nominal Impedance | 2 ohms |
Features
The new Powerbass L2 coaxials have been completely redesigned and specifically engineered to replace the OEM junk that came in your car. To take full advantage of the OEM amplifier, the L2 speakers utilize 2 ohm voice coils, maximizing power delivery and allowing you to get every last watt from the OEM amplifier. The system I received for review is the L2-702 model, which is a 7-inch, two-way design. By increasing the cone area as much as 20% over a typical 6.5-inch speaker, the L2-702s should be more efficient and have better bass response. To match the increased output of the woofer, the system also uses a 0.75-inch aluminum tweeter coupled with a new "L Series Waveguide" to improve dispersion and provide smoother high-frequency output. The non-adjustable tweeter is Ferrofluid cooled to improve power handling and overall speaker reliability.
| | |
| --- | --- |
| | |
The L2-702s are built on proprietary custom-tooled stamped steel baskets, and according to Powerbass, are coated with a "non-resonant basket treatment" to prevent the basket from adding unwanted resonance to the sound. The speaker is also relatively shallow, with a required mounting depth of only 2.4 inches.
According to Powerbass, the cone material is a blend of polypropylene and carbon fiber for low mass and high strength. Connecting the outer edge of the cone to the surround is a butyl rubber surround, again chosen for its high performance characteristics at all power levels.
The L2-702 kit comes with all required mounting hardware, including quality butt splice connectors.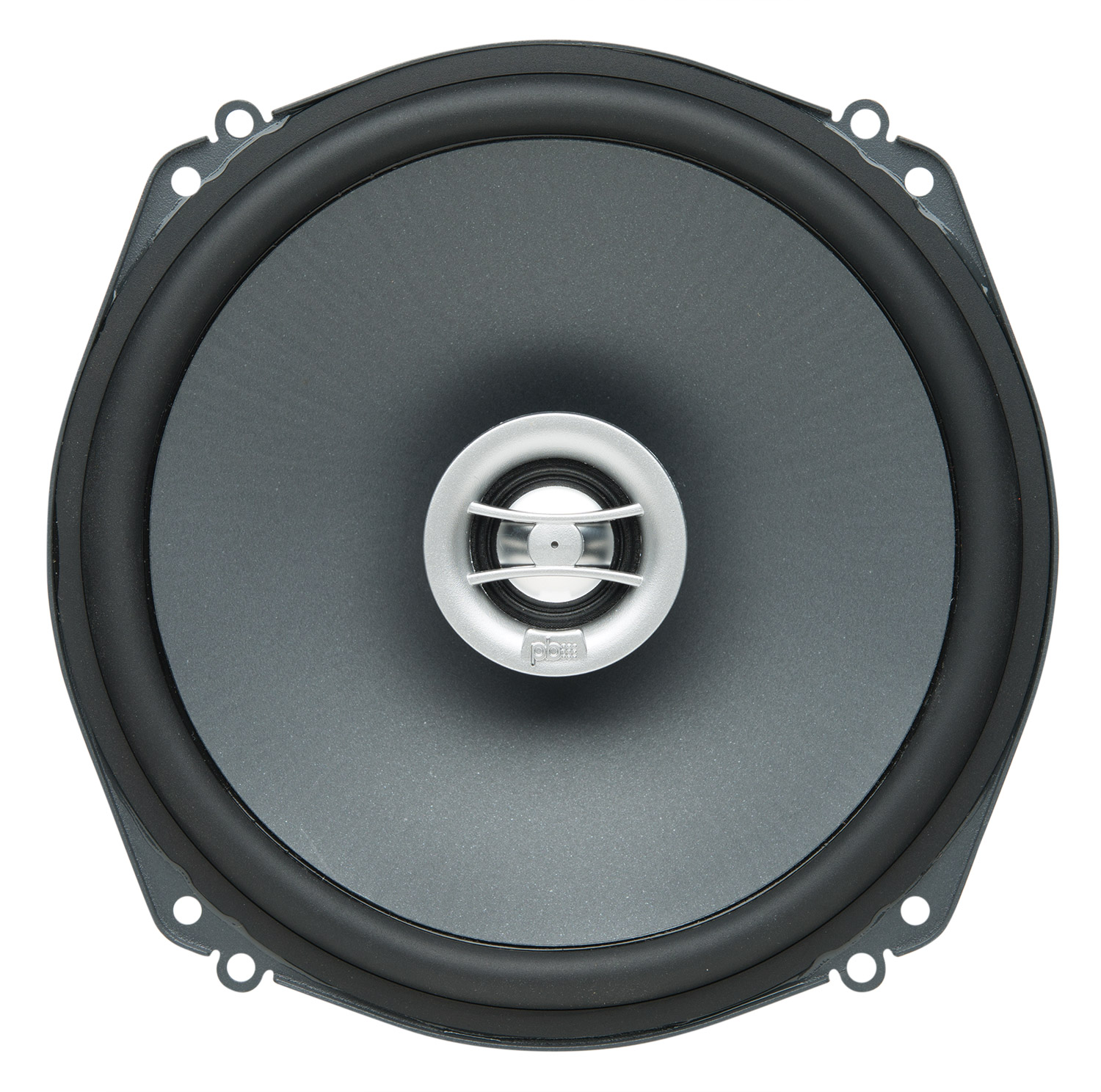 Listening
When choosing replacement speakers for your ride, I'm a big advocate of listening to a potential speaker system with some very familiar music before plunking down your hard earned money. The speakers that sound good to one person may not sound good to another – and that's fine. Listen carefully and choose for yourself when buying speakers. This is one area where traditional brick and mortar stereo stores have a huge advantage over their online competition. Go in with some favorite tunes and have a listen, then decide what you like.
I quickly installed the system on the baffle board in the lab, and sat down for some listening evaluations. Over a wide range of musical artists and genres, I find the L2-702 coaxials to be relatively smooth and pleasant, with very good clarity in the mid bass range. Female vocals are clear, distinct and quite uncolored. For a simple and inexpensive set of coaxials, the L2- 702s are surprisingly good. Acoustic guitar and horns had realism and detail that is sometimes lacking in many coaxes. The upper mid range is a bit subdued for my personal taste, but other listeners may disagree. Surprisingly, I find the aluminum dome tweeters to be very smooth and unobtrusive, which isn't always the case with an entry level aluminum dome tweeter. If anything, I note they may be a bit too "polite," and think they lack a bit of "sizzle" and brilliance. However, in a car where reflections and high frequency output will definitely increase, it might prove to be very pleasing.
If you are one of the many people who find the current crop of car audio tweeters too bright and shrill, you might appreciate the smooth and slightly subdued tweeter in the L2-702s.
During my listening session, a friend of mine drops by and comments on how amazing these speakers sound. While they don't hold quite as much appeal for my taste as they do for her, it simply reinforces what I mentioned earlier, choosing a speaker is a very personal decision – you have to hear them with your favorite tracks and judge for yourself.

On the bench
As I always do, I complete all of my listening notes before making any technical measurements on the system. The resonance of the L2-702 system was right at 72 Hz, which is great for a mid-range/mid-bass driver.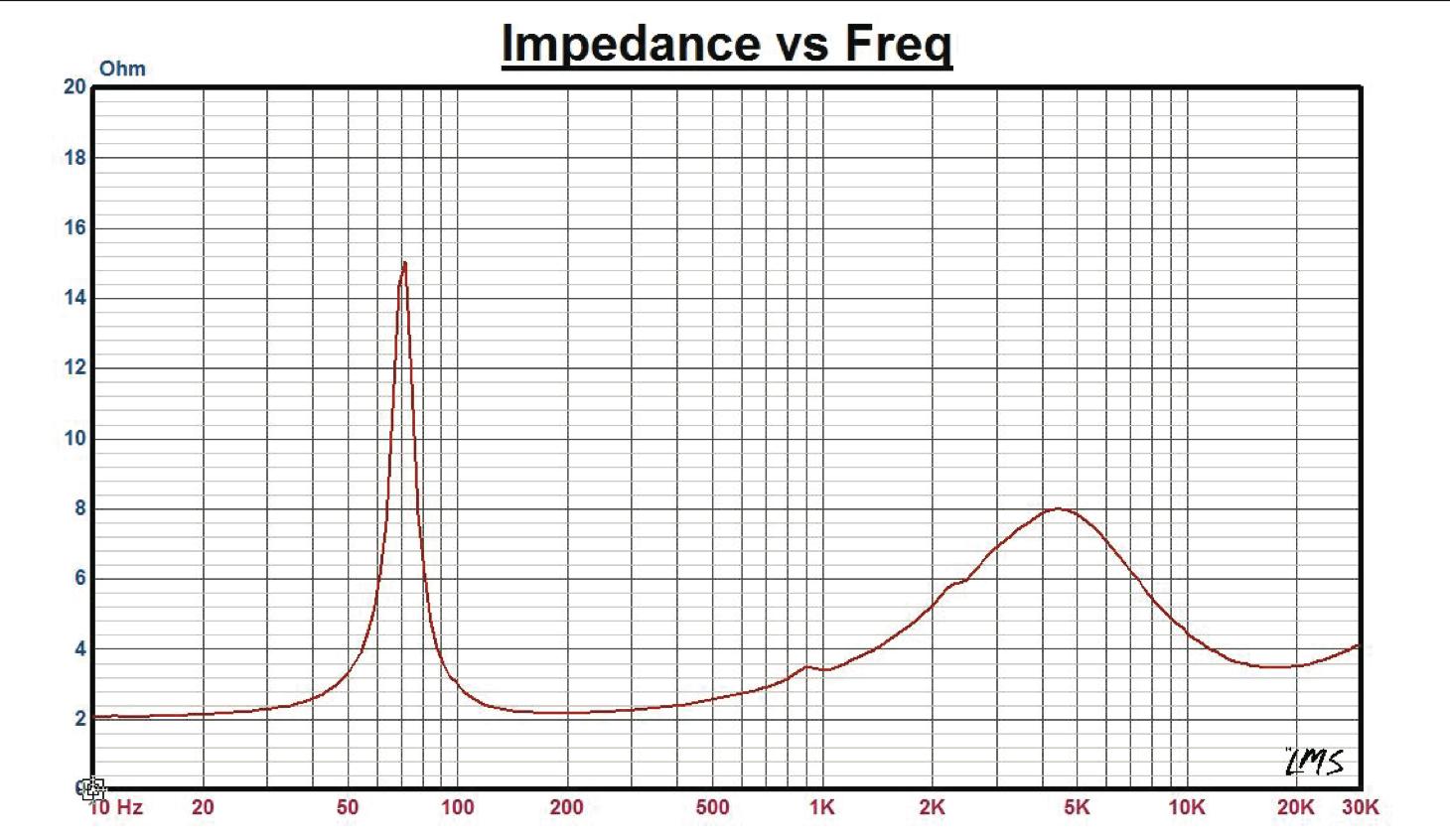 This graph shows the actual impedance of the coaxial system across the frequency range. This is the load your amplifier will see at these frequencies. With a resonant frequency of 72 Hz, I suggest using a high- pass crossover point of approximately 75- 80 Hz for maximum power handling and reliability.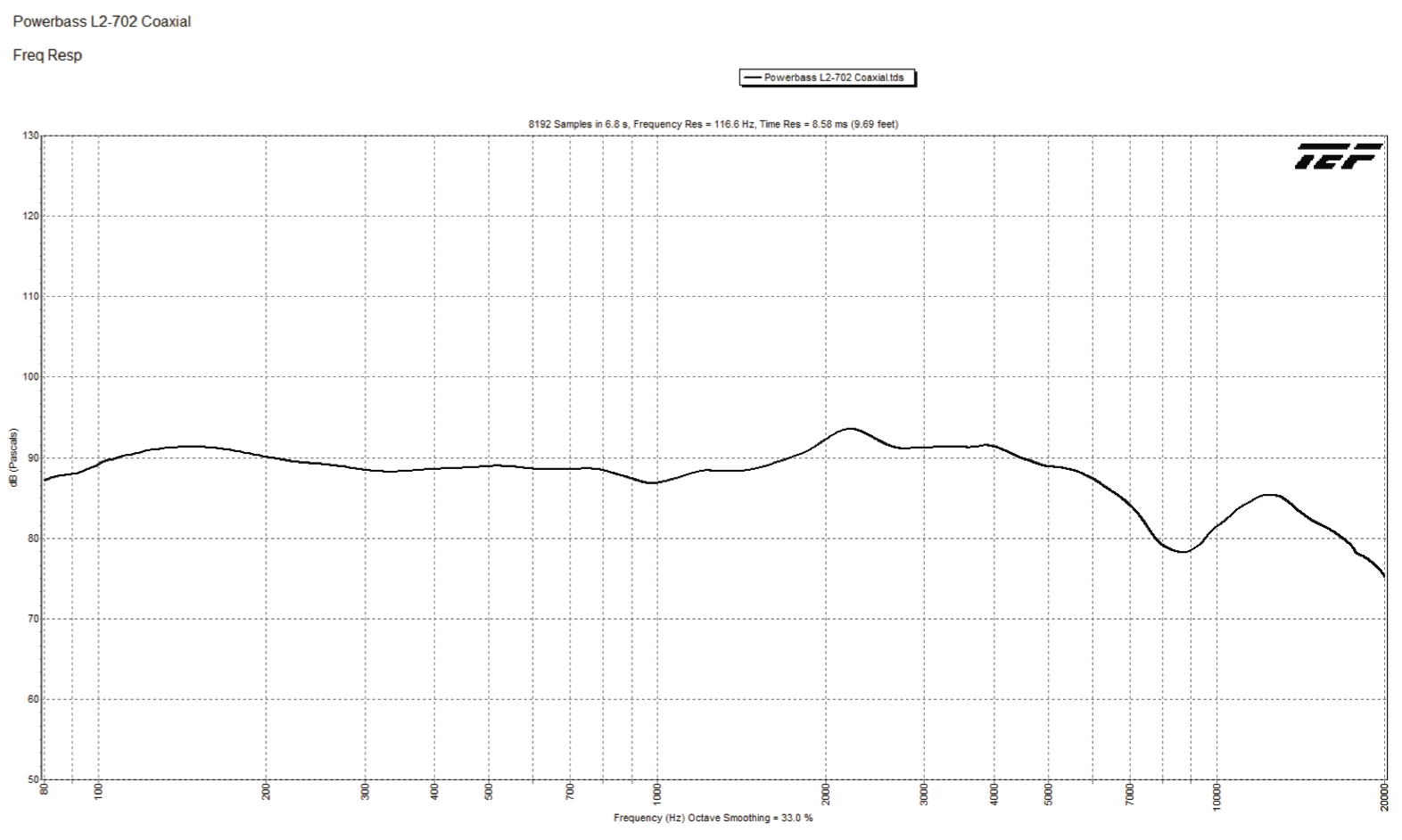 This graph is the actual on-axis measured response of the Powerbass L2-702 coaxial system.
Conclusion
The Powerbass L2-702 system has a lot of things going for it when you are looking to upgrade your OEM speakers. The system sounds remarkably good and seems to be well made for very little cost. I suggest checking these out for yourself at your local Powerbass dealer to see what kind of improvement you can make in your stock system for just a small chunk of change.