Someone once said, "louder is always better." For our readers who adhere to that credo (we know who you are), Orion has developed a special line of midrange drivers just for you.
These high efficiency drivers are designed to provide the user with more SPL per watt than a traditional coaxial or component system, while at the same time, handle far more power than a normal coax or component speaker. The HCCA high-efficiency midrange drivers are available in sizes ranging from 6 to 10 inches, in either 8 or 4 ohm impedances.
Designed from the ground up to be as efficient as possible and sound good while they're at it, these midrange speakers are for anyone who simply wants louder playback while maintaining fidelity. They are not sold with tweeters (as they already have a fairly high frequency cutoff), but they could easily be added to the system. In fact, you might want to take a look at the Orion HCCA TN-1 bullet tweeters, which are about the only ones I can think of that could keep up with these midranges.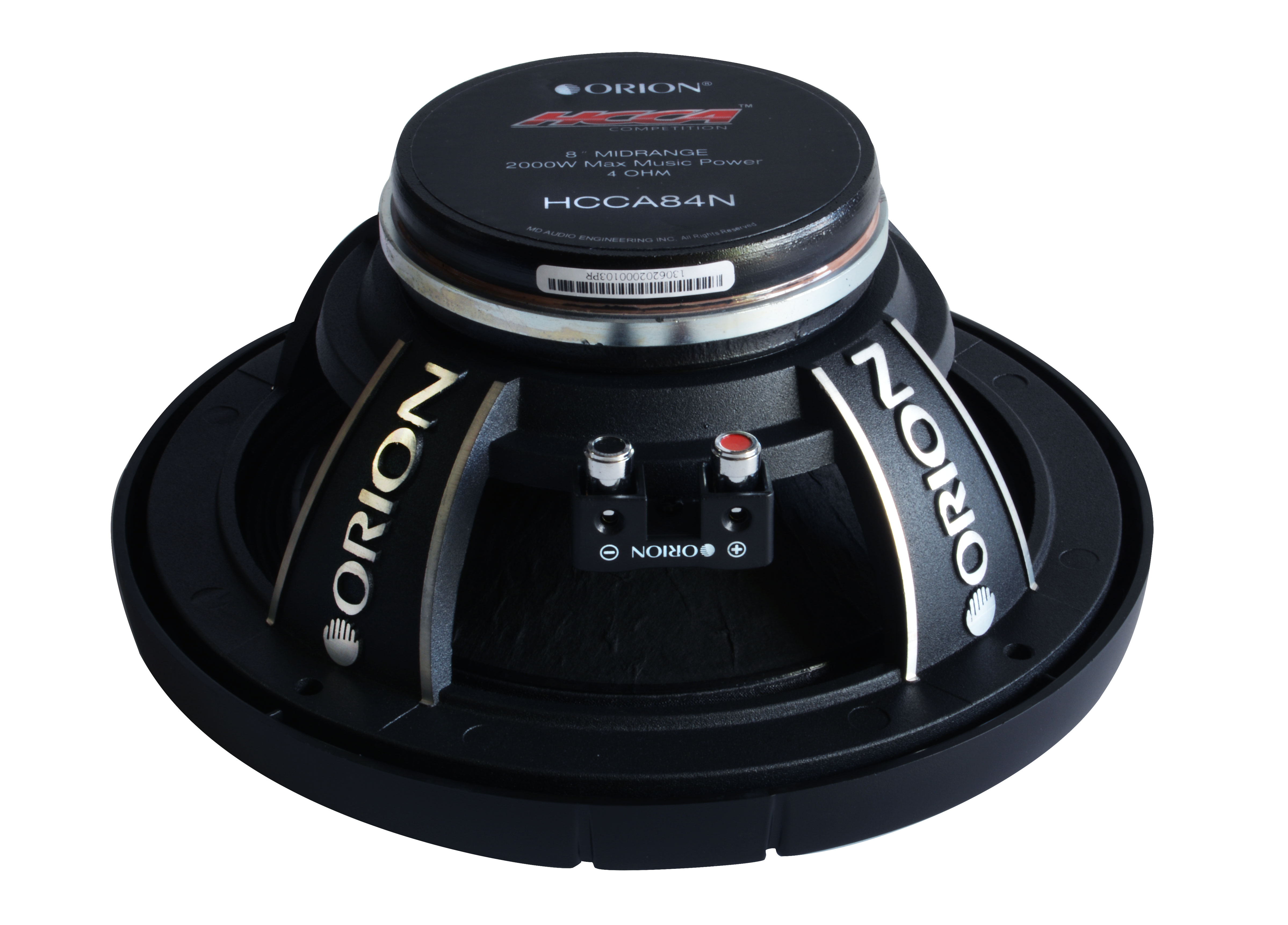 The midrange drivers are built on rugged cast aluminum baskets, with four fixed-location mounting holes. The cones are formed from pressed pulp fiber for very low mass and good sound. Surrounds are the corrugated fabric type, used to reduce moving mass and retain maximum efficiency. In the center of each cone is a very nice machined aluminum phase plug, which gives these speakers a true "professional" appearance. The lower side of the moving assembly is centered and damped by a linear poly-cotton spider, which also integrates the high current flat braided tinsel leads. The ruggedly mounted electrical terminals are spring loaded and will accept up to 10-gauge wire.
The voice coil diameters range from a hefty 2 inches on the 6.5-inch units, to a massive 3-inch coil on the 10-inch drivers. All of the high efficiency midrange drivers utilize copper windings on Kapton formers for very high power handling, with continuous ratings from 450 to 700 watts depending on the driver size. In addition, the entire speaker is driven by an ultra high performance neodymium motor for maximum Bl product and output.
The Orion HCCA High Efficiency Midrange Speakers are sold with a one-year warranty when purchased and installed by an authorized Orion dealer.
So if your conventional speakers just aren't loud enough, or if turning your vehicle's stereo into a portable DJ system appeals to you, head down to your local Orion dealer and check these out for yourself.
HCCA Midrange Speciifcations
| | | | | | | |
| --- | --- | --- | --- | --- | --- | --- |
| Power Description | HCCA654NHP | HCCA84NHP | HCCA104NHP | HCCA658NHP | HCCA88NHP | HCCA108NHP |
| Size | 6.50" | 8.0" | 10" | 6.50" | 8.0" | 10" |
| RMS Power Watts | 450 | 650 | 700 | 450 | 650 | 700 |
| Nominal Power Watts | 900 | 1300 | 1400 | 900 | 1300 | 1400 |
| Max Music Power Watts | 1800 | 2600 | 2800 | 1800 | 2600 | 2800 |
| Impedance | 4 ohm | 4 ohm | 4 ohm | 8 ohm | 8 ohm | 8 ohm |
| Voice Coil | 2.0" | 2.5" | 3.0" | 2.0" | 2.5" | 3.0" |
| Efficiency | 98.8 | 102.8 | 103.9 | 99.1 | 102.9 | 103.9 |