When it comes to woofer choice, some folks want audiophile bass, others want boom for cruising, and still others want the highest power handling and SPL possible. If you fit in to any of those categories, you might be interested in the subject of this review – the improved Orion HCCA154 15-inch dual voice coil, competition-grade subwoofer. The HCCA "Black Coil" Series is the cream of the crop from Orion, with ultra heavy-duty construction, performance and reliability that's come to be expected from the legendary brand. The woofer has a retail price around the $500 mark, and for that money you get a serious and capable purpose-built woofer, rated for 2,500 watts RMS of power.
COSMETICS
One look at the HCCA154 woofer and you know you're in the big leagues. The big Orion is built around a massive custom-tooled cast aluminum basket, powdercoated in high gloss red. Non-restrictive mesh vents allow you peer inside and observe the equally massive 4-inch voice coil. Then you get over to the motor assembly, which by itself is responsible for over 27 pounds of the woofer's 62-pound overall weight. The backside of the motor is constructed with built-in cooling fins and a vented pole piece.
From the front, the red basket is trimmed with a great looking CNC-cut, brushed aluminum trim ring with aluminum HCCA logos painted in matching red. The outer cone and dust cap are polypropylene with a heavy duty paper cone underneath. The woofer is finished very nicely and looks great. It definitely stands out.

LISTENING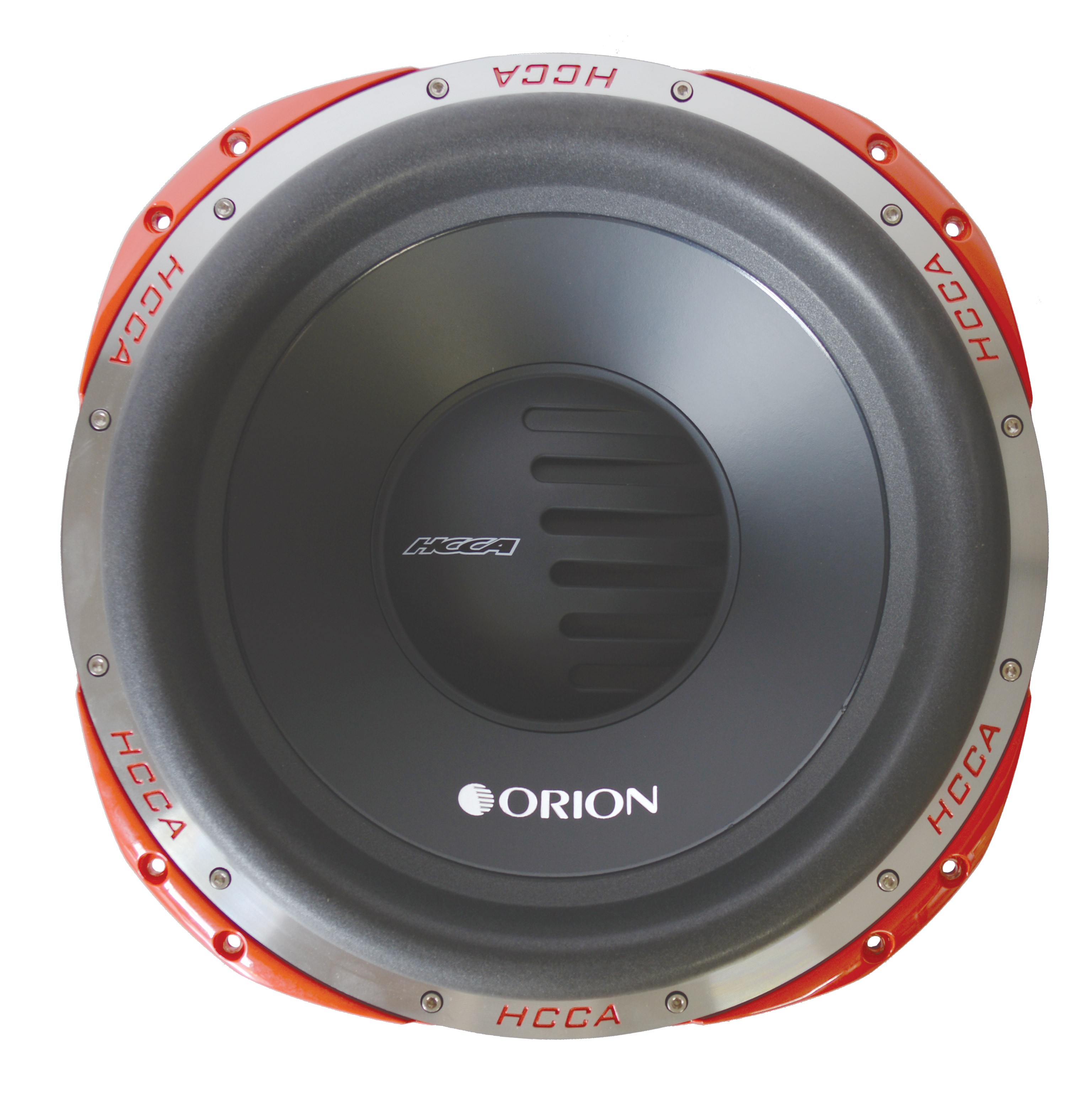 The HCCA154 owner's manual provides plenty of great information to get the most from your system, covering a wide variety of install configurations. It is a well-written book, and it's worth reading, even if you've installed as many woofers as I have.
I choose to do my most of my listening in a sealed enclosure with an internal volume of 3.5-cubic feet. Power for this brute comes from my largest reference amplifier – a Crown Macro Tech MA-5002 – which will deliver over 2,500 watts of clean power into 2 ohms.
After an eight hour break-in period, I mount it securely in the enclosure and connect the largest amplifier I own, set the electronic crossover for 80 Hz at -12 dB/oct, and listen to some of my favorite low-frequency woofer tracks.
One of these is Avril Lavigne's Sk8er Boi. There is some low frequency information in the beginning of this track that can really surprise you if you've not heard it on a serious system before. (Note: One of my friends who didn't own a decent audio system was so shocked when she heard this track on a good system she actually went out and bought a new stereo because she realized what she was missing. What are you missing?).
On tracks like the Pussycat Dolls' Don't Cha, and Bachman Turner Overdrive's Not Fragile, the Orion rocks the house and has enough output that the next-door neighbor even comes over to have a listen too! Changing musical gears to some well-recorded and detailed bass tracks, I find the HCCA woofer to be quite decent at reproducing the details in most tracks. Very critical listeners will notice some overhang and lack of definition, but let's face it – the HCCA woofer is made for those who like it loud and proud, not a sound Q tweak.
Overal, general tonality is enjoyable – the bass never sounds muddy or overly resonant. The woofer does like abundant power, so I suggest at least a good 1,000 watt amplifier (or more) if you can afford it and have the electrical system to power it.

ON THE BENCH
After my listening session I let the woofer cool overnight and fire up my trusty Klippel to analyze the Thiele-Small parameters. I noted in the manual the factory chose to provide the parameters for a series wiring configuration, but being a dual 4 ohm version, I think a parallel configuration is more appropriate. So below you'll find the parameters for both wiring configurations. It's common for woofer specifications to be as much as 20% different between samples, but my measured data is significantly different than what is in the owner's manual. It does say that certain specifications are subject to change without notice, so perhaps there have been a few changes since the original specs were measured. At any rate, the woofer measured well, and the results are below.

CONCLUSION
The Orion HCCA154 woofer is meant to deliver good sound and very high SPL levels for a long period of time. Build quality is top notch and thanks to the field rebuild capability, it's a great choice for serious SPL contest participants as well. If you like it loud and have the power available, it's a tough woofer to beat. Check one out at an Orion dealer near you, or take a look at the entire lineup online at www.orioncaraudio.com.