For a long time now, Phoenix Gold has been producing top quality, high performance car audio products. Over the years, the brand has earned a reputation for rugged, 'over-engineered' gear that's designed from the ground up to handle the abuse of its most enthusiastic customers.
The new SX series of subwoofers is a great example of this philosophy. Built with larger-than-typical motors, heavier steel frames and large diameter voice coils, the SX woofers are designed to sound great and handle pretty much whatever you throw at them.
The most popular model is the SX112d4, a 12-inch dual voice coil subwoofer with a suggested retail price of around $300. We put one of these woofers through the paces here in the lab to see how it performs.
FEATURES
The Phoenix Gold SX112d4 is built on a heavy-duty stamped steel basket. Where most other woofers in this price range use thinner one-millimeter steel, the basket on this woofer measures a stout 1.2 mm, giving it more inherent strength to handle the weight of the magnet assembly, which is also larger than what you'll typically find. The magnetic motor assembly weighs in at a hefty 100 ounces, or 6.25 pounds! Whereas many woofers simply use "staking" (basically mushroomed steel posts) to attach the magnet to the basket, the Phoenix Gold woofer motor is fastened to the basket using six stainless steel machine screws and heavy-duty thread locker. The motor assembly is vented for maximum voice coil cooling, while the top of the vent is fitted with a mesh screen to prevent debris from getting into the magnetic gap.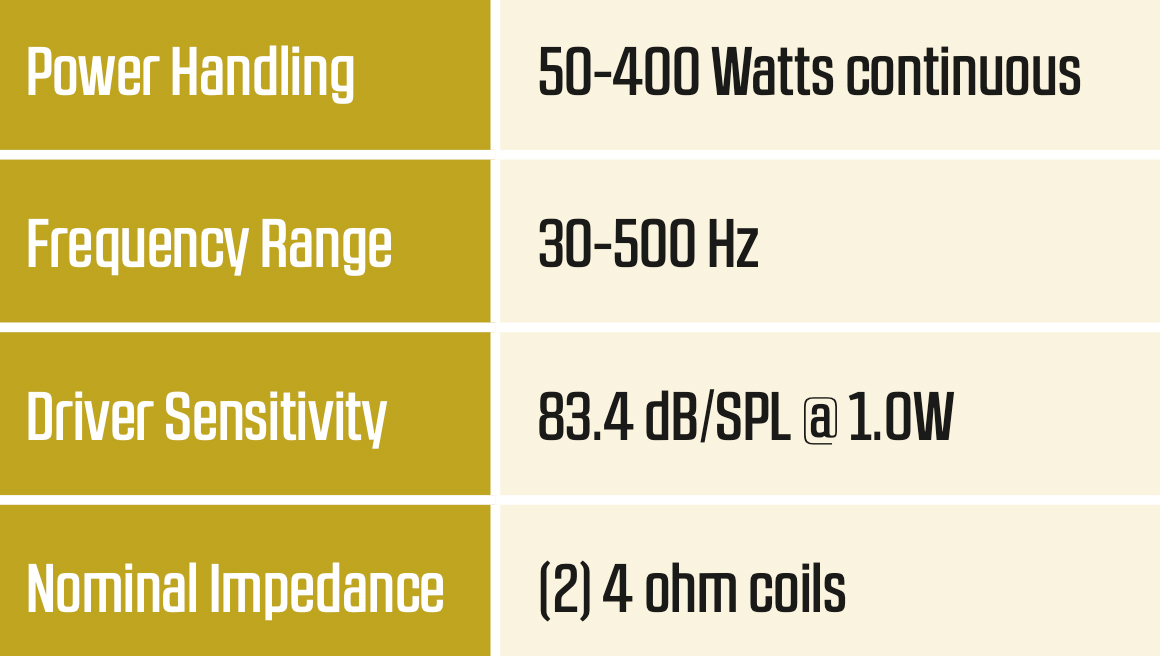 The four-layer voice coil is wound from oxygen-free copper wire onto a 2.5-inch black anodized vented aluminum former. The voice coil windings are rated for use up to 464-degrees Fahrenheit (240-degrees Celsius) in an effort to make the woofer as reliable as possible. The aluminum former connects to a heavy duty non-pressed paper cone, which is covered on the top by a large diameter polypropylene dustcap. Controlling the cone motion is a progressive type poly-cotton spider and a wide-roll butyl rubber surround.
Using specialized CAE/CAD analysis, the driver is designed for plenty of excursion capability, with advertised peak-to-peak travel of over 1.4 inches (35 mm).
Electrical signal transfer begins with two pairs of solid mounted nickel-plated spring-loaded terminals, which will accept 10-gauge wires easily. The musical signal runs through color-coded, insulated and braided tinsel leads which are wrapped in a light foam material to eliminate the possibility of any lead slap issues.
Cosmetic enhancements come in the form of a molded PVC magnet boot and mounting gasket. A nice metal badge is finishes it off at the rear of the woofer.

LISTENING
According to the owner's manual, the SX112d4 is designed to work in either sealed or vented enclosures, so I give it a whirl in both. I begin with a sealed enclosure with an internal air volume of about 1.25-cubic feet. This puts me right in between the recommended volumes for Normal and SQ.
After my usual break-in period to allow the driver suspension to loosen up and normalize, I mount it in the sealed enclosure and adjust my system's crossover for a second order low-pass filter at 80 Hz. Right off the bat I'm impressed with the sound of the Phoenix Gold. The bass is smooth and tight with good tonality. Instruments sound real and natural with very little ringing or overhang. The bass is tight, punchy and very musical.
Really low frequency extension is excellent too, making the subdued footstomp on Livingston Taylor's Grandma's Hands easy to hear. It rocks the house on low notes like those found in Avril Lavigne's Sk8er Boi and Fred Turner's growling bass in BTO's Not Fragile.
I go through more than a few of my favorite subwoofer test tracks, and can attest to the woofers ability to handle pretty much whatever you want to listen to.
Then it's on to the vented enclosure. For this test I choose the largest 12-inch vented box I have on hand, at 1.75-cubic feet – admittedly smaller than the optimum two- to 2.5-cubic foot volume the manual suggests. This enclosure is already tuned to 34 Hz, so after engaging my amplifier's subsonic filter at 30 Hz, I'm good to go. Going through the same list of songs in this vented enclosure, as one would expect, the apparent volume goes up noticeably, but at the expense of a bit more overhang and loss of that incredibly tight and crisp sound I got from the sealed design. But this isn't a bad thing, because many folks are more than happy to give up that last bit of SQ for four or five decibels of output. If it's my woofer, I would almost certainly choose the sealed system due to a smaller enclosure requirement and I really like the way the woofer sounds in the sealed box.
I run the woofer up to (and probably a bit over) its rated power handling of 400 watts quite a few times during my listening sessions. I never hear it complain or do anything untoward. So as long as you're not irresponsible with the volume knob, this woofer should provide years of great sound.

BENCH MEASUREMENTS
After my listening is over, it's time to move the woofer to the lab for some measurements. The Thiele-Small parameters measure pretty close to the published data and are certainly within the typical tolerances found in subwoofers. The free air impedance plot agrees with the rest of the data, and the in-box frequency response plots also match what I heard the day before.
| | |
| --- | --- |
| | |
CONCLUSION
With the SX series of woofers, Phoenix Gold has created a very flexible subwoofer line that will appeal to a wide range of customers and tastes. The SX112D4 proves it will work with anything from a very high quality SQ system to a boulevard boomer. It's also offered at a reasonable price that will fit into a wide range of budgets, making it a serious contender in the category.