From the folks in Oklahoma City comes the all-new Digital Designs M45 monoblock amplifier. Designed for high output power in a very small footprint, the new M45 brings all the performance and quality you've come to expect from Digital Designs in a smaller chassis that fits almost anywhere. The price is pretty easy to fit into your budget too, with a suggested retail of only $289. And when I say all-new, I'm not kidding, the sample we receive for testing is labeled as a prototype and arrives packed in a plain brown box.
FEATURES
The Digital Designs M45 is a small-footprint amplifier with external dimensions measuring only 8 x 6.875 x 2 inches. That means some pretty inventive mounting locations. The amp is equipped with a well-finned heatsink, and coupled with the efficiency of Class D topology, heat should not be an issue. The finish is a basic brushed black aluminum with the double D logo CNC'd into the top.
Power connections and two 25-amp ATC fuses are located on one end of the amp along with the speaker terminals. The amp handles four-gauge power cable and up to eight-gauge speaker cables with set screws to retain the wiring. On the opposite side of the amp are sturdy input and output RCA connections. Here, you'll also find three adjustable potentiometers on the M45: gain (adjustable from approximately 250 millivolts to over eight volts), a variable subsonic filter, and a second order crossover, adjustable to any frequency between 50 and 250 Hz. There is no bass EQ, or phase control on the M45, but for the price I really didn't expect them. There is also a port for a remote level control that features a clipping indicator. This part, however, was not included with the prototype amp, so I am not sure about other details of its operation.
Inside the M45 is a combination of precision surface mount parts and robust through-hole parts. The amp uses a double sided fiberglass/epoxy PCB and looks ruggedly constructed.
LISTENING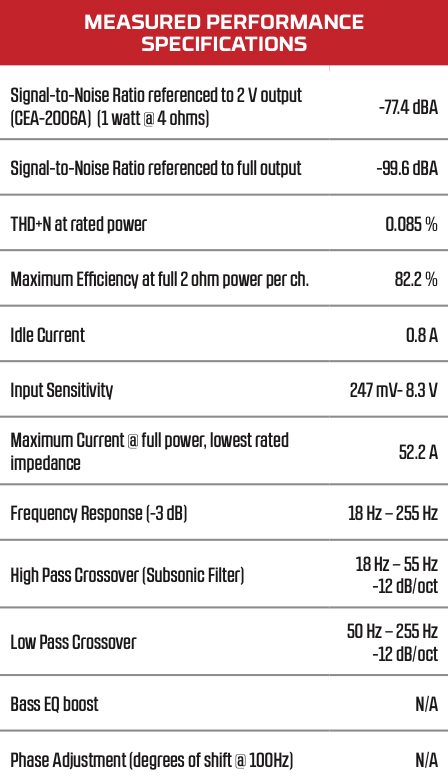 For my listening session, I connected the M45 to my reference system and used it to drive a pair of 10-inch woofers in a sealed enclosure. After getting the initial adjustments dialed in (subsonic to 20 Hz, crossover at 80 Hz) I sat down to give it a listen.
I began my listening session with one of my favorite subwoofer amplifier evaluation CDs. It's a Telarc recording of a band that performs Beach Boys tunes from the 1960s. The band actually consists of current or former members of the Beach Boys, Jan and Dean, Frankie Valli or Brian Wilson's bands. The disc is called California Project, and is simply a brilliant recording. The track Surfin' USA has possibly the best-recorded kick drum in history.
The Digital Designs amp handles the high dynamics with no problem whatsoever, and actually sounds pretty darn good. The bass is well-controlled and presents a surprising amount of authority for such a small amplifier. Current draw was very modest as well, indicating good power efficiency at all power levels. When I throw my Yello disc in the player to see how well the amp handles extended low bass notes and synthesized music, it does so very well. Once again the M45 performs like a much bigger and more expensive amplifier. Only when I push it very hard, or if I get hyper critical of the amp's sonics, am I reminded that this is a small, inexpensive amplifier that can almost fit in a glovebox.
Maybe best of all, you won't need a high performance alternator or other charging system upgrades, and you'll have plenty of ground-pounding power at your fingertips.

ON THE BENCH
Moving to the test bench, I go through the normal battery of tests and push the amp to its absolute performance limits, recording all of the data. All in all, I am impressed with the diminutive M45. It exceeds the power specifications I've been sent, and measures favorably in all other respects as well. The amp turns on and off without pops or thumps and when I do nasty things to it, like dead shorting the outputs at high power, it simply protects itself and then works properly again after a reset. No fuss, no drama and best of all, no failures.
| | |
| --- | --- |
| | |
| | |
CONCLUSION
The new Digital Designs M45 looks like a winner. With its tiny footprint but power and performance of a much larger amplifier, combined with the reasonable price, it's a safe to say these amps are going to fly off the shelves. If you're in the market for a small but powerful amplifier that represents great value, check out one of these little babies for yourself at a Digital Designs dealer near you.