Back in the day, when SPL contesting was first invented, Rockford Fosgate had a slogan that said, "For Those Who Think Too Much Is Just Right."
It would seem the folks over at Rockford have not forgotten this credo because the new T2S1-16 woofer is a perfect example of that slogan. In an effort to exceed the expectations of their fanatical customers, the T2 16-inch woofer is designed especially for those who crave high SPL bass and have the cargo space to dedicate to it.
The T2S1-16 is seriously impressive to just look at. The monster woofer weighs in at over 80 pounds (36.5 kg) and is over a foot deep. A 16-inch cone provides greater surface area and an equally impressive motor assembly drives it to its 2.7-inch excursion limits. The woofer is available in either 1- or 2-ohm versions, and is rated for 2,500 watts of continuous power. As you'd expect, this sort of performance comes with a price, as the MSRP of the T2S1-16 is another attention grabber at $1,499.99.

Features
As you'd expect from such a massive woofer, it's built on an extremely robust proprietary cast aluminum frame unlike any other. However, it does share Rockford's "FlexFit" basket mounting architecture, which allows fine tuning of the subwoofer's mounting position. The basket also incorporates large heatsink fins to dissipate the heat generated by the 4-inch edge-wound aluminum voice coil. To further improve thermal power handling, the voice coil is wound on an anodized aluminum former. Magnetic energy to drive that coil comes from a clever segmented triple stack ferrite motor assembly. The magnetic motor weighs in at 529 ounces (15 kg) and is about 10.5 inches in diameter. The pole piece is vented, again in an effort to dissipate the extreme heat generated by the 2,500-watt power handling. To keep the coil centered in the gap and provide exact compliance, the woofer uses dual progressive-type spiders made of Nomex. These spiders are separated by a 2-inch gap, made possible through two separate custom tooled spider plateaus. These plateaus are mechanically bolted directly to the basket, ensuring complete reliability — even at full excursion.
From the front side of the T2S1-16, you are treated to a good looking black cone, which is made with three layers of material. A layer of glass fiber on each outer side sandwiches a centre layer of aramid honeycomb. The result is a super strong, yet lightweight cone. In the centre of the cone is an aluminum dust cap with the Rockford Fosgate logo dead centre.
To connect the OD of the glass fiber cone to the basket, Rockford uses an injection-molded foam surround with their patent pending "VAST" surround which increases the viable cone area. The surround is attached to the basket using special high performance adhesives and a proprietary mechanical clamping ring. To further enhance the woofer's cosmetics, a die-cast aluminum trim ring hides all the actual mounting bolts and attaches to the basket via four machine thread mounting screws. Wire connections are made via custom tooled, spring-loaded terminals that will accept 8-gauge cable. To feed the power to the voice coil, fully insulated ultra high current tinsel leads are stitched to the spider.
According to the product's manual, the T2S1-16 can be used in either sealed or vented enclosures. The recommended sealed volume is 2.4 cubic feet, and the high output vented recommended volume is 5.5 cubic feet. Luckily, my lab is only a few miles from Rockford's headquarters in Tempe, so they were kind enough to supply a custom made vented enclosure for my testing, which I measured at a bit over 6 cubic feet after subtracting the internal bracing, port assembly and the driver volume.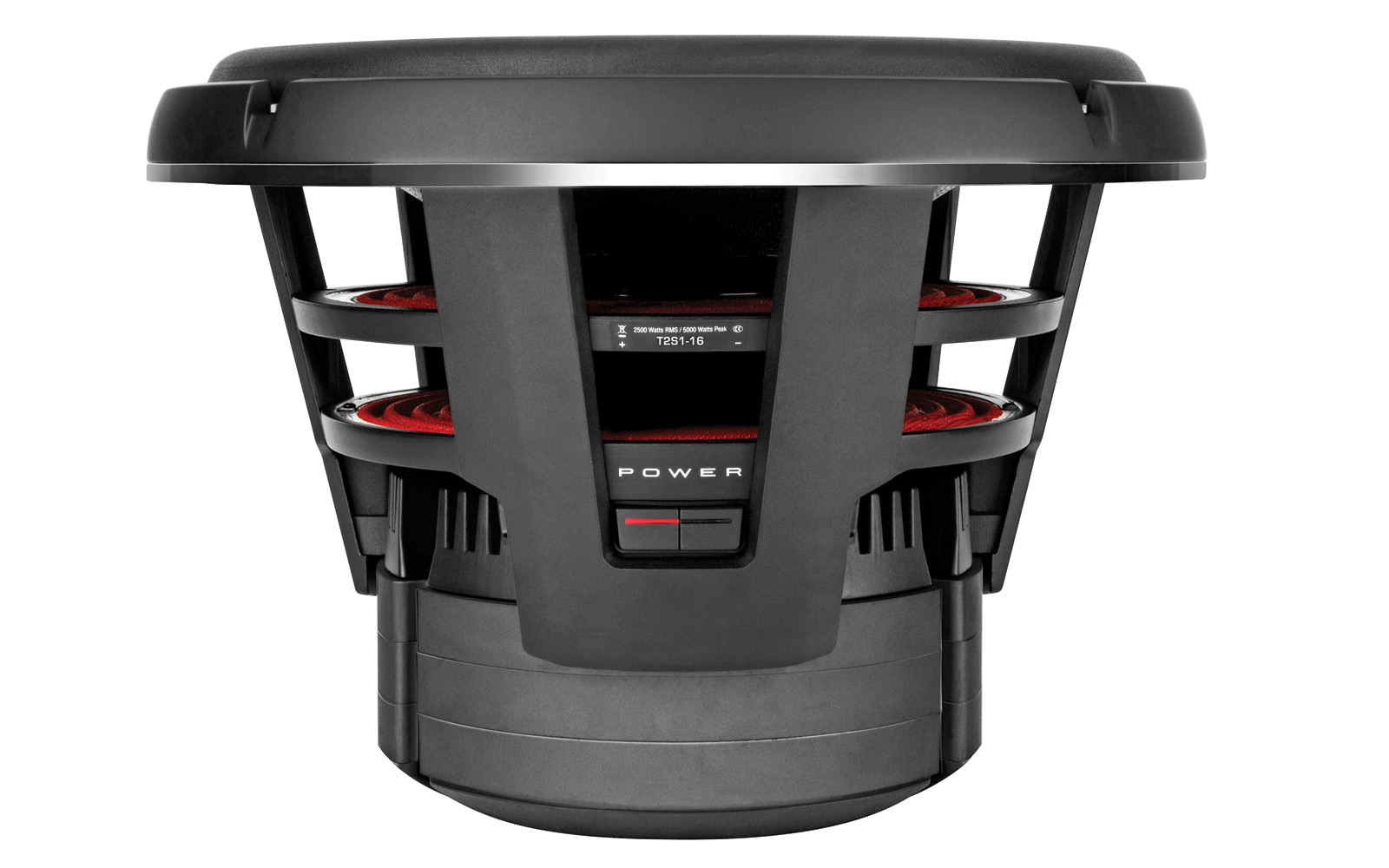 Listening
When it came time to listen to this monster, I wanted to really put it to the test. As luck would have it, I just happened to have a Rockford Fosgate T2500-1bdCP amplifier on the shelf. This amp makes enough power to drive the T2S1-16 properly, so it was sort of a no-brainer to replace my usual reference amp with the big Fosgate amp.
I begin by setting the amp's crossover to about 80 Hz. I use the built-in 28 Hz infrasonic filter to control cone motion below the tuned frequency of the enclosure, which I determine is very close to 30 Hz.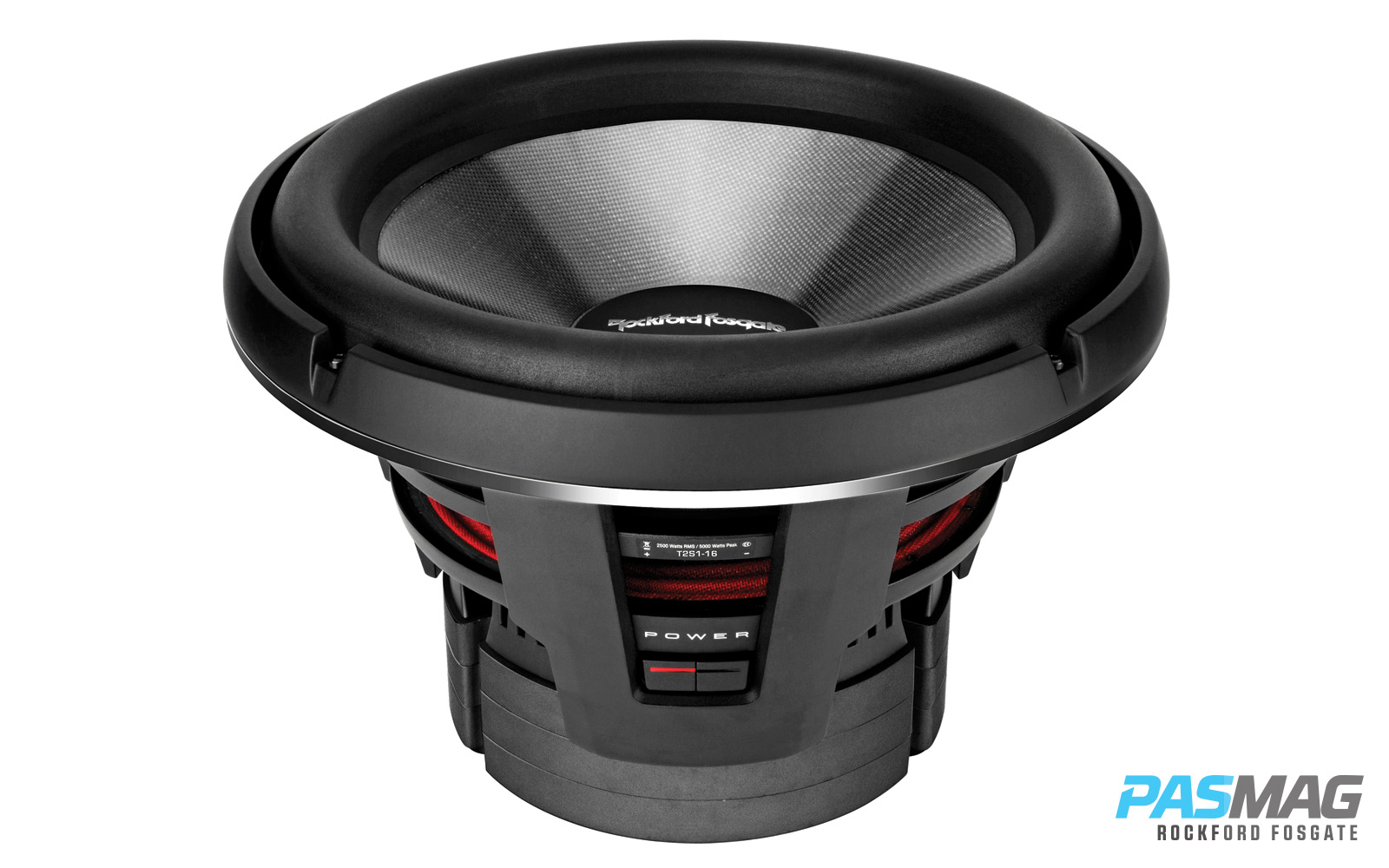 I grab my usual set of subwoofer test discs and begin my listening session. Wow. It quickly becomes very apparent that this is going to be fun. If you have never had the opportunity to listen to a system where the capabilities of the product exceed that of the listener, you should. That is how this thing feels. I can turn it up, and up, and up some more, and it simply gets louder and louder. No signs of stress or fatigue, just the impression that I could set it to whatever volume I wanted and enjoy it. I have a little fun with the volume while playing Yello's "Oh Yeah", which results in neighbors from across the complex coming over to see what's going on.
I have played in bands for years, and the output of this single woofer is greater than some of the stage setups I've used. The sound quality is actually better than I expect from a woofer, as it's so obviously designed to play very loud, for a long time. Even in the big vented box, the bass is pleasant and controlled without excessive boom or overhang. At low volumes, the woofer loses a bit of detail and articulation, but it all comes back in spades when you increase the volume to "enthusiastic" levels. There isn't much a woofer like this can't do.
On The Bench
As expected, the T2S1-16 measures almost identically to Rockford's published specifications. I also measure the nearfield SPL of the system in the supplied enclosure as a reference. Keep in mind when viewing the graph that there is no transfer function included, and when you put this in a car, you can expect the lowest two octaves to significantly increase.
I also included a system impedance plot, which is useful when driving 1-ohm loads to get a better understanding of the actual load your amplifier sees at any given frequency.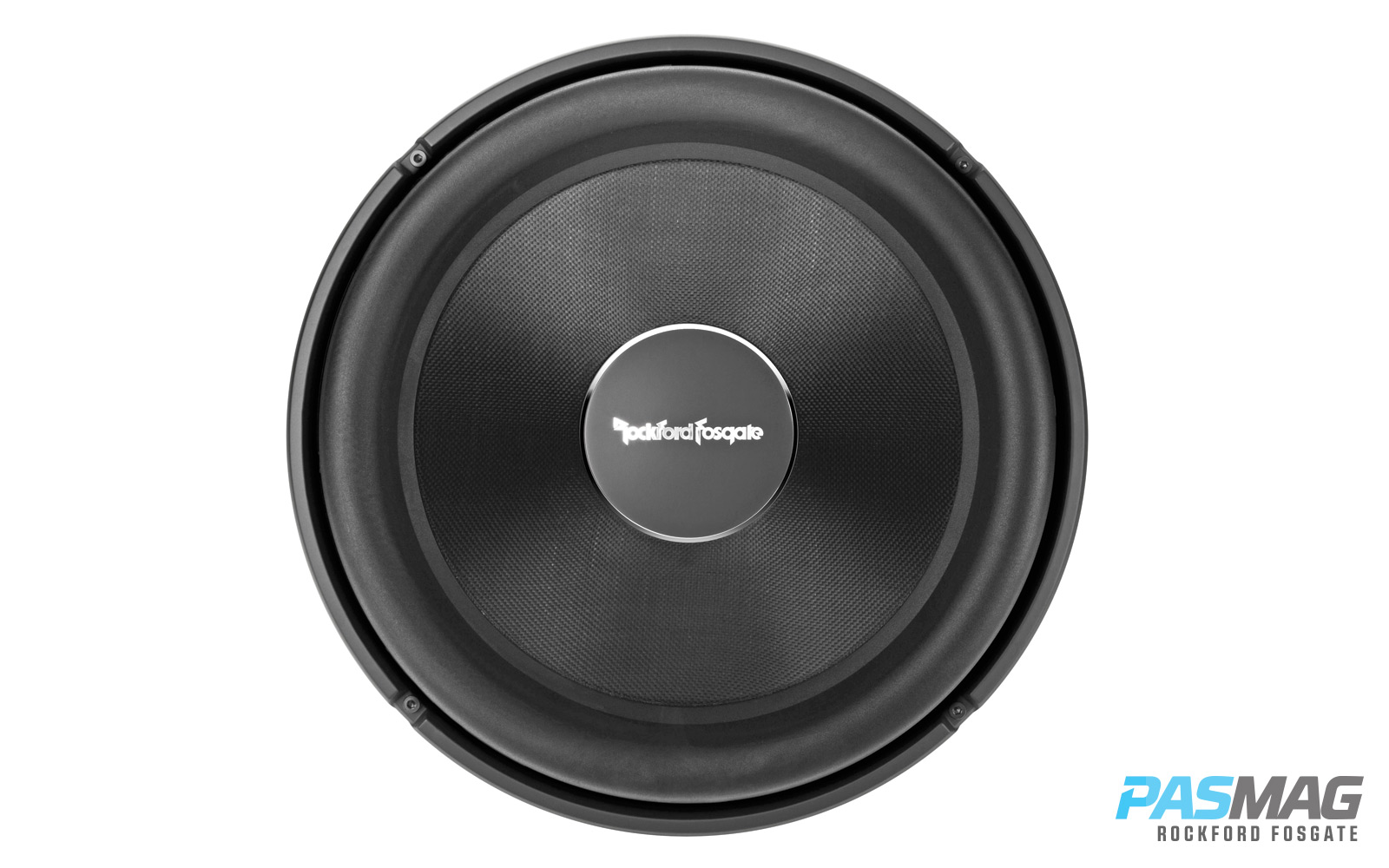 Conclusion
This is a serious woofer and it takes a seriously fanatical bass-head to truly appreciate just how good it is. If you are interested in lifelike concert level bass output in your car, and you have the space and deep enough pockets for the woofer and the required power, it will be hard to beat the Rockford Fosgate T2S1-16 woofer. That is unless you opt for the bigger and even louder T3S2-19 - a 19-inch woofer with even more performance! For those who think too much is just right, indeed!
For more information on the Rockford Fosgate T2S1-16 subwoofer, go to www.rockfordfosgate.com and on Facebook, Twitter and YouTube.
For more test reports, download the PASMAG+ tablet app for free from iTunes.