All but complete Luddites have now completely embraced life with a smartphone.
Although smartphones have been around for over 20 years, the last half decade has seen them go from executive luxury items to a must have for the average 12-year-old. Because of our smartphone-driven lifestyle, devices that connect to them and broaden the use of the phone are also rapidly growing in popularity.
These facts are not lost on the folks at Pioneer, who have recently released five new receivers specifically designed to create a "Networked Entertainment eXperience." These "NEX" receivers feature large touchscreen displays and a vast array of included features and functions. This review will focus on the flagship non-navigation receiver, the AVH-4100NEX. The unit is a double-DIN sized multimedia receiver and has a suggested retail price in the U.S. of $700.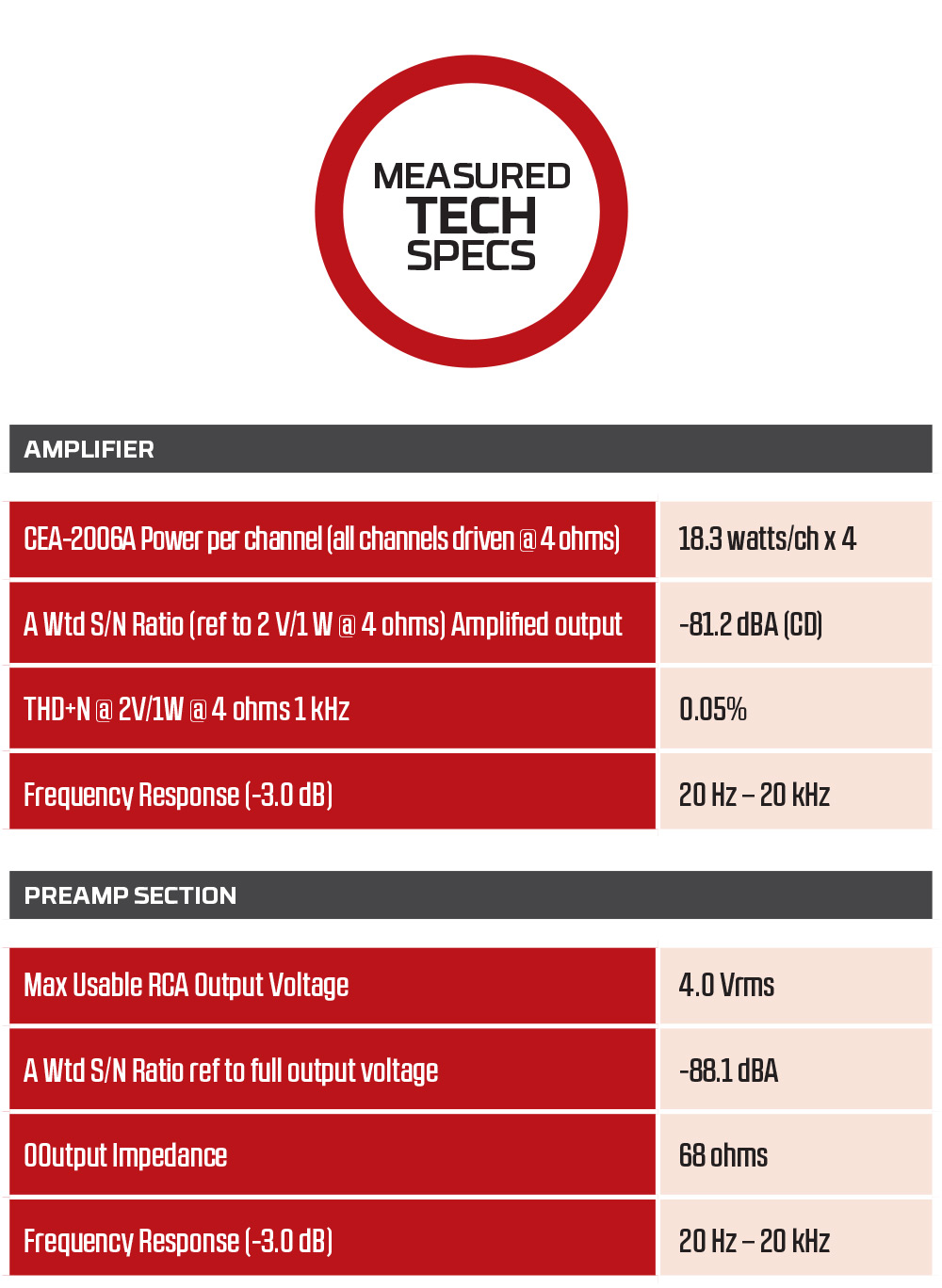 Features
The AVH-4100NEX is another Pioneer multimedia powerhouse, based on compatibility with Apple CarPlay and Android Auto. Integrating this functionality provides intuitive and less distracting ways to interface with your smartphone. With the NEX receivers, you can access the voice commands of Siri or Google Now, plus get weather updates or have your messages or schedule read to you with both hands on the wheel and your eyes on the road. These functions also basically turn the screen into the controls for your phone. It should be noted that although the AVH- 4100NEX does support the most popular phones on both platforms (iPhone 5/Android 5.x or later), you should check to make sure your particular smartphone is supported. The unit is also compatible with the iDataLink Maestro, perhaps the best OEM integration module currently available for many popular vehicles.
The operation of the unit is done primarily via the high quality, 7-inch, 16:9 aspect ratio touchscreen display, but there are hard buttons below the screen for common adjustments like volume and track change, as well as the "Home" button.
The AVH-4100NEX comes with an HD Radio tuner, playback for almost any type of CD format, DivX, iPod control, playback from SD Card or USB drive, Aha Radio, and Pandora built in, so there should never be a time when you can't find some entertainment!
Even with all those sources to choose from, one of the first things you'll want to do is download Pioneer's free AppRadio app to your phone. With AppRadio, you can access your maps, photos, contacts and calendar directly from the source unit's screen. You can swipe, touch, pinch and zoom, just as you would on your phone. There are dozens of other apps also available - from mapping programs to traffic information and much more - that can be controlled directly from the touchscreen.
In addition to all of the above, you also get SiriusXM compatibility, and Pioneer's innovative MIXTRAX "DJ emulator." Drawn from Pioneer's rich DJ heritage, the MIXTRAX feature creates a continuous mix from your musical library and adds nightclub-DJ-style audio and visual effects. By creating transitions between songs and other effects, the MIXTRAX function makes the music from your iPod, iPhone or USB device feel like there's a virtual DJ in the car with you. To use the MIXTRAX feature, you first install the MIXTRAX PC software to your computer and have it analyze your music library. The software analyzes each song's BPM, bar, beat position, vocal position and mood. The analyzed data is then added to the music file. When you playback these tracks on the AVH-4100NEX, you experience full- featured non-stop mixes, complete with dancing album art!
Of course, full Bluetooth connectivity is there to provide hands-free telephony with caller ID and storage of all of your phone's contacts in the unit's memory. You can also stream audio from your phone using any of the typical HFP/ A2DP/AVRCP/SSP modes. The AVH- 4100NEX can also be connected to an optional rear view camera and will automatically switch to the rear camera view when you put the car in reverse. It also includes adjustable rear camera guidelines to assist in reversing into tight spaces. For additional convenience, you can retain your vehicle's steering wheel controls using an optional adapter.
As you'd expect from a Pioneer flagship product, the audio performance and feature set have not been neglected. A CEA-2006-rated 4-channel 18-watt amplifier is built-in, and there are front, rear and subwoofer RCA outputs with 4-volts of output. Also included is a powerful DSP processor with a 13- band equalizer that comes complete with five preset EQ settings, or two user customizable presets. The DSP powered tuning capability is vast, with the EQ, as well as high- and low-pass crossovers each with five selectable frequencies and three available slopes. Then you can adjust the arrival times from the speakers (in as small as one-inch increments) using the time alignment feature that's also included. There are controls for woofer phase and level, as well as a bass boost control that is separate from the built-in EQ. You can also use the DSP to level match your various sources, making volume adjustments when switching from radio to DVD or iPod will be a thing of the past.
Do all of these EQ adjustments and time alignment tweaks make your head hurt and find you balled up on the floor in a fetal position? Not to worry, the AVH-4100NEX is compatible with the optional CD-MC20 microphone and has an automatic-EQ and time-alignment feature, so it will do the settings for you.
Controls and Ergonomics
One of the things Pioneer has always done quite well is the ergonomics of the product, and this NEX receiver is no exception. Without opening the manual, I had no problem setting up and operating the unit. As I have noted in the past, I especially liked the center-mounted "Home" button, which allows you to quickly and simply navigate to any source or control set you want to access. Overall, when you consider the incredible amount of functionality available, the AVH-4100NEX is very easy to use, and I like the combination of hard button and touch screen controls.
Customization and personalization also go to new heights, with various selectable themes and 112 key colors to choose from. You can also download your own wallpapers and the splash screen on boot-up can even be customized. The main source menu can be reorganized so your favorite selections are always available. Another unusual (but welcome) feature is the ability to completely remove the touchscreen front panel to discourage thieves. When installed, you can set it to the optimum angle by selecting one of five different angles that is retained in memory. DVD playback is permitted on the unit's main screen by setting the parking brake.
Listening
With the AVH-4100NEX connected to my reference system, I listen to a bunch of different sources including CD and DVD, and using my smartphone, I also play with some Pandora and internet video from YouTube while parked. My session lasts several hours and I come away thoroughly impressed. This is a good sounding receiver and I appreciate how simple and easy it is to use. I mess around with the EQ and crossover settings, and the only minor complaint I have is that the screen times out a bit too quickly when you are in these "adjustment" modes, unless you keep touching the screen. Overall, the sonic performance of the NEX receiver is excellent and it's easy and intuitive to use.
On The Bench
The test bench confirms my opinions from my listening session. All of the unit's audio measurements meet or exceed the published specifications. The controls and adjustments are precise and accurate, signal to noise is exemplary and the frequency response is very flat. Output impedance is very good at only 68 ohms and the stereo separation is exceptionally good at better than -70 dB.
Conclusion
I test a lot of head units, but only a handful make me want to own one. The Pioneer AVH- 4100NEX is such a unit. Because of its incredible connectivity and superb audio performance, the readers who have been following my Corvette build will notice that this is going to be the receiver I use in my own car.
For more information on the Pioneer AVH-4100NEX Multimedia Receiver, go to www.pioneerelectronics.com/pusa and on Facebook, Twitter and YouTube.
For more test reports, download the PASMAG+ tablet app for free on iTunes.