About a year ago, we reviewed the Sony XAV-601BT multimedia receiver. With its great performance and affordable price, it was a tough unit to beat. Never ones to rest on their laurels, the folks at Sony have been hard at work making changes and improvements to what was an already great head unit, and the result is the new XAV-602BT. Since they were kind enough to send me a pre-production sample for testing, we're going to let you know what improvements have been made and how the new unit performs. The price hasn't even changed; it still lists at $549.99.

FEATURES
As before, the unit is based on a high quality 6.1-inch TFT touch screen display, which is detachable for peace of mind. The new XAV-602BT carries over many of the previous features such as integrated Bluetooth, MirrorLink capability, Pandora Internet radio, Sony's ZAPPIN music function, and the SensMe app that can deliver music based on your mood. Of course full iOS compatibility is provided, as well as front and rear-mounted USB ports and two sets of auxiliary inputs. The unit is also compatible with the optional XA-NV300T navigation module, providing direct control of a TomTom-based navigation system.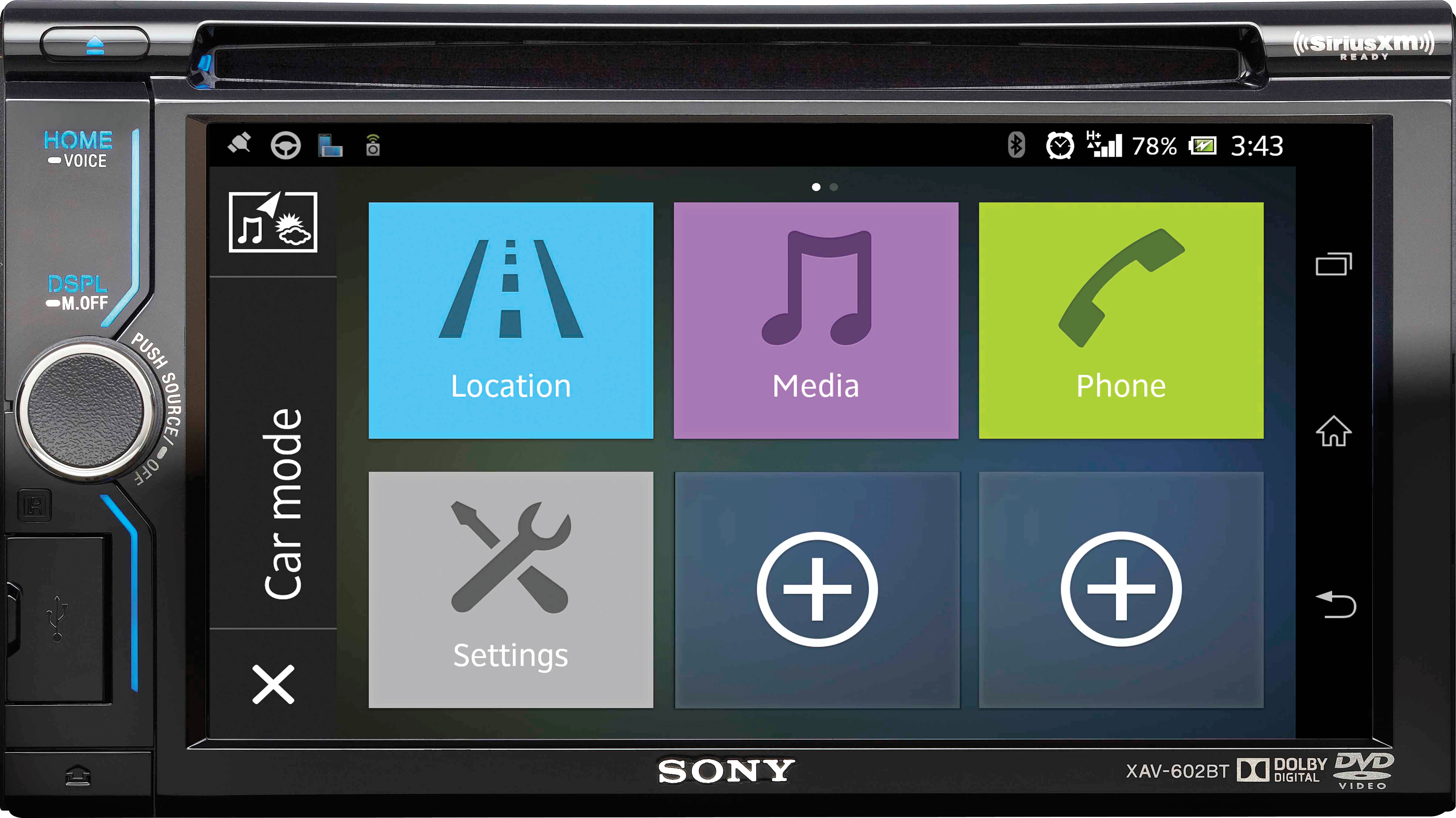 If you haven't used MirrorLink yet, it is very cool technology. You connect your MirrorLink compatible smartphone to the XAV-602BT via USB. When you activate the MirrorLink function the screen of the head unit displays your smartphone screen. You can then view, touch and control apps and functions on your phone by using the screen on the Sony head unit.
Additionally, the new unit supports Sony's App Remote version 2, which includes a voice-controlled user interface for Android devices. The App Remote application is available in the Apple App Store and on Android's Google Play site. The app allows the unit to launch and control compatible applications on your iPhone or Android phone. App content is displayed on your smartphone while the audio content is heard through the speakers. Control can be accomplished via simple finger gestures, and for Android users, using the voice control function allows you to speak and compose text messages, or the head unit can read SMS text messages aloud.
Using the App Remote, you can even use your smartphone to control the sound settings of the radio for EQ, balance, fader and more.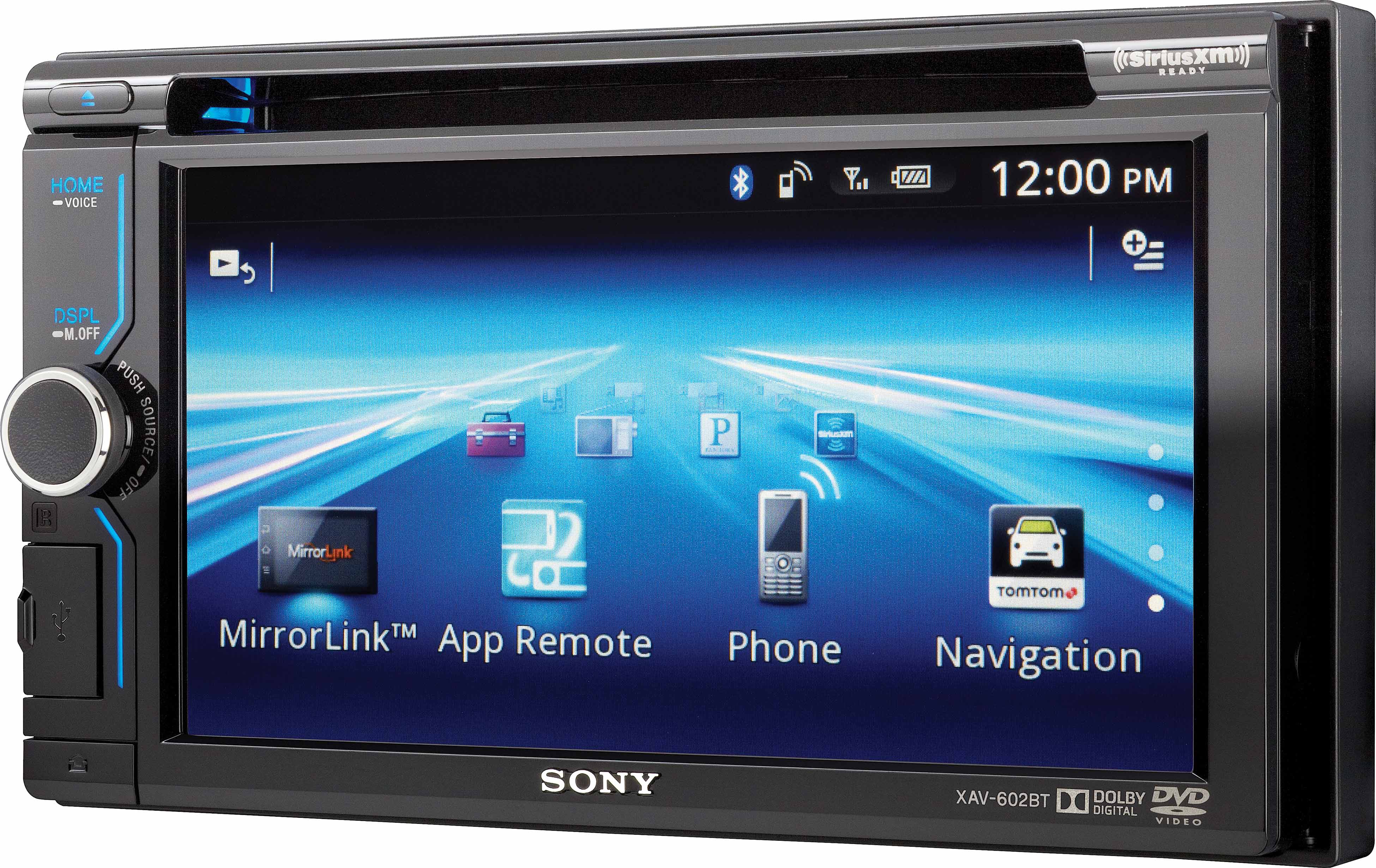 The XAV-602BT 6.1-inch WVGA TFT touch screen has a resolution of 800x480 with a rotary volume encoder, all combined on a fully-removable faceplate. CDs and DVDs can be loaded through the slot in the upper edge of the faceplate. Other important features include Sony's ZAPPIN music search feature, the Advanced Sound Engine with 7-band EQ, Center Speaker Organizer (CSO), Intelligent Time Alignment (ITA) and Rear Bass Enhancer (RBE).
A built-in four-channel amplifier delivers a CEA-2006 rated 17 watts per channel, with front, rear and subwoofer pre-outs with 5 volts of output. Additional input signals can be connected to the front auxiliary input, dual rear A/V inputs and a rear camera input. Steering wheel control can also be added with one of several available aftermarket cables.

CONTROLS
The Sony is very simple to operate. The commonly used functions are easy to access without much distraction. On screen controls are large enough to use without difficulty, and the unit groups most frequently used icons together. As with all Sony products, thanks to the Advanced Response User Interface, the touch screen is responsive and finger gesture commands further simplify things – it is a pretty easy piece to live with on a daily basis.
Thankfully, Sony has also retained the ability to simply press the rotary encoder to select sources instead of looking at the screen when I want to choose a source The button color on the XAV-602BT can be set to one of 12 preset colors, or you can create your own custom color for a perfect match to any dashboard. You can also upload a custom image as a screensaver if the included selections aren't what you're looking for. Dual zone capability is also included, providing simultaneous playback of different sources in the front and rear of the car.
Bluetooth pairing is also fast and simple thanks to Sony's simple secure pairing function. After the initial pair, my Android phone automatically connects whenever within range, which is approximately thirty feet. For iPhone users, the unit is paired and connected with Bluetooth Auto Pairing when your device is connected to the USB port.

LISTENING
Based on the performance of its predecessor, I had high expectations for the audio of the XAV-602BT, and it didn't disappoint. It performs very well with any source I select – there is simply nothing to complain about in terms of sound quality. The Sony sounds natural and transparent, like a good audio component should. Stereo imaging is excellent, without any unwanted noise or artifacts introduced by the player. DVDs sound first-class and the picture quality is brilliant. Fast motion and difficult-to-display scenes are also handled well. Discs load quickly and quietly, and the DVD menus are easy to navigate.

ON THE BENCH
Sony is a supporter of the CEA-2006 Amplifier Measurement Standards, and I commend them for it. The standard is designed to allow consumers to make accurate comparisons of amplifier performance without it becoming too technical, and it includes amplifiers in head units. Sony uses the standard to rate the power of every head unit they make and I'm happy to report that in terms of advertised power, the XAV-602BT outperforms the published power specifications. Rated by Sony at 17 watts x 4 channels, I measured a useable output of 20 watts per channel at 4 ohms.
The frequency response is exceptionally flat, with only about 1.0 dB of variation from 20 Hz to 20 kHz, regardless of the source. Low output impedance is critical to noise avoidance and preventing load-induced response problems, and the XAV-602BT measured a respectable 138 ohms. Stereo separation is also very good, as is the signal-to-noise performance – particularly in the internal amplifier. Based on audio performance, it's evident the engineering team responsible take their jobs very seriously, and the result is a sonically excellent performer.
CONCLUSION
All said and done, Sony has done a great job of updating an already very good product. The unit has all the features I want in my daily driver and it's easy to live with. The audio performance is very close to as good as it gets; there is no question I could live with the XAV-602BT for a long time. Best of all, it comes with improved features and functionality at the same price as its predecessor. You can't ask for much more than that. Check it out for yourself at www.sony.com.