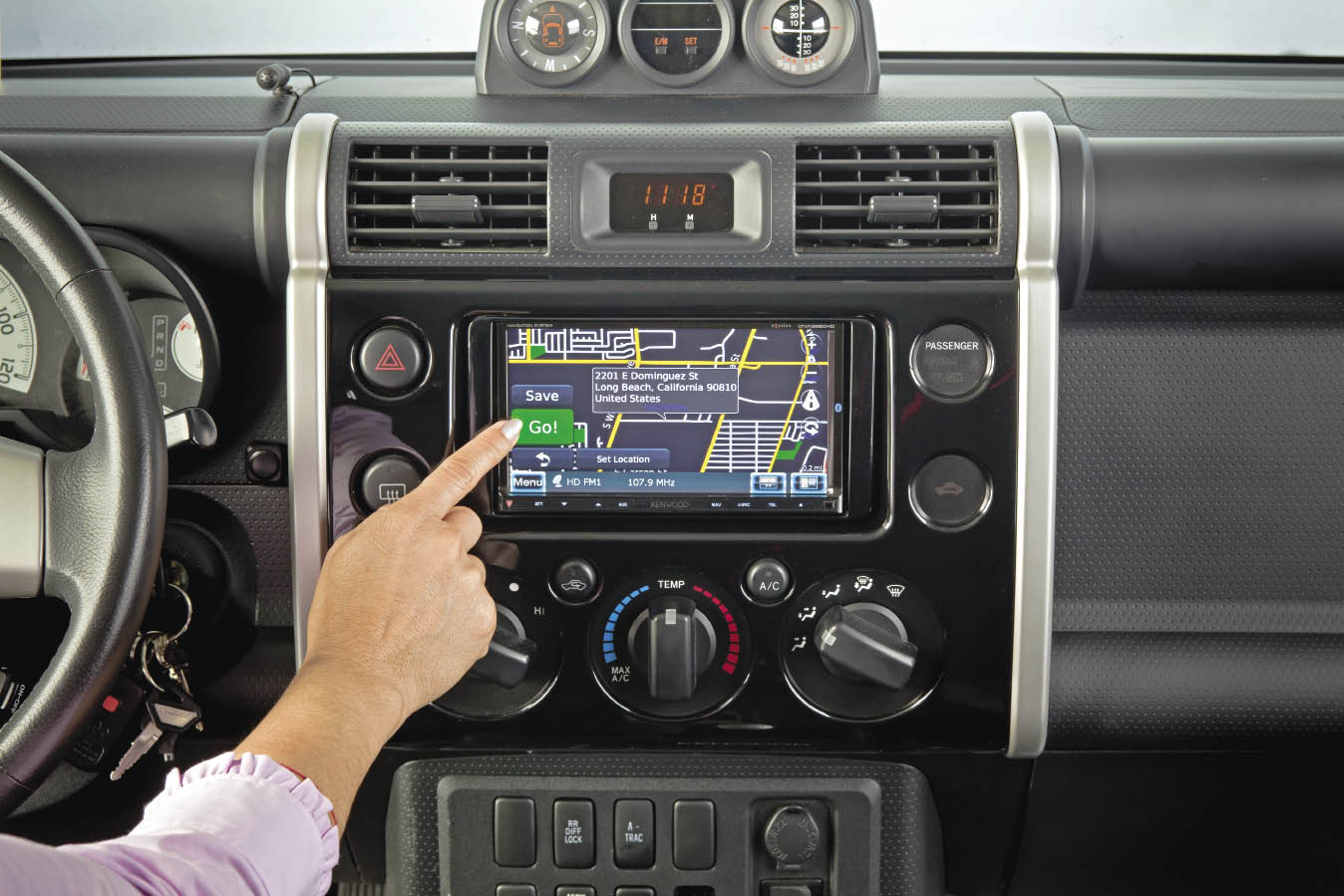 If you have been looking for a multimedia receiver that combines all of the latest technology and convenience features with audiophile-level audio performance, the folks at Kenwood have been hard at work with you in mind. The new Kenwood Excelon DNX9980HD receiver is just such a product. One of the most fully equipped units of this type I've seen in recent memory, there simply isn't much that you could ask of a source unit that the top of the line Kenwood couldn't accommodate.
FEATURES
To list all of the built-in features and functions of a product like the DNX9980HD would take the rest of this magazine, so rather than try to list every detail, I'll hit the high spots first, and go from there.
A list of the built-in features reads like
a car audio nut's wish list.
Here are the major features; 3D Garmin navigation with lane assist and junction view, plus the convenience of a lifetime subscription to Navteq real time traffic, (now in 90 cities), Parrot-powered Bluetooth connectivity, voice control for navigation and hands free calling, and even providing voice control of the audio and video systems. USB connectivity for iPhone and iPod with unique dual iPod control, Pandora internet radio connectivity, built-in HD radio, and a cool rear view camera connection that allows you to have multiple views and toggle parking guidelines on the reverse tilt capable screen.
And those are just the main features! Of course, the unit also comes with an AM/FM/HD tuner, Sirius satellite connectivity, and full CD/DVD playback. Also on-board are MP3, WMA, AAC, and WAV file decoders, plus Dolby Digital and DTS decoders, as well as Divx decoding.
A powerful DSP processor handles
a myriad of custom tuning chores as well. Yep, this baby is loaded. Let's take a look at some of the cool stuff within those main features, and talk about what it can do.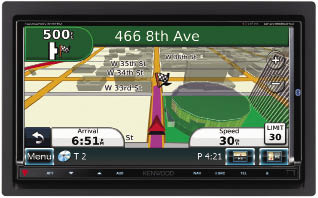 Navigation
The DNX9980HD comes preloaded with a top of the line Garmin based navigation system and includes 3D landmarks, lane assist, junction guides, voice guidance, over six million points of interest with 500 programmable waypoints, and by adding the optional KNA-EC100 you can use the ecoRoute function, which gives you real time monitoring of your vehicle's engine performance, including fuel economy. Because it connects to the vehicles OBD II port, it can even read diagnostic and service codes, which can save money spent on mechanics trying to determine why the Check Engine light is on.
Audio
The audio section of the Excelon unit also benefits from a healthy dose of high tech and high performance. From the 5 volt pre-outs, to the DSP powered built-in crossovers and equalization, to digital delays for individual channel time alignment characteristics, the audio section of the DNX9980HD provides a vast array of tuning capability as well as some of the highest performance audio outputs in the industry. It can even create a 5.1 surround system if you utilize the center channel pre-out.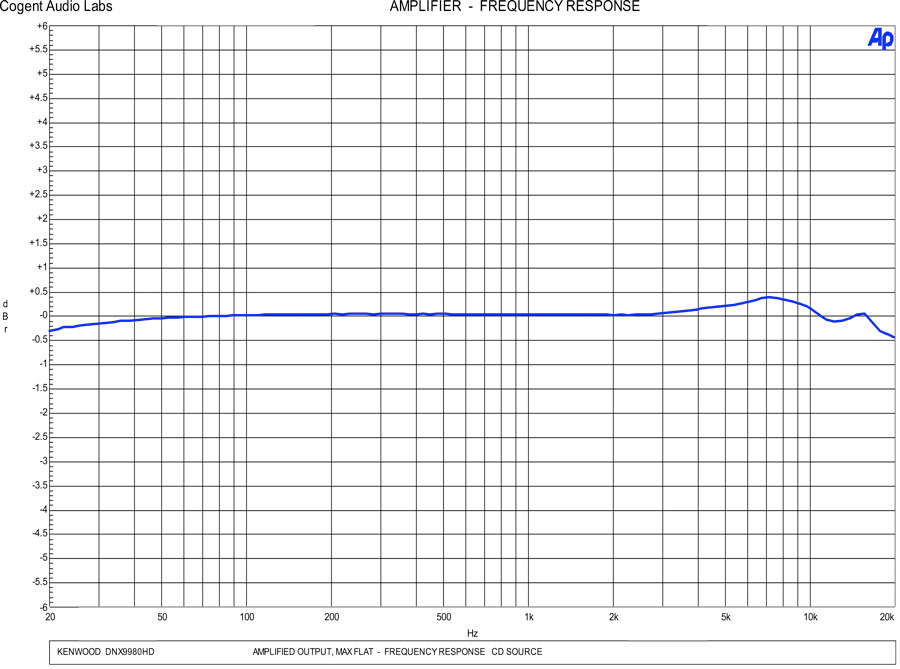 Video
The screen of the DNX9980HD is a 6.95" WVGA TFT touch screen with LED backlighting. Resolution is 800x480 or 1,152,000 pixels. The screen has slide touch capabilities, and also picture in picture functionality, which comes in handy when using video and navigation at the same time.
The screens icons are customizable, as is the background, and the illumination provides 256 colors to choose from. Yeah, it'll match your dash.
The monitor's picture is adjustable for brightness, contrast, black level and dimming modes.
Bluetooth
The built-in Bluetooth system includes automatic phone book downloads, A2DP and AVRCP wireless music streaming, and the voice recognition is powered by Parrot for great hands free access with virtually any Bluetooth enabled cell phone.
Advanced Speech Recognition
The voice control feature of the Kenwood unit allows for voice controlled operation of the navigation system, the hands free telephone, and even allows you to change station presets or sources with voice commands.
iPhone/iPod
The DNX9980HD is the first unit I've seen that can handle a video capable iPod or iPhone, as well as a second audio only iPod device simultaneously. As mentioned, iPod video is supported, but inexplicably on such a high featured unit, an optional KCA-iP302 cable is required. Really? C'mon guys, for almost US$2,000 you should be including this in the box.
HD Radio
HD radio is gaining greater popularity all the time and is now in more areas than ever before. With the broadcast done in the digital domain, you receive virtually CD quality sound from FM broadcasts, and AM that sounds almost like FM. Also included in the digital bitstream is info like song and title information, and even album art. And best of all, HD Radio is free, and the tuner is built in to the DNX9980HD.
Pandora
Pandora is an internet based radio service that allows you to create your own "radio stations" based on your favorite songs or artists. If you have the Pandora app on your iPhone you can control your stations directly from the units touch screen.
CONTROLS AND FUNCTIONS
Okay, by now I'm sure you get how impressive the unit is in terms of what it can do, but all that technology is only as good as the user interface that controls it. And I'm happy to say, that interface is pretty damn good. The touch screen icons are large and easy to identify quickly, which means less time with your eyes off the road. You can also customize which icons go where, so your most frequently used ones will always be handy. The slide touch screen functions very smoothly, and requires only a light touch. Frequently used controls like the volume, source selection and audio buttons, are capacitive discharge type controls, and work smoothly and predictably. I did notice that on my sample the eject button required a decisive push to make it work. I'm still solidly in the rotary volume control camp when it comes to my personal preferences, but from a smooth and high-tech look perspective, these are cool controls. But they obviously lack any tactile feedback, so the Kenwood engineers used came up with some clever solutions to make things more user friendly, like allowing a constant press of the volume up button to only go to 25 out of 35, and then each increment above 25 requires a separate push. Volume down works with a single press and hold, as it should. And for those who are really concerned with looks, the illumination color can be any one of 256 colors, or you can simply let the colors change constantly.
LISTENING
When it comes to the sound of the DNX9980HD, I thought it was a brilliant performer. The CD and iPod sections sounded great, even with all the controls and trickery turned off. The unit has very good sonic performance, to the point of your amps and speakers having much greater potential to be the systems weak links. In DVD and CD performance, the top of the line Excelon unit was almost indistinguishable from my high end home player. Tuning capabilities are very broad reaching, with a built-in 13 band EQ, and high and low pass crossovers. The crossovers can be set to full range or any one of 14 frequencies, plus you can select four different crossover slopes, and even change slopes and frequencies between high and low pass filters. Yeah, it's going to sound good in your car, without a doubt.
ON THE BENCH
On the test bench, the Kenwood unit continued to perform great. The built-in amplifier provides good power and has very good signal to noise and frequency response specs, but let's face it, if you're going to spend almost US$2,000 on a source unit, you're also going to be driving external amplifiers. And the pre-outs of the DNX9980HD are very good, providing the full 5.1 (5) volts of output with very good signal to noise, and a flat response. In addition, the unit had excellent output impedance, at a low 47 ohms, so engine noise complaints won't be traced back to this source unit.
CONCLUSION
Like I said at the beginning of this review, the feature set of this unit reads like a car audio fanatics wish list. But, it's not quite perfect in my opinion. I'm not sold on the benefits of the touch control hard buttons, and with the ridiculous omission of the iPod cable.
Nevertheless, with virtually every possible feature available and a few tricks of its own, like dual iPod connections,lots of customizability, and first class sonic performance, this is definitely a source unit that a great many will lust after.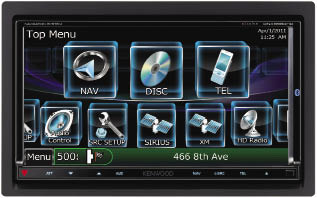 AMPLIFIER
CEA-2006A Power per channel
(all channels driven, @ 4 ohms)
A Wtd S/N Ratio (ref to 2V/1W @ 4 ohms) output
THD+N @ 2V/1W @ 4 ohms 1kHz
Frequency Response (-3.0dB)
PREAMP SECTION
Max Usable Output Voltage
A Wtd S/N Ratio ref to full output voltage
Output Impedance
Frequency Response (-3.0dB)