Until recently, when you thought of good looking source units, especially ones with cool displays with colorful moving graphics, well let's just say the Clarion brand wasn't likely first that came to mind. But they have made great headway in these areas with their 2011 product line, and by listening to customer feedback, the Clarion source units could easily win the nomination for the most improved cosmetics and graphics. Recently we had a look at the excellent NX501, with full built-in navigation and DVD playback. This time we're taking a close look at its little brother, the Clarion VX401 2-DIN Multimedia source unit.
The Clarion VX401 features an AM/FM tuner, CD/DVD/WMA/and MP3 playback. It also has built-in Bluetooth, and is made for iPod/iPhone. I really liked the way the CD slot is placed just above the screen, which means no moving face mechanism is required, enhancing reliability, as well as keeping the cost down. The Clarion AM/FM tuner is typically one of the better performing units available, and the VX401 is also compatible with an optional HD radio tuner. By using the optional Clarion THD400 HD Radio tuner you can enjoy listening to subscription free digitally broadcast radio stations with superior sound quality and a lot of useful text information, such as artist names, song titles or even traffic news, all viewable on the unit's 6.2" LCD display. And if you also use iTunes, the HD tuner option also supports iTunes tagging, which allows you to tag songs heard while listening to HD Radio. iTunes Tagging saves up to 64 tags to your connected iPod/iPhone. Then, when your iPod/iPhone is synced to iTunes, a playlist is generated with links to the iTunes Store where the songs can be purchased and downloaded. Isn't technology grand?
Fans of satellite radio will be pleased to learn that the VX401 is also fully compatible with the Sirius Direct SC-C1 Sirius Satellite Radio Receiver without any need for a special interface.
If hands-free calling is important to you, (and if it isn't, it should be) the VX401 has you covered there as well with a built-in Bluetooth interface, that supports HFP, HSP, A2DP, and AVRCP formats. With built-in Bluetooth, your calls can be taken, and placed effortlessly hands-free and the system automatically connects to your Bluetooth capable mobile phone whenever you're within about 30 feet. Of course, audio streaming from a Bluetooth enabled audio player is also fully supported. However, the VX401 can only pair with one Bluetooth enabled device at a time.
If you still need more connectivity options, the Clarion VX401 includes AV input terminals on the front and rear of the unit, to accommodate both more permanent and temporary types of connections. An input for a rear view camera, as well as a single composite video output for connecting a rear seat video monitor are also provided. To connect your iPod or iPhone, you can use Clarion's optional CCA-748 iPod/iPhone connector cable which allows the VX401 to connect to your iPod via the rear panel USB port and A/V input on the back of the unit. By using the optional cable, the unit easily supports and displays audio/video playback and information, and charging of most iPods and iPhones. But, to keep things cost effective, if just audio playback is all you need, just use the cable supplied with your iPod.
Should you decide that you want to add the full navigation functionality, Clarion has an optional NP401 navigation system that connects easily, and provides full touch screen functionality. The NP401 features 3D navigation, including buildings and landmarks in major urban areas, and 3D road view, making navigating interchanges intuitive and safe. The NP401 has 12 Million Points-of-Interest, so you can find almost anything.
The audio section is full featured as well, with a built-in four channel power amplifier and 3 pairs of pre-amp outputs. A 24-bit D/A converter provides excellent dynamic range, and signal to noise, and is also used as the D/A converter when listening to devices connected to the USB input. A built in DSP powered EQ comes with three preset curves, and there is also a user adjusted curve to allow you to tune things yourself.
Controls and Ergonomics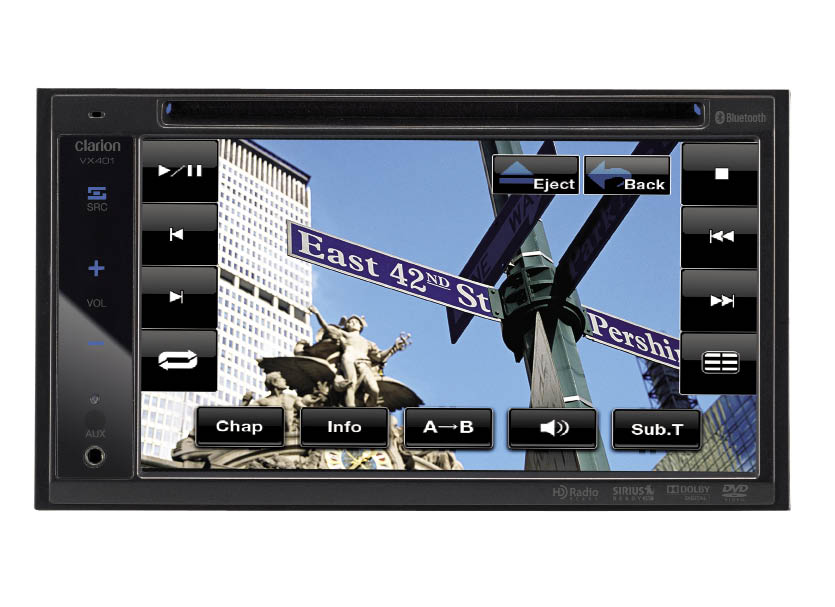 After reviewing the more expensive NX501 with its excellent rotary volume control, I was just a bit disappointed that the VX401 didn't have the same control. But throughout my testing, the up/down push buttons on the face of the VX401 worked just fine, so while I prefer the blind touch and tactile feel of a rotary control, I know many others much prefer the smooth integrated cosmetic appeal of the push button type. The touch screen on the VX401 was easy to use, with good feel and accuracy, and the GUI was designed with large male fingers or the wearing of gloves in mind. Playback of DVD video proved that the 6.2" WVGA LCD had excellent picture clarity and was viewable from a fair bit off axis. Contrast, color and hue are fixed settings, but the brightness is adjustable.
One of my normal tests of any head unit like this is to see how far I can go into the setup and adjustments without having to pull out the owner's manual. In this regard, Clarion got high marks and it wasn't until I wanted to adjust the EQ settings while in AV mode that I needed to use the manual. The trick was, the boost or cut of the EQ can't be adjusted directly from Aux or AV mode, which was a bit finicky, but no real hardship. All the most commonly used controls are but a few well placed screen touches away. But, as good as the VX401 is, one point I thought was a significant oversight was the lack of source tone memory. This is a very common feature, and provides independent tone settings for each individual source. It allows you to adjust the tone for your iPod one way, your favorite radio station another, and leave the CD tone setting flat, for example. Not with the VX401 however, when you set the tone controls, those adjustments are made across the board, regardless of the source.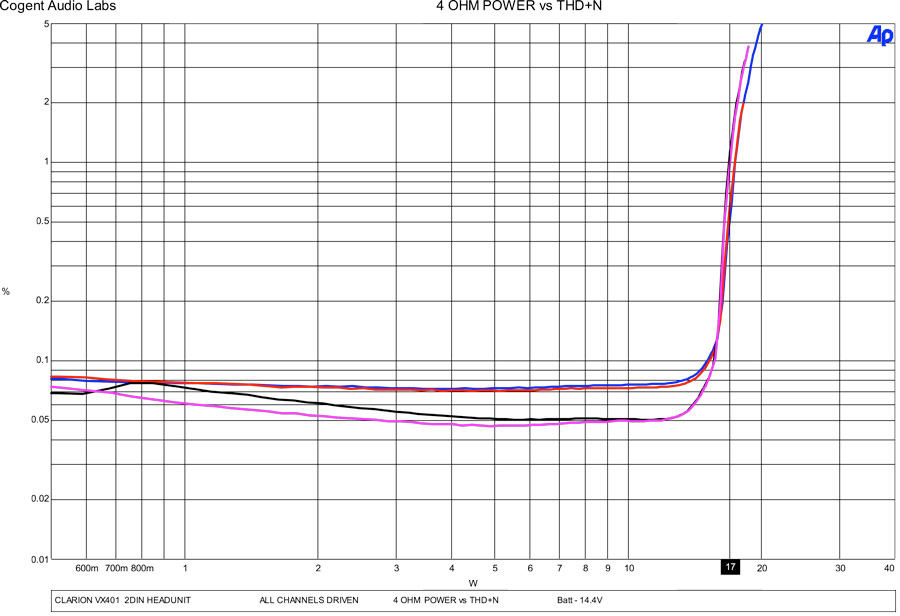 | | |
| --- | --- |
| | |
Listening
If your primary concern about a head unit is sound quality, the VX401 is an excellent choice. My listening sessions proved it to be a very good sounding system, regardless of the source selected. The bass response was very deep, and midrange to very high frequencies sounded natural and very neutral. The unit provided excellent stereo imaging and I liked how easy it was to access and adjust the subwoofer outputs. I might have wanted to adjust the subwoofer outputs crossover frequency a bit lower, but it is preset at 180Hz with a -12dB per octave slope, so I used the crossover in my amp instead, which is no real hardship. During very quiet passages even at high volume settings, there was zero audible noise, and no weird snaps or popping as I used the functions and adjustments.
On The Bench
When all my listening had been completed, I put the VX401 on the test bench to see what kind of numbers I could get. Based on the sonics, I expected good things, and I wasn't disappointed. The built-in amplifier power came up just fractions of a Watt short of the advertised 18 Watts, but it's so close it made no difference. Frequency response was quite flat, and the signal to noise also measured up well. An important and often overlooked spec of a good head unit is output impedance, because a high number will result in a far greater chance of having a lot of alternator noise in the signal. I'm happy to report that the Clarion folks have been listening here too, and the VX401 recorded a very good 120 ohms. Lower is always better, but there aren't too many units that do better than this.
Conclusion
The Clarion VX401 represents a major step forward in terms of functionality and user interface. It sounds excellent, is easy-to-use and on a day-to-day basis would make your commute much more enjoyable. With a vast array of built-in sources, and the ability to connect pretty much anything else you'd like, plus the convenience and safety of a good Bluetooth interface, the VX401 has a lot to offer at a very affordable price.
AMPLIFIER

CEA-2006A Power per channel (all channels driven,@ 4 ohms)

17 watts/ch x 4

A Wtd S/N Ratio (ref to 2V/1W @ 4 ohms) Amplified output

-80.0dBA (CD)

THD+N @ 2V/1W @ 4 ohms 1kHz

0.08%

Frequency Response (-3.0dB)

20Hz – 20kHz
PREAMP SECTION

Max Usable RCA Output Voltage

2.8Vrms Frt/Rear

2.0Vrms Sub

Subwoofer Crossover

180Hz -12dB/Oct

A Wtd S/N Ratio ref to full output voltage

-84.1dBA

Output Impedance

120 ohms

Frequency Response (-3.0dB)

20Hz – 20kHz