Want deep, rich bass in your ride, but don't have the space for a conventional subwoofer system?
The all-new "Energy Flat Subwoofers" from Hertz are a great solution to the problem. Available in eight or ten inch sizes as individual drivers, or sold in a low profile enclosure incorporating a passive radiator, the Energy Flat products are designed and built specifically to provide powerful bass output in a minimum of space. We recently put one of the ES F25.5 10" versions through its paces here in the lab.
FEATURES
The 10" Hertz Energy Flat woofer is a very low profile driver, with a required mounting depth of only 3.375" deep. The subwoofers basket is stamped from cold rolled steel, and utilizes a special extended spider landing which provides a larger diameter mounting point for the spider, thereby improving mechanical control and driver linearity. This series of woofers is designed to work in very shallow enclosures, and to that end, they do not use a typical vented pole piece. Instead, the generously vented spider landing provides more than adequate air flow to keep the voice coil cool, even at high power levels. A design allowing good heat transfer and voice coil cooling is important, because this 10" woofer has a 250 watt continuous power rating. Electromotive force comes from a high flux density ferrite magnet assembly, which in turn drives a single 2.375" copper voice coil which has been wound on an aluminum former to further improve heat dissipation. The coil is located and controlled by a wide-wave resin-bonded fiber spider, and the assembly connected to a very rigid yet lightweight pressed paper cone with has been treated with a poly coating to make it highly resistant to moisture. The cosmetics of the woofer are understated but clean looking, and generate an air of quality craftsmanship.
Connections are basic flat spade terminals that connect to the voice coil via a pair of silver plated lead wires which are stitched to the spider to eliminate lead slap noise and improve mechanical reliability. The owner's manual provided a good explanation of how to connect multiple woofers together, but was very vague when it came to enclosure recommendations. By using the stated dimensions of the available low profile enclosure, I was able to determine that the woofer would like to see somewhere between 0.8 and 1.0 cubic feet of airspace as a minimum.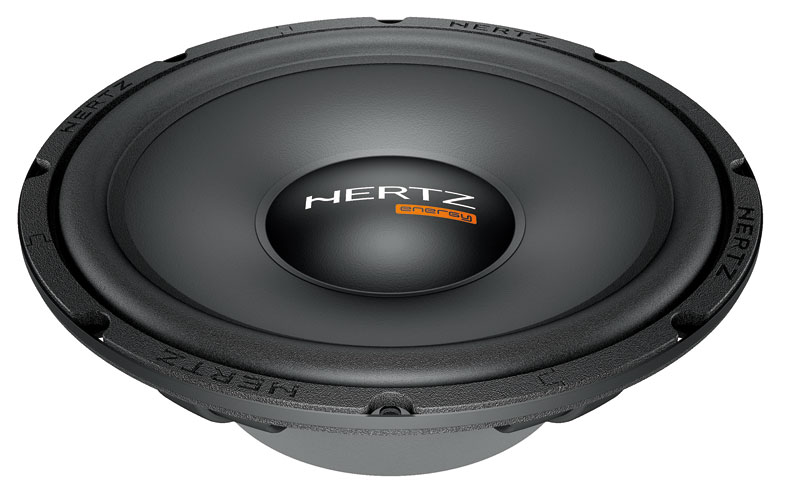 LISTENING
With the woofer having already completed about 12 hours of break-in, I pulled out a 1.0 cubic foot enclosure that was designed to be used in either a sealed or vented configuration. Because the factory had done the passive radiator design,
I expected the ES F25.5 to probably lean towards a vented preference, but as I had not yet measured the Thiele-Small parameters, I was prepared to test it and measure it in both types. I securely mounted the woofer in the enclosure making sure it was sealed to the baffle board with closed cell foam tape.
I decided to begin my listening session with the enclosure sealed, and in that configuration I found myself really enjoying the taut and smooth bass the driver produced. Marc Cohen's "Walking in Memphis" and Dire Straits "Sultans of Swing" had accurate bass tone, and virtually no overhang or muddiness on transients. Bass-heavy tracks like "Lady Marmalade" from the Moulin Rouge soundtrack and 50 Cent's "Patiently Waiting" were reproduced with authority and even when pushed hard, the Hertz woofer pounded out the bass without complaint. You would never know this is a shallow woofer by listening to it.
I decided it was time to try a vented enclosure, the tuned frequency of which was exactly 38Hz. This change really brought out the energy in the woofer. With the vented box, the bottom end was much louder overall at the same power levels, but at the expense of a significant amount of transient response. This is when the musical track has a deep note such as a kick drum or tympani that has a quick attack and a very short decay time. These transients sound "tight" or "dry" on a properly designed subwoofer system. Where the Barenaked Ladies Box Set had sounded tight and punchy in the sealed enclosure, with the enclosure vented, it was just louder, and without the control. Perhaps a larger vented enclosure would tame the boom somewhat, but with my deadline rapidly approaching, time did not allow more experimenting. I also noticed a lot more high frequency output in the vented design, even though the amplifier's crossover was still set at 100Hz.
So, my preference for sound quality and accuracy would definitely be the sealed enclosure, or perhaps the available passive radiator design offered in this series. But if you're willing to give up a bit of sound quality for what seemed like almost double the output, you will probably prefer the vented enclosure.
ON THE BENCH
My Thiele-Small parameters differed significantly in a couple of areas from what is published in the ES F25.5 manual. However, normal production tolerances and the time I took to properly break-in the woofer before measuring it would easily explain the differences. The Efficiency Bandwidth Product figure, as well as the Qts spec tells me that the woofer leans a bit towards a vented design, but can still be used in a sealed enclosure as well. It should also be noted that although the Hertz ES F25.5 has an advertised impedance of 4 ohms, the actual impedance is slightly under 3 ohms.
CONCLUSION
As I said earlier, if you're looking for a great bass solution and you're really short on space, the Hertz Energy Flat series of woofers should be on your list of products to audition. My listening tests showed me that it's also built to take a beating and keep on playing, where many lesser shallow type woofers struggle. And depending on your preference, the ES F25.5 woofer has what it takes to provide great quality bass reproduction, or a ton of loud, dynamic, exciting bass. And with a Canadian retail price of around 400 bucks, while certainly not an inexpensive woofer, the level of installation flexibility, performance, and build quality justifies the price. Visit your Hertz dealer and check one out for yourself.
SPECS
Method = Double Curve - Delta Mass
Revc = 2.930 Ohm
Fo = 30.218 Hz
Sd = 0.0369 M²
Vas = 60.65 L
Cms = 0.313 M/N
Mmd = 84.338 g
Mms = 88.413 g
BL = 10.855 T·M
ms = 3.728
Qes = 0.417
Qts = 0.375
Levc = 8.33 mH
No = 0.388 %
SPLo = 87.904 dB
EBP = 72.46
QUICK TECHNICAL SPECS
Power Handling: 250Watts RMS / 500W "Peak"
Free Air Resonance: 30.2Hz
Frequency Range: 30-300Hz
Sensitivity: 88dB/SPL @ 1.0W/1M
Nominal Impedance: (1) 3 ohm coil
For more info visit: www.hertzaudiovideo.com.