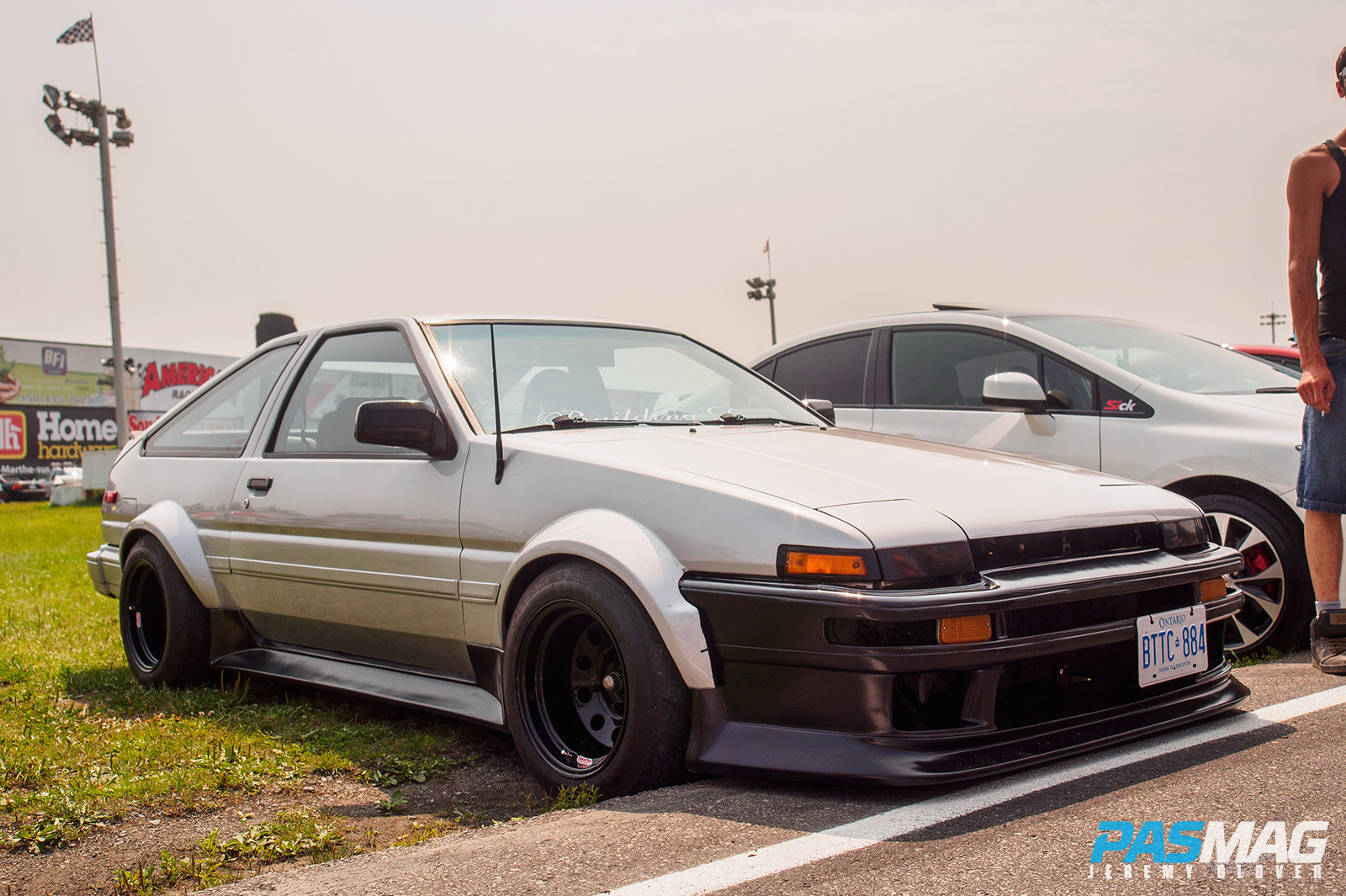 Written by Jeremy Alan Glover | Photos by Jeremy Alan Glover
After the huge success of Honda Fest, Dark Hose events put on their second event of the season - JDM Fest. This is the second year of the JDM Fest show that combines a huge gathering of Japanese vehicles and a 1/8 drag racing event. For this year, the organizers spiced things up by having a freestyle gymkhana competition.
Even with the event only starting at lunch, by early morning there was already a huge line-up of cars outside the gates of Autodrome St-Eustache in Quebec. At 11:00am, the-line up went all the way out to the main road. It was crazy! When the gates finally opened, people flooded in to get the prime parking spots and to rush over to the official JDM Fest swag booth that ended up selling out before even I had a chance to get some.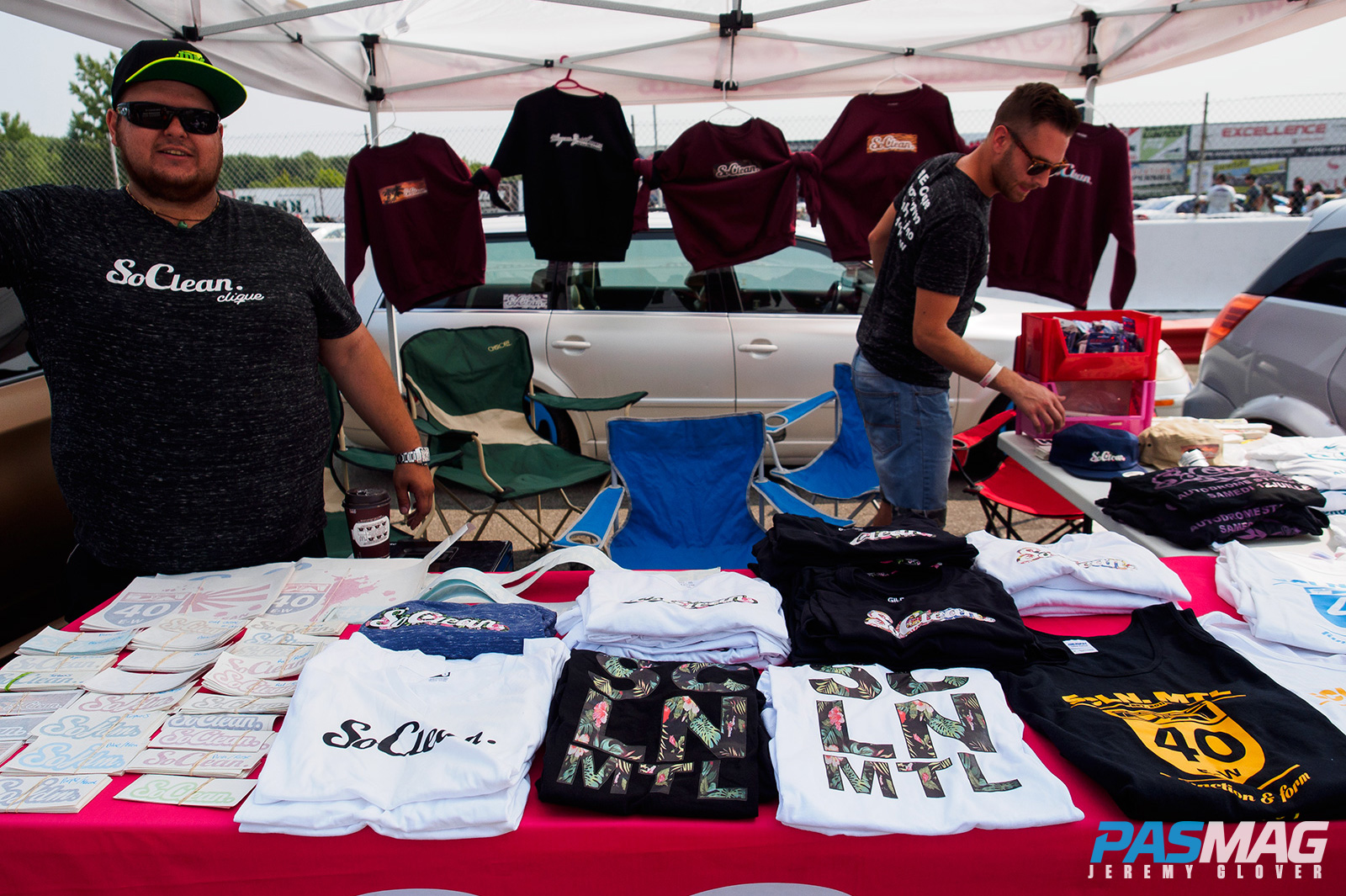 When I walked around the show area I saw some really nice cars. From a genuine R34 GT-R to a Viper swapped S2k, and pretty much everything in between, no matter what kind of jam-style you were into there was a car for you!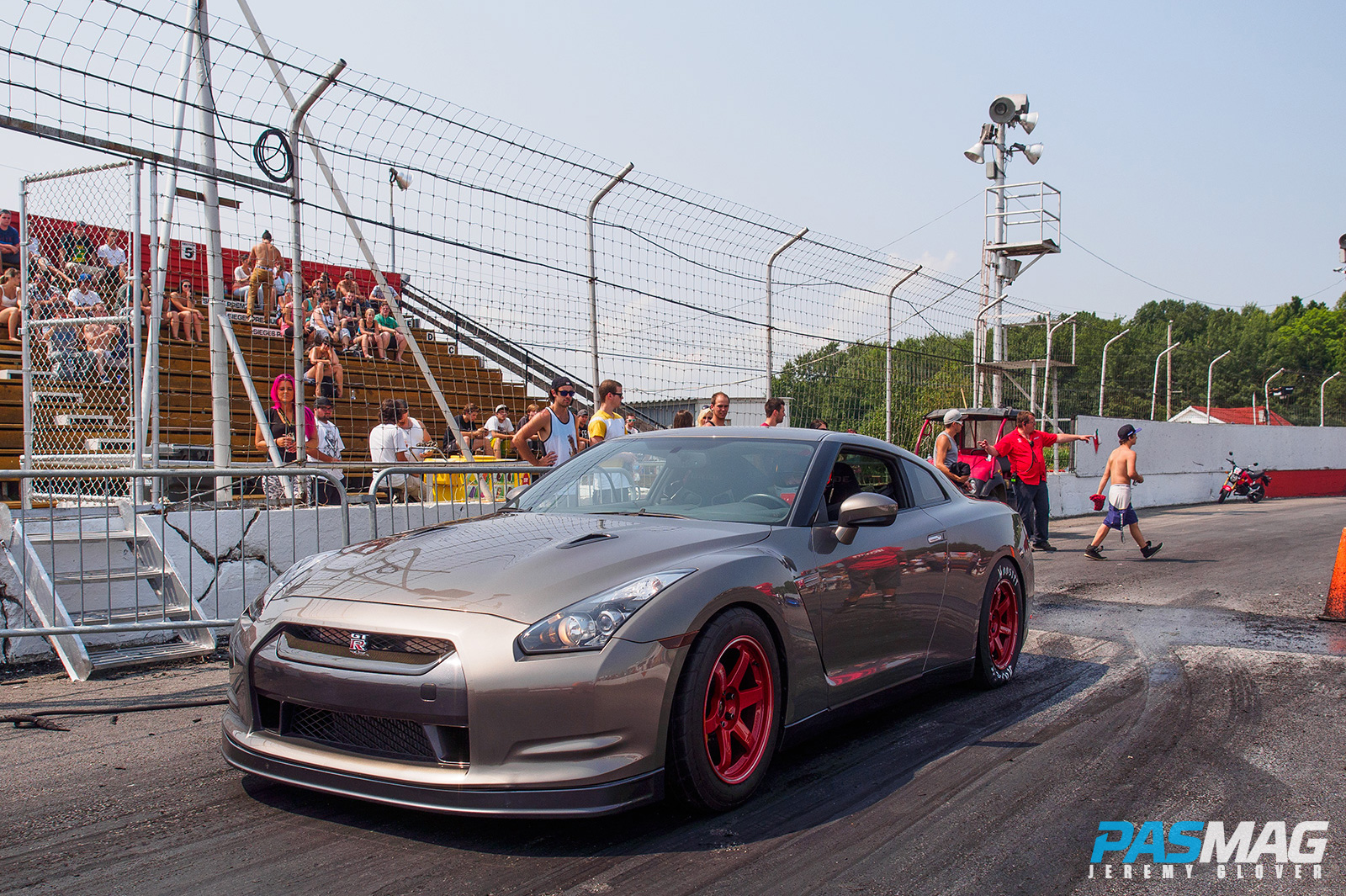 Out on the drag strip is where the real action was. Winner of Honda Fest, Jason Budd, was back in his drag Honda Civic to keep his winning streak going. One car that everyone was looking forward to see run was a 2000hp SP Engineering R35 GT-R on slicks. After 3 qualification runs, it was no surprise to see the R35 sitting in first place with a time of 5.91. Jason Budd held the 2nd qualification spot with a 6.16, while another R35 GT-R claimed the 3rd spot with a 6.67.
After the drag qualifications, it was time for the Gymkhana competition. It was really cool because a lot of FD/DMCC drivers like Marc Landreville and Jonathan Guitard were on-site to compete. Even former DMCC diver and full time stunt driver, Tyler Hall, came out for the event! The competition was not restricted to JDM cars, so we even had an old Volvo and Fox-body Ford Mustang ripping-it up. The event was not a traditional Gymkhana event since it was taking place on the drag strip. So it was a freestyle event, sort of like a skate board competition, where the drivers each had a certain amount of time to go out and put down the most exiting run they could.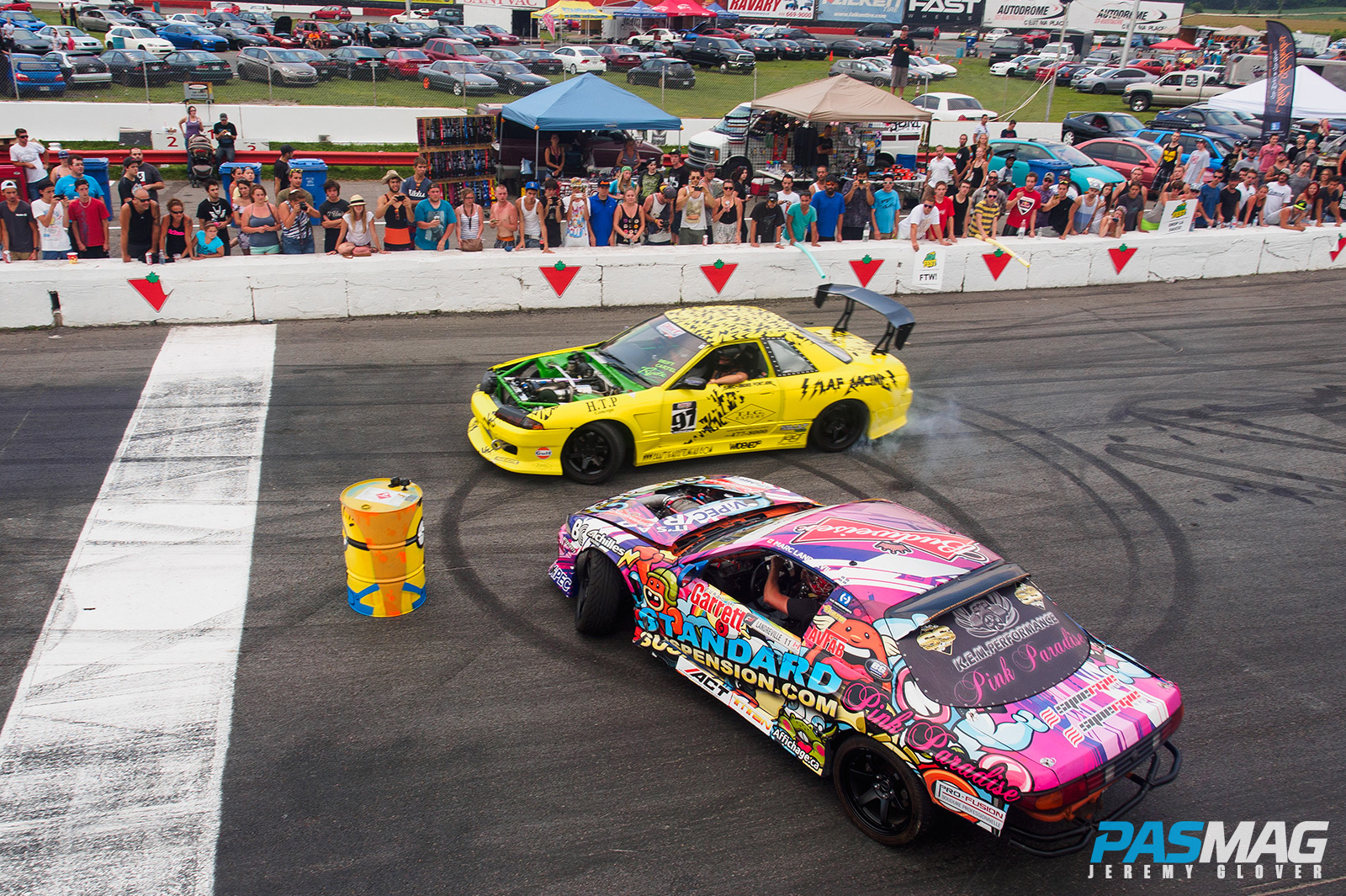 The main competition came down to Marc and Jonathan. Just as the drivers were making their final runs it started to rain. It made the track very slick. Marc Landreville ended up pulling out the win as Jonathan started having differential problems.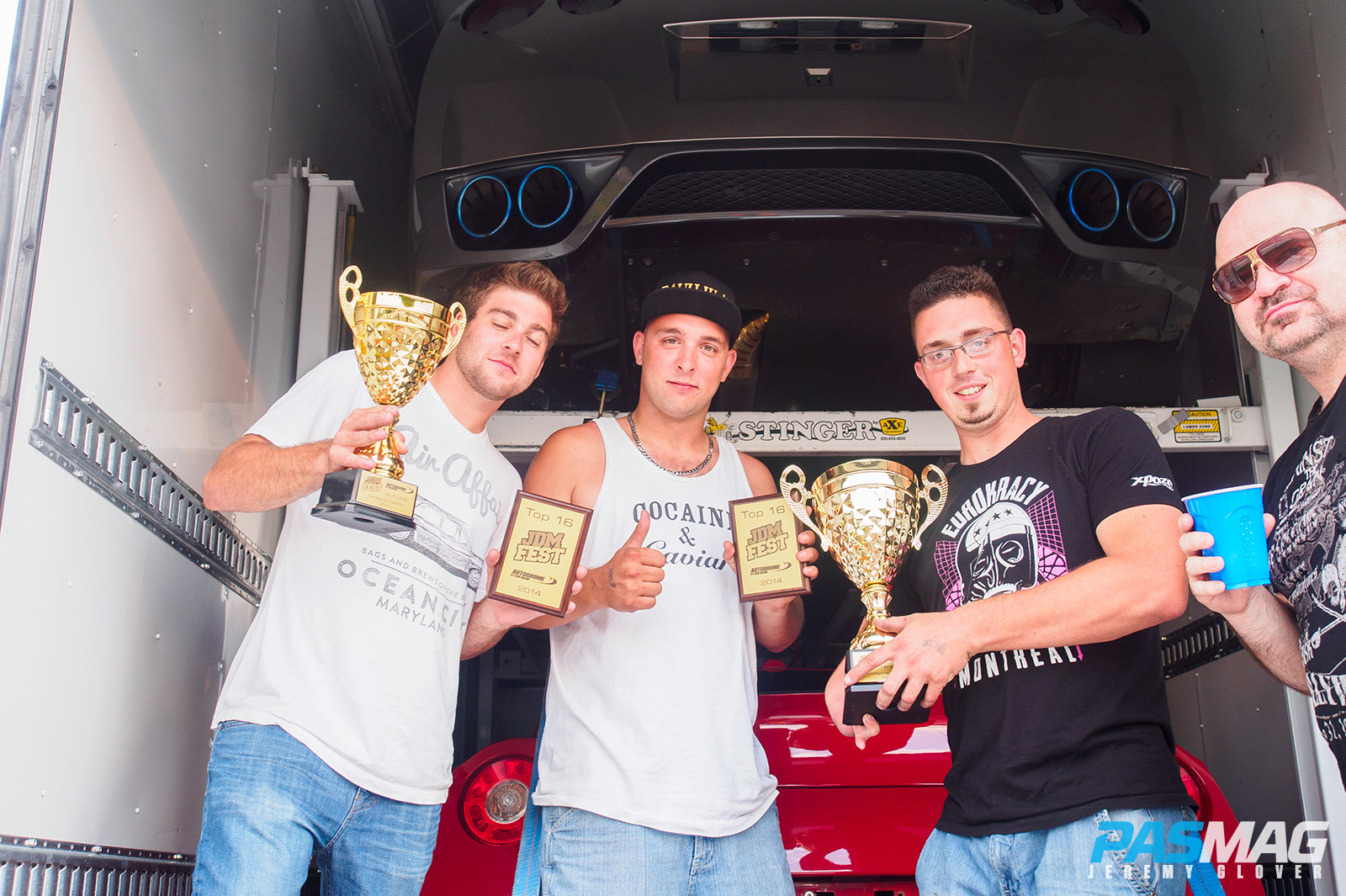 The rain started to really come down and all the spectators started to scramble to leave. With the wet track and forecast calling for major thunder storms on their way, the organizer had no choice but to call the event. This meant that the drag racers would finish in their qualifying order. So taking home the win was Kevin Bastien, piloting the Godzilla R35 GT-R, 2nd went to Jason Budd in his drag Civic and rounding out 3rd was Shawn B in his Red R35 GT-R.
Despite the rainy end to the event, it was one hell of a show! And considering it was only the second edition, I can only imagine how big next year will be!