Photography by Micky Slinger, Taylor Vollrath
---
Five years of Tuner Battlegrounds. That's such a mind-blowing sentence to be able to say. Five whole years of enthusiasts showcasing their builds through our competition for the chance to be on the cover of PASMAG and experience having their car at the SEMA show. Every year, the competition grows, setting new records in numbers of participants, as well as voters.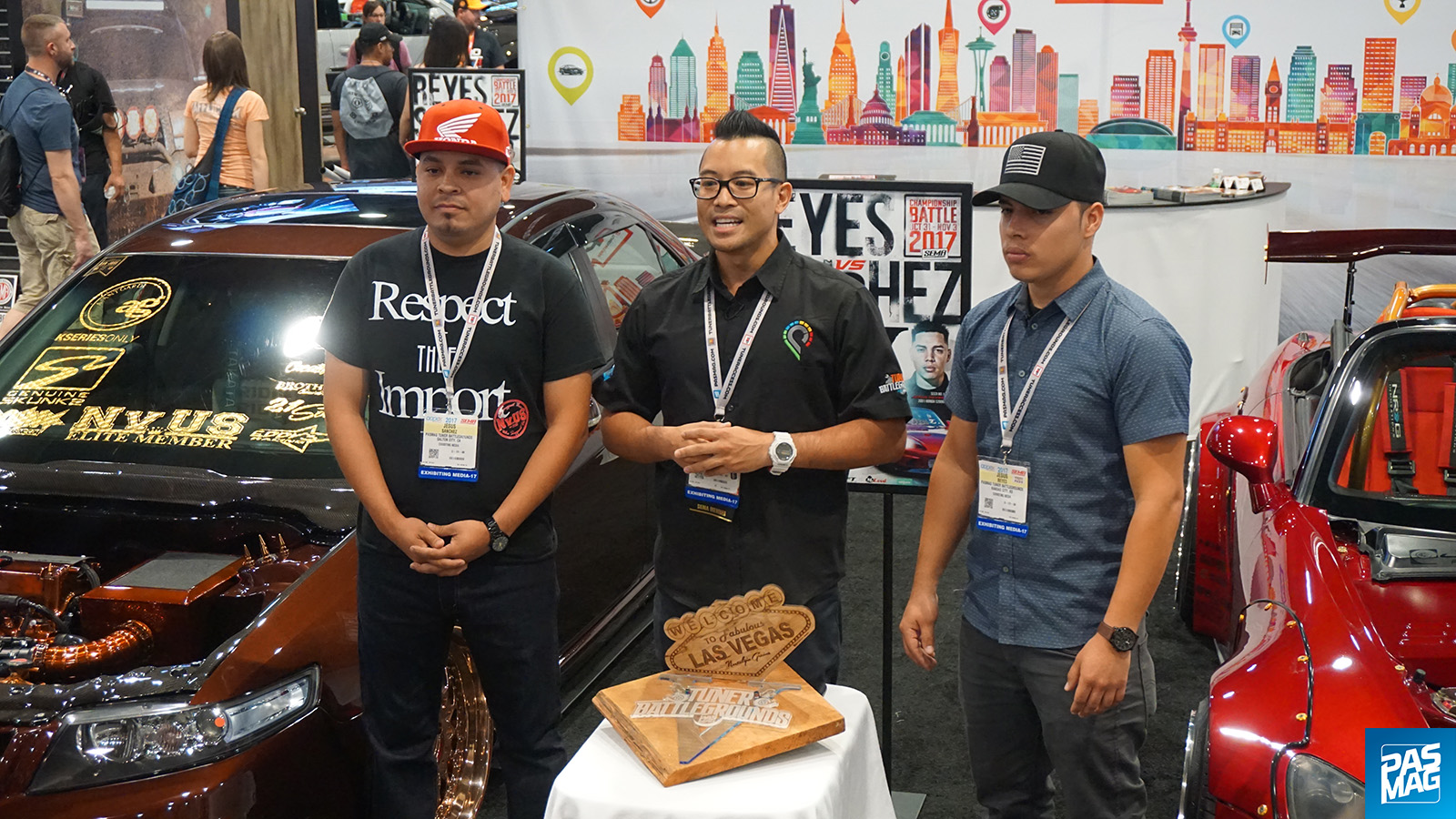 One thing that remains the same, year after year, are the competitors and their nature. While things do get super competitive and tense at times, both parties always hold it together and handle victory or defeat with humility you wouldn't necessarily expect in this day and age. These guys are people we're happy to have out, representing PASMAG at SEMA. Jesus Reyes and Jesus Sanchez were no exception.
Besides the wild similarity of first names, the Jesuses both own fantastic Hondas - Reyes has a widebody and supercharged S2000, while Sanchez runs a fitted and impeccably clean TSX. Both named Jesus, both drive Hondas, and an S2000 and TSX have both won the TBG Championship in the last two years. Tuner Battlegrounds 2017: the year of coincidences!
The coincidences stop there, however. This year, we changed up the onsite voting to include both business card ballots and badge scans to bolster the online options of voting: Instagram and Twitter hashtag voting, as well as one-click voting via www.tunerbattlegrounds.com.
After the winner was crowned, we saw some truly staggering figures, especially in total hashtag impressions, which added up to 5,970,512 (almost six million!), and total hashtag reach, which found its way to 3,151,123 people!
Speaking of the winner, the victor of the 2017 Tuner Battlegrounds Championship is Jesus Reyes and his Honda S2000! Amassing 4,099 total votes (562 votes over Sanchez), Reyes comes home with a future PASMAG cover feature, a beautiful trophy made my Nostalgic Grains, a set of wheels from Rotiform, and a full air suspension kit from Air Lift Performance - not to mention the incredible experience of experiencing the SEMA show. Even in defeat, Sanchez was a real class act, offering an embrace to Reyes and letting him know that he deserved the win. That's how you like to see a competition come to a close.
It's been crazy to see Tuner Battlegrounds go from an idea that was born in a boardroom at the PASMAG offices, to the social media monster it is today. The amount of people that approached us at SEMA alone to let us know they were building their cars up for the 2018 Championship was staggering, so you can bet we'll be working to make next year's competition even more explosive and exciting. Thank you for all your support this year - we can't wait to see you and your builds in 2018! www.tunerbattegrounds.com
BY THE NUMBERS
Jesus Reyes (2001 Honda S2000)
Kansas City, KS
Hashtag Voting: 397 users
TunerBattlegrounds.com: 2,490
Ballot Box: 272
Badge Scans: 940
Total Votes: 4,099
Jesus Sanchez (2005 Acura TSX)
Coachella Valley, CA
Hashtag Voting: 336 users
TunerBattlegrounds.com: 1,501
Ballot Box: 571
Badge Scans: 1,129
Total Votes: 3,537
Overall Total Votes: 7,636
Total Hashtag Reach: 3,151,123
Total Hashtag Impressions: 5,970,512