On August 28, 2020 Texas Motor Speedway announced that all events scheduled prior to its NASCAR Cup Race on October 25 are cancelled or postponed due to continuing concerns over the COVID-19 pandemic.
Formula DRIFT was scheduled to visit Texas Motor Speedway on October 16-18 for Rounds 5 and 6 of its PRO Championship as well as Round 3 of the Link ECU PRO2 Championship. After diligent discussions with the track management team, Formula DRIFT is announcing its event will be rescheduled to the end of the month. FD TX will now take place over the weekend of October 30-November 1.
To accommodate the new schedule, Formula DRIFT will move its operations to utilize the venue's permanent grandstands, creating a new track layout for the competition. This will present a new challenge to all Formula DRIFT teams and guarantees a new spectacle for the fans, who will be able to enjoy the new seating arrangements.
The event is limited to 50% capacity and fans who have already purchased tickets for the previous date will automatically have their ticket transferred to the new dates. Those who cannot attend the rescheduled event may request a full refund.
All other aspects of the event will remain unchanged in what is set to be a very close 2020 championship season.
NEXT ROUND
The 2020 Formula DRIFT PRO and Link ECU PRO2 Championships continue on September 25-27 at Evergreen Speedway in Seattle, WA. Please visit formulad.com for 2020 event details, driver profiles, new content and livestream information.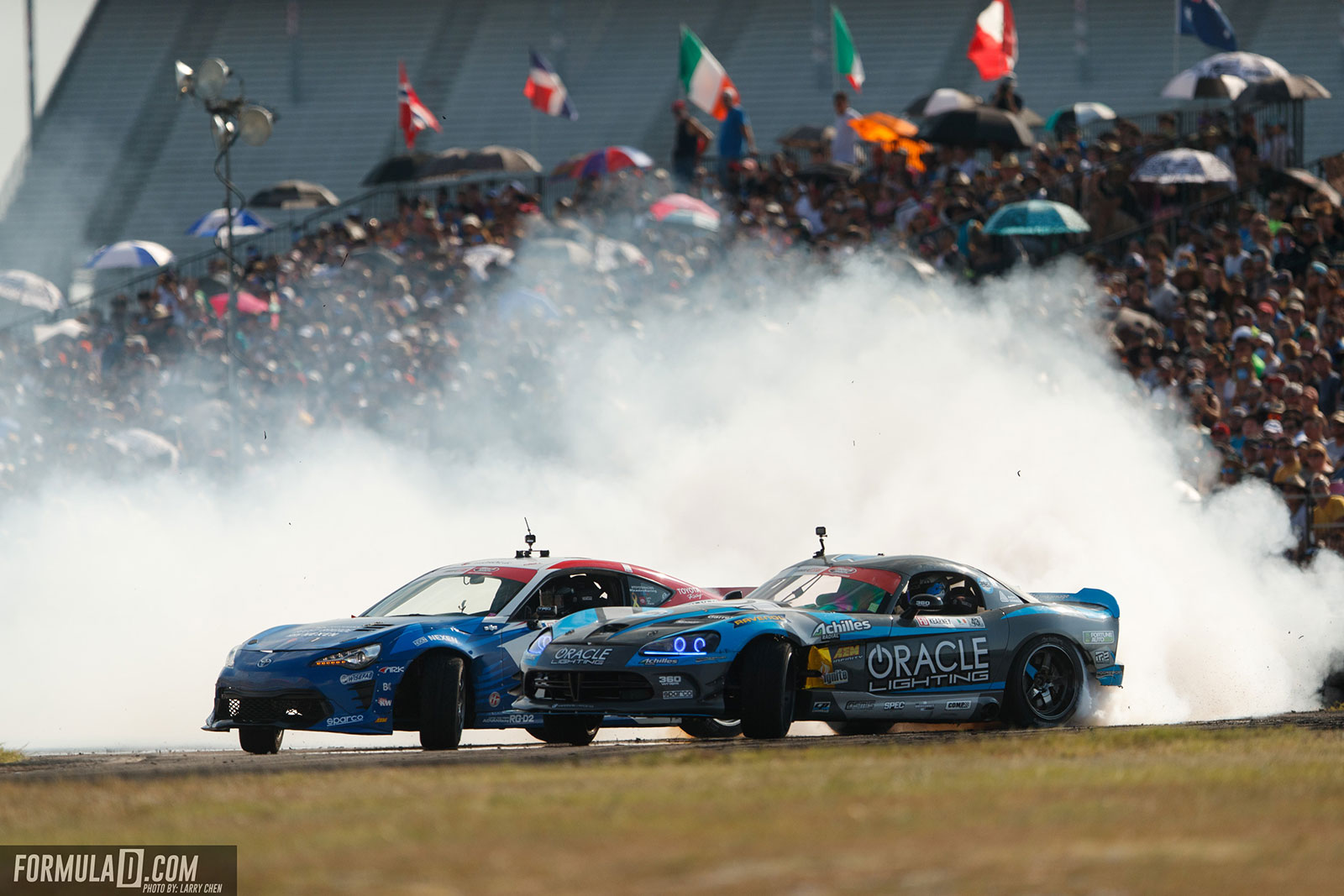 ABOUT FORMULA DRIFT
Formula DRIFT is recognized as the leading international drifting championship. Established on the streets of Japan, drifting has evolved into a worldwide competitive sport that challenges each driver's ability and control. Formula DRIFT provides a series for the best professional drifters from across the globe to compete nationwide for the coveted Formula DRIFT Championship. As the first official drifting series in North America, Formula DRIFT has taken competitive motorsports to the extreme, attracting drift fans and car enthusiasts from all walks of life, and established itself as the global leader for the sport.
For a competition schedule, ticket information, special content and livestream, visit formulad.com.
FOLLOW FORMULA DRIFT ONLINE
formulad.com
instagram.com/formulad
facebook.com/formuladrift
twitter.com/FormulaDrift
Tune into Formula DRIFT on CBS Sports Network and check your local listings for air times
2020 FORMULA DRIFT OFFICIAL SPONSORS
Major Sponsor, Official Vehicle Lighting, Dash Cam & Jump Starter – TYPE S
Major Sponsor, Official Energy Drink – NOS Energy Drink
Major Sponsor, Official Military Branch – United States Air Force
Major Sponsor, Official Engine Oil – Royal Purple
Major Sponsor, Official ECU, PRO2 Title Sponsor – Link Engine Management
Major Sponsors – Achilles Tires, Falken Tires, GT Radial
Tire Supplier – Nexen Tire, Nitto Tire
Official Sponsors – Ford Performance, BC Racing, Toyota Racing
Associated Sponsors – Enkei Wheels, Torque Drift, NGK Spark Plugs, Rays Wheels
Technical Partner – PCI Race Radios, Proform