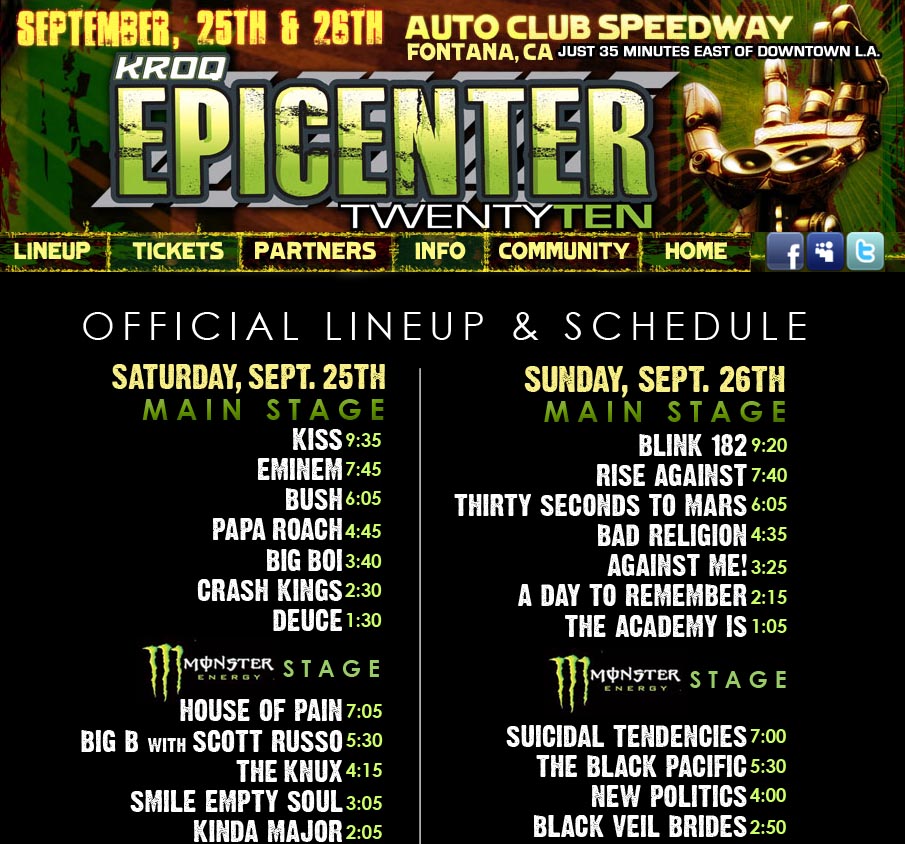 Los Angeles, CA, September 20, 2010 – JVC U.S.A. is proud to announce their participation in 'EPICENTER Twenty Ten' with The Perfect Experience Artspace Gallery.  Headlined by Eminem, KISS and Blink-182, the second annual music festival will take place on September 25 and 26.
This year's EPICENTER will introduce JVC's Perfect Experience Artspace Gallery inside the main grounds of the festival featuring an assortment of the best pieces of art submitted via the "Art Space" banner at www.EPICENTERFestival.com.  In addition, the festival will debut an interactive "graffiti wall" whereby concertgoers can share their experiences through words or art.  "We want this Art Space to be a free-for-all village where everyone can view some amazing pieces of art, as well as contribute their own style of expression," offers Gary Spivack of Right Arm Entertainment.
JVC's Perfect Experience Artspace Gallery will provide festival-goers with the opportunity to view some amazing pieces of art and art installations, experience live painting, and check out the latest products from JVC.  "JVC is always looking for opportunities to support artists and musicians," explains Chad Vogelsong, General Manager of Marketing, JVC Mobile Entertainment.  "The talent that will be represented at EPICENTER is the same talent that inspires us to create cutting edge technology for the marketplace."
JVC will be photographing fans on the step-and-repeat and will be uploaded to the JVC U.S.A. Facebook fan page, where fans of the page can currently win tickets to EPICENTER.  During the festival, JVC will also be raffling off prizes.  While some raffle winners will receive a JVC iPod Alarm Clock Stereo, other lucky winners will be given a JVC camcorder and be escorted to a VIP pit to film the performance.
About JVC U.S.A.
JVC U.S.A., headquartered in Wayne, New Jersey, is a division of JVC Americas Corp., a wholly-owned subsidiary of Victor Company of Japan Ltd. JVC distributes a complete line of video and audio equipment for the consumer and professional markets. For further product information, visit JVC.com or call 1-800-526-5308.
About EPICENTER Twenty Ten
EPICENTER Twenty Ten is located just 35 minutes from downtown Los Angeles, right off the 10 freeway.  Tickets for EPICENTER Twenty Ten are on sale now via www.TicketMaster.com.  Tickets start as low as $79.50 for a single day ticket and more information about weekend VIP passes, two-day value passes and single day tickets, plus all camping information can be found at www.EPICENTERFestival.com.