Not the Supra you remember, but the one you'll want
The last time the Toyota Supra graced dealer lots in Canada, new cars still had cassette decks, Facebook founder Mark Zuckerberg was entering high school and everyone was worried about Y2K.

Welcome to 1998, a time when in addition to the above, Toyota Canada was trying (with limited success) to sell its last handful of fourth generation Supras that were burdened with price tags north of $70,000. Adjusted for inflation, that's over $105,000 in 2019. A Toyota – even a halo-ish sports car like the Supra – priced that high was simply a non-starter for most new car buyers, a reality the company itself acknowledged during the recent press launch for the all-new 2020 Toyota GR Supra.
One official even told the assembled media that the last '98 Supra at Toyota Canada headquarters in Toronto was stolen. No word on whether it was recovered or not.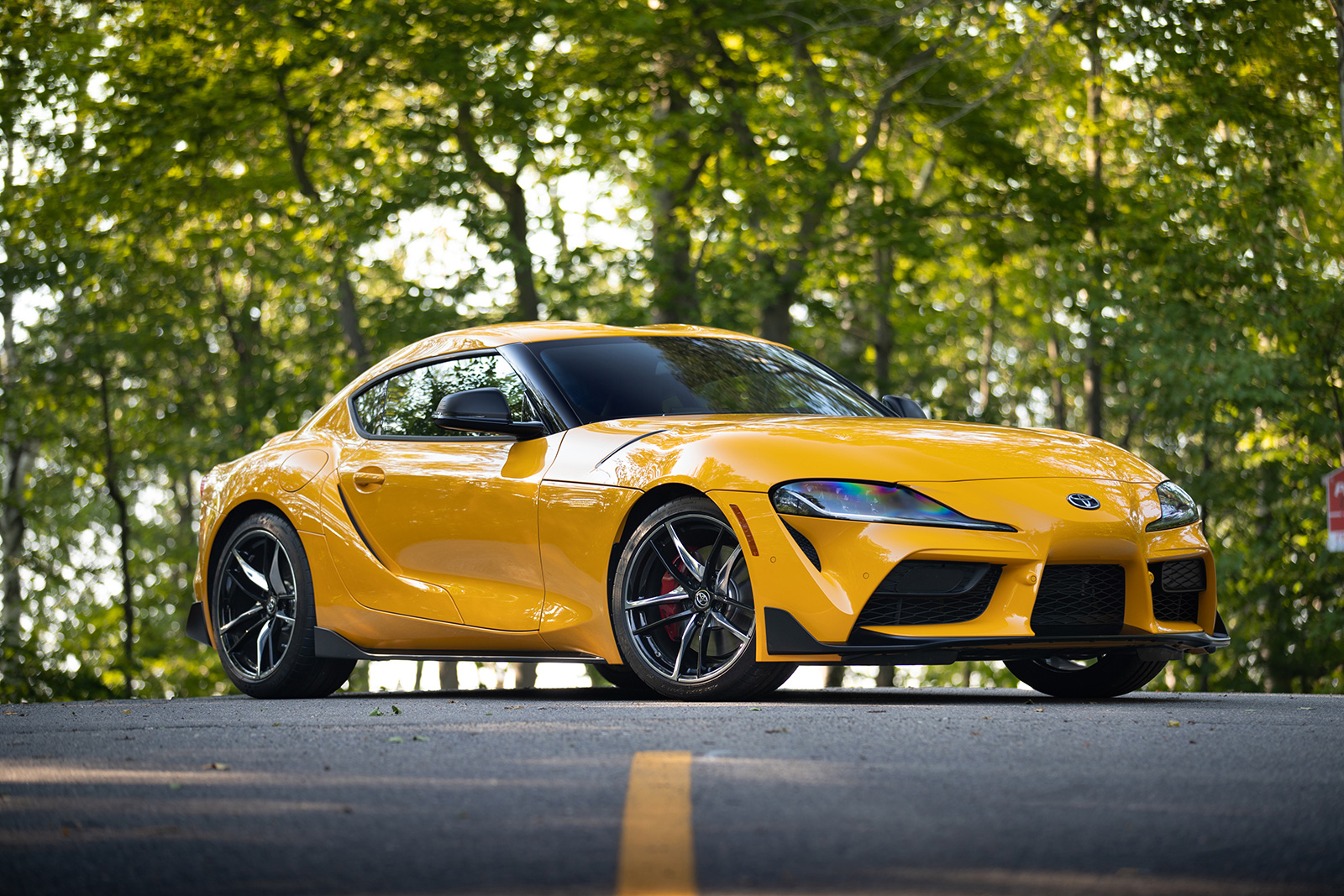 IT'S BACK!
Fortunately, the new GR Supra (known internally as the A90), probably won't have to carry that burden for reasons I'll explain but I'm burying the lead a bit here:
The Supra is back!
That's right, Toyota's high-performance, brand identity sports coupe is returning to the lineup after a 20-plus year hiatus, this time as a product of a BMW-Toyota alliance that is responsible for both it and the all-new sixth-gen BMW Z4 roadster.
So yes, it's a Toyota that speaks German, but that's not a bad thing. More on that shortly.
A BRIEF SUPRA HISTORY
A rear-driving Supra sports coupe of some description was in Toyota's lineup continuously from 1978 through 1998 (and until 2002 in Japan), a run that spanned four generations. All models were built in Japan, with the car becoming more powerful (and expensive) over time. By the time it left North American showrooms in 1998, sales had almost completely dried up, with the Supra being the victim not only of falling demand for sports cars in the late '90s, but also a strong Japanese yen which forced the MSRP beyond the reach of most potential buyers.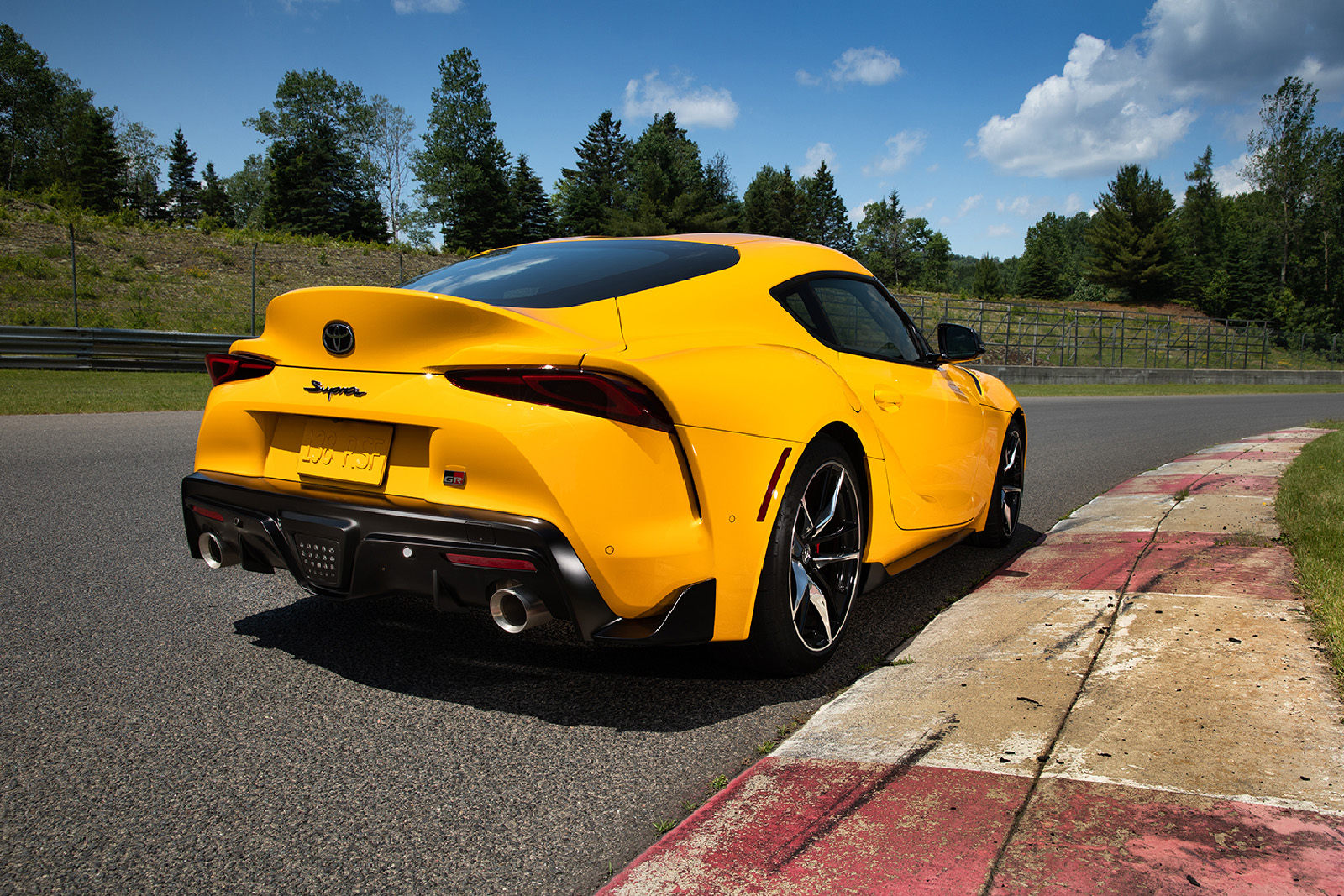 THE A90, OR MORE ACURATELY, THE J29
Oh, how times have changed. The A90 – a bit of a ceremonial Supra naming convention because the new car shares the internal BMW J29 moniker with the Z4 – was conceived in partnership with BMW and as a result it shares many, if not all, of the same chassis underpinnings with the Z4, along with the same BMW-sourced 3.0-litre turbocharged inline 6-cylinder engine and ZF-built 8-speed automatic transmission that drives the rear wheels. Dimensionally, it also utilizes the same wheelbase, track and two-seater layout as the Z4. Interestingly, its wheelbase is 101.6 mm shorter than Toyota's other rear-driving sports coupe, the 86, although it has a wider track (50 mm rear, 76 mm front). Weight distribution is 50:50, with a low centre of gravity. Curb weight checks in at 1,541 kg (3,397 lb.) with weight saving measures coming in the form of aluminum doors and hood and composite rear hatch.
Differences – beyond the obvious, such as styling and coupe versus roadster body styles – include suspension tuning (although both cars use the same suspension knuckles), engine output (published numbers, at least) and transmission software. Minor differences also exist in the cabin, but there is strong BMW feel regarding switchgear, materials and layout.
Both cars are built by contract auto assembler Magna Steyr (a division of Canadian auto parts giant Magna International) in Graz, Austria. Magna Steyr was chosen due to their well-established history of custom, lower-volume assembly work, plus an existing relationship with BMW.
The 2020 GR Supra – GR stands for Gazoo Racing, Toyota's in-house motorsports arm – comes in one loaded trim for Canada and carries a $64,990 price tag. Seven exterior colours are available including a gorgeous matte silver (Phantom) finish. Cars began arriving in Canadian dealerships in late July.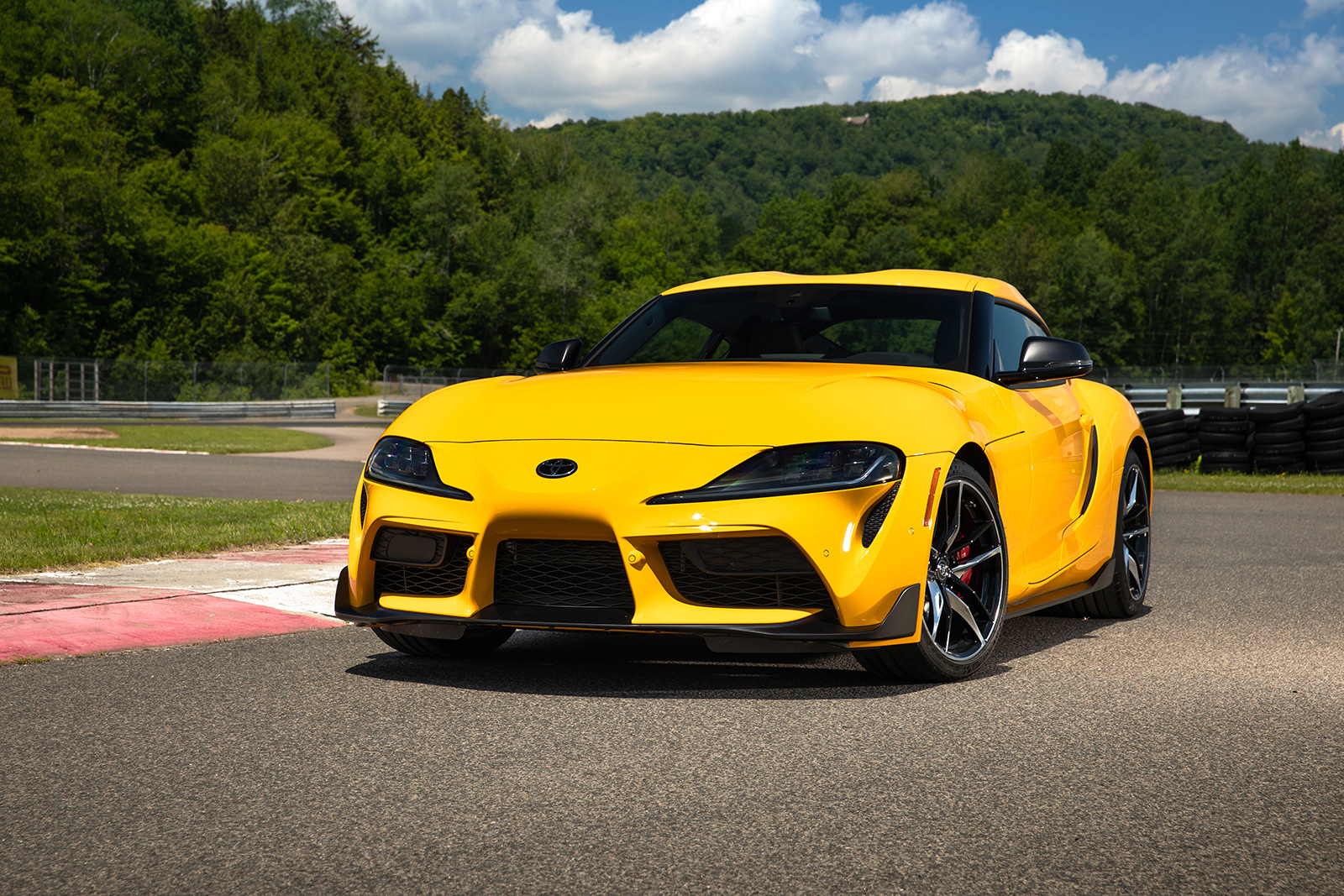 SIMPLY GORGEOUS
I'm not going to spend a great deal of time discussing the Supra's looks because I think it's self-evident that the car is a real looker. While it isn't a carbon copy of Toyota's FT-1 concept from earlier this decade, the Supra was clearly influenced by it; its LED headlights, flared haunches, and air vents aft of the doors can all be found on the FT-1. Even its bubble roof, designed to allow for the wearing of helmets, first appeared on the FT-1.
I'd sum it up this way: almost as soon as the FT-1 was revealed in 2014, the Internet started calling it the 'next Supra'. After five years that notion proved to be true, from a design perspective at least.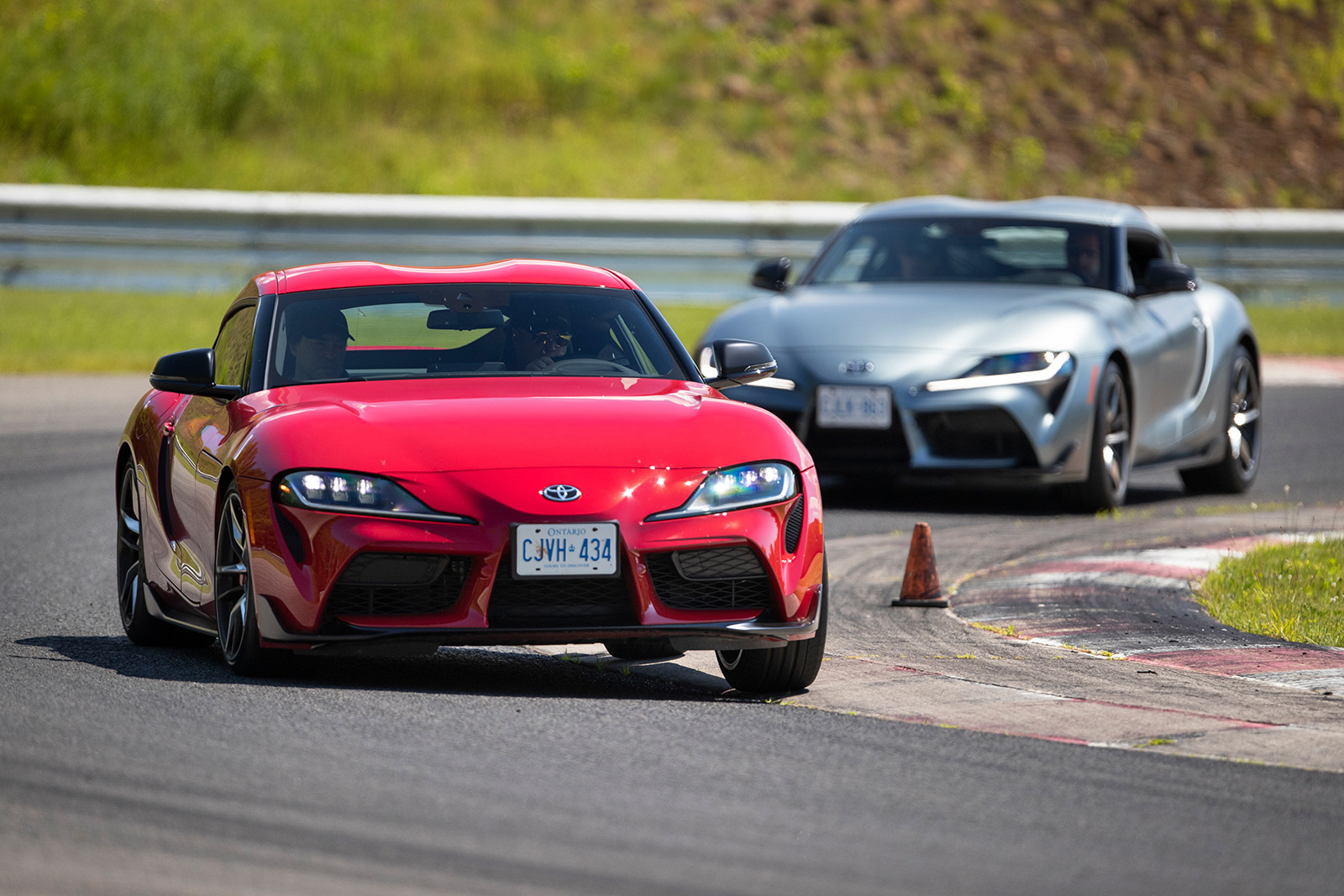 TRACKWORTHY
Toyota booked Circuit Mont-Tremblant, a classic road circuit that has hosted many forms of professional motorsport since it opened in 1964, including the Canadian Grand Prix (1968, 1970), to give journalists a taste of the Supra's on-track capabilities. Located about two hours north of Montreal, Circuit Mont-Tremblant is a challenging 15-turn, 4.26 km track that makes fine use of the Supra's abilities.
I wasn't counting laps during the lead / follow exercise Toyota put us through, but I can say with confidence that the Supra performed beautifully on tricky track. The 3.0-litre turbo provides immediate thrust, with very little detectable lag that is greatly aided by peak torque (365 lb-ft.) that begins at just 1,600 rpm. While the Supra's 335 hp number isn't going to blow anyone's socks off, several independent dyno tests conducted in the U.S. have reportedly confirmed the engine is more powerful than Toyota has acknowledged.
At any rate, the Supra is quick. Toyota's 0-100 km/h time is 4.3 seconds, and it felt that fast on track. As mentioned, there's no manual transmission available, but the ZF 8-speed automatic has a manual mode with paddle shifters, which I made use of on track. Banging through the gears feels satisfying, but I would love to experience the Supra with a third pedal.
This car likes to be driven hard and feels secure at speed. Turn in feels direct, the Supra rotates nicely through corners, and lively throttle response gets you back up to speed quickly. The rear end can get a bit squirrely if you overcook it going into a corner, but simply lifting off the throttle and some quick braking sets the rear back down in short order. No drama, in other words.
The drive mode select is available with normal, sport and sport individual settings, with the latter allowing the driver to adjust the damping, steering, engine and transmission. The rear axle also has a limited-slip active differential (electric motor, multi-plate clutch pack) to bleed out understeer and oversteer, and to help the car rotate through corners by controlling lateral torque.
The on-track setting in my tester was switched to sport, and the car acquitted itself well. The system keeps traction and stability control at bay which helps to quicken the pulse without removing the safety net completely. Toyota has put this car through the ringer on track during its development and you can feel those many hours in the final product. Every detail feels optimized for tracking, from the engine to the transmission, to the chassis, to the 19-inch wheels, Michelin Super Sport tires and Brembo 4-piston front brakes. All I can say is well done.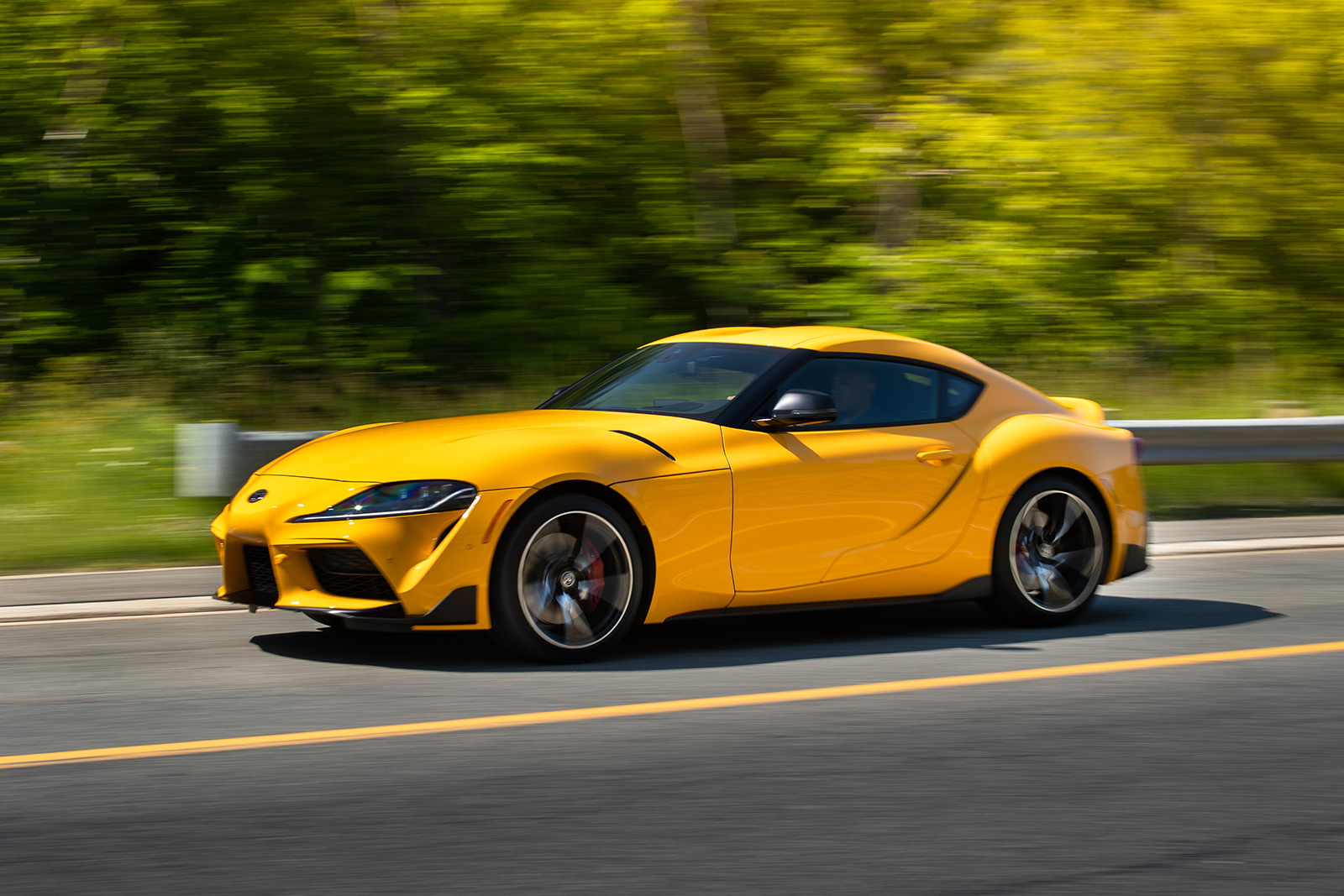 GOOD ON THE ROAD, TOO
Not only did I experience the Supra on track, but I was also fortunate to drive it from the track to Toyota's fleet in Montreal, and I think it feels pretty good as a potential daily driver. With the drive mode selector set to normal to make the ride more liveable, the Supra cruises along nicely with plenty of power in reserve to slice through traffic when needed. It's not a family sedan, but its road manners are far from punishing.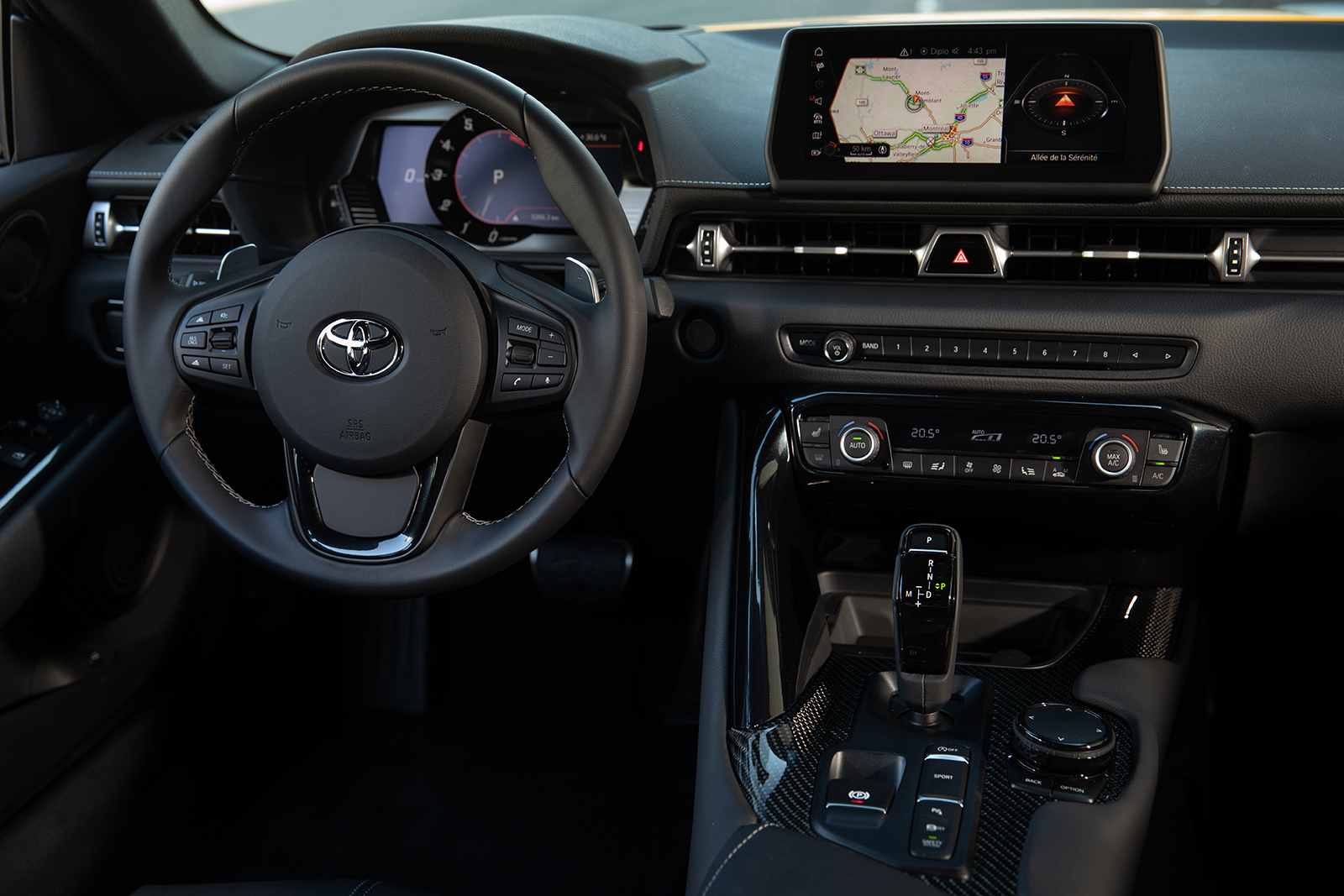 BMW ON THE INSIDE
Not to dwell on this too much, but the Supra's BMW DNA is very much in evidence in the cabin. For anyone who's driven the new Z4 or a late-model 3 Series, the execution of the Supra's interior will be immediately recognizable. Supra purists might be annoyed, but it doesn't bother me at all. The Supra has a driver-focused cockpit, 14-way adjustable performance seats (available in black or red), and a pile of the latest and greatest tech: 8.8-inch touchscreen, head-up display and wireless charging, HD instrument panel, among other features. It even has standard carbon fibre trim pieces.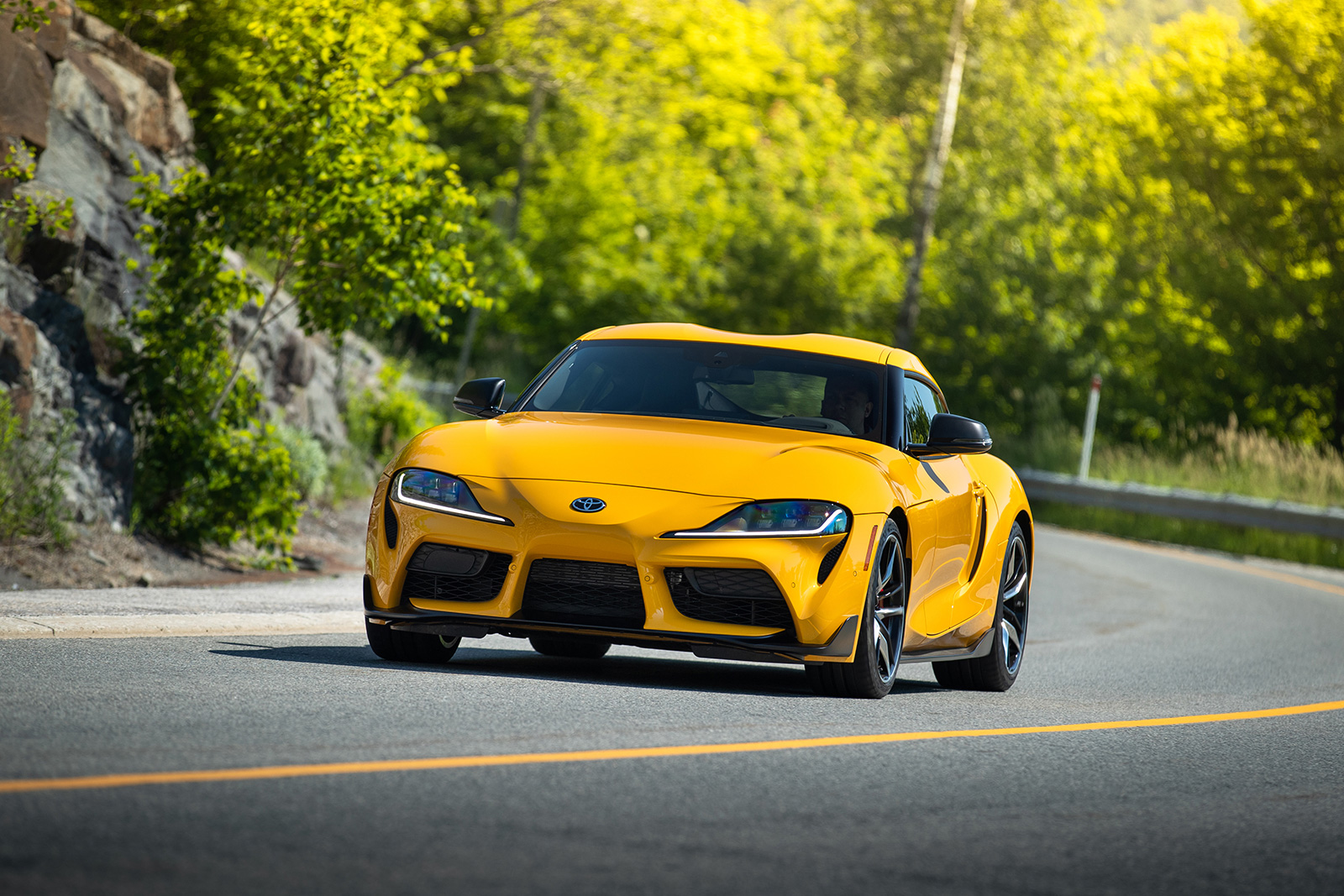 FINAL THOUGHTS
Back in 1998, the Supra was a car that felt at odds with Toyota's ambitions as a global sales leader. It was too low-volume, too expensive and didn't appeal much to anyone, apart from a very small group of Supra-heads. It was doomed, in other words.
Twenty years on, the fifth gen GR Supra feels like it has a future. No, it's not cheap, but it's reasonably priced. And yes, Toyota had to get in bed with BMW to make it happen, but as a company official said to me during the launch, if the partnership didn't exist, the Supra wouldn't either.
So, before Supra forum boards start overflowing with #notmySupra and 'where's the 2JZ!!!' outrage, the purists should put their pitchforks down and give the new Supra a chance. It is pure Toyota? No, but it's real and it's worthy of the Supra name, and I'd say that makes it worth celebrating.
SPECIFICATIONS – 2020 Toyota GR Supra
BASE PRICE / AS TESTED: $64,990 / $64,990
FINAL ASSEMBLY: Graz, Austria

ENGINE: 3.0L turbocharged inline 24-valve 6-cylinder
HORSEPOWER: 335 hp @5000 – 6500 rpm
TORQUE: Torque: 365 lb-ft. @1600 – 4500 rpm

CURB WEIGHT: 1,541 kg

CONFIGURATION: front-engine, rear-wheel drive

TRANSMISSION: 8-speed automatic

FUEL ECONOMY RATINGS (L/100 KM CITY / HIGHWAY / COMBINED): 9.9 / 7.7 / 8.9

WARRANTY: 36 / 60,000

ALTERNATIVES: BMW M2, Nissan 370Z NISMO, Porsche 718 Cayman S

PHOTO GALLERY