Formula DRIFT PRO2's latest champion fills us in on the year behind, and the year ahead.
Q&A WITH DMITRIY BRUTSKIY
PASMAG: First of all, congratulations on the big PRO2 win last year. Can you tell us a bit about the experience?
Dmitriy Brutskiy: Thank you very much. I had a very rough start to the season. I picked up my new car from Essa Autosport about three weeks before the first round. About a week later we had a test day at Englishtown in NJ with my teammate Brian Wadman where I had a catastrophic engine failure. Later we found out one of the valves dropped and locked up the motor. With only one week before we had to hit the road, I decided to swap the engine from my Z4 which had almost two seasons on it. I knew the motor was not the healthiest, and wouldn't last a whole season in FD, but with no time to build another one all I wanted was to get through one event. After a few sleepless nights the car was running again and that was a huge relief. Then we moved on to wrap the car, and finished it on the night we loaded it into the trailer. We arrived in St. Louis for our first round and had to finish a few loose ends, pass tech inspection, and were set up and ready for practice.
As soon as practice started my car went into limp mode, and I wasn't able to make a single practice lap. After chasing the problem for two days we finally found the issue which was an ECU failure due to loose ground. Luckily another team had the same ecu and they let us borrow it. 30 minutes before the opening ceremony my car was back to normal. With no practice laps I had nothing to lose - I was happy that I could drive at least a few laps even if I lost my first battle, so I went out and had fun with no pressure. I ended up going all the way to the semi-finals where my engine decided to give up and left me with 4th place for the first round. The car was shipped back to Essa Autosport right from the track for a new engine. For the 2nd round in Seattle I had a fully refreshed car and we took the win. The third round in Texas we had good practice and focused on my leads and very little on my chases and that is what took me out in the Top 8 battle after OMT. Going into the 4th and final round in California I was sitting 2nd in points. The car went to the shop for some more improvements and to be refreshed before the very important round. Irwindale is a very iconic track and has more drifting along the wall than without the wall, and with two banks which suits my driving very well. I had great practice both lead and chase, and was confident to go all the way. In the Top 8 battle during my chase I was pretty aggressive and didn't expect the lead car to slow down where it did and ran into it which took me out by judges split decision (2-1). By then I had more points in the championship than any other driver, and was crowned a champion for the 2020 Formula Drift PRO2 season. It was a really unique feeling that is hard to explain. Just like every driver who enters the series wants to win the championship I would imagine things in my head and was talking about winning the championship before the season started, but when things started to finally come together it was pretty unbelievable and exciting.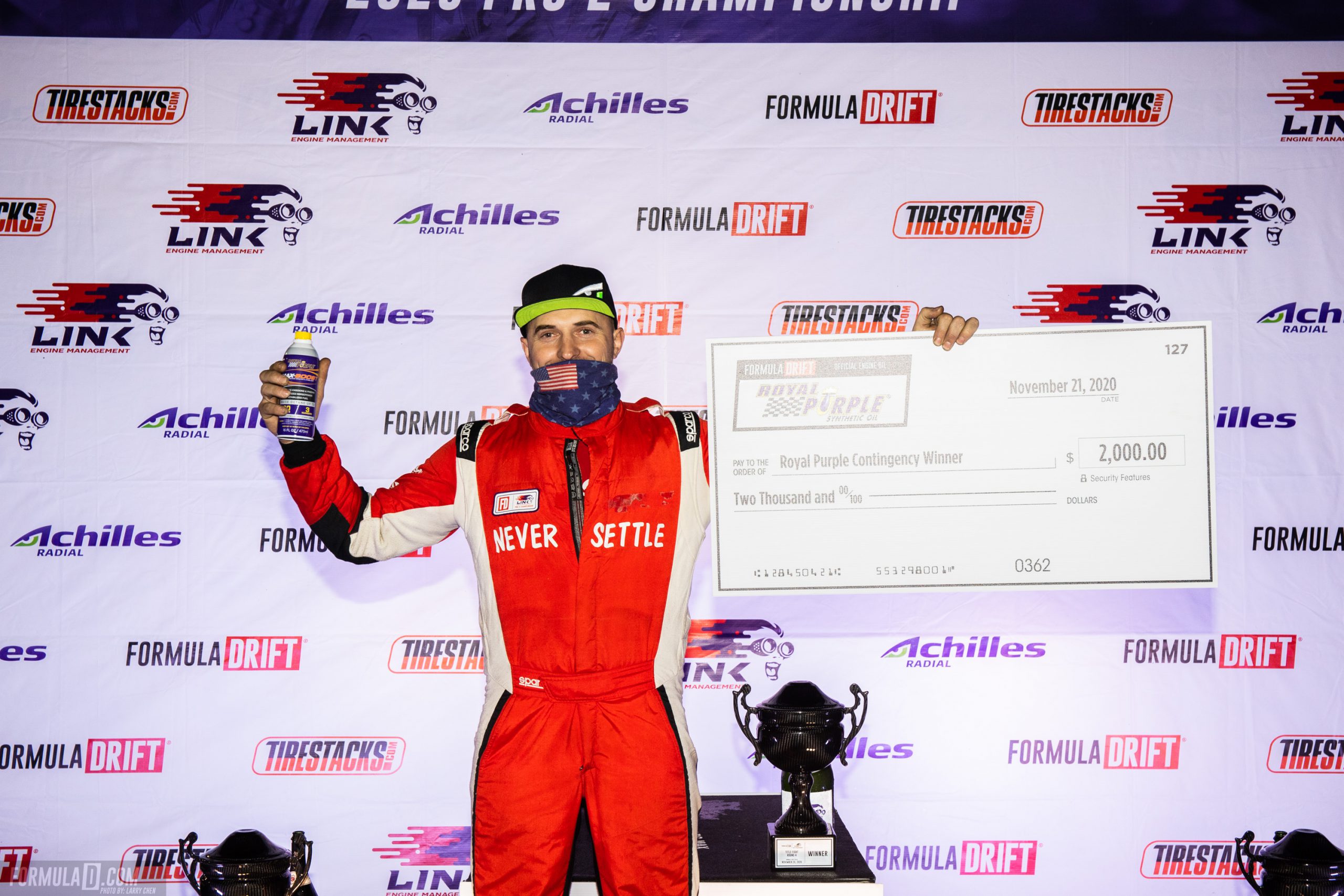 What was the biggest factor in your success in PRO2?
The biggest factor for me was to have a solid team who is dedicated and willing to do the impossible, and having MIchael Essa - former champion of Formula Drift - on my team as well.
How did you get into drifting in the first place? How have things changed for you since you first started?
I always loved cars and racing. I've always been very competitive in anything I do. While I was drag racing before drifting, I was dreaming of getting into drifting. One time while I was quading with my friend I was invited to the local drift event in 2015 and after attending one event I was hooked and bought my first drift car - a 2001 BMW Z3.
In the first season I was just having fun and tried to attend as many events as possible. Only later I found out about competition events and would imagine myself competing one day. A lot has changed since I started and would be too much to list but one thing that remained the same is I'm having fun doing it.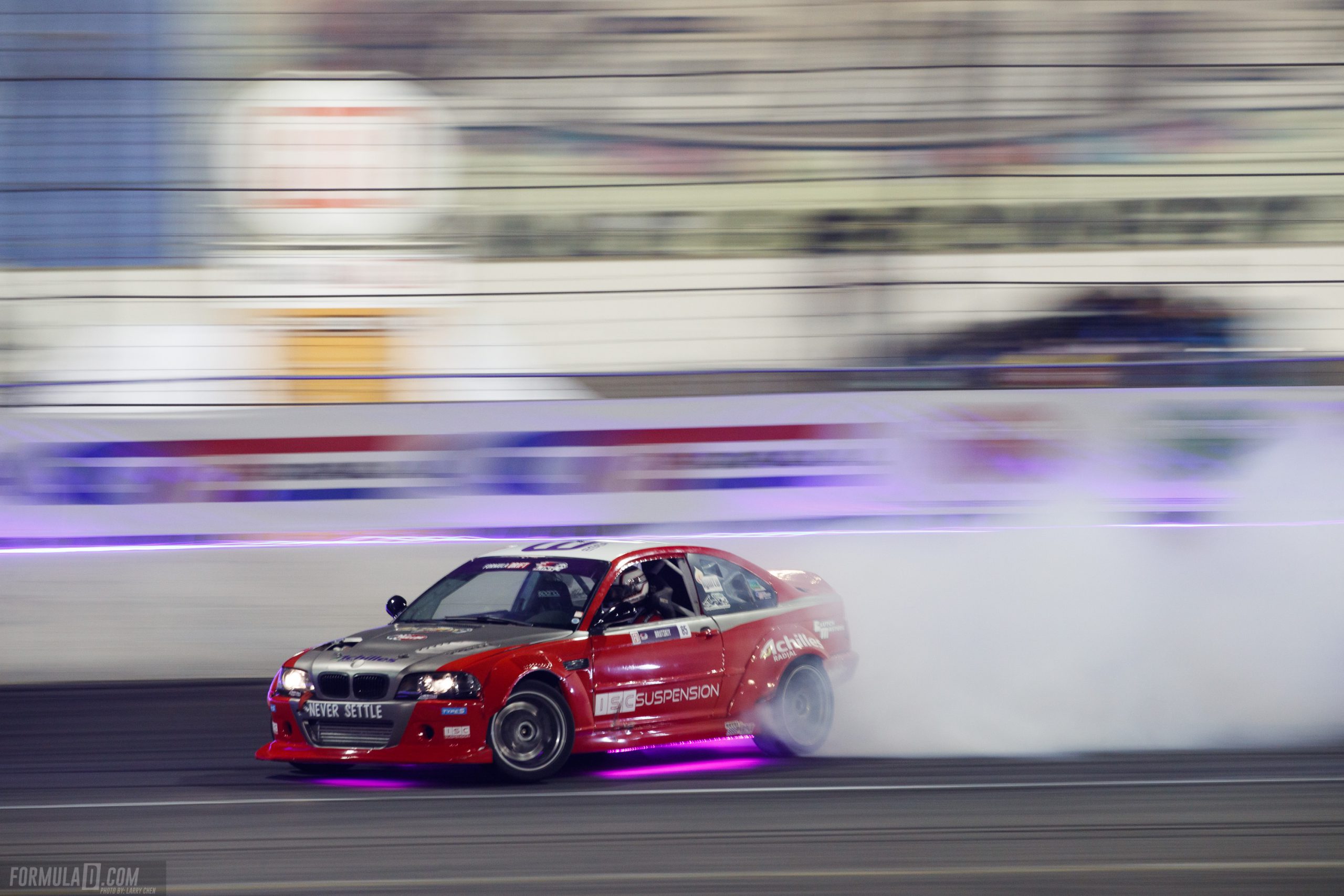 What was the process like when it came to taking things from grassroots and ProAm drifting to the PRO2 grid? Did you notice any major differences?
PRO2 is a whole different level of professionalism. From drivers, tracks, exposure, and the pressure. The preparation is on a whole different level. One small mistake will end your weekend where in the grassroots scene those things go unnoticed. Once you come into the Pro level of competition you're under the microscope where all your smallest errors will be noticed. And that was a good thing for me to see where I'm lacking and work on my improvements.
What are some of the partnerships you've made that help you stay competitive? How have they helped you?
Before I was in any professional competitions I became a very good friend in drifting, and later teammate, with Brian Wadman. Brian was a huge support when I needed and motivation throughout the years. One of my very first official sponsors was ISC Suspension and Essa Autosport. That made me feel legit and confident as I went out for my first ProAm competition. I knew I could always ask Mike any questions, and ISC had my back when I broke some parts.
You're staying in the PROSPEC competition another year to defend your title. Why is that?
There is still a lot to learn for me in this big sport. I think staying in PROSPEC another season will build up my team, my program, and prepare us better for the jump next year.
Will there be any major changes to your car moving forward into the second consecutive season?
The car just went through a complete overhaul with a new engine, quick change, suspension parts, and rebuilt transmission. Now we have spare parts that came off the car in fully working condition in case we need it. This year we are working on a better spare parts list, inspection on the car after each round, and preventive maintenance.
What are you most looking forward to in 2021?
As always first thing is to drive and have fun, and second is to have more podium finishes than last year.
Is there a track that has become your favorite? What about your least favorite? Why?
My favorite tracks are the ones that have walls and banks and that is Seattle and Irwindale. For me, walls serve as a point of reference and something I can lean on with my bumper and help me hold my line. Irwindale would be my most favorite.
The least favorite from last season was probably Texas with this reverse layout. Not sure why though, maybe because I didn't do as well as I wanted and it has no walls. I don't like dirt drops. When it happens to me I feel like I lost the run and it gets into my head.
What do you think will be the key to standing out for you next year?
Most of the drivers after winning a championship in PRO2 make a jump to the Pro Championship, and that's what everyone is expecting from a champion. I think it will be interesting to stay in PRO2 / PROSPEC and try to win another championship. Also clean driving and more podiums will make anyone standout.
Is there anything you want to say to the fans out there?
I would like to thank everyone who supports us and the sport in general. Work hard towards your dreams, everything is possible if you Never Settle.
Featured in PASMAG #165. Click Here to order.
---
ESSENTIALS
Driver: Dmitriy Brutskiy
Location: Spingfield, Massachusetts, USA
Engine: S54 turbo
Horsepower: 850 whp
Torque: 700 ft-lbs
Team: Never Settle
SOCIAL
Facebook: /dby14
Instagram: @dimabrutskiy
ENGINE
S54 built by EssaAutosport
Boostline rods
JE pistons
ARP studs
Supertech head
AEM Performance Electronics Infinity standalone ECU
EXHAUST
Custom exhaust
DOC Race equal length headers
Top mount BorgWagner turbo
DRIVETRAIN
GSR 4-speed dogbox
Clutch Masters FX850 twin disc clutch
DriveshaftShop (carbon driveshaft, 1,000hp axles)
WHEELS / TIRES / BRAKES
Enkei wheels
GT Radial tires
Wilwood brakes
CHASSIS / SUSPENSION
ISC Suspension BMW E46 M3 suspension components
Wisefab angle kit
EXTERIOR
INTERIOR
SPONSORS
ISC Suspension
EssaAutosport
Ignite
SouthBay Injectors
Clutchmasters
DTM FiberWerkz
LiquiMoly
GT Radial
---
PHOTO GALLERY
Photos by Larry Chen (@larry_chen_foto)