In this interview, we catch up with Formula DRIFT 2021 Pro Champion, Fredric Aasbo, just before the 2022 season began. We chat about the championship run, what he gets up to in the off-season, and what comes next.
---
INTERVIEW
ADAM GORDON: FIRST OF ALL, OBVIOUSLY A BIG CONGRATULATIONS. THIS IS YOUR FIRST CHAMPIONSHIP WIN SINCE 2015, SO THAT'S A PRETTY BIG DEAL. HOW DOES IT FEEL NOW THAT IT'S ALL OVER, AND NOW THAT THERE'S ANOTHER SEASON ON THE HORIZON?
Fredric Aasbo: So the curve - going through the season there's some ups and downs, right? It's like a roller coaster ride. And then some serious issues before Long Beach, the second to last round where I injured my shoulder pretty badly, and I was driving long beach with - not a big cast, but a lot of support - and managed to get a second place podium there. Going into Irwindale, I honestly didn't believe that we were gonna take the championship. Statistically, I thought that we had less than a 50% chance of clinching the championship, so when it happened that rollercoaster ride went into this crazy high. It's unbelievable to describe what it feels like, especially when you're competing against much better drivers and equipment than when we won in 2015.
Everyone's gotten really good. So there was a couple of weeks there of pretty intense partying. We went to the desert, we were doing lots of fun stuff, burnt down a Razor to the ground, and like a lot of things happened in the aftermath.
It was a lot of fun. And then Christmas came around, everything kind of flattened out. And now I'm back to the daily grind. So you know, that championship is all in the past now. Obviously I'm proud of what it did, but it's all history at this point.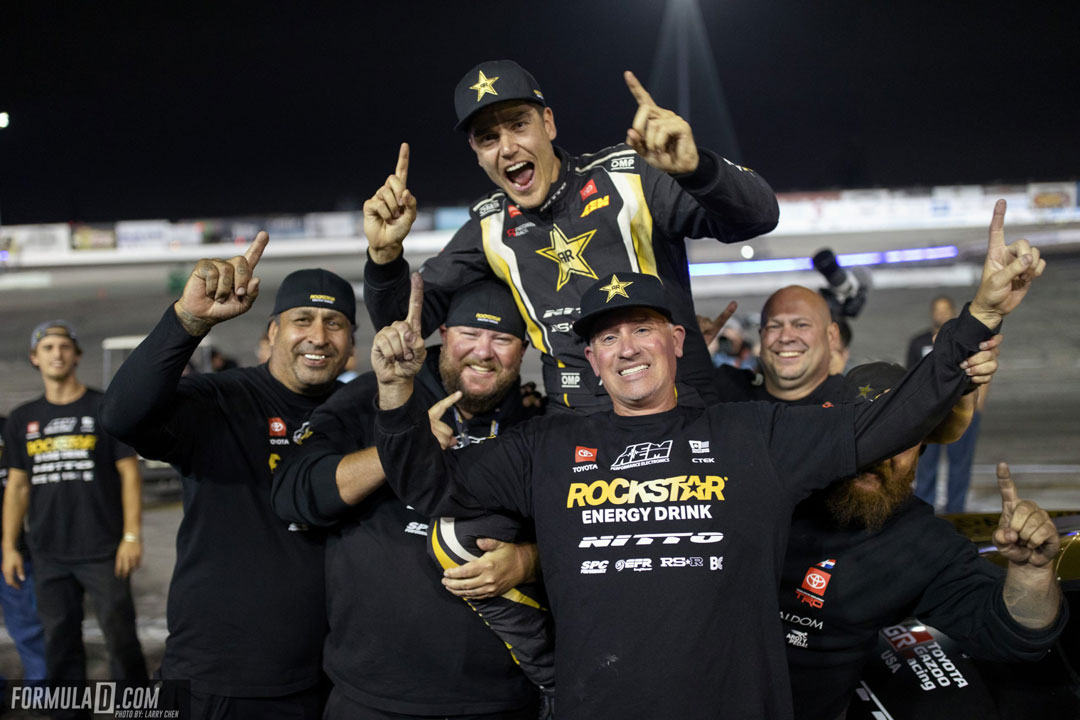 AFTER THIS MANY YEARS OF COMPETING, YOU'VE SOLIDIFIED YOURSELF AS A VETERAN. WHAT CAN YOU SAY ABOUT THE LEVEL OF COMPETITION OVER THE SIX YEARS BETWEEN CHAMPIONSHIPS?
I definitely [have] become a veteran. I have a couple gray hairs. Luckily, can't see them too well, but they're there. I feel like I say this every year that the drivers and the equipment gets better. It sounds like a cliche, but it's true. And I think that there's been some milestones throughout time with FD where drivers have come in - really skilled drivers from other parts of the world - and really elevated the game:
Daigo in 2012, James and Piotr in 2017. And they kind of show us that next level of driving. I think that as good as James is, he's pretty much arguably the world's best at everything, perhaps, except really pushing the bar with car set up and really being innovative with that. And that's where I feel like Formula D excels. Formula D always brings these new ideas, right? This very American mindset of turning the Japanese sport into something of their own.
I think when Piotr and James left in 2020, it left the field stronger, better, and hungrier than ever. I think there are several guys that are at the caliber of James and Piotr now. You know, Chelsea, Matt, Odi, and other guys too. I think it comes down to the harder the punches you receive, the more you learn. If you look at the top four in FD, now they're all these super nerdy deep into drifting guys. Like it's our lifestyle, right? So Odi has his specialties, Chelsea has this way of understanding drifting, and Matt is just absolutely 110% all-in on getting that championship. So it's really become this even more fierce motorsport, versus perhaps in the past it was part show and part motorsports.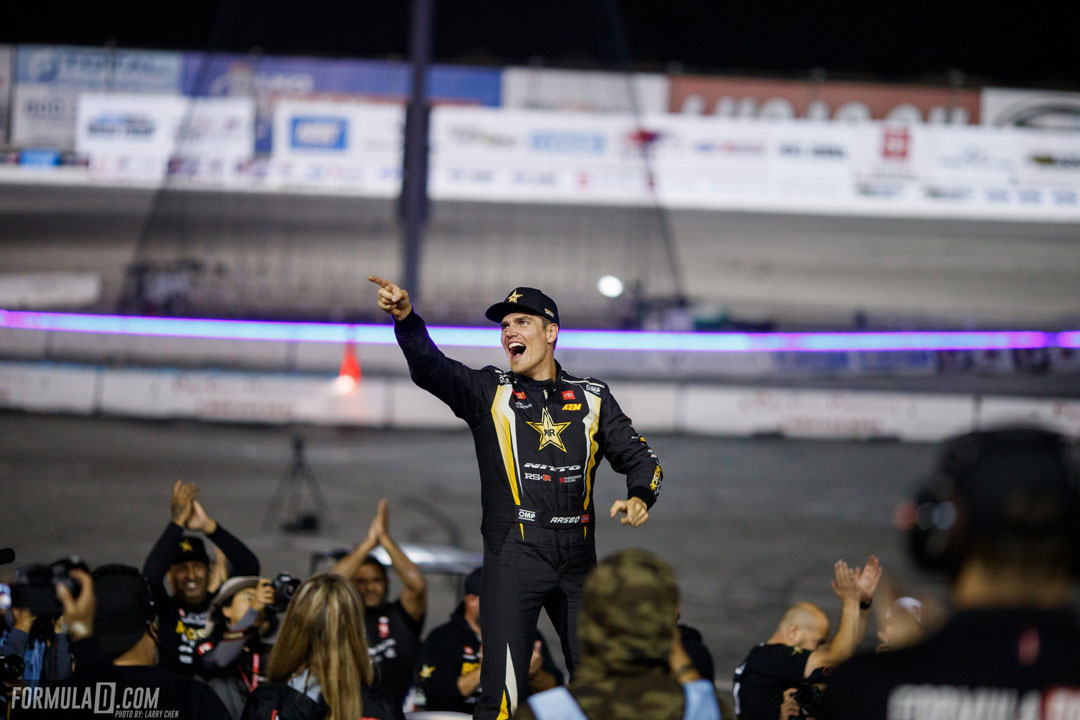 IN PREVIOUS INTERVIEWS WITH OTHER CHAMPIONS, PRETTY MUCH ALL OF THEM HAVE MENTIONED CONSISTENCY IN DRIVING PERFORMANCE AS WHAT ELEVATES YOU TO THAT TOP SPOT. YOU'VE BEEN WIDELY CONSIDERED ONE OF THE MOST CONSISTENT DRIVERS ON THAT GRID. IS THERE A SPECIFIC ASPECT OF YOUR GAME PLAN, OR MAYBE YOUR OFF SEASON PRACTICE THAT LENDS ITSELF TO CONSISTENT DRIVING?
Sure, I guess there is. I've sometimes been consistent - and maybe even careful - to the point where it's a little boring, and I've gotten a lot of feedback over the last couple years. Stepping into the new Supra, I've been more aggressive. People like certain traits or certain parts of how I drive in that car, and it's something that I'm aware of. Whereas other drivers - perhaps like Mad Mike, one of my close friends and a fantastic driver - he's always said that he's there to put on the show first, and then compete second, which I think is way cooler. But I, for whatever reason, think the coolest feeling is trying to win. And by doing that, I understood what you said about being consistent and trying to understand the black art that is drifting. We're being judged and they're scrutinizing everything they see. So it's all understanding what they're really looking for. And sometimes I think as a judge it's even hard to convey what you are looking for. So we're trying to just go by what wins rounds. How are people driving? Where are they careful? Where are they aggressive? When is it called for to be aggressive and just trying to do that. It's not rocket science, it's just this never ending quest of trying to learn the game, you know?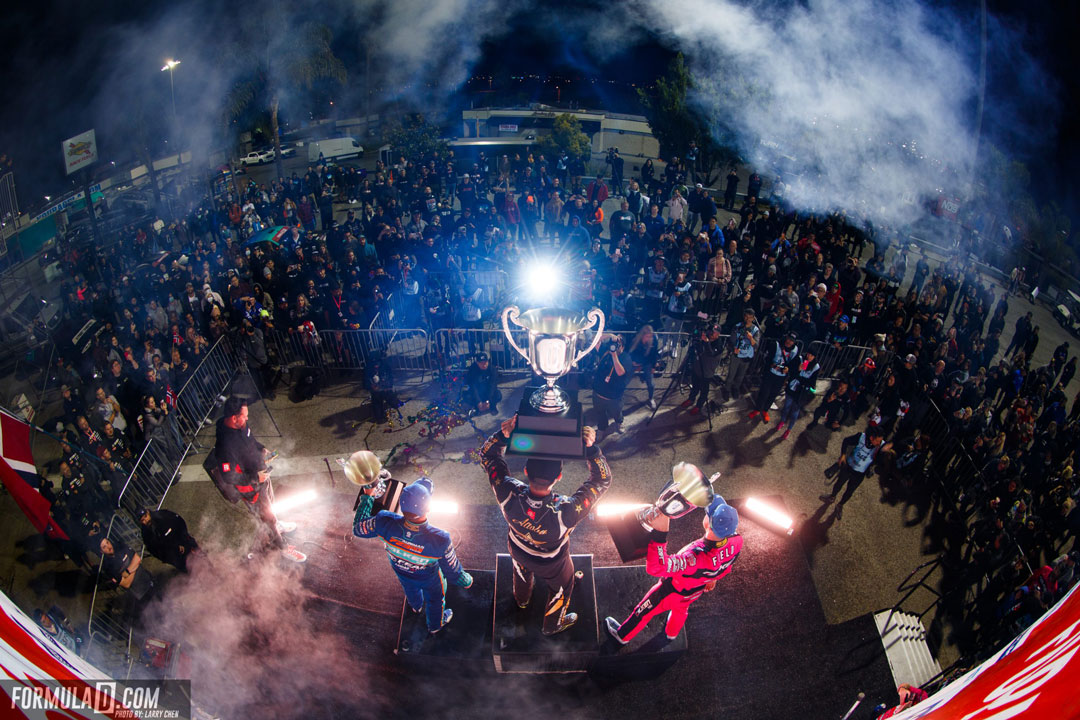 SO WITH THAT SAID, IS THERE ANY MAJOR CHANGE TO YOUR CAR OR YOUR TEAM GOING IN THIS YEAR?
No major changes. Some housekeeping stuff, as Steph likes to call it. Some bits and pieces for the motor program. We're working on reliability, we're trying to make the car a little more crashable - which may sound weird, but we're trying to understand more of how to build these different crash structures in the front and rear of the car to where you can take harder impact without bending the rails - making the way the rear part of the body kit attaches so that when I do hit the wall, or scrape the wall, it's a quick fix. We're not as savvy or good with building those parts of the car compared to a lot of the other teams like the RTR guys and a lot of those S14/S13 cars. Whereas I think we're stronger when it comes to actual car set up. I think we've gotten quite strong when it comes to understanding gearing, jacking, dynamic suspension design, basically. Still lots to learn, don't get me wrong, but we're trying to get better at the things that we're not good at, but the car's gonna look very similar. And for better or worse, you know, I don't like to rest on our laurels per se, but at the same time, there's not a lot of things that we can really fine tune within the rule book and the design of the car.
Photos by Larry Chen