Photography by Eric Eikenberry, Jacob Leveton, Joey Redmond & Larry Chen
---
From its emergence in the mountains of Japan, to being nursed in secret, to race track demonstrations, to finally shoving its way boldly into the heart of import car culture, no recent car trend has caught on quite like drifting. Now, after a full decade in the United States, we are happy to pronounce the motorsport of organized drifting alive, well and clutch-kicking its way into its teen years.
With its continued growth, issues and questions are ever-present, so we felt the need to sit down once more with Jim Liaw and Ryan Sage, co-founders and still the guiding forces behind the burgeoning Formula DRIFT worldwide empire. We wanted to know about the early days as well as where this dynamic sport is heading in the not-too-distant future.
PASMAG: Who first said, "We should start a drift series here in the States?"
Jim Liaw: I don't know actually. I do know that after putting on a hugely successful D1 event at Irwindale, we knew the U.S. needed and wanted a pro drifting series.
Ryan Sage: I think what happened was that it became apparent after the D1 event that guys like Millen, Gittin, Hubinette and Forsberg were no joke. They were excellent drivers and extremely marketable. I think at that point, and with the nudging of companies like Yokohama, it was pretty clear what we were supposed to do.
| | |
| --- | --- |
| | |
PASMAG: What was the biggest hurdle you faced in the early years?
JL: Perception. Lack of understanding. Within the industry, we created so much hype for the D1 brand that, for the first few years, we were always challenged with "what's the difference between Formula DRIFT and D1?" Outside of the industry, but within general automotive culture and traditional motorsports, we were freaks and misfits. Not many people could understand how race cars could be judged in competition, and few people respected the skill level or drifting drivers.

PASMAG: We clearly remember those days. "Drifting? What's that?" What is the biggest hurdle now?
JL: We have grown bigger and more well-known, but there is still a hurdle to overcome in terms of educating new fans about the nuances of the sport as well as business people about the value of it. For example, we are probably live streaming, for free, to more people than any other motorsports series in the world, but many companies have yet to embrace this kind of new technology.
RS: The biggest hurdle used to be getting people to realize the amazing nature and massive potential of this sport. Now, the biggest hurdle is getting people to realize the amazing nature and massive potential of this sport. Wait did I just repeat myself? Ha ha, well yes, I still feel the same way. I don't think Formula DRIFT really gets the respect it deserves outside of our market as contrasted to comparable sports who clearly have less fans, less media, less content and are entirely less progressive.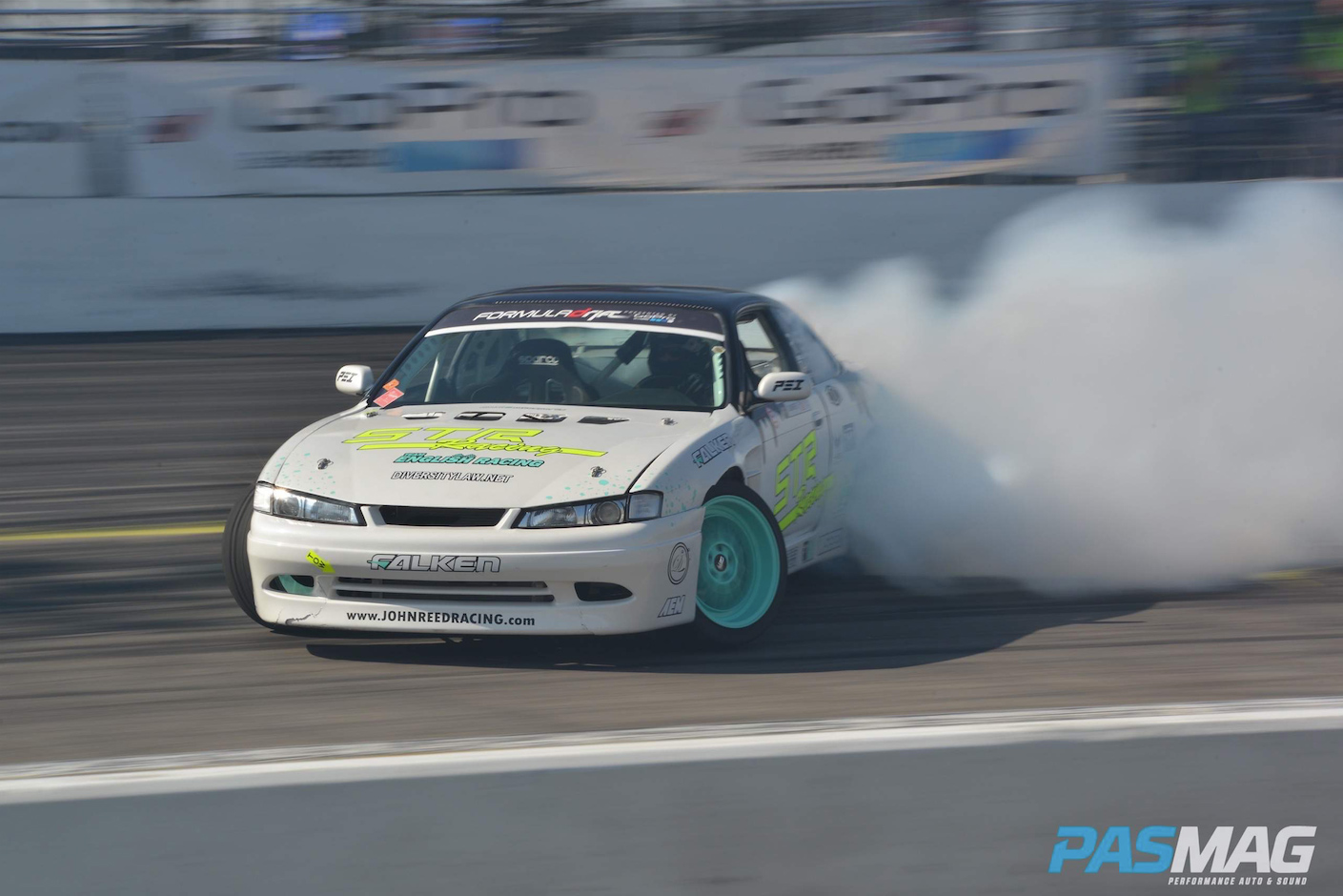 PASMAG: What is the wildest technical advancement? The invasion of the domestics, the V8s, the radical nitrous-juiced 2JZ single-turbo, or something else entirely?
JL: For me it is something unseen and rarely discussed beyond the team: suspension setup. FD teams have matured so much in terms of how they are setting up their cars for each driver, for different types of tracks and for different power outputs. It is not something new per se, as race teams have done this type of work for decades, but within the world of drifting and specifically within the FD field, the knowledge base and experience for setting up a pro drift car has advanced so much that these guys are definitely leaders and innovators globally.
RS: Probably the biggest advancement has been the fabricators' ability to create vehicles that can have so much horsepower, but maintain such high grip levels with non-racing compound tires.

PASMAG: Ideally, how big would you like to grow? How many events per season would you like?
JL: We know there are many markets that want us. We are not ignoring them, but we need to be very careful of how we grow and expand. One of our primary objectives is to establish a multi-stop world championship series. The other is to establish a proper ladder system where drivers and teams can work their way up to the pro level via the challenging ladder series.
RS: Within the next five years, I'd like to see us get to 10 to 12 events domestically, with a handful of international events and continuing to build out the World Championship.

PASMAG: What's your favorite drifting venue?
JL: I like each round for different reasons, but as an overall event, I really love our second longest-running venue Road Atlanta, and Irwindale Speedway. Atlanta offers a very festive, communal environment filled with barbecues, fan signs, tents, et cetera all to serve the purpose of fans having a great time enjoying the best drifting in the world. Irwindale is like the "Hollywood" of drifting events. Everyone in the industry is there. But not just that, the intensity, the energy of Irwindale is literally electrifying.
RS: If you put a gun to my head, I'd say Road Atlanta purely based on what has happened there and the uniqueness of the event venue; it is unlike our other events.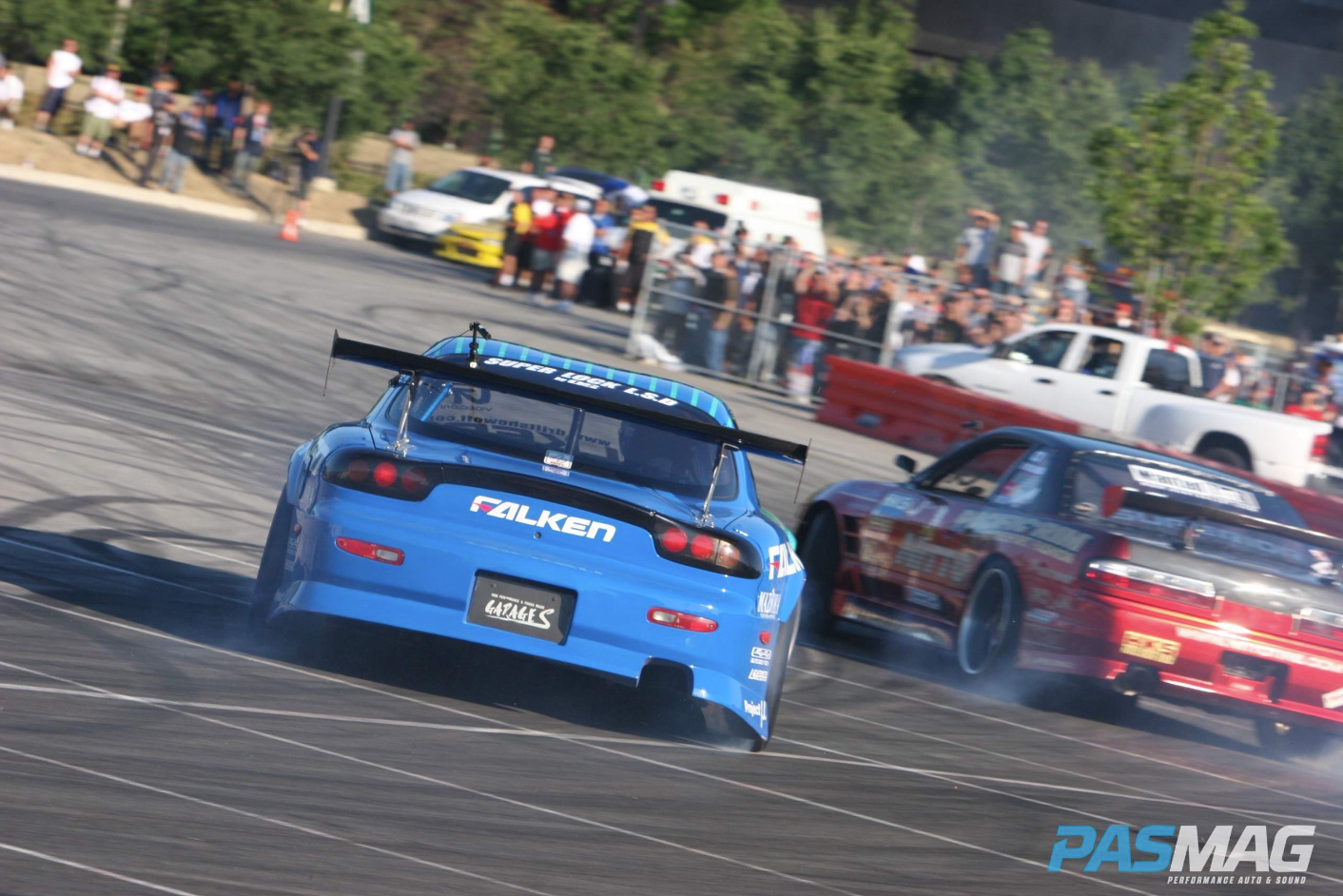 PASMAG: Which chassis, that hasn't competed already, would you like to see go sideways?
JL: There are definitely a ton of cars that would be awesome in FD, but to be realistic (not thinking about an Aston Martin drifting), cars like the Cadillac CTS, newer BMW M3 and Z4, upcoming Lexus RC F, or even having Dodge back would be really interesting to see.
RS: It would be fun to see some exotics get in the mix, but realistically, I think there is a lot of room for the European market-based cars.

PASMAG: If you could start over again, are there things you would do differently the second time around?
JL: Obviously, in hindsight, there are a lot things I can do differently. But instead of thinking about things I could have done better or differently, I try my hardest to progress, mold and re-mold what we are doing, evolve and adapt. I prefer to think about where to go from here versus where we should have gone. I also learned to trust my instincts, and not be swayed by others.
RS: There are definitely things that I would do different, but I say that knowing that the decisions we made, and the things we did do, inextricably made us who we are today. In that sense, I am okay with it.

PASMAG: What do you consider your biggest accomplishment or best moment?
JL: We outlasted all the naysayers within and outside of the industry; we made it 10 years and we are still going strong. The other thing is that we are able to create opportunities for people and companies. As a direct and indirect result of Formula DRIFT, jobs and careers have been created: photographers, graphic designers, mechanics, public relations people, etc. For me, seeing that we created so much opportunity for people is an accomplishment I am proud of.
RS: Without a doubt the series is the biggest accomplishment. The sum of the parts will always be bigger than any particular thing. If I had to boil it down to a moment, it would probably be the Red Bull Drifting World Championship. I think that was the moment we staked our flag in the international drifting community.

PASMAG: What were your biggest surprises?
JL: I am always surprised by people. Sports in general, because of the stress, drama, camaraderie, etc. It brings out the best and worst in people, and I have seen both sides of it at both extremes.
RS: The fact that this is what I do for a living.I never could have conceived of this as a child or as a young adult. This opportunity that I have now came purely to us in a brief moment, and it was at that moment that Jim and I jumped on it.
| | |
| --- | --- |
| | |
PASMAG: Toughest challenges?
JL: There are actually many. Making the right decisions; issues like do we expand or not, go international or not, how to handle a particular situation. Though I can get input from staff, teams, sponsors, etc., it is still quite an isolated position I am in. Finding balance; between work and family, between working your tail off and becoming a workaholic.
RS: They are multi-tiered. One aspect is always being involved in advocacy of the sport, promoting it, telling the stories of its power, even after 11 years. The other aspects have to do with balance. When you have so much going on professionally, it is hard to have a traditional, regular life. The hours are unbalanced. The stress comes in extreme waves, and the landscape is constantly changing. Therefore, you have to design your life around that and try to figure out what is important to you and what is going to make you happy given the circumstances.

PASMAG: Have you mulled over any new technical assists to help with judging next year?
JL: This has been the most common topic of the last decade. "With every action, there is an equal and opposite reaction," as they say in physics. You add one tool and it takes away from something. What people don't know is that we have invested thousands of dollars in testing potential tools for judging.
RS: Earlier this year we had a very expensive telemetry system tested at one of our events. It was pretty interesting to see how it works and what it can do. In my opinion, there is a place for more technology, transparency and data, but drifting will always have and need a human element.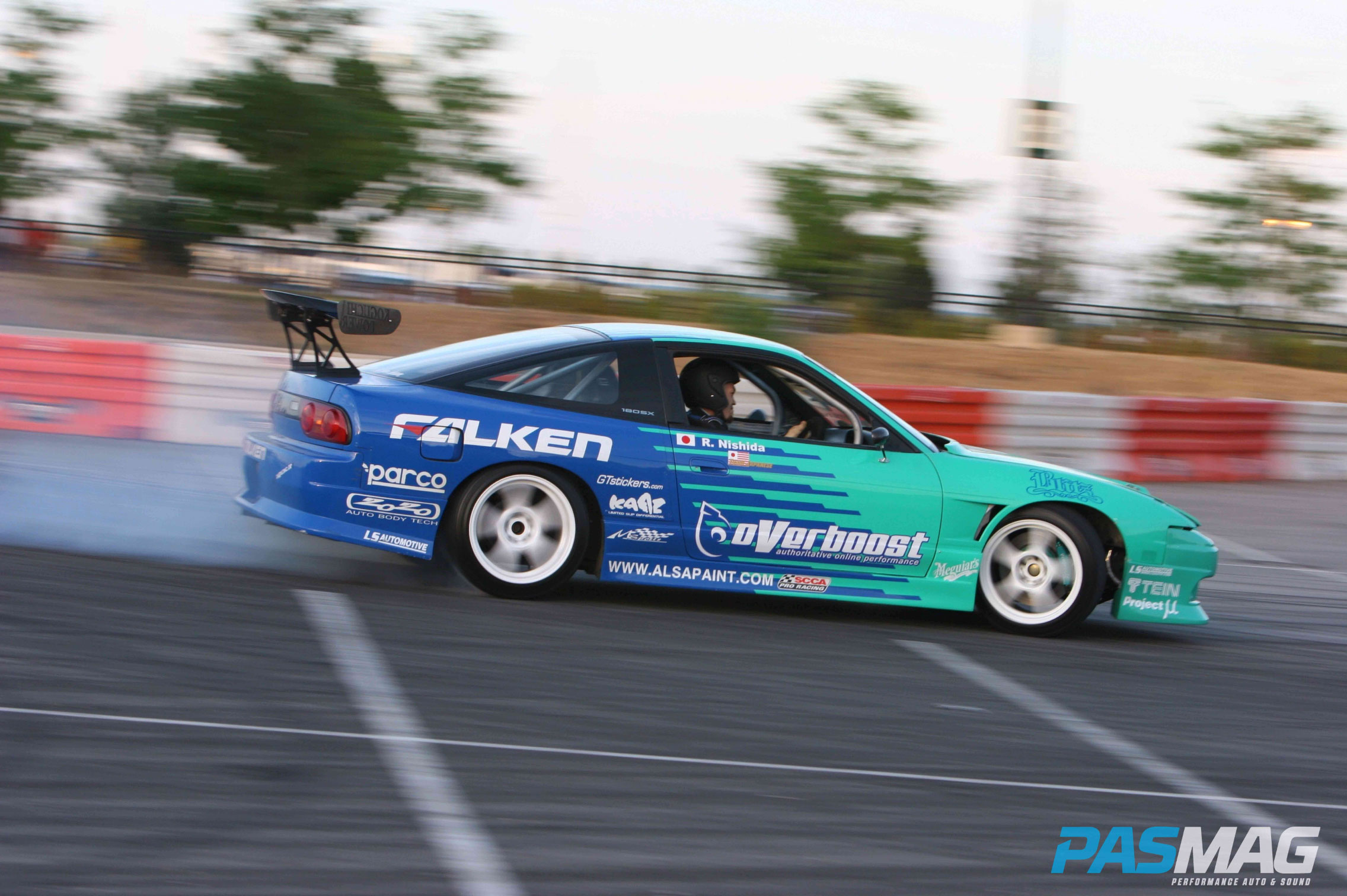 PASMAG: What's coming next for FD, as far as technology is concerned?
JL: Enhancing what we have. For example, we brought live streaming into play about three years ago. At the time in all of motorsports, we were one of the first, and we were definitely the first to make a big push. I think to everyone else it was just second thought. Maybe it is because we have such a unique audience that is young, educated, diverse and tech savvy that we continue to push new technology. It seems this season everyone is catching on and making a push into this space that we have forged.
RS: The next phase of innovation will be in how content and data is consumed at live events and through what portals. More judging data, more angles, aerial footage, real-time metrics and fan engagement on those portals. More stuff like that.

PASMAG: What does it cost (approximately) to start competing in FD these days?
JL: The dollar figure can vary from less than $100,000 to almost $500,000 depending on your setup. In addition, there are countless hours of planning, prepping, building, testing and driving; that is a huge part of the cost.
RS: At the low end, one could run a team for under 75k. That's pretty low when you compare that to other motorsports, but yet those others haven't got the reach and power we do. FD, hands down, is the best bang for your buck in motorsports.
| | |
| --- | --- |
| | |
PASMAG: As we look back on 10 years of formally-organized professional drifting, do you think of yourselves as visionaries? At the time you founded Formula DRIFT, did you feel like you were engaged in something trend-setting?
JL: I definitely do not think of myself as a visionary. Ryan and I were as much fans and enthusiasts as we were two guys who wanted to organize events as part of our business. I did feel we were onto something new, something that could reshape the motorsports world.
RS: I realize that some people will say those words or think what we have done is trend-setting or visionary within the context of this industry, but I don't go there. That's not how my brain works. The instant you believe you are of that kind visionary person, you run the risk of drinking your own Kool-Aid and making more of yourself than there really is.

PASMAG: Do you have any advice for people coming up through the sport?
JL: Be prepared. Don't rush in. Be optimistic and realistic at the same time. Be genuine.
RS: For drivers, know what you want to do. Don't let anyone tell you that you can't. Make sure you write down a plan and then go after it. Don't just think it. Write down your goals and then put them into action. Look at those goals all the time and remember what you want.

We cannot say it any better than that, so we won't. Walk, run, fly or motor boat to your nearest Formula DRIFT event this season and discover for yourself what all the fuss is about.