How to turn heads and score points with LIS Audio.
A show-ready system is something that's unfortunately overlooked in many builds looking to tackle the show circuit. If you're chasing some extra points that could make the difference between you going home with or without hardware, beefing up your audio game is a great place to start – and no, you can't just slap in some new speakers and expect to pick up some ICE love from the judges. Coincidentally, our friends over at LIS Audio just so happened to finish an install on a customer's Nissan 350Z, and we thought it would be the perfect example of what to shoot for.
When LIS Audio's Cameron "Chimpo" Powell and Justice "JAX" Berry first saw Brennen Vail's "LeBrennan.Z" 350Z, it was up on a lift in his father, Marvin's, body shop having a custom widebody done-up. After chatting about their goals and vision, which included being a neck-breaker via wood grain, suede, and fiber optics, the LIS guys took the Z33 into their own shop after the widebody was finished and started to work their magic. Chimpo and JAX tell us all about how it went down.
Photography by LIS Audio (@lisaudiokc)
---
SPEAKER DOOR POD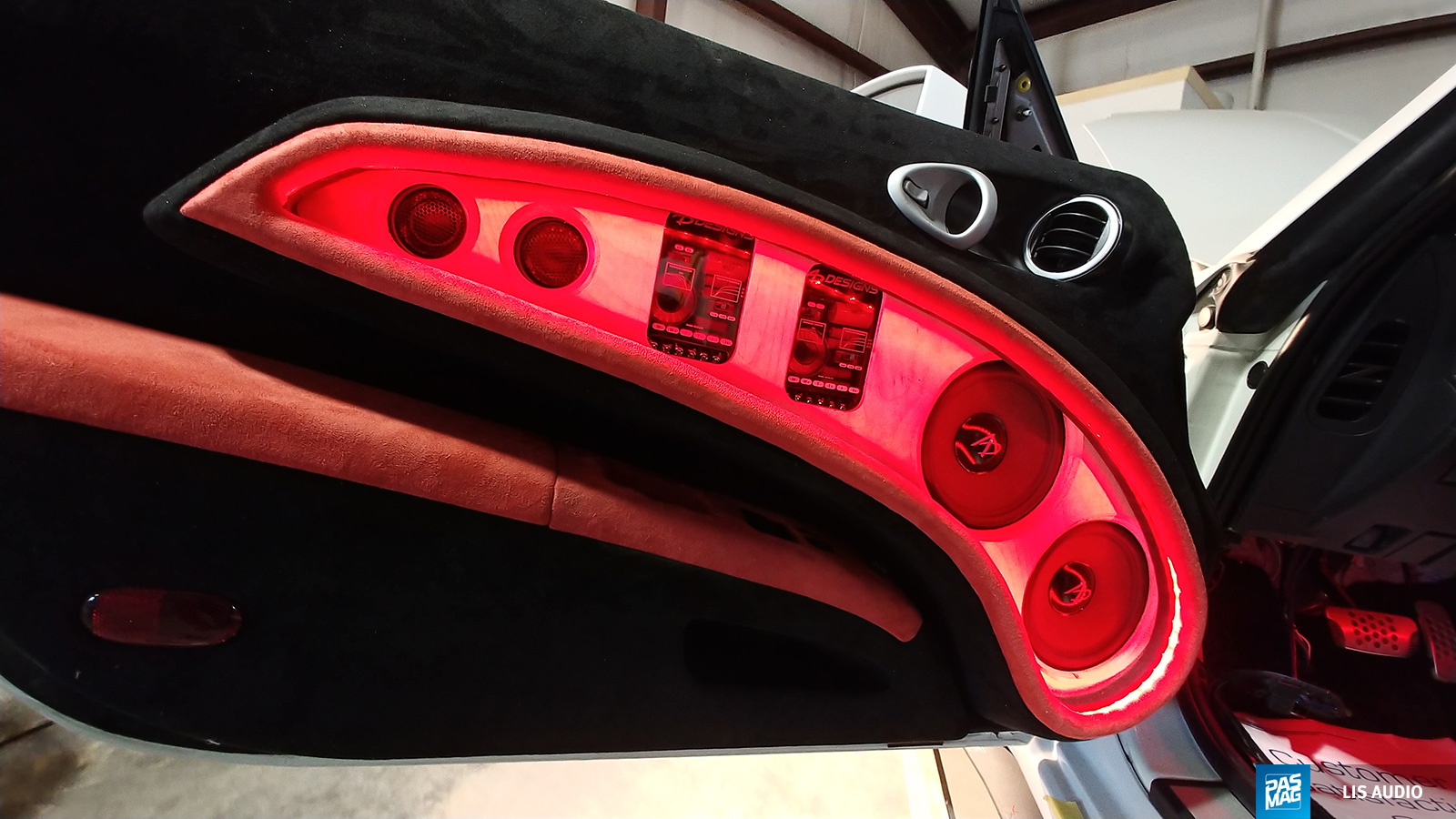 "We chose to omit the rear speakers and add them to the front of the vehicle only. We added two sets of Audio Dynamics 2100 Series component speakers for a full and rich sound that would encompass the entire cabin of the Nissan. The long teardrop shape was agreed upon after rendering the flow of the factory door panel, taking into consideration the components to be mounted and the allowance of space around moving parts. This made for a sleek, yet eccentric, speaker door pod. The door panels were finished off with black and red suede, as well as birch wood on the pod fascia for accent."