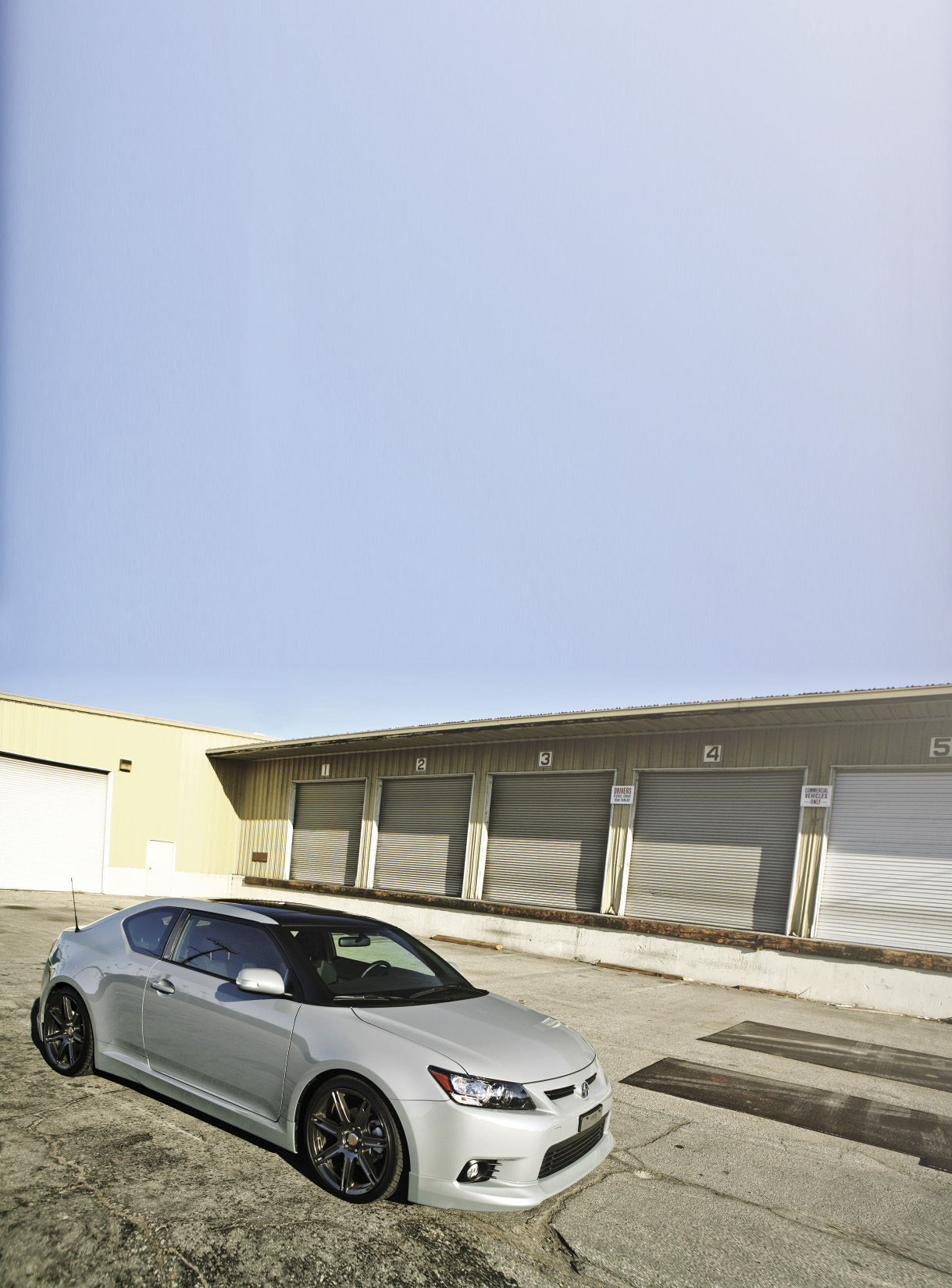 In 2011, Scion introduced the totally redesigned tC with a bigger 2.5-liter engine, six-speed transmission and a more aggressive overall look for the signature two-door coupe. On paper, the car only has 20 more hp and 10 more lb-ft of torque while weighing 100 pounds more. When behind the wheel, however, the car feels much quicker than the original tC.
I spent a week with a non-metallic cement-colored 2012 Scion tC and was quite disappointed about having to return the keys. While the car won't win many drag races, the combination of seating position and a fast-revving motor will put a smile on the driver's face as he gets from point A to point B.
Before jumping into the car, a quick walk-around is necessary to note the styling differences between this car and its predecessor. The revised headlights and taillights are more squared-off than the original. A more pronounced C-pillar reminds us a lot of the Volkswagen Corrado and gives the car a mean-ish stance. By accomplishing this, however, a substantial blind-spot was created in the process. Our car is also equipped with the optional FIVE:AD lip kit, 19-inch TRD wheels and TRD lowering springs, which also improve its aesthetic.
Driving around town, the combination of the cement paint, Five Axis kit and TRD wheels got several stares and compliments. Sitting in the driver's seat it has a good overall feel. The 2AR-FE engine revs quicker thanks in part to the close-ratio gearing in the transmission, but also due to the redesigned internals. Zero to 60 mph is completed in 6.5 seconds, nearly 15% faster than the former. Power and torque is rated at 180 horsepower at 6,000 rpm and 173 lb-ft at 4,100 rpm, respectively.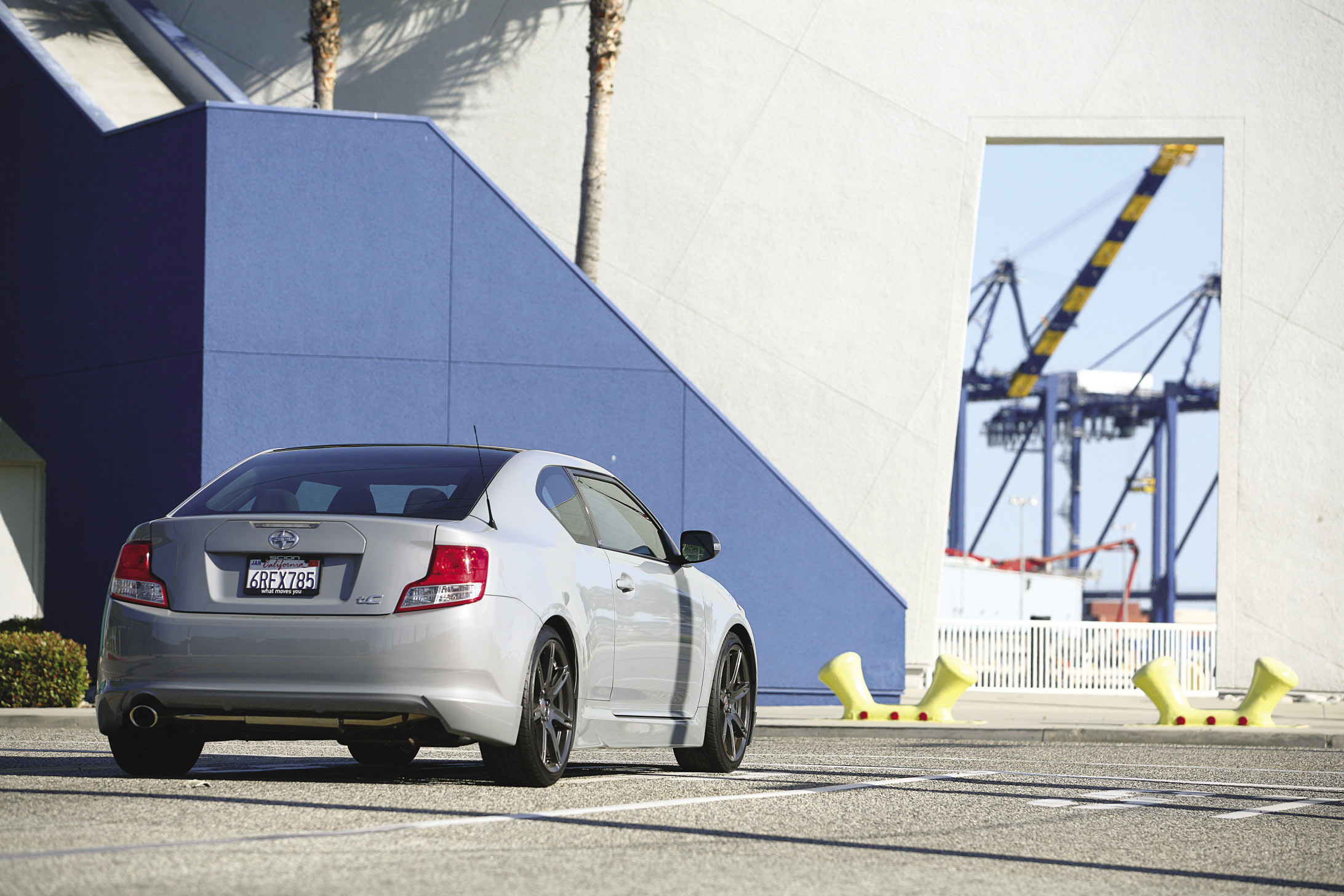 The test car has the optional TRD exhaust, which gives a nice balance of increased engine noise feedback without any drone at freeway speeds. Scion's focus on releasing TRD accessories, which are carefully tuned to increase performance without compromising ride comfort, makes them an easy choice for new tuners. Add in the fact you can add TRD accessories at the dealer, and roll the pricing into your financing, and tuning becomes even easier.
Also included is Scion's upgraded OEM Audio+ system, which is a treat to our ears. The setup is powered by an eight-channel 360-watt subwoofer with 32-bit digital signal processing, which rivals many aftermarket units. Bass is supplied by a separate 130-watt subwoofer amp powering an eight-inch dual voice coil subwoofer in an ideally-sized enclosure that sits in a normally-unused area in the trunk. Mids and highs are provided by separates with a 6x9 woofer, four-inch midrange and one-inch soft dome tweeters in the doors. The rear soundstage is filled by a 6.5-inch two-way speaker to provide a great overall listening experience.
HD Radio and streaming Bluetooth audio give you additional music source choices over and above the standard USB (with standard iPod integration) and AUX.
When installed by a Scion dealer, the system is covered by the normal three-year 36,000-mile warranty. At only $1,399, it's hard to justify not splurging for the package since it truly transforms the driving experience.
One of the greatest aspects about all Scions is the no-hassle pricing. The price listed on the sticker is the price you pay – in this case the MSRP is $19,305, making it one of the best deals under $20,000. Anyone can build their favorite Scion on the Web site and get the exact same price at any Scion dealer across the nation without any surprises. Then you can adds accessories at will.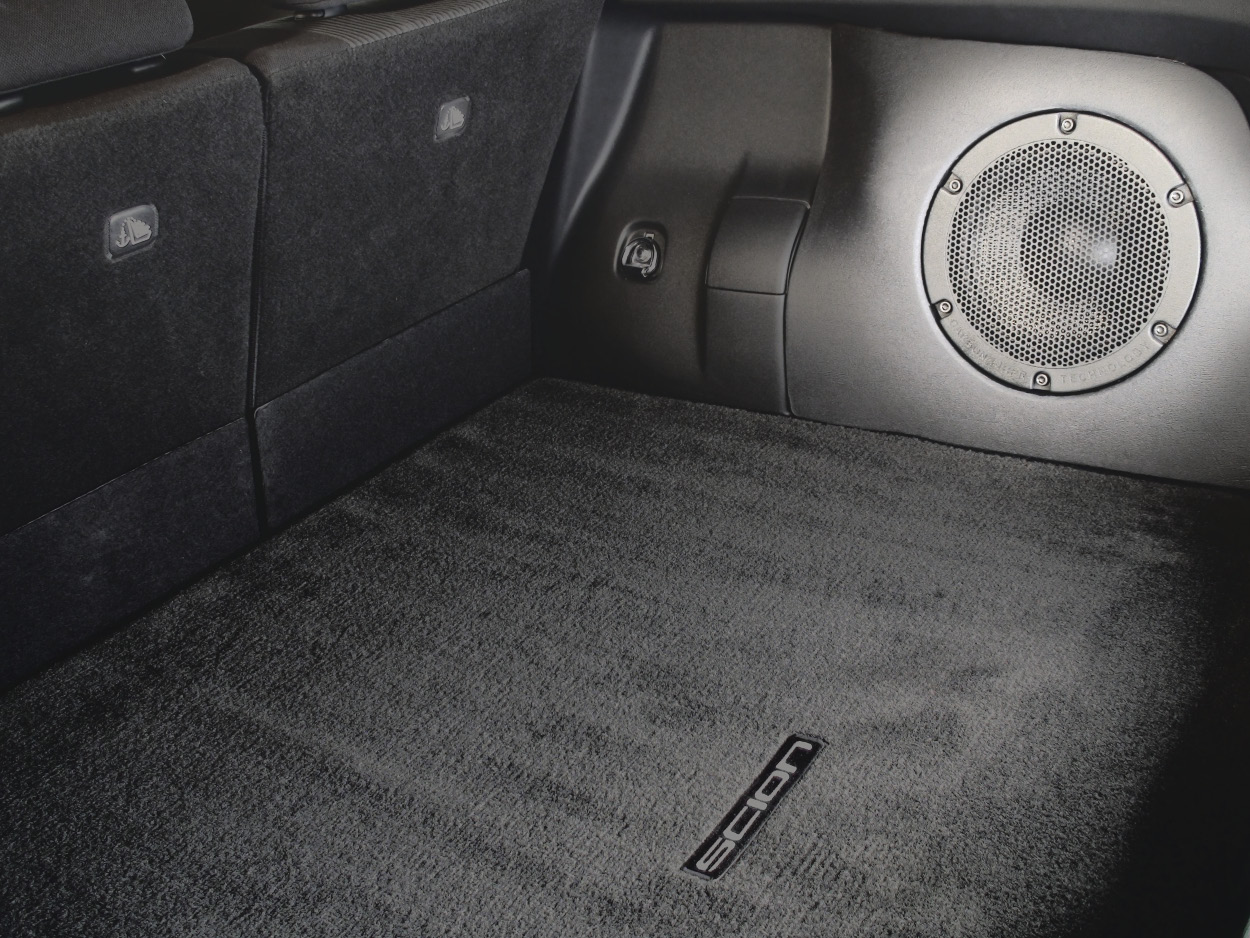 As tested, our car includes a rear bumper appliqué, fog lights, TRD exhaust, springs, sway bars, 19-inch wheels and tires, FIVE:AD lip kit, carbon fiber B-pillar appliqué, carpeted floor mats and premium sound. All this bumps the price up to $27,123 before destination fees. While that may seem high, keep in mind the wheels ($2,199), lip kit ($1,890 painted) and audio upgrade ($1,399) make up the majority of the price increase. You can skip them altogether as well.
The 2012 tC offers a great balance of fun and entertainment in a commuter vehicle that earned a combined 26 mpg in the 300 miles we put on the car in a week. When it comes time to select our next commuter car, it's quite possible a tC may end up in the garage.