Photos by Scott DeMarco
---
The "Civic Type R" moniker is a title that resonates with every true car enthusiast out there, and even more so with the die-hard Honda fans. For many, the name immediately triggers a reminiscence of the first strictly performance-oriented Hondas of yesteryear, despite the fact that the Type R is a trim line that still exists among Civics up to the present day. The first Civic Type R, based on the EK4, rolled off the Suzuka, Japan assembly line in 1997, and that is where we begin our journey.
The first production run of Type R Civics never quite made it to North American shores despite widespread fandom. For whatever reason, Honda decided that enthusiasts on the other side of the pond either weren't ready or weren't worthy of their bonafide road-going racecar, which left enthusiasts on our shores with limited options. The obvious option was to import one from Japan, pay some shipping/importing fees and be on the road in no time. If you're Lester Rivera, however, you take a different approach: You build your own.
Nine years ago, Rivera took ownership of the closest thing he could find to his dream Civic – the 1997 Honda Civic hatchback option offered widely throughout North America. While importing the famed Civic Type R was certainly an option, Rivera is the type to opt-in to the building process. Having built Civics previous to this one, he had a solid idea of where he wanted to go with it. With a proper plan laid out, the long process of building his very own CTR began.
When attempting to mimic Japan's original Type R styling, Rivera wanted the initial exterior results to be as close to OEM spec as possible before jumping into any serious modifications. After getting hold of as many JDM Civic Type R body parts as possible, the vision began to take shape. With OEM CTR front and rear bumpers, side skirts, wing, fenders and even door handles, the CTR clone looked like it just drove out of Suzuka's factory.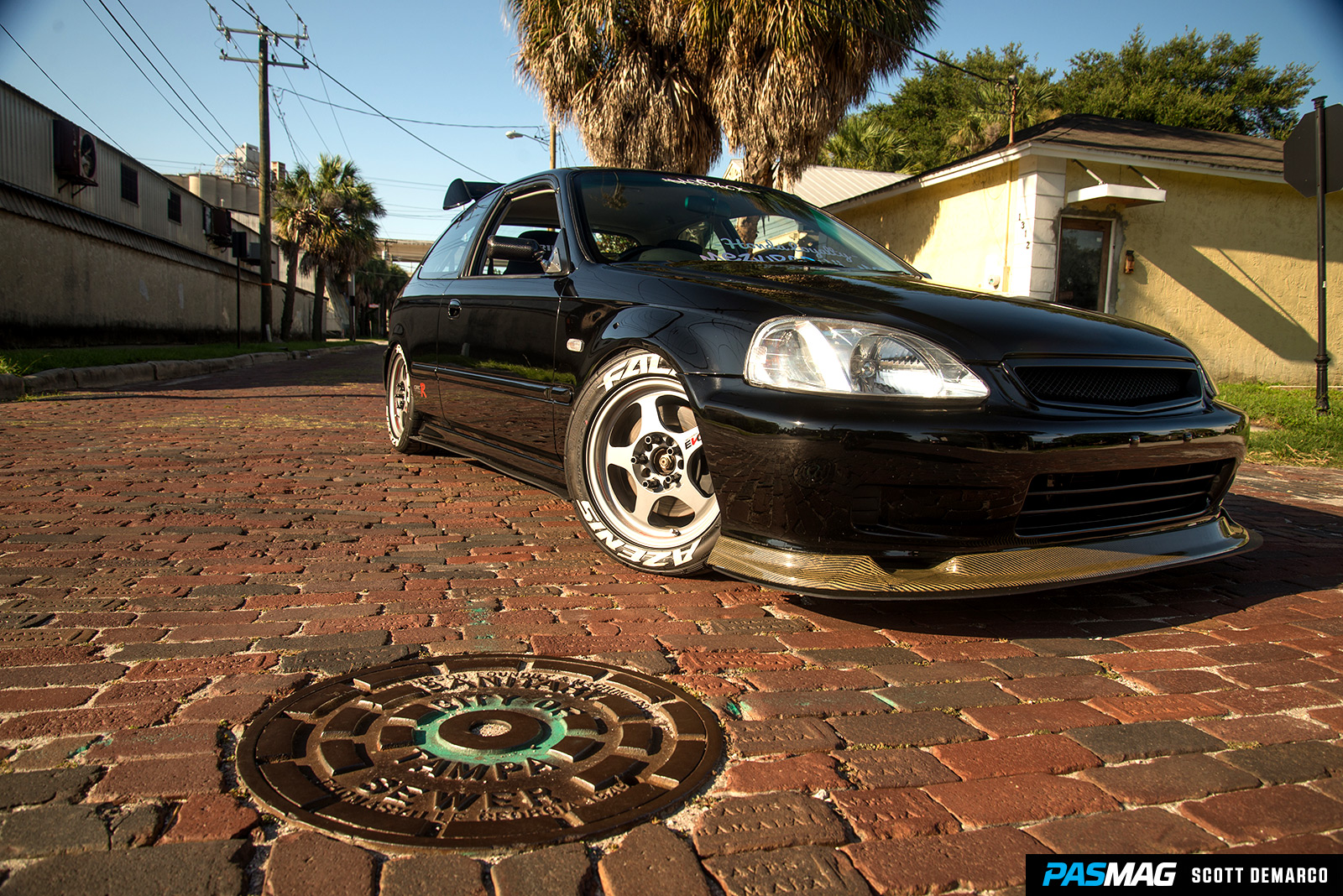 For most Honda fans, the conversion would be considered "complete" or "good enough" after swapping out the body panels and door handles. Luckily, Lester Rivera isn't most Honda fans. After the body swap came the real challenge of this build: switching the driver's seat to the right side. In pursuit of a true CTR clone, swapping over to RHD was a must for Rivera if he wanted it to live up to his standards of authenticity. This process would prove to be the most difficult part of the entire build.
When asked if he faced any particularly rough challenges throughout the build process, Rivera seemed to chuckle reluctantly about it all. "Oh man did I have challenges," he says, further hinting at the challenging nature of the build. "I have a lot of history with this car. Been through tough times in the past but also good ones as well. Let's just say we've been through a lot."
After 11 months in the hands of S1 Built, a shop based out of Clearwater, Florida, the Civic was back in Rivera's hands with a shaved and tucked engine bay, and with the steering wheel on the JDM side. With instructions to make the conversion as close to the JDM version's OEM specs as possible, S1 Built delivered. The interior change-over was flawless, from the RHD dash and pedal assembly right down to the authentic Civic Type R badge embedded in the dash. The vision had come to fruition, and for all intensive purposes Rivera's car was a true clone of the JDM Civic Type R.
Of course, not many enthusiasts desire the Civic Type R to keep it factory spec, so it wasn't long after getting it back that the modifications began. Wanting to stay true to the Type R's heritage and culture, Rivera kept modifications simple and tasteful, only choosing parts that would accentuate or enhance the true spirit of the Type R and stay true to its Honda roots.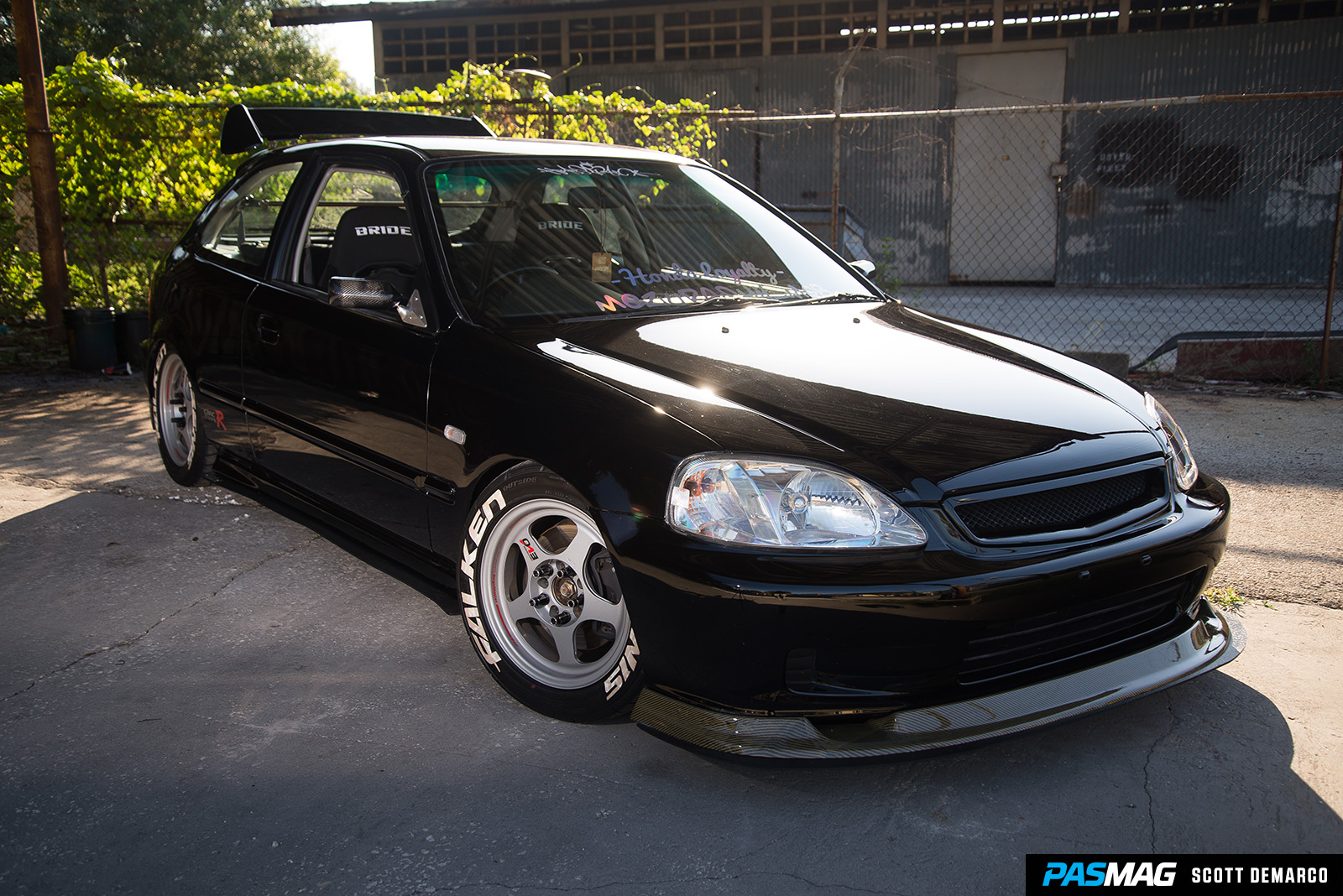 Simple aesthetic enhancements like the First Molding Kevlar front lip and Top1 side splitters lend some street tuner style to the iconic hatchback, and Euro Civic taillights with built-in rear fogs make for a subtle, yet attractive rear end style change. Suspension gets a reworking to stay updated with modern performance as well, thanks to a Blackworks Racing full suspension setup and subframe brace with Beaks bar, Function 7 control arms, and even the sway bar from an Integra Type R.
The sway bar isn't the only thing that came from a donor Integra Type R. The Integra's B18C engine, famous for its application in the JDM spec Integra Type R of the same year, was dropped into the Civic Type R clone and mated with an Integra GSR 5-speed transmission. A variety of Password JDM, AEM and Skunk2 goodies decorate the shaved and tucked engine bay, staying true to the Honda's origins and providing that extra boost in throttle response.
Thanks to a handful of carefully selected parts, the help and inspiration of family and friends, and some valuable know-how, the final product is a Civic that Honda fans everywhere would envy. While many of us would consider this car worthy of showroom floors, Rivera's favorite part of the car is just driving it the way it was meant to be enjoyed. "I love to take it out when I have a chance and just drive with no specific place to go," he says. "Just sit back and enjoy the ride."
The overall goal with this car was to keep it simple, road-going and reliable. By all accounts, Rivera seems to have succeeded. It's just an added bonus that people love his car, saying it takes them back to a simpler time. "My intentions were to just build something I can drive anywhere and take my kids on fun rides," Rivera says, laughing. We're sure the kids love this one.