It seemed like only yesterday when Toyota first launched their highly successful and tuner-inspired Scion brand. Although many doubted these economic compacts would excite horsepower-hungry enthusiasts, they were quickly proven dead wrong. With the backing of Toyota and their well-known tuning arm TRD, Scion's brand culture was built on customization and encouraging enthusiasts. Much like Scion, the Kicker brand has also taken the industry by storm, marking their territory through tight ties with signature action sports events and edgy athletes known for pushing boundaries to the fullest.
Many similarities can be drawn between the crafty branding efforts of Scion and the clever crew at Kicker Car Audio, so the total transformation of the 2008 Scion xB you see here was a perfect match. According to Kicker Brand / PR Manager Roger Demaree, "the Scion is a perfect show vehicle right now for Kicker…with over 6,000 watts of ground-pounding Kicker power, the uniqueness of Scion, and legendary performance of Toyota, this vehicle is clearly livin' loud!"
Rewinding back just a few short months before SEMA and CES, the talented (and extreme) team at Kicker was given the green light to build a head-banging creation that would not only showcase their signature style, but match the praise of their last ground-pounding monster… the 20,000 Watt Kicker Road Warrior!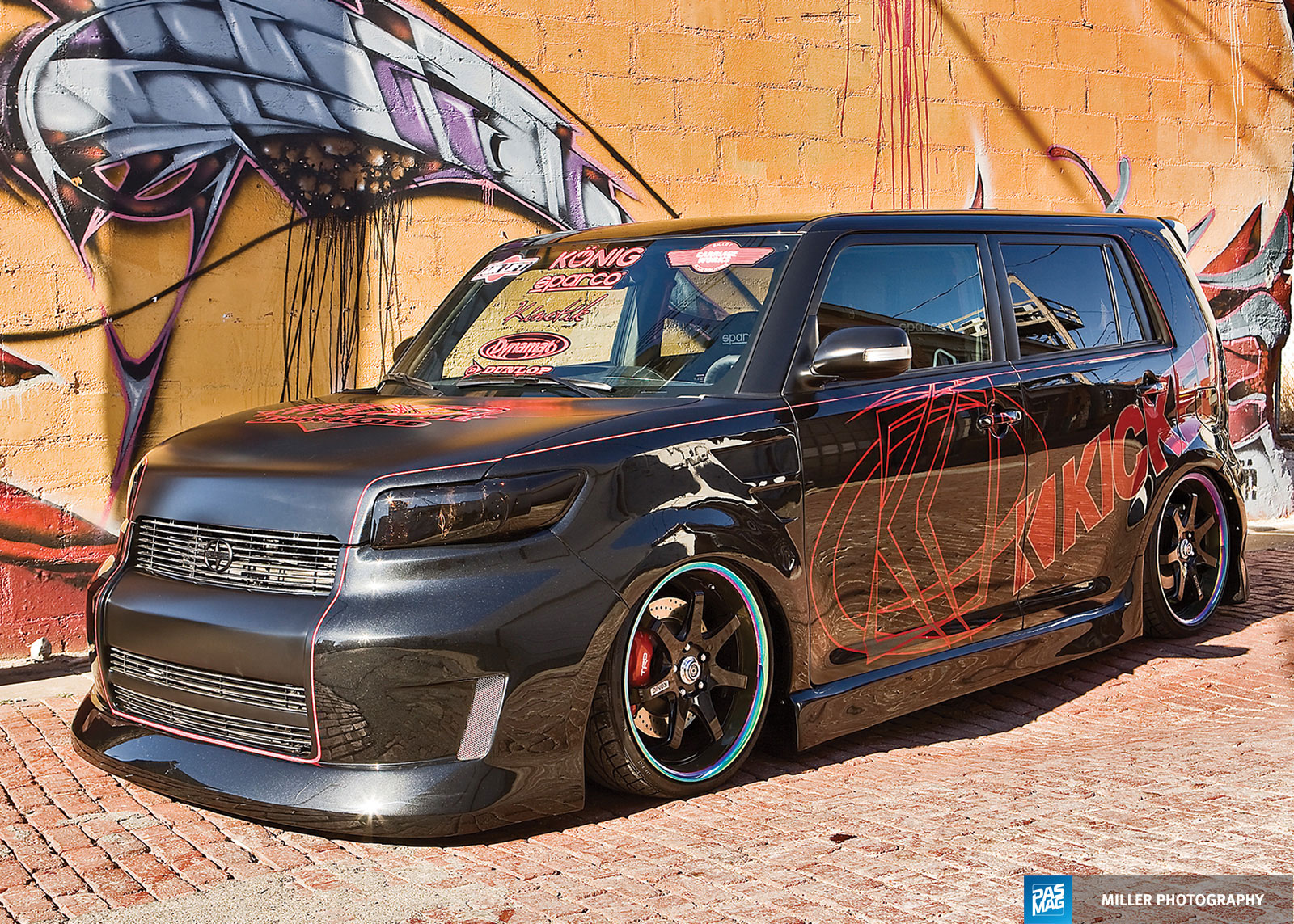 Kicker's in-house install pros Sean Murphy, Randy Botts, David Adams, Tim Smith, and Josh Fletcher are responsible for the design, creation, fabrication and installation of everything you see on this murdered-out 2008 Scion xB. "We wanted to make it more individual than even Scion can offer," said Chief Installer Sean Murphy. "Take it a step further than their original marketing ideas – bring some malice to it."
Starting where all the action is, the back seats of the once modest xB have been gutted, stripped and put to better use with a mind-blowing number of Kicker Solo Classic subwoofers packed tightly into the install. These woofers are noted for producing big bass in small space, as six (yes, count'em… six) Kicker Solo-Classic subwoofers of the 15-inch variety deliver punishing bass and hard hitting performance. "We used six 15s because four was not enough," explained Randy Botts, who had a hand in the sub-Scion low end. "We weren't sure we could do it, but I found the air space. It's Kicker, and that's what we do."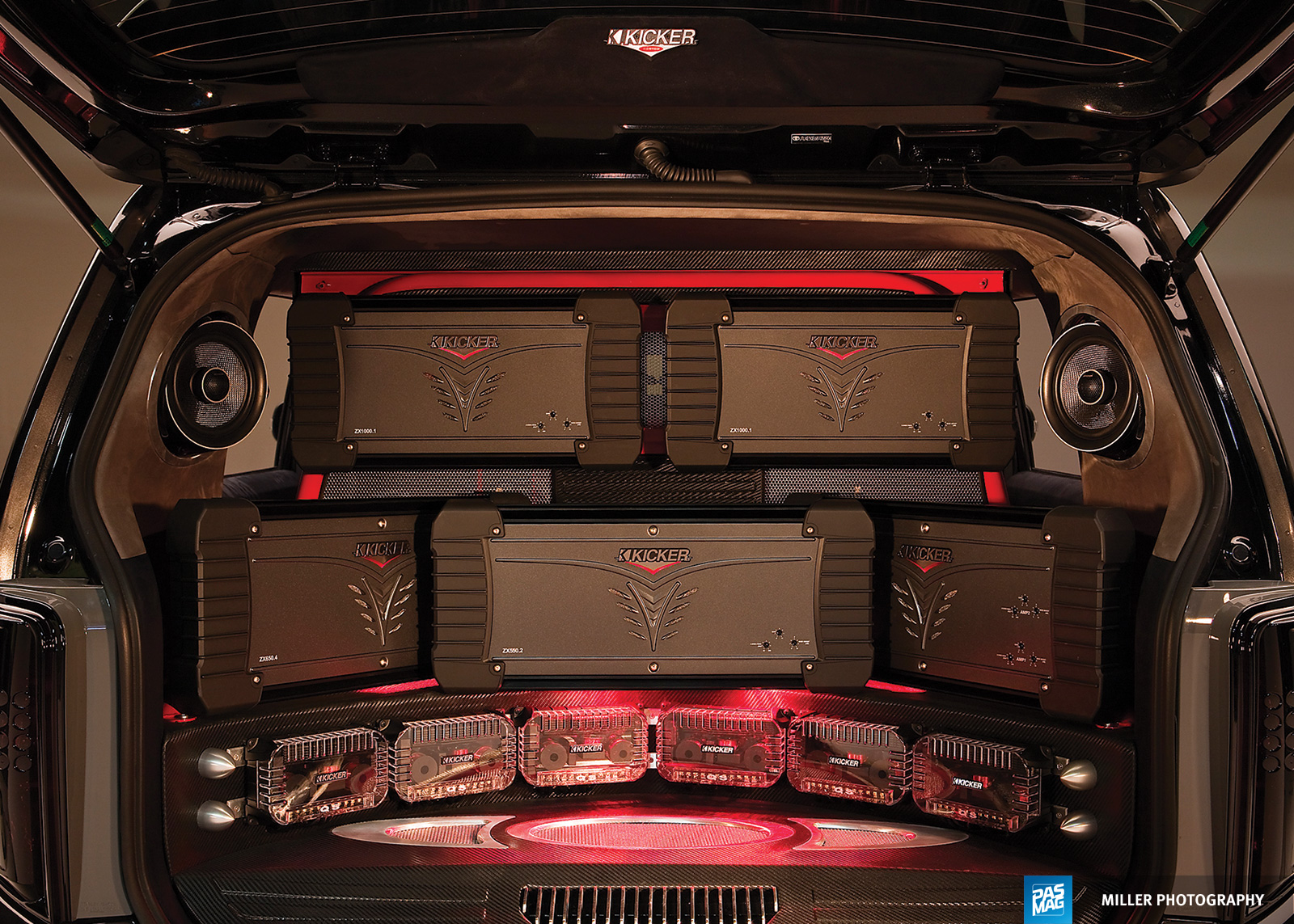 The tight bass from the Solo Classics meshes perfectly with clear, extraordinary sound from brand new Kicker QS Components. Five QS65.2 systems, which account for 10 total 6.5-inch midrange speakers with advanced Tri-Tech cones and 10 additional 30-millimeter tweeters with highly specialized DuPont Tetoron domes, nestle in the doors and dash for amazing clarity at extreme volumes.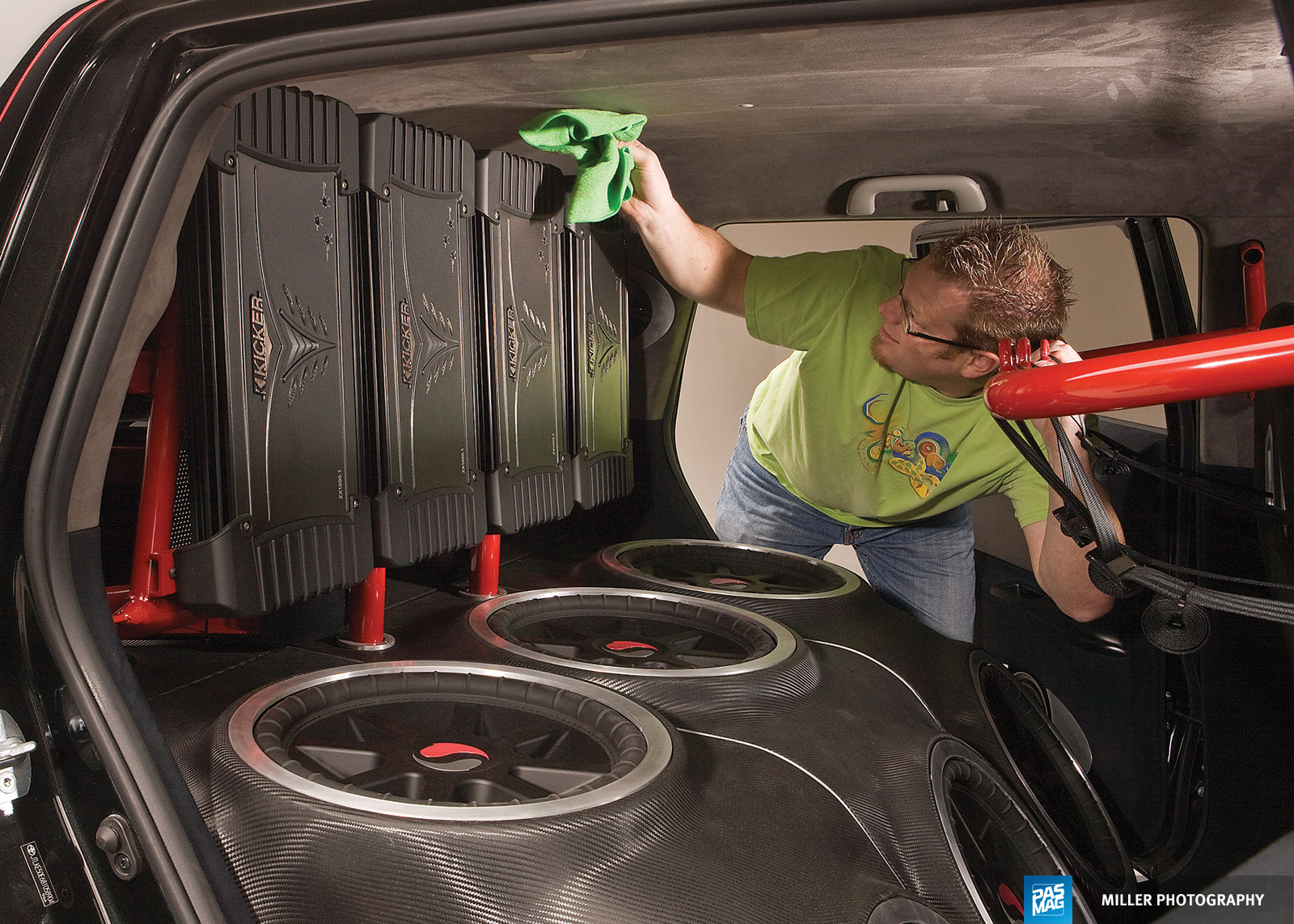 Kicker ZX Amplifiers deliver all the power necessary for a solid Scion entertainment experience. Six fire-breathing ZX1000.1 subwoofer amps produce more than 1,000 sizzling watts per woofer, providing all the bump this Scion can handle. The rest of the system runs on a pair of Kicker ZX650.4 four-channel amps and a reliable ZX550.2 stereo amplifier – plenty of juice for a serious audio performance system. It's the most amplifiers used in a Kicker project since the acclaimed '61 "EconoLoud" Ford Econoline truck power-surged its way to the show floors in 2005.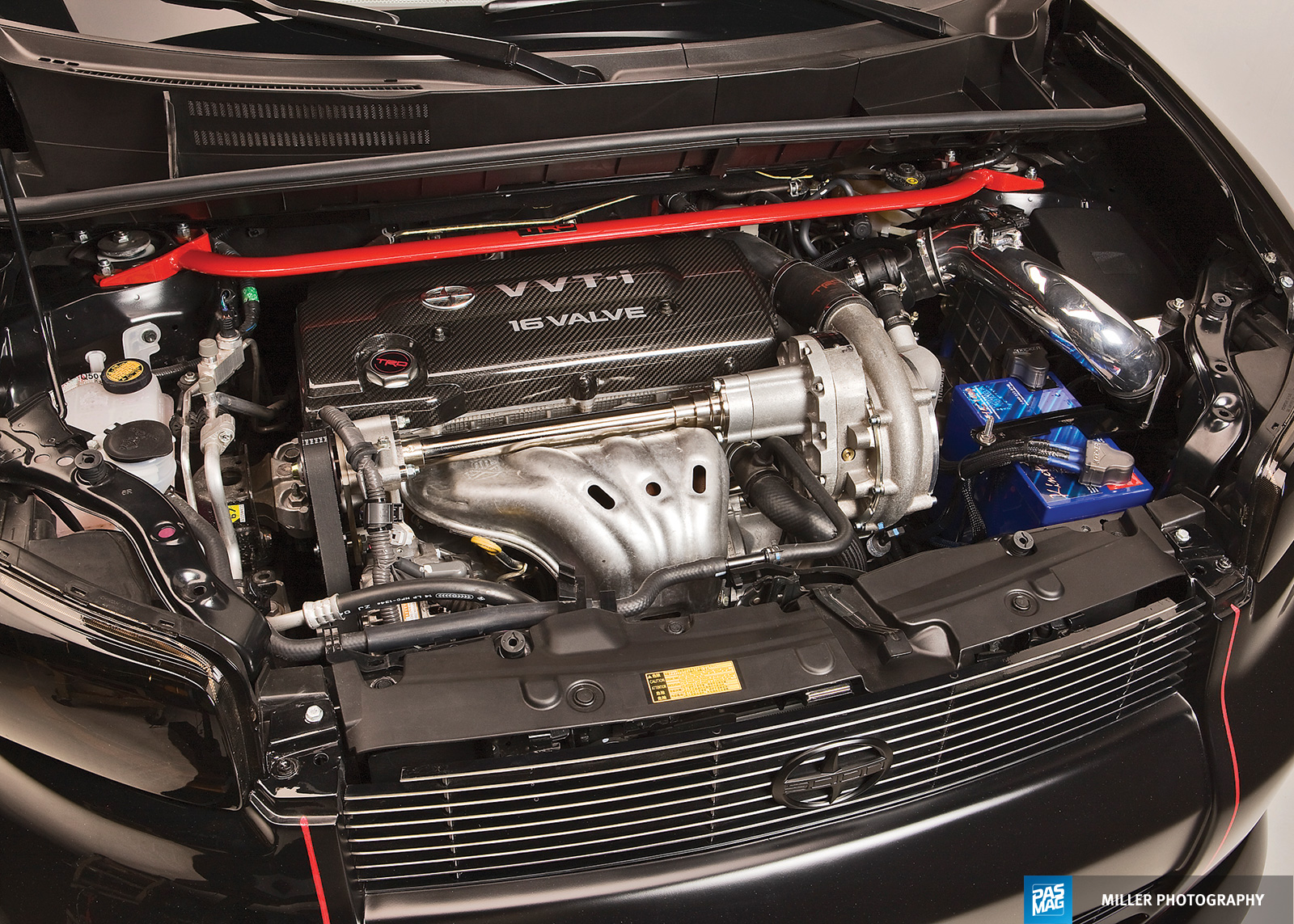 The brains of the system setup originate with the more-than-capable Scion factory source/CD player collaborating with specific SoundGate interfacing, providing the driver with Sirius satellite radio options. New-for-2009 Kicker X-Series speaker wire, power wire, interconnects, fuses, and distribution help deliver and regulate strong, clean signal throughout. A Kinetik HC1400 power cell feeds the beast, replacing the OEM battery, while four additional Kinetik High-Current HC800 power cells easily exceed any voltage demands to juice and push this high-performance Kicker system to the limit.
Having been lined in Dynamat, the Kicker xB is a rolling rock festival no doubt, but the team went all out to make sure the intricate custom work would get noticed as well. More detail work was done here than in any of the other latest demo vehicles – routed aluminum, modified panels, rich interior textures – nothing was left flat. In fact, the wing is the only one Scion factory option that remains.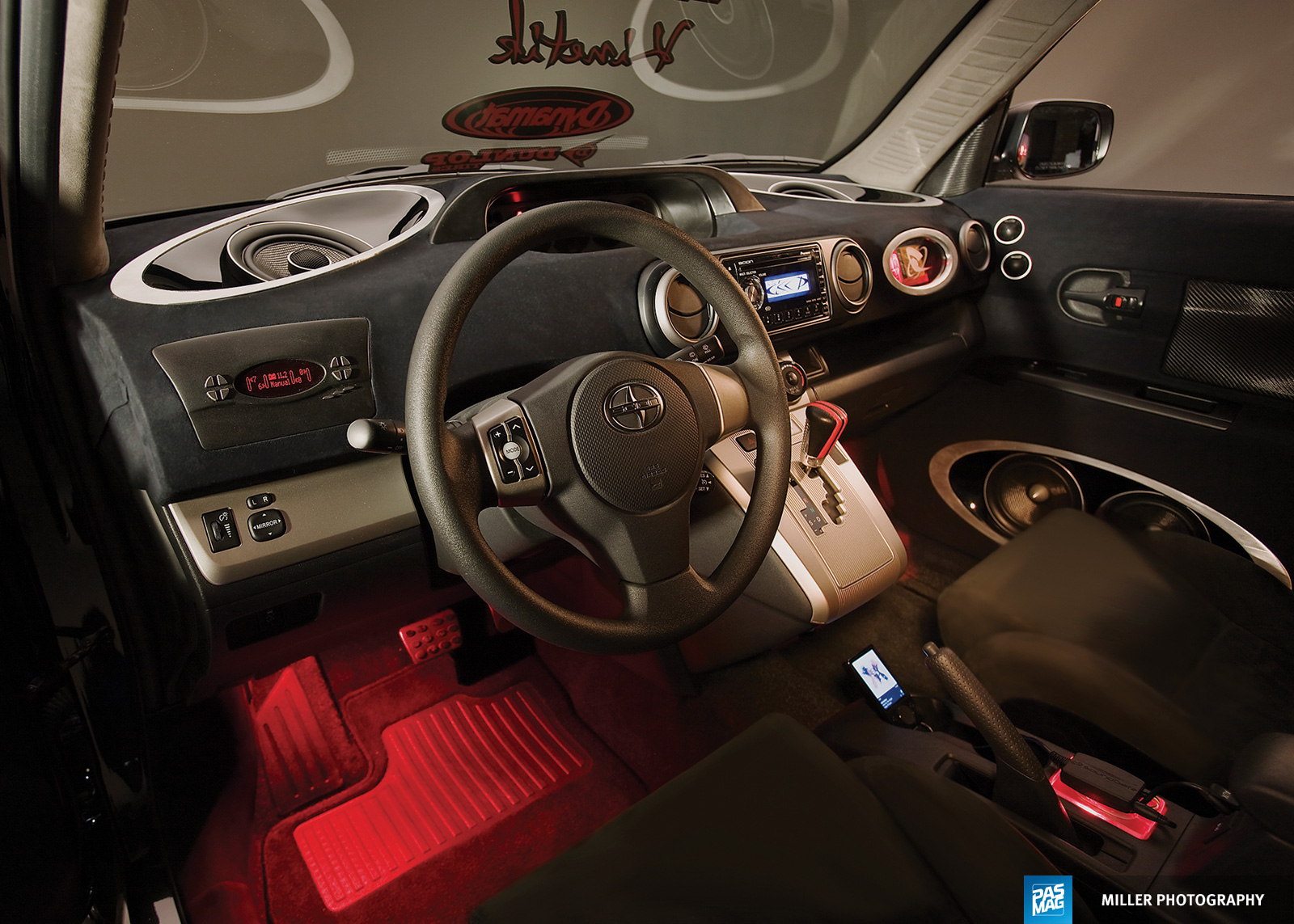 Inside, a red powder coat covers the custom amp rack and four-point harness bar holding black Sparco two-inch cam-lock harnesses firmly in place. The entire dash is reshaped to properly house Kicker's QS components and a digital air-ride controller. Plus, the door panels and headliner are now wrapped in luxurious suede and attractive carbon fiber-look vinyl trim. Sparco Milano 2 adjustable sport seats covered in Alcantara suede make the most of the ride, and the black-and-red Sparco 77 shift knob and TRD sport pedal covers finish off the fine details.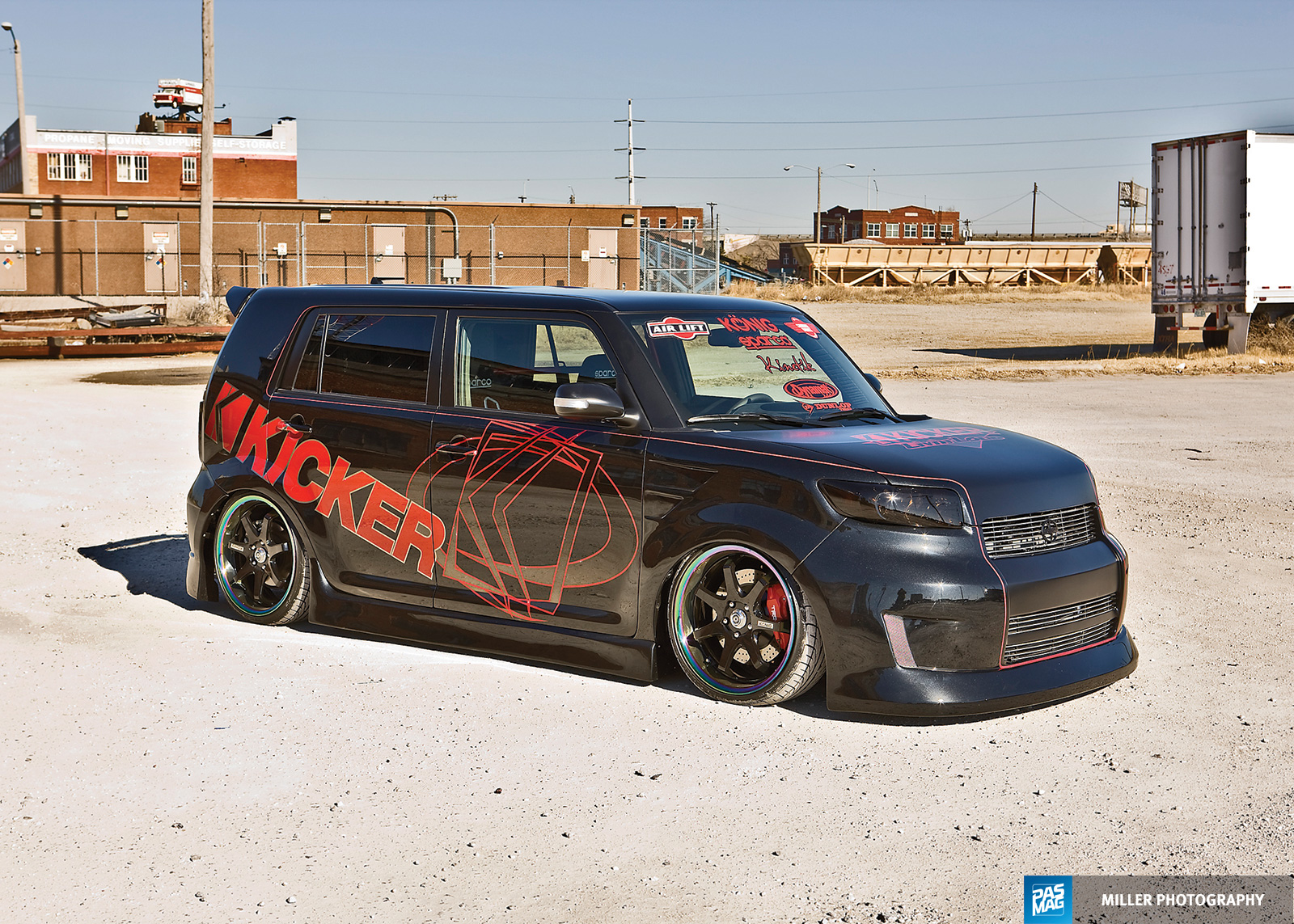 The paint experts at Trinity Restoration (Tulsa, Okla. – www.trinitytulsa.com) had no problem helping with the paint and graphics, having performed the work on the last eight Kicker demo vehicles. They were told to paint the sinister-looking xB "any color they wanted… as long as it was black!" They used a two-tone mix of gloss metallic black and satin black.
A Carriage Works billet grille insert, smoke-tinted headlights, and Extreme Dimensions prototype body kit (bumpers, front fenders, and side skirts) change the entire look and shape of the compact, but then EasyStreet air-bag suspension courtesy of Air Lift really takes it over the edge. Dunlop Direzza sport-performance tires sized at 215/35ZR19 wrap around unique 19x8-inch König After Burner rims finished in gloss black and heat-treated prizma.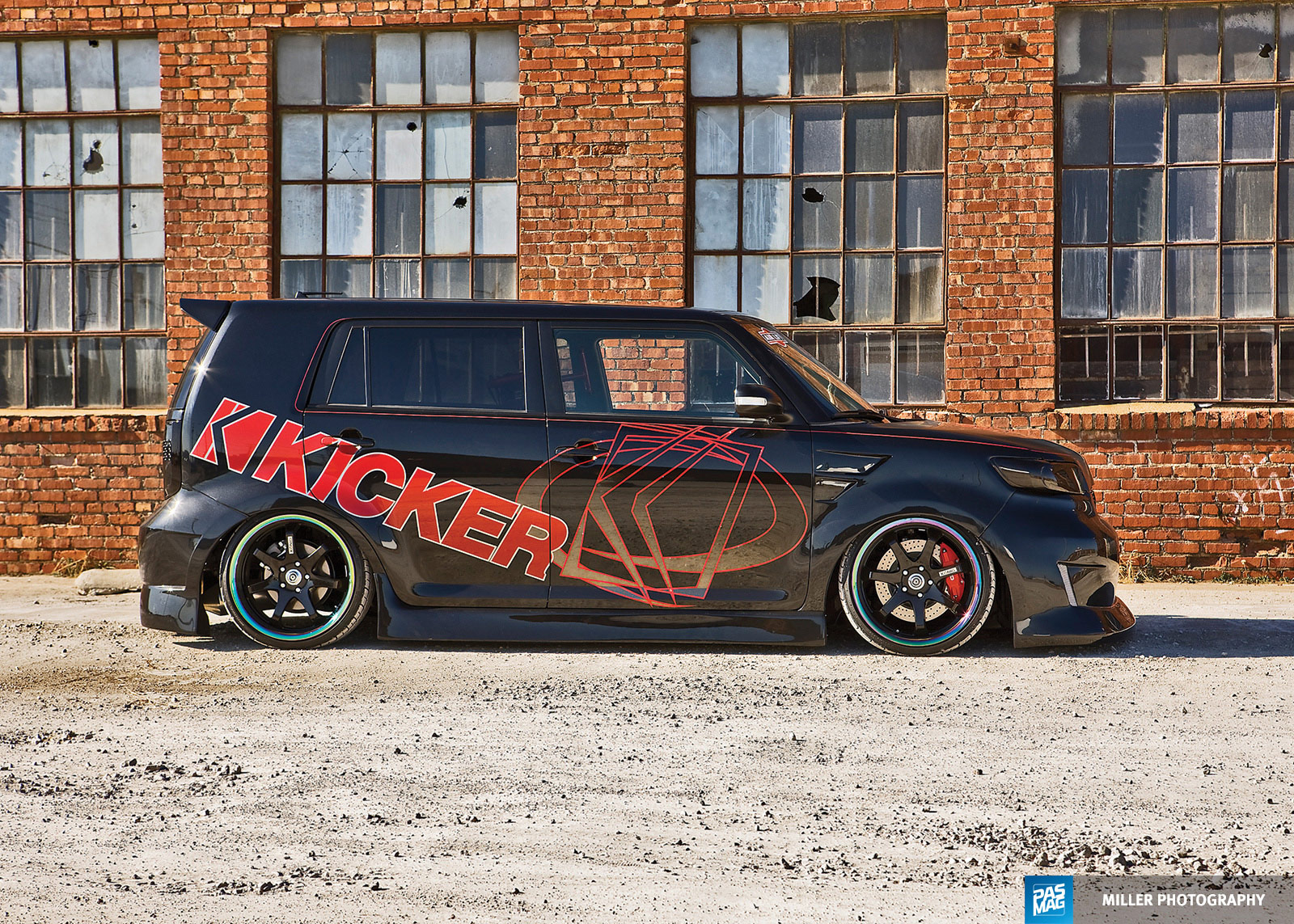 With its heavy-duty audio system and jaw-dropping exterior now out of the way, the Kicker team had a few last tricks up their sleeve. Under the hood, a TRD Supercharger sets the tone and is accompanied by TRD goodies including a cold-air intake, carbon-fiber valve cover, aluminum oil cap, and front strut bar. Meanwhile, an upgraded TRD big brake kit replaces the stock system upfront and brings this chariot to a halt.
The Kicker crew has certainly done it again and their gifted team always gets it done right! Much respect goes to the top-notch installers at Kicker who always go big and they'd like to thank the many project partners that helped make it happen. This screamin' Scion is sure to be seen and heard from miles away, as it hits the road for 2009 with the Kicker XRV big rig at events across the nation.
Photography by Miller Photography
PROJECT PARTNERS
www.kinetikaudio.com
www.dynamat.com
www.trdusa.com
www.cwgrilles.com
www.extremedimensions.com
www.easystreetair.com
www.dunloptires.com
www.konigwheels.com
www.sparcousa.com
PHOTO GALLERY