Photography by @prvd__.
---
Mishant Nand has been around cars his whole life. "I like to work on cars," Nand mentions, "and as an aircraft mechanic by profession, I love what I do." His first car was a 2010 Scion tC. "It wasn't too heavily modified," he remembers, "and I recently decided to get a boosted car for more power."
The 2017 Infiniti Q50s caught Nand's attention. "Since it's twin turbo from factory, I saw a lot of potential in it," he states. Nand got help from @jdmmafiamotorsports, Fuzion Teknique and members from California Qs to help build the Q50s to where is at right now, and the person who inspired him to build the it is Chris Cu.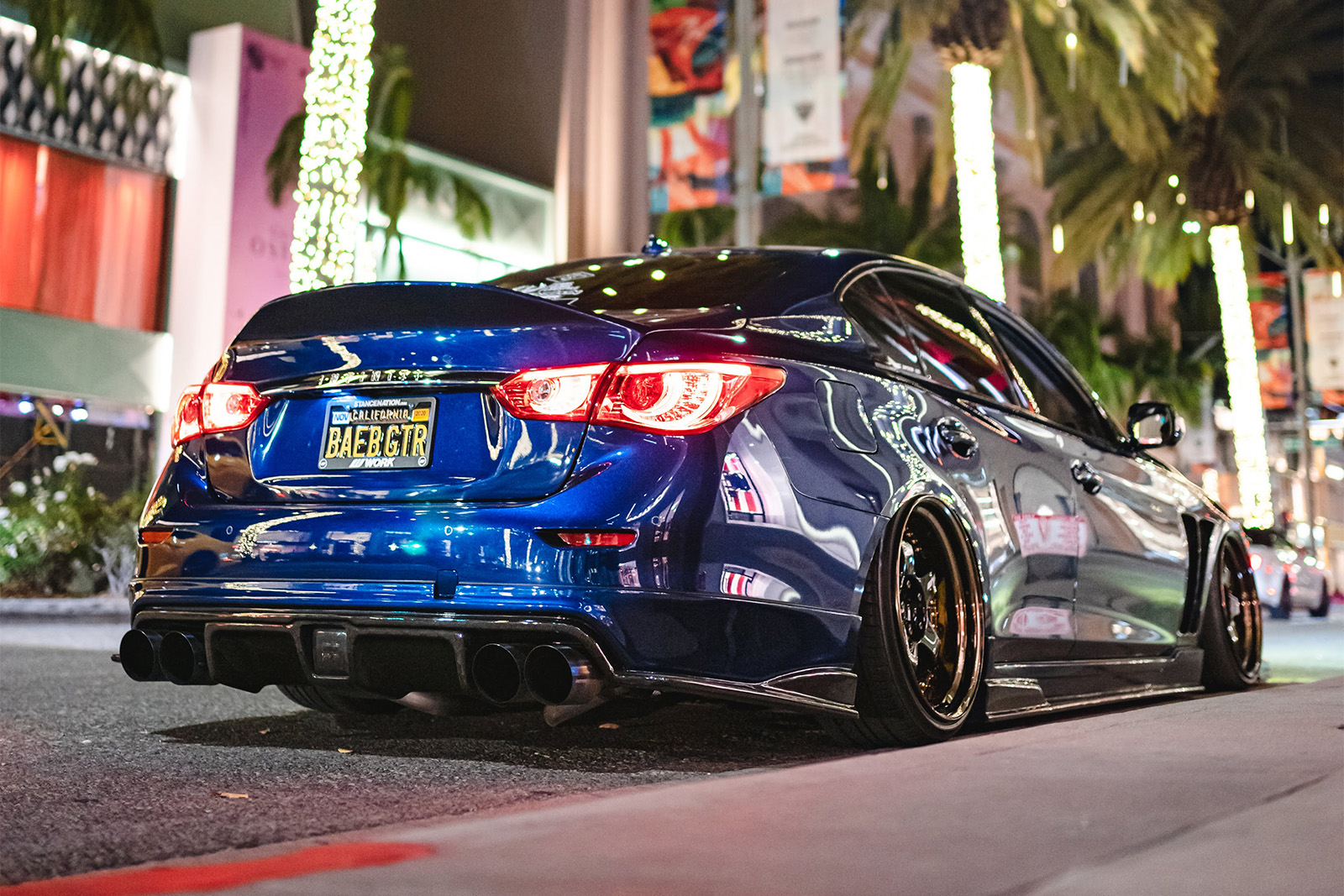 Mishant Nand was the Runner-Up in the PASMAG Tuner Battlegrounds award category and online competition at Elite Tuner in Las Vegas, NV on February 22nd. Click HERE for more details.
---
ESSENTIALS
Owner: Mishant Nand
Location: Hawthorne, CA
Vehicle: 2017 Infiniti Q50s
Horsepower: 485
Club: California Qs
SOCIAL
Facebook: /mishi.jasal
Instagram: @dopest_imported_q50
ENGINE & PERFORMANCE
AMS heat exchanger
AMS lower downpipes
AMS low pressure fuel pump
AMS High pressure fuel pump
AMS flex fuel kit
HKS blow off valve
EXHAUST
GTthaus y pipe
Custom axleback
Motordyne quad tips
PERFORMANCE ELECTRONICS
WHEELS & TIRES
Work Meisters S1 3P wheels
Tires - 235/35/19
BRAKES
Cquence drilled/slotted rotors
Cquence brake pads
CHASSIS & SUSPENSION
Air Lift Performance 3P management
D2 Racing air struts
EXTERIOR
Custom honeycomb front lip
Honeycomb dramaspeed fenders
Dramaspeed duckbill trunk
Blitz rear diffuser
Blitz sideskirts
INTERIOR
Honeycomb pieces
Mat Metrics leather floor mats
Fitted customs Air Lift Performance remote mount
FAVORITE MODIFICATION
"My bags are my favorite mod. I can drive it at the level I want depending on the road conditions."
FUTURE MODIFICATIONS
SPONSORS
Jdmmafiamotorsports
Fuzion Teknique
SHOPS & MECHANICS
Jdmmafiamotorsports
Fuzion Teknique
NSRMAR Custom
PHOTO GALLERY