Photography by Nathan Kahler, Roger Pederson (RPM Photography).
---
If it has wheels, there's a good chance Nathan Kahler is a fan. Growing up around go-karts, motorcycles, and mini-trucks, it was only a matter of time before he found himself infatuated with drag racing and hot rodding. Kahler cut his teeth on drag racing with a 2JZ-swapped Volvo 940, but eventually decided he had to go all-out to pursue his drag racing dreams. When he finally got the chance to pick up a 1973 Datsun 240Z in town, he knew what he had to do.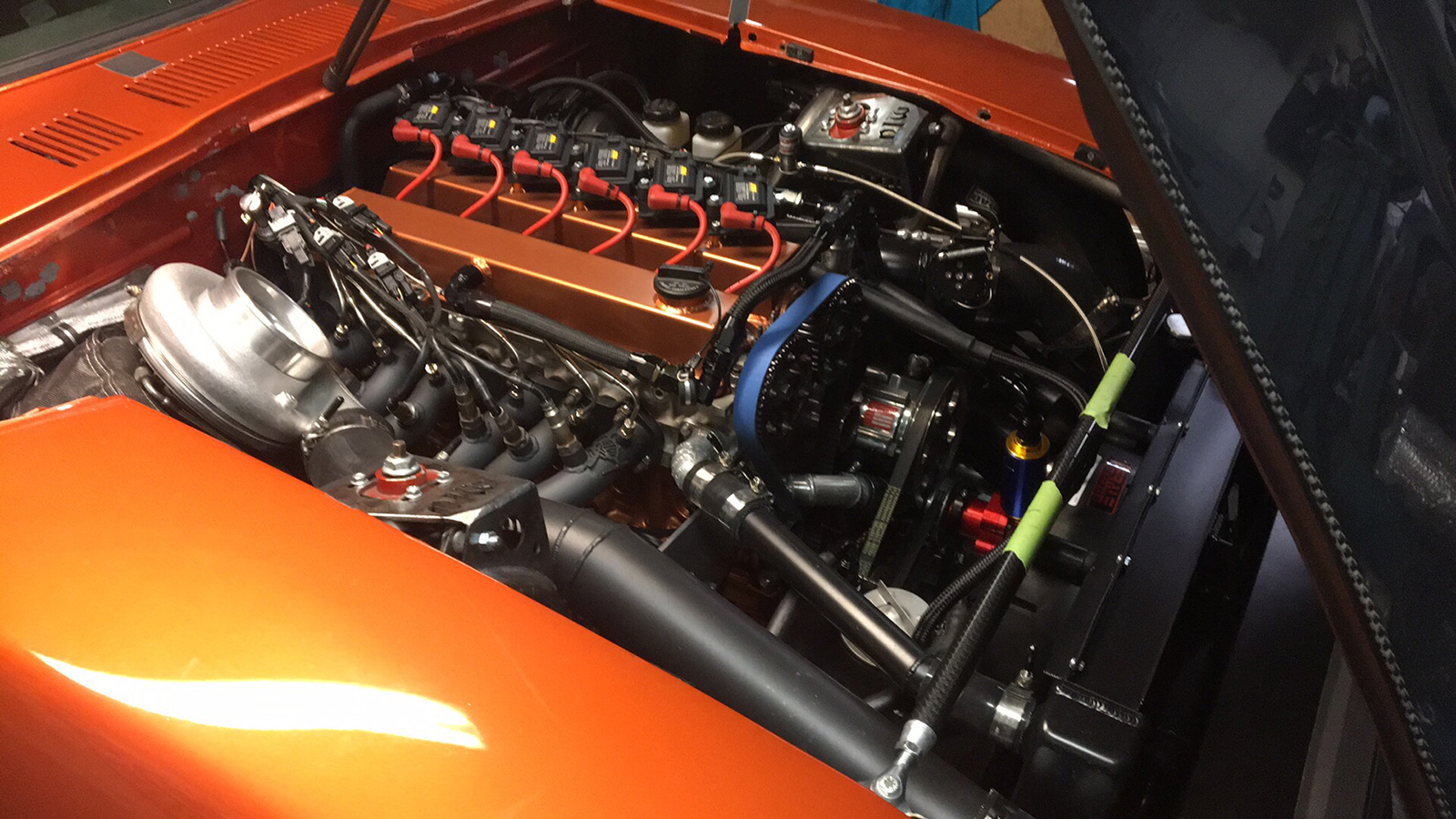 The Datsun at one point had an LS engine in it, as Kahler was trying to balance street driveability and drag racing prowess in the same build. As he spent more and more time at the track, he realized he would have to give up some street comforts, and eventually went full race car once he broke into 8-second passes. The 2JZ was just the next step in a long line of transformations. These days you can find Kahler slaying the strip at Import Face-Off events, representing for classic Japanese drag racer fans.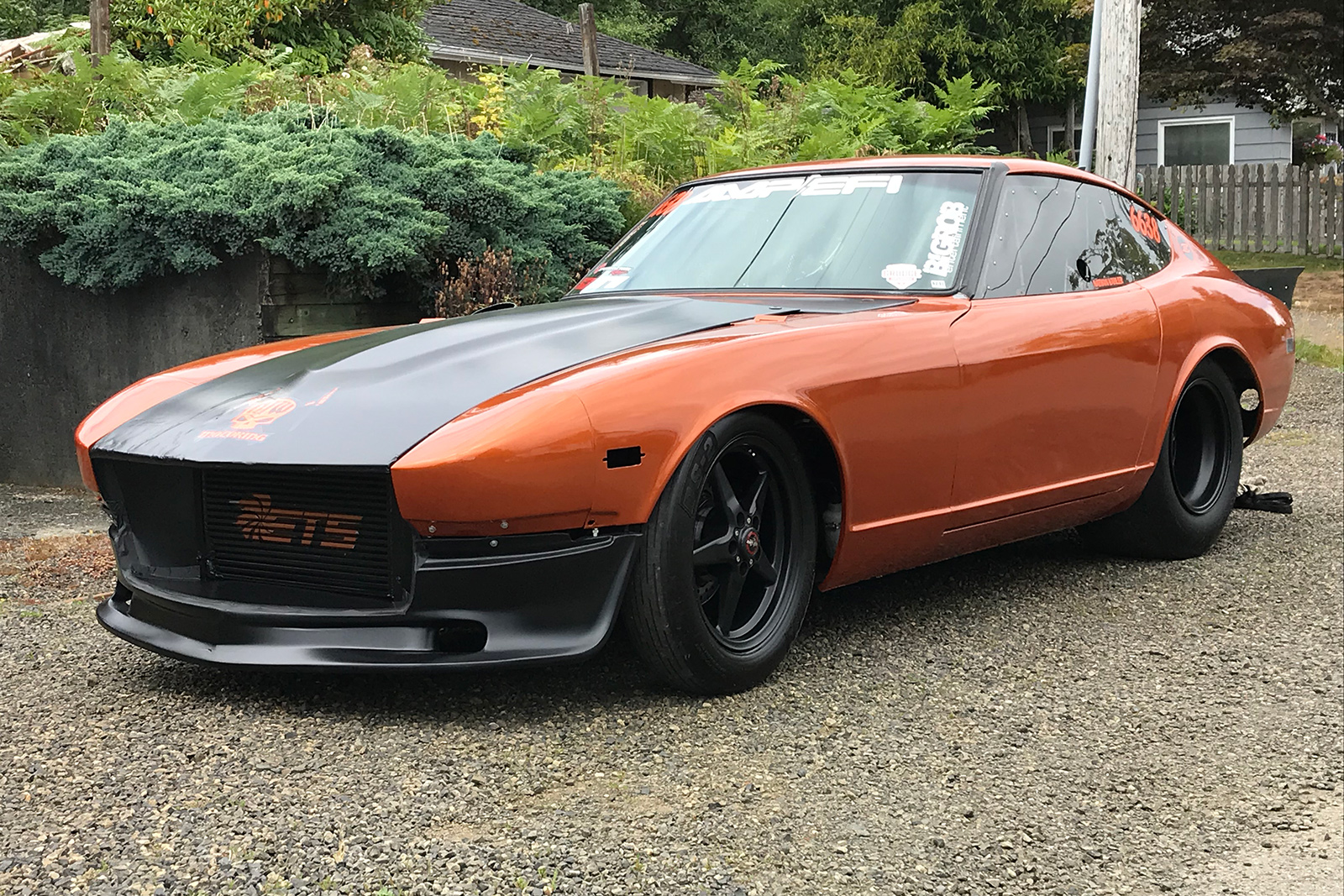 Nathan Kahler's 1973 Datsun 240Z is featured in PASMAG Tuning Essentials: Performance Vol. 7. CLICK HERE to order.
---
ESSENTIALS
Owner/Driver: Nathan Kahler
Location: Aberdeen, WA
Vehicle: 1973 Datsun 240Z
Engine: Toyota 2JZ-GTE 3.0L I6
Horsepower: 1,150 (est.)
Club: NIW Motoring
Competition: Import Face-Off
SOCIAL
Facebook: /nathan.kahler.10
Instagram: @nathaninwa
ENGINE
Toyota 2JZ-GTE engine swap
Precision Turbo Gen 1 7685 turbocharger
R+R aluminum connecting rods
CP 1,600-hp real street pistons
Ferrea (dual valve springs, valves)
Brian Crower 276+ cams
ACL race bearings
ARP (625+ aged head studs, 2000 main studs)
Real Street billet main caps
Custom (intake manifold, twin-scroll header, valve covers, front and mid engine plates)
Grays Harbor Coatings ceramic coating
AEM (IGN1A coils, 4-channel AFR boxes, failsafe wideband)
Firecore wires
Ross Machine Racing 90mm throttle body
Mezzire 55 GPM stand-alone water pump
Speed Factory Racing small race radiator
ETS 5-inch intercooler w/ custom end tanks
Bosch (2200cc injectors, 1000cc injectors)
Shimless buckets
Nitrous Outlet X series kit
Aeromotive red mechanical pump
ATI balancer
GZ Motorsports crank case vacuum pump
Titan adjustable cam gears
ThunderBolt E98 fuel
DIY Autotune (engine management system, 8-channel canbus EGT box)
AMPEFI MS3Pro engine management system
EXHAUST
4-inch fender-exit down pipe
DRIVETRAIN
ATF billet flexplate
FTI torque converter
Reid cased 1.80 Powerglide w/ FTI components
The Driveshaft Shop carbon fiber driveshaft w/ billet ends and 1350 joints
Rhoades Racing Ford 9-inch housing
Yukon (aluminum carrier, 4.11 gears)
Moser (35 spline spool, 35 spline axles)
WHEELS / TIRES / BRAKES
Race Star front wheels - 17-inch
Weld Racing rear wheels - 15x12
Moroso DS2 front tires - 26-inch
Hoosier C07 rear tires - 28x10.5
Wilwood (drilled front rotors, dual piston front calipers, rear scalloped/drilled rotors, 4-piston rear calipers, 1-inch master cylinder w/ dual diaphram 8-inch brake booster)
CHASSIS / SUSPENSION
Custom (4-link setup w/ wishbone locator, chromoly lower control arms, tension rods)
Rhoades Racing chromoly roll cage
Chromoly (back half, front half)
Dual adjustable QA1 rear shocks w/ 80lb springs
Viking Performance Fbody Crusader front struts w/ 100lb springs
Modified S30 spindles
1.5-inch chromoly rear anti-roll bar
EXTERIOR
Corvette Atomic Orange paint
280Z front splitter
Seibon Carbon hood
Retrospec carbon fiber cowl
Ztricks (fiberglass headlight deletes, fiberglass doors)
Rear hatch delete
Tinted lexan side windows
Shaved gas door
Custom (roll pan, drag wing w/ carbon fiber struts)
Stroud parachute
INTERIOR
Gutted interior panels
Kirkey (aluminum seat, seat cover)
Aluminum dash
Hurst powerglide shifter
Joes aluminum steering wheel
PHOTO GALLERY