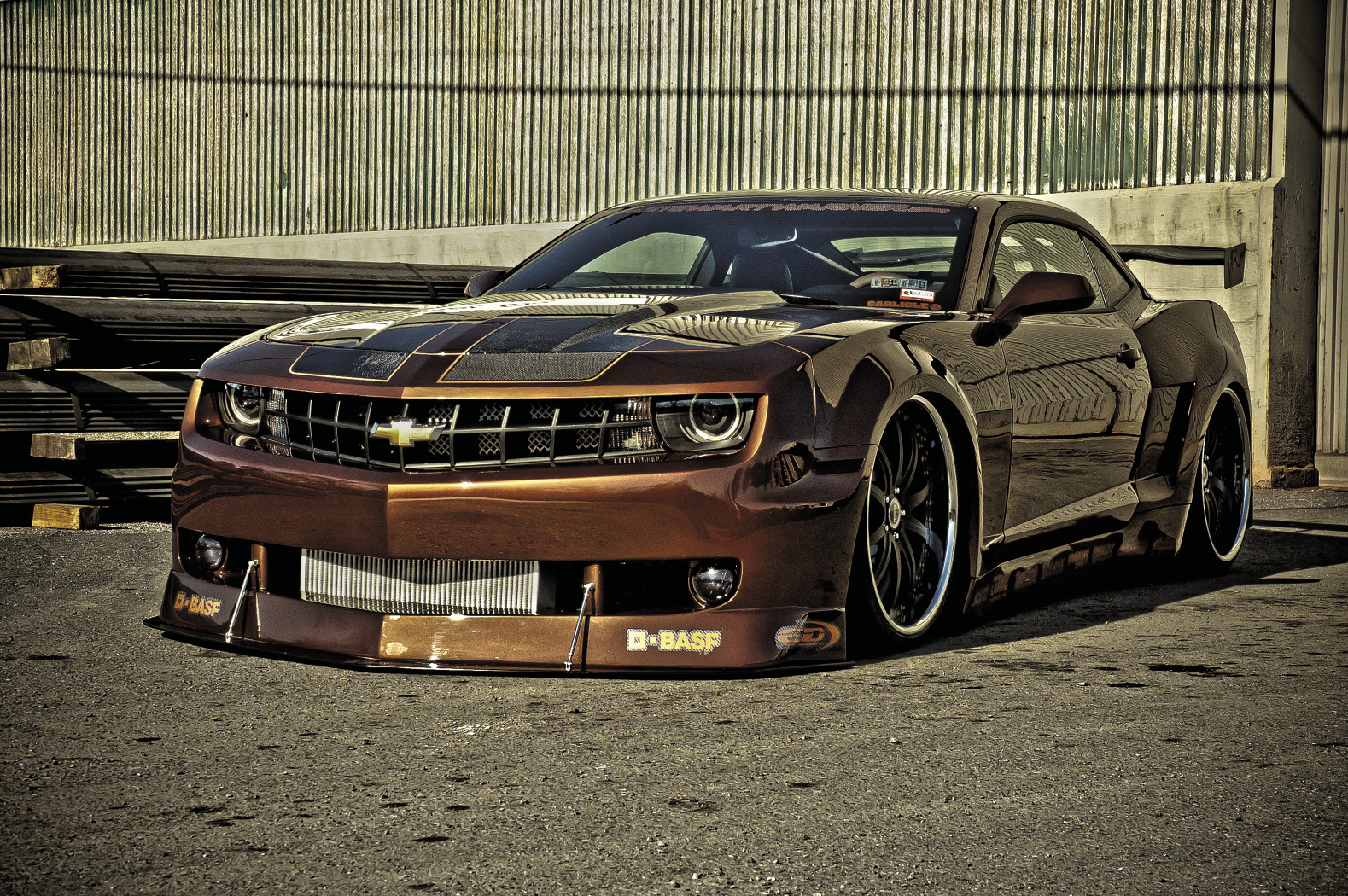 Written by Ddave MacKinnon / Photography by Jut Imes
New Camaro turns award-winning SEMA show car SEMA is the car guys' dream destination every fall. For those of us who go (or want to go), the trade-only car show and extravaganza is just the beginning of a long, long road. For many, the show is the culmination of countless of hours of hard work and preparation with new products and vehicles getting worked on, tweaked, tested and tuned to the teeth to be ready for presentation to the hungry gear-head masses and media.
Automobile manufacturers understand the value of having vehicles on display at SEMA and many have put together "dollar car" programs to help customizers and manufacturers make this a reality. Yes, you can buy a brand new car for a buck provided your submission has been selected and you are going to build and show the car. That's how this 2010 Camaro began its life – Mummbles Marketing bought it for a dollar – but no aspect of the vehicle would be overlooked – style, performance and audio all had key roles in turning this into a rolling work of art. That task goes to Peter Colello, who took the lead with 10 weeks to get the car ready for the 2010 SEMA show.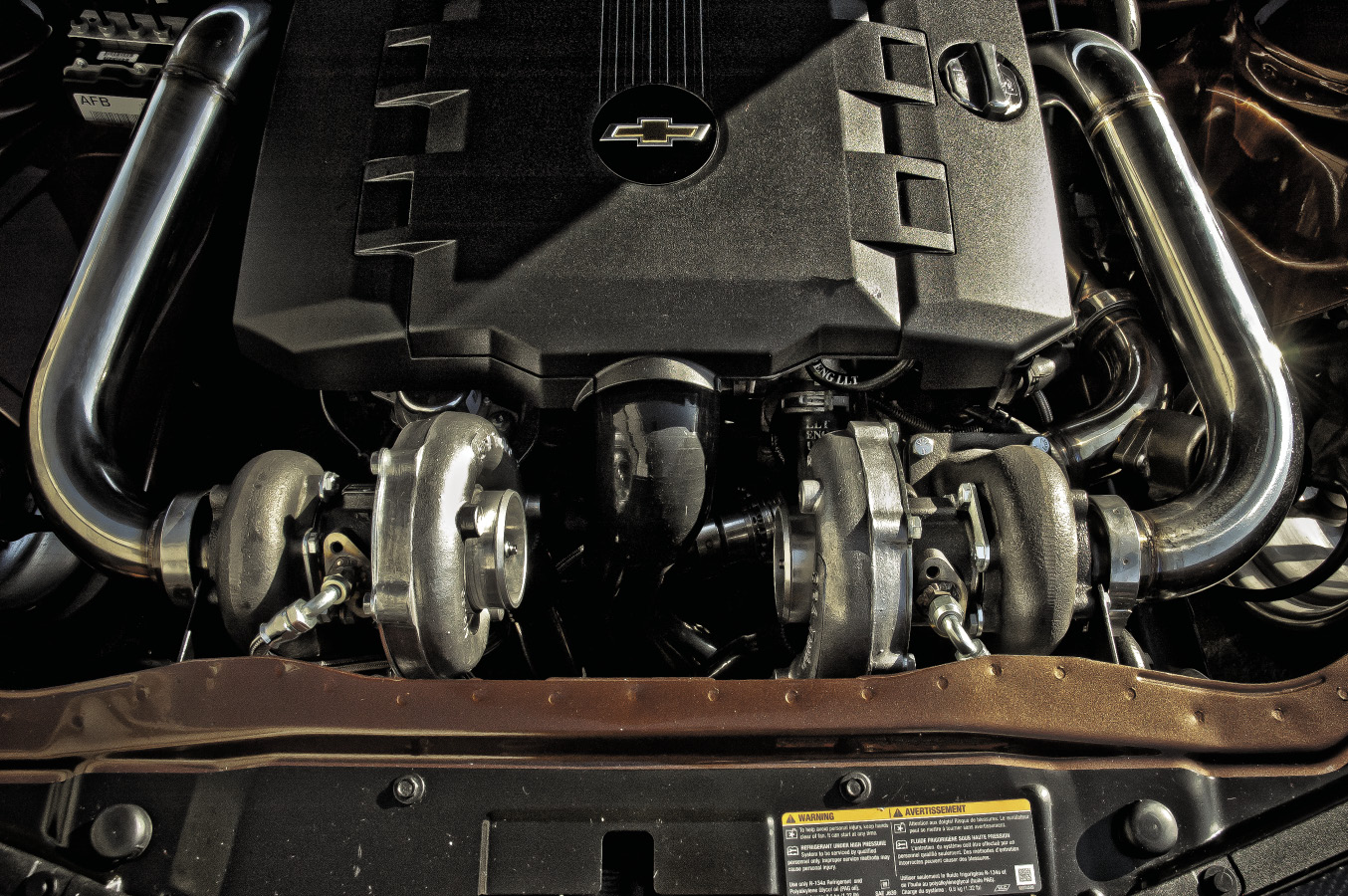 For motivation, R/T Tuning in Lansdale, Penn. has massaged the V6 engine with a pair of SPA 60-trim turbos, a Nitrous Express wet kit and S-Max intercooler, wastegate and blow-off valve. A re-mapped Trifecta ECU boosts the engine's output to 411 hp and 379 lb-ft of torque. That's a lot of get-up-and-go from the relatively small motor, so a Mishimoto rad and coolant tank help to keep it from going Chernobyl.
The exhaust system is a key component to vehicle performance – if it's too restrictive, you can't make power. If it doesn't sound right, well, it doesn't sound right. Magnaflow components have been used to fabricate custom headers and a down-pipe. Matching mufflers give the beast an authoritative sound.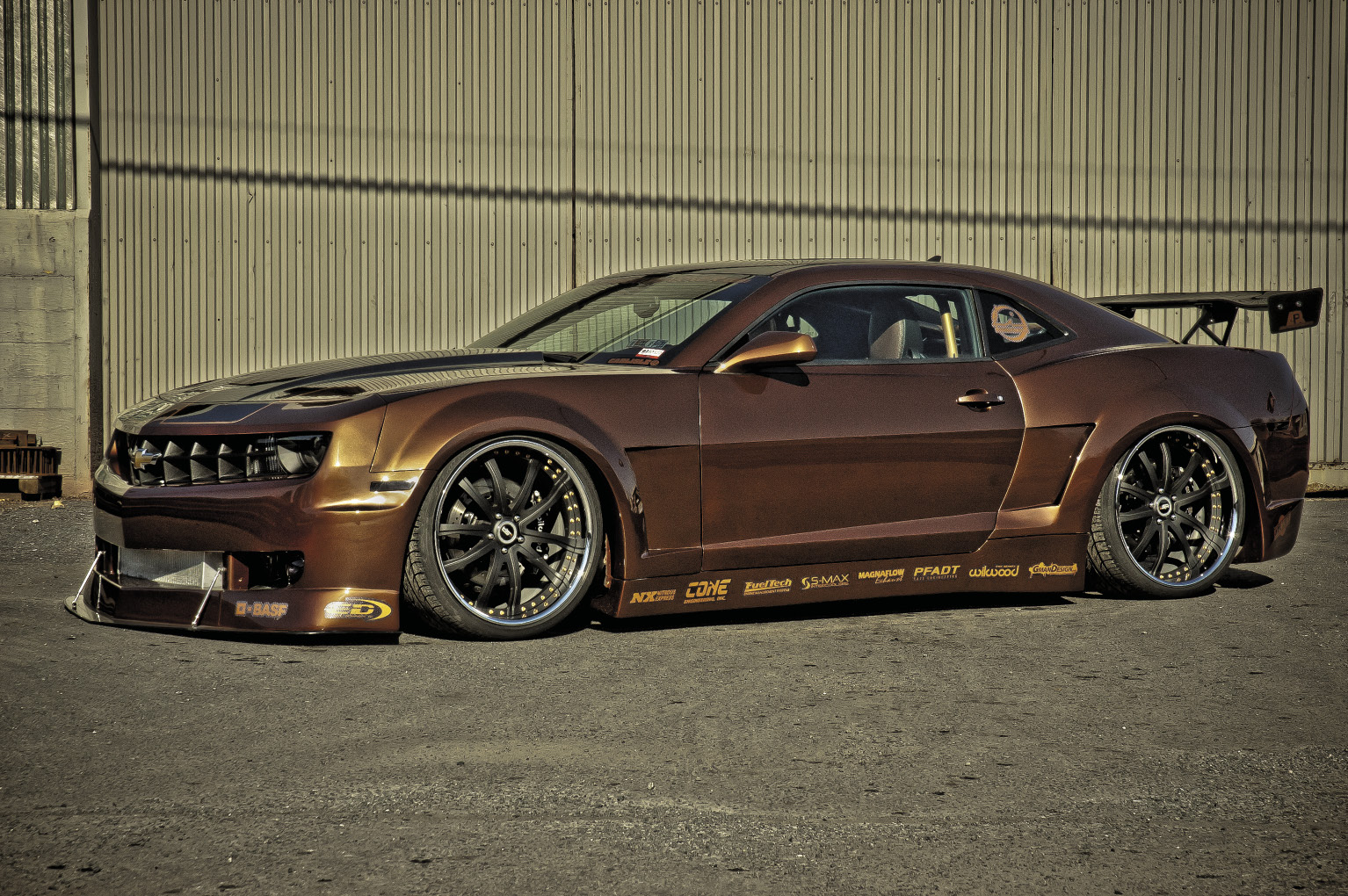 The eight-piece Extreme Dimensions wide body kit is accented by an APR Performance carbon fiber front splitter and rear wing with Racemesh grill inserts in the front fascia, fenders and rear bumper adding a little angry to the mix. LightWurkz LED headlights and tinted side and taillights provide illumination while the Camaro's hue is now BASF chocolate brown with tan accents. The paint job features three coats of base color and seven coats of clear.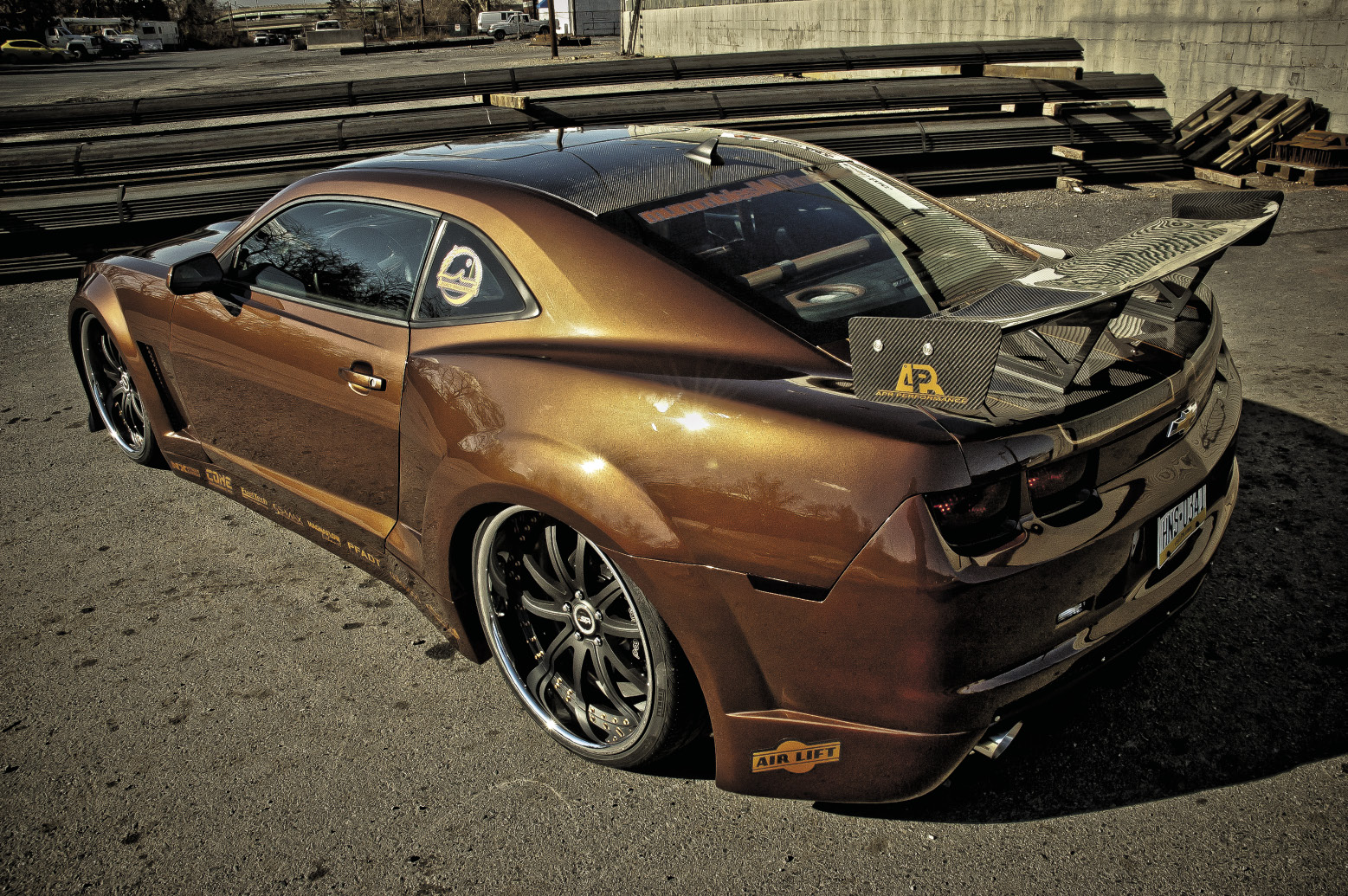 Just as the exhaust note sets the attitude when the candle is lit, so do the wheels. TIS Modular 22-inch 10-spoke wheels with matte black faces, chrome lips and tan bolts are 10.5 inches wide in the front and 12 inches wide in the rear. Wrapped with Pirelli P-Zero rubbers and armed with Wilwood W6A six-piston brakes that clamp on big two-piece rotors, the Camaro has plenty of traction.
Dropping that carbon splitter on the ground at a moments notice is a digital air suspension system from Air Lift Company. Air-over shocks and QA1 dampers take the place of the stock shocks and springs while Pfadt Race Engineering sway bars and bushings help keep the Camaro flat in hard corners.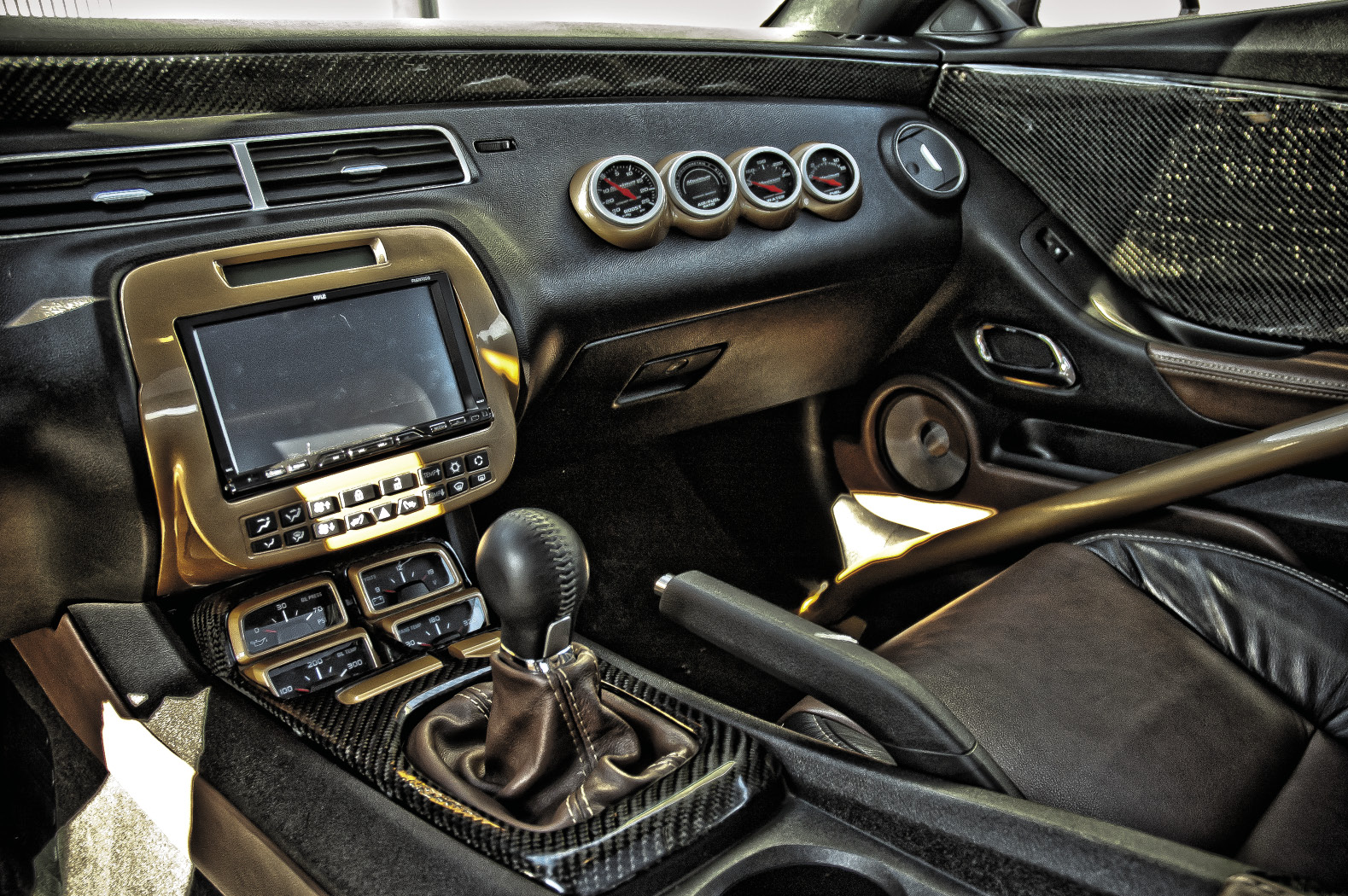 The interior features black and brown Katzkin leather upholstery with tan stitching by Idealistic Designs of Elmwood Park, New Jersey. Stewart Warner gauges, NRG Innovations harnesses and a six-point roll cage let anyone looking in know this car means business.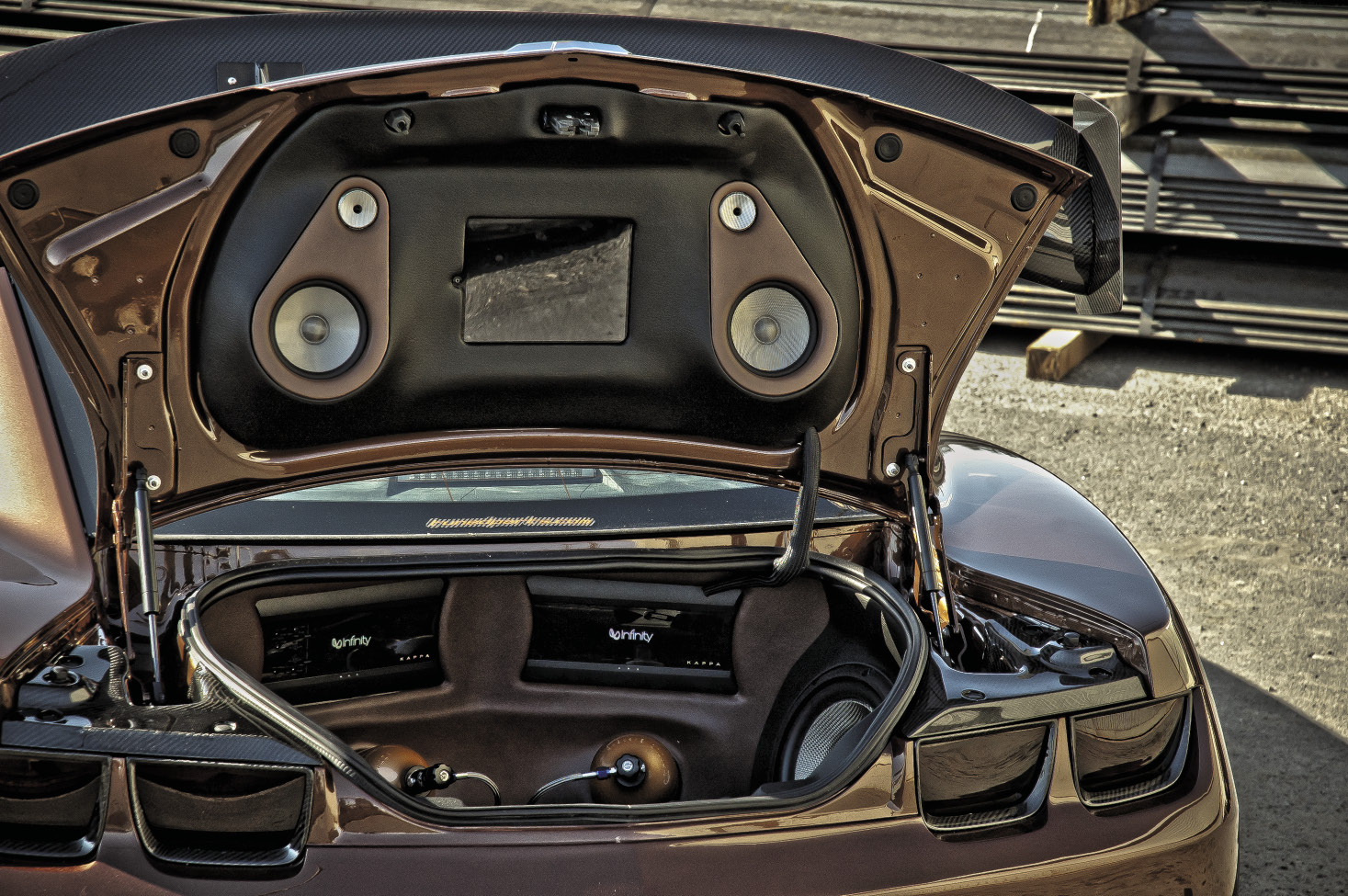 For entertainment, the dash features a two-DIN Pyle DVD player with seven-inch wide display that feeds a pair of Infiniti Kappa amplifiers. A Kappa Four takes care of the front and rear speakers while a Kappa One pushes a pair of Kappa 100.9W 10-inch subwoofers, each inside its own sealed enclosure. Kappa components are also found in the doors, rear deck and trunk lid, which also boasts a custom Apple iPad dock that lets the crew serve up music, pictures or movies to entertain onlookers at SEMA and elsewhere. Power needs are taken care of by a Kinetik KIPS12-80 power supply that feeds an Optima battery and lets the system play endlessly while on display.
The hard work and dedication has certainly paid off with the car winning both the prestigious "Best GM Award" as selected by the GM Design Team as well as the DUB's "Builder of the Year" award. Very impressive to say the least. Some of us spend 10 weeks or more trying to decide what to do to our vehicle. Leave it to the seasoned veterans at Mummbles to turn a dollar into priceless show stopper such as this... with style.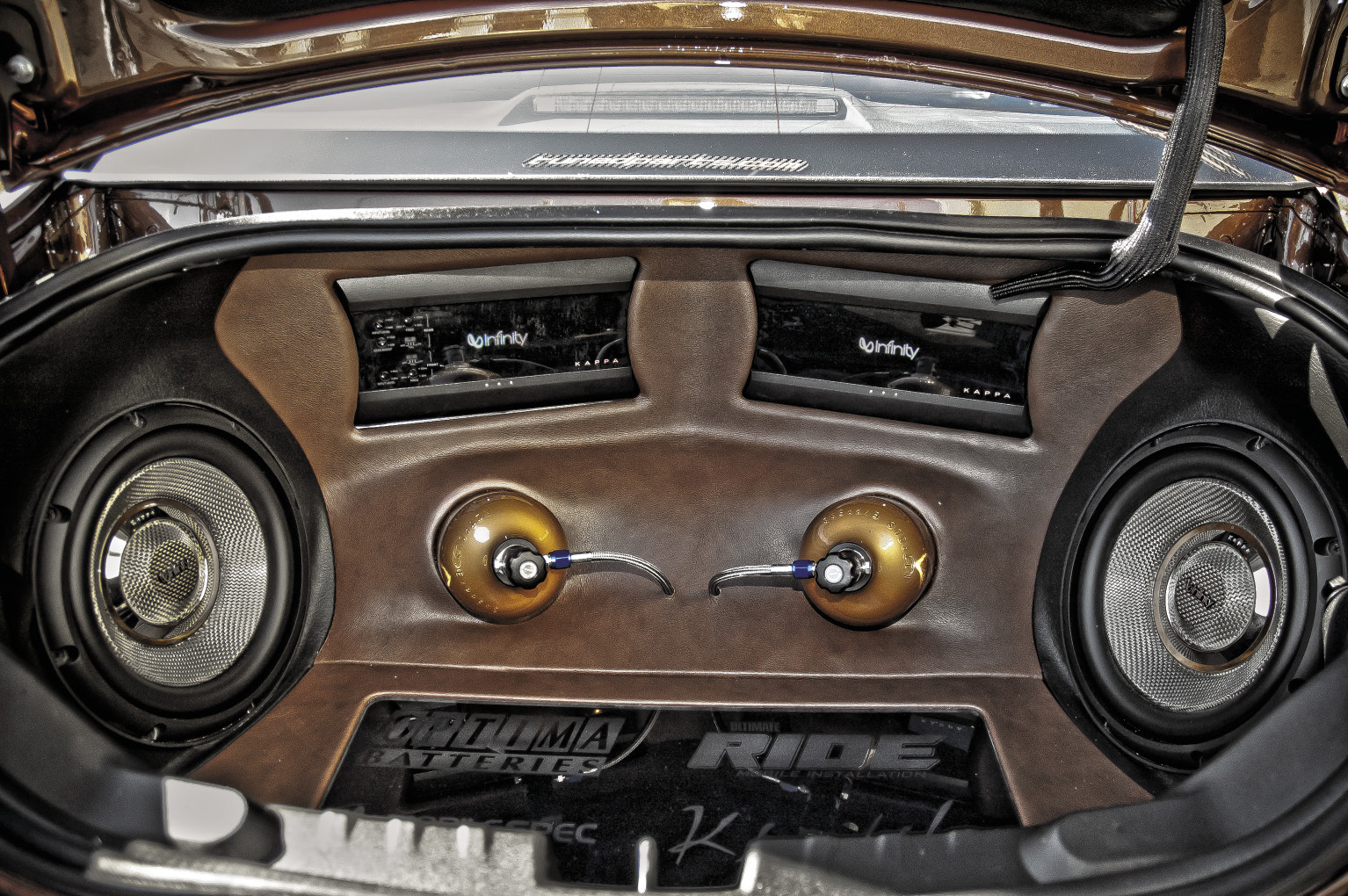 ESSENTIALS
Vehicle: 2010 Chevrolet Camaro V6
Owner: Peter J. Colello
Location: Harrisburg, PA. USA
Horsepower: 411 hp
Torque: 379 lb-ft
Website: www.mummblesmarketing.com
ENGINE MODIFICATIONS
Legacy Innovations (Twin Turbo kit featuring SPA 60-trim turbos, S-Max intercooler, intercooler plumbing, 40 mm wastegates and blow-off valve)
Trifecta re-flashed ECU
Mishimoto radiator and coolant tank
Nitrous Express direct port system
Dress Up Bolts kit
Carbon fiber fuse box cover and brake reservoir cover
Polished oil cap and brake reservoir cap
EXHAUST
Magnaflow dual exhaust system and tip
Custom headers and down-pipe
CHASSIS / SUSPENSION
Air Lift Company digital air suspension
Pfadt Race Engineering (front and rear sway bars, adjustable end-links, rear trailing arms, bushings)
Tuned Parts exhaust tunnel brace
WHEELS / TIRES / BRAKES
TIS Modular – 22x10.5 (f), 22x12 (r)
Pirelli P Zero tires – 265/25 R22 (f), 305/25 R22 (r)
Wilwood W6A big brake kit (15-in slotted/drilled front rotors, 14-in. slotted/drilled rear rotors, six-piston calipers (f/r), stainless steel Flexline brake lines)
EXTERIOR
Extreme Dimensions (wide body kit with front bumper with carbon overlay, front fenders, side skirts, rear quarter panels, rear bumper; OEM carbon fiber hood and hatch)
APR Performance (carbon fiber splitter and wing)
Racemesh Grilles (front grill, front fender and rear bumper inserts)
BASF custom chocolate brown paint with tan accents
Carbon fiber roof overlay, trunk lid, taillight bezels and cover
LightWurkz headlights
Tinted fog lights, side markers and taillights
INTERIOR
Custom six-point roll cage
NRG Innovations five-point racing harnesses
Stewart Warner gauges (boost, air/fuel ratio, water temperature, fuel pressure)
Katzkin leather front and rear seats with brown, black and tan stitching and leather door inserts with brown and tan stitching
Carbon fiber interior trim kit
Tuned Parts passenger seat billet lever
AUDIO / MOBILE ELECTRONICS
Pyle PLDN76DB 7-in. double din touch screen DVD
Infinity Audio (10-inch subwoofers (x2), Kappa 6.5-in. components (x3), Kappa One amplifier, Kappa Four amplifier)
Mobile Spec (one-farad capacitor (x2), wiring and accessories)
Optima Yellow Top battery
Kinetik 80-amp power supply
Metra dash kit
Apple iPad
SPONSORS
Air Lift Company, APR Performance, BASF, Extreme Dimensions, G-Man Designs, Infinity, Katzkin, Kinetik, Lightwurkz, Magnaflow, Mishimoto, Mobile Spec, Nitrous Express, Optima, Pfadt Race Engineering, Pirelli, Pyle, Race Mesh Grilles, S-Max, Stewart Warner, TIS Modular, Trifecta, Tuned Parts, Wilwood, Yonaka